WAIT YOUR ORDER IS NOT YET COMPLETE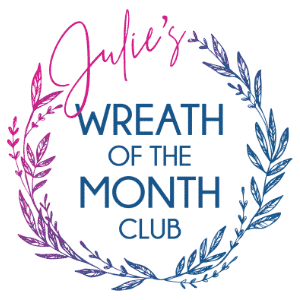 Join Julie's Wreath Making of the Month Club NOW
exclusively with this purchase 
$27  Per Month
Payment Policy – When you purchase Wreath Making of the Month Club, you understand that it's an automatic recurring subscription.  You agree that your subscription will automatically renew and charge your credit card on file every month unless a cancellation is made. You can cancel at anytime.
Cancelation Policy - You can cancel your subscription at anytime by either logging into your account at www.southerncharmwreaths.com/my-account or by contacting us here. 
Due to the nature of this digital product, we offer no refunds.
Learn the art of wreath making from the comfort of your home!
Ever searched for a special wreath or holiday decoration but couldn't find what you liked?
Or needed a wreath in a specific color or style but the store didn't carry it?
Maybe you've seen a designer wreath with a high price tag and thought, "I can make that for less"
Wreath Friend, that's when you start making wreaths yourself!
Frustrated on where to start?

Need help choosing color?

Have wreath signs fall off, break, sag or squish?

Get confused on where to place flowers?

Wonder where to find the best materials?

Get stuck when it comes to making fun, trendy bows?

Spend hundreds on supplies just to have them sit instead of putting them to use?

Want to perfect your skills so you can be confident and sell more?

Just want to learn how to make a professional, quality constructed wreath?
If you answered YES to any of these questions, you've come to the right place!
As part of your monthly subscription, you'll receive...

24/7 Access to a complete library of over 300 tutorials to watch at your leisure and at your own pace.
5-8 new tutorials each month using faux flowers in various ways.
Access to our Holiday Bow Making Masterclass with recipe booklet.
A supply list and access link to download and save for the featured training video for the month.
SKU numbers given during the tutorials for every item used in the designs to help you better find the exact products.
Access to private Facebook Live broadcasts of Julie teaching you step-by-step different styles of wreaths, swags, or arrangements. A great way to get your question answered while in the middle of making a design. If you're not on Facebook, you can watch these broadcasts in our membership portal.
A chance to be in the "hot seat"! Julie will critique your creations giving you constructive criticism and ideas to improve in a group coaching experience.
Access to Julie and a community of other AMAZINGLY talented wreath makers to give you feedback, encouragement, help, and ideas inside our Facebook group.
Rights to sell your finished designs online or at local craft shows using Julie's recipe
A variety of tutorials using various wreath forms including foam, grapevine, pvc, and deco mesh.
You'll be a CONFIDENT MAKER in no time!

Are you a wreath making newbie? I welcome you! This club is for beginners and experts alike! Have you ever taken a class where you just didn't get it? Don't worry! I teach in a very easy manner and I promise, you WILL get it! Click on the button 'Get Started' for a wreath making 101 class or just search on the word 'beginner', for all of our beginner tutorials.
Do you already make wreaths and arrangements? I welcome you too! Anytime you get with other creatives in your industry, you WILL pick up a tip or two, maybe learn about a new product or discover, the newest storage ideas, or something you didn't already know.
Do you want to make wreaths and arrangements for an income? You are welcome here and this will keep you in the loop with new techniques, trends and styles as well as, start to build a portfolio of what you can accomplish.