Deco Mesh Mardi Gras Garland Training Video
$19.97
Description
"If You Love Designer Quality Mardi Gras Decorations then I Can Teach You Exactly How To Make Them without Costing You an Arm and a Leg…
NOW YOU can SAVE MONEY and EASILY make a Professional Deco Mesh Mardi Gras GARLAND!
Stop Asking Yourself "Why Designer Decorations are So Expensive" and
Start Asking Yourself "How Can I Make My Own"
* 90 min video showing detailed instructions how to make a Stunning Mardi Gras GARLAND!
* Secret tips to give your GARLAND that designer, eye catching look – that "Wow" factor!
* How to cut and add Deco Mesh and Wired Ribbon to your GARLAND.
* How to attach wire to ornaments and insert into your GARLAND so they won't fall off.
* How to save money on silk flowers and how to wire them into your GARLAND.
* Downloadable list of supplies and where I purchased to make this GARLAND.
* You can display your GARLAND for many Carnival Seasons!
________________________________________________________
Why learn from Julie Siomacco?
Julie Siomacco is owner of SouthernCharmWreaths.com and considered one of THE leading designers in wreath design. She has been making and selling wreaths and decorations for over ten years. Her goal is to share her God given talents and to teach others how to make their own designer quality wreaths so she also produces e-books and tutorials like this, teaching the art of wreath making.
She has taught thousands her secrets for making jaw dropping and professional looking wreaths EVERY time! She even has people turning to her for guidance in starting their OWN wreath making business. 'I know I have found my life's calling when I receive emails weekly from e-book customers thanking me for sharing my secrets and showing them how they too can help provide for their own families. Teaching and encouraging others to succeed with making wreaths means more to me than just a sale; it's my passion!', says Julie Siomacco
She has held nothing back in the making of this video and her techniques are easy for all to understand!
_________________________________________________________
HERE IS A "SNEAK PEEK" FROM THIS 90 MINUTE VIDEO TUTORIAL! IT IS FILLED WITH CREATIVE IDEAS, DETAILED INSTRUCTIONS, AND CLOSE-UP SHOTS OF EACH AND EVERY STEP JUST FOR YOU! I DON'T LEAVE OUT A SINGLE STEP! THIS IS EXACTLY HOW I MAKE MY OWN DECO MESH MARDI GRAS GARLANDS!
A finished GARLAND like this would retail for over $165 in my shop,
but you will SAVE MONEY BY MAKING IT YOURSELF!
I GUARANTEE YOU CAN MAKE THIS!
This video is of excellent quality and the information you receive is filled with my very best ideas!
THIS IS A DIGITAL video and will be accessible to you IMMEDIATELY– which means:
*Download it if you choose to watch over and over;
*Or you can access it as often as you like online from any computer, smart phone or tablet;
*100% mobile ready developed using Adaptive Responsive Technology (fits all mobile device screens);
*And, I did not want you to have to order a DVD and then wait to receive it;
Unfortunately, a DVD is not available.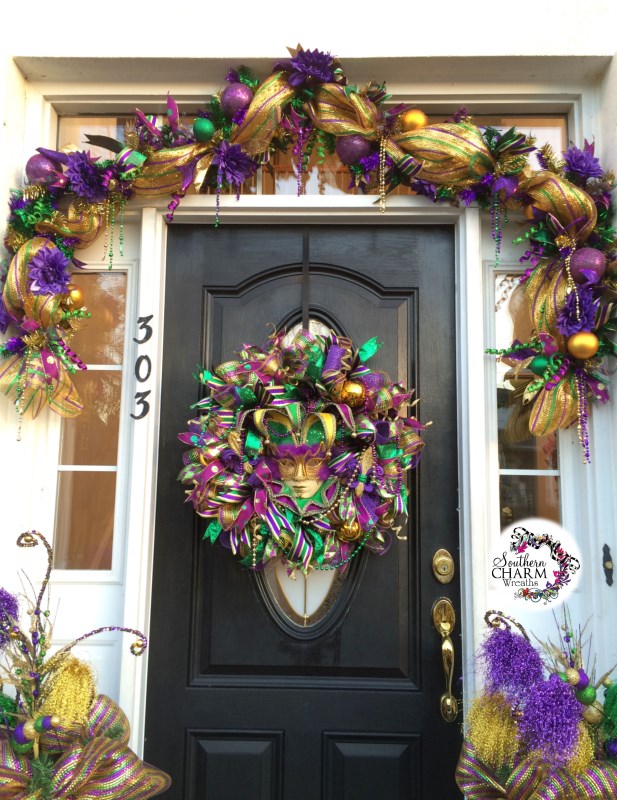 Save
Save
Save
Only logged in customers who have purchased this product may leave a review.