Designer Fall Teardrop Swag Training Video
$9.97
Description
Stop Googling and searching YouTube for the instructions on making a teardrop swag because they just aren't there.
Save money and learn to make a designer teardrop swag for your own home!
My proven formula works and you will be amazed at how easily you can make a teardrop swag just like the designers. Plus use this secret formula for any season to have a new swag for each season.
What is the formula? Let me show you…
Just imagine….
…make a teardrop swag in specific colors you need,
…make a teardrop swag in the size you need,
…learn a new craft that will help you unwind from your day,
…add a new product line to your Etsy shop
Over 1 Hour video giving DETAILED instructions on how to make a Stunning Fall Teardrop Swag!
Julie's Tried and True Teardrop Tips that WORK FOR ANY SEASON!
Learn to securely attach large items like PUMPKINS and PINE CONES!
Learn to Hand Tie a DESIGNER BOW!
Learn to Strategically PLACE FILLER leaves and grasses, giving your teardrop LOTS of texture.
Learn PROFESSIONAL tips for cleaning up the back of your swag.
Downloadable LIST OF SUPPLIES to Make this Style of Teardrop Swag!
SAVE MONEY Season After Season with Each New Swag you Make using MY Proven Techniques!
________________________________________________________
Why learn from Julie Siomacco?
Hey guys, I'm Julie Siomacco, owner of Southern Charm Wreaths, and considered one of THE leading designers in wreath design; selling my wreath creations all over the world. I have been making and selling wreaths and decorations for over ten years. My goal is to share my God-given talents and to teach others how to make their own designer quality wreaths and swags so I produce ebooks and tutorials like this.
I've already taught thousands my secrets for making jaw dropping and professional looking wreaths EVERY time! I even have people turning to me for guidance in starting their OWN wreath making business. 'I know I have found my life's calling when I receive emails weekly from e-book customers thanking me for sharing my secrets and showing them how they too can help provide for their own families. Teaching and encouraging others to succeed with making wreaths means more to me than just a sale; it's my passion!'
I've held nothing back in the making of this video and my techniques are easy for all to understand!
_________________________________________________________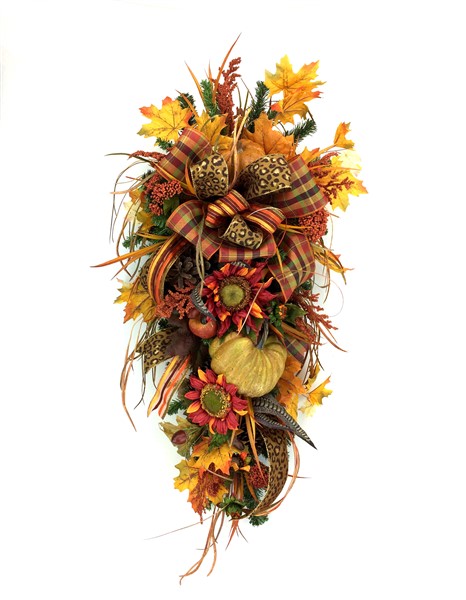 A finished swag like this retails for $200 in my wreath shop,
but you will SAVE MONEY BY MAKING IT YOURSELF!
This video is of excellent quality and the information you receive is filled with my very best ideas!
THIS IS A DIGITAL video and will be accessible to you IMMEDIATELY– which means:
Watch it over and over from any device; computer, smart phone or tablet;
And, I did not want you to have to order a DVD and then wait to receive it;
Unfortunately, a DVD is not available.
Don't wait, another holiday is just around the corner!
Save
Save
Save
Save
Only logged in customers who have purchased this product may leave a review.