Designer Silk Flower Spring Wreath Training Video
$9.97
Description
Learn to make

Designer Silk Flower Spring Wreaths




using my

Tried & True Formula
SAVE MONEY and EASILY make a Professional Silk Flower Spring Door Wreath!
I personally know what's it like to want beautiful designer wreaths hanging on my door and in my home, but I couldn't afford the designer price tag. Sound familiar? Well I decided I would teach myself how to make these gorgeous wreaths to save me money. I spent hundreds of dollars taking floral design classes and worked with a few experts who taught me the mechanics. But you know what…I quickly realized that all there is to making a show stopper silk flower wreath is a basic formula for flower placement! Yep, a simple formula? Once you learn this basic formula for flower placement, you will be making silk flower wreaths for any season.
What is the formula? Let me show you in my downloadable video…
Stop Asking Yourself "Why Wreaths are So Expensive" and
Start Asking Yourself "How Can I Make My Own!!"
Purchase this video today, and you can be learning my very best techniques and formula for making the exact wreaths that sell for hundreds of dollars in my online shop right now… in the comfort of your own home. You will be so full of knowledge after this video ends, you will be rushing to the nearest craft store purchasing supplies to be making your very own door wreaths.
In this 2 hour video you get…
DETAILED instructions how to make a Stunning Silk Flower Spring Wreath!
Julie's Tried and True Secret Formula you can use Again and Again!
How to Hand Tie a Bow without Twisting the Ribbon and Hand Cramps! Ladies you know what I mean!
How to Securely Attach a Bird's Nest without the Fear of it Falling Off with Each Door Slam.
How to use Greenery to Shape Your Wreath.
How to Securely Place Flowers as if Grown in Nature.
Downloadable List of Supplies to Make this Style of Wreath for any Season.
PLUS, your finished wreath can be displayed for MANY YEARS!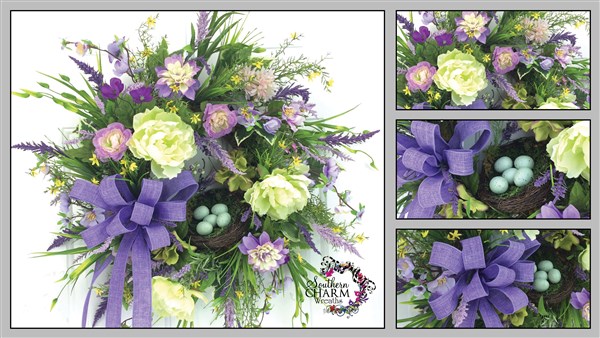 ________________________________________________________
But why learn from Julie Siomacco?
I'm Julie Siomacco, owner of Southern Charm Wreaths, and I'm considered one of THE leading designers in wreath design. I've been making wreaths for my own home for over 20 years and selling them online for almost ten years. My goal is to share my God given talents and to teach YOU how to make your own designer quality wreath so I publish e-books and tutorials like this, teaching you the art of wreath making.
I've already taught thousands my secrets for making jaw dropping and professional looking wreaths! I even have people coming to me for guidance in starting their OWN wreath making business because they've had so much success making wreaths using my instructions. I know I've found my life's calling when I receive emails weekly from customers thanking me for sharing my secrets and showing them how they too can help provide for their own families. Teaching and encouraging others to succeed with making wreaths means more to me than just a sale; it's my passion!
I've held nothing back in the making of this video and my techniques are easy for all to understand!
_________________________________________________________
Below is a sneak peek from this 2 hour learning video filled with creative ideas, detailed instructions and close up shots of each and every step, just for YOU!
I leave nothing out, I show each step from shaping your wreath, to how far the flowers should come out, how to tie a bow and secure bird's nests. This is EXACTLY how I make my Silk Flower Spring Wreaths that sell for hundreds in my wreath shop.
Again, a finished wreath like this would retail for over $200 in my wreath shop, but you will SAVE MONEY BY MAKING IT YOURSELF!
This video is of excellent quality and the information you receive is filled with my very best ideas!
THIS IS A DIGITAL video and will be accessible to you IMMEDIATELY– which means:
*Download it right now and watch, in the comfort of your home;
*Or you can access it as often as you like online from any computer, smart phone or tablet;
*Watch it over and over again as long as you need too;
*100% mobile ready developed using technology to fit all mobile device screens;
*And, I did not want you to have to order a DVD and then wait to receive it;
Unfortunately, a DVD is not available.
Click the Add to Cart Button and checkout now to
Discover the Art of Wreath Making from
one of the BEST Wreath Artisans.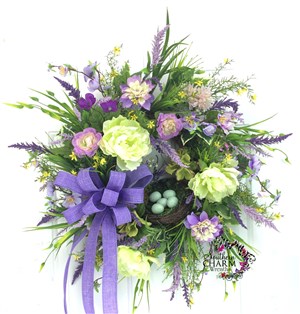 Save
Only logged in customers who have purchased this product may leave a review.