WAIT YOUR ORDER IS NOT YET COMPLETE
Exclusive Special One Time Offer for You!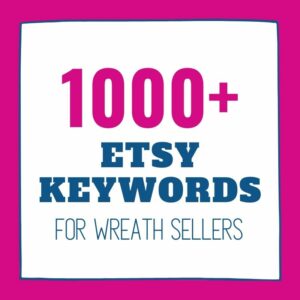 1000+ SEO Keywords for Wreath Sellers
$19.97 $9.97 
1000+ SEO Keywords for Wreath Sellers
Use this list for keywords in Etsy Titles, Tags, Descriptions and more
This list of over 1000 SEO keywords for Wreath Sellers is the list that I've compiled to use when selling my own handmade wreaths online for over 10 years. This list includes all seasons, holidays, upcoming trends and more!
Use this list to help you save TIME with your Etsy listings, Pinterest pins, Facebook post, or anywhere SEO is beneficial.
SEO = Search Engine Optimization or a fancy word for getting found online. It's a list of popular phrases and search terms buyers use to buy wreaths online.