A Weekend of Wreath Making and Friendship
This will be a weekend to remember! A full weekend of doing what we love, wreath making, shopping, eating and laughing until the tears run down our legs! Ladies, you know what I'm talking about!
Our first ever 2-day Wreath Making Retreat will be held at the Doubletree Hotel in Columbia, SC on Friday, September 28 through Sunday, September 30, 2018!
Here's what you'll get...
Access to a private Facebook group to help plan your trip, get to know your classmates and where I can find out EXACTLY what you want and need from me to customize this trip for your needs.
Let's talk about the food included in your ticket price! A continental breakfast and lunch on both Saturday & Sunday and a nice evening night out on the town with dinner at a local restaurant.
You can't come to Columbia and not shop at one of Julie's favorite local retailers! That's right, shopping at Carolina Pottery! You may need another suitcase just to take home all the fall and Christmas goodies you'll find!
Two completed designs to take home: one wreath, one centerpiece (shipping available if needed)
A meet and greet with Julie on Friday night in the hotel lobby. Let's get to know each other better!
A private meeting space in a hotel so that you can hear, see and concentrate on learning.
A sweet swag bag!
Plus..my guest and wreath making guru, Lori Jacobs owner of Hard Working Mom, will be joining us for all of the festivities!
To plan your flights and travel time...
Friday, September 28
7:00 PM - Meet & Greet, Join Julie for a meet and greet in the hotel lobby. This is your chance to sit and chat about anything and everything! Plus get to know your other classmates and make lasting friendships.
Saturday, September 29
8:00-9:00 AM - Continental Breakfast provided
9:00-9:15 AM - Break
9:15 AM-12:00PM - Wreath Training Class, materials included
12:00-12:45PM - Catered Lunch provided
12:45-1:00PM - Break
1:00-2:45PM - Wreath Training Class
3:30-5:30PM - Shopping, load in our vans and travel to Carolina Pottery for shopping with Julie! Find out what she purchases and why she loves that place!
6:30-8:30 PM - Dinner provided, load back into the vans and head to a local favorite restaurant
Sunday, September 30
8:00-9:00 AM - Continental Breakfast provided
9:00-9:15 AM - Break
9:15-12:00 PM - Wreath Training Class
12-12:45 PM - Catered Lunch provided
12:45-1:00 PM - Break
1:00-3:00 PM - Wreath Training Class
3:45-4:45 PM - Optional, business breakout session
Don't Wait - Register Today!
In order to keep this event intimate and to provide you with personal instruction from Julie, class size is limited to ONLY 20 people. So don't wait in securing your spot.
Julie will be staying in the Doubletree with you so that you can meet and mingle in the hotel lobby or restaurant throughout the weekend.
Since this our first wreath retreat, we're keeping the price as low as possible making virtually no profit in order to make sure you have a stellar weekend experience with me.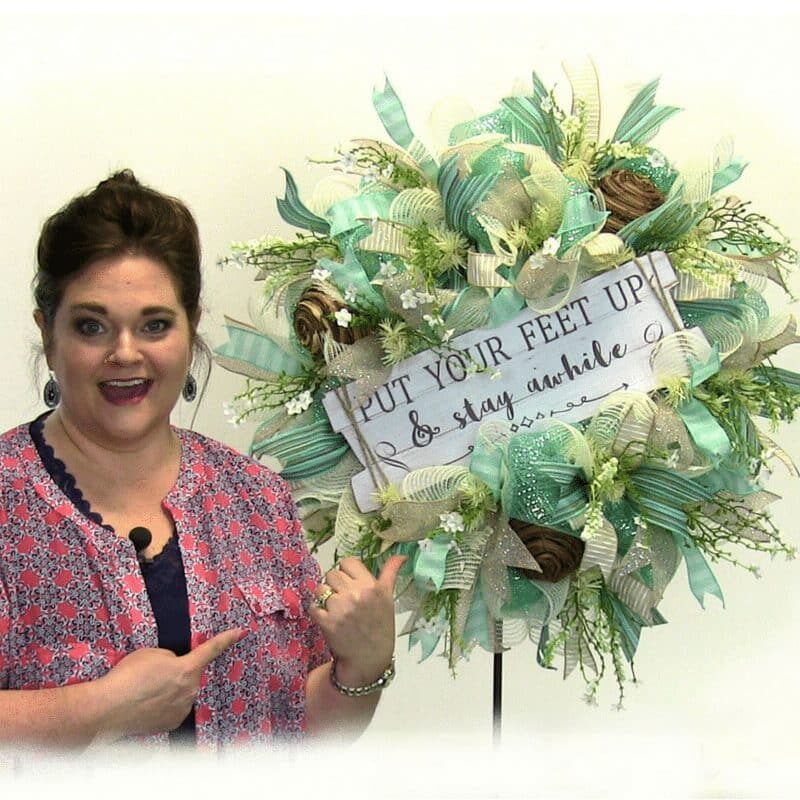 Click the button below to be put on the waiting list. We will open up spots as they become available and alert the next person on the waiting list. Thank you for your interest in this exclusive Wreath Retreat!
Once you purchase, you'll receive an email with instructions for booking your room at our discounted rate of $99 per night during the event and three days before and after (subject to availability); and access to a private Facebook group.
&copy Southern Charm Wreaths, LLC