A Weekend of Wreath Making and Friendship
This will be a weekend to remember! A full weekend of doing what we love, wreath making, shopping, eating and laughing until the tears run down our legs! Ladies, you know what I'm talking about!
Our next hands-on Wreath Making Retreat will be held at the Greensboro Marriott Airport Hotel on Thursday, September 26 through Saturday, September 28, 2019!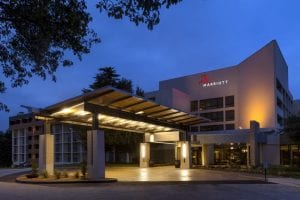 Preview of our last retreat....
Here's what you'll get...
Access to a private Facebook group to help plan your trip, get to know your classmates and where Julie and her team can find out EXACTLY what you want and need from us to customize this trip for your needs.
Let's talk about the food included in your ticket price! Snacks on Thursday night's meet and greet, hot breakfast and lunch on Friday & Saturday, and a nice dinner with friends on Friday night.
You can't come to Greensboro and not shop at one of Julie's favorite local wholesalers! That's right, shopping at Sims Pottery! You may need another suitcase just to take home all the fall, Halloween and Christmas goodies you'll find! Don't have a retail license? Don't worry, we've worked out an exclusive deal with Danny Sims for our attendees only!
Three or more completed designs to take home: which could consist of one or more wreaths, a swag, and one or more centerpieces (shipping back home available if needed for an extra charge).
A meet and greet with Julie on Thursday night in a private room where we'll get to know each other with ice breaker games and snacks. Plus feel and touch the flowers and greenery we'll be using in our projects and receive a completed supply list of all of our projects for the weekend to take with you while shopping at Sims in case you want to stock up your stash. 
A private meeting space in the hotel so that you can hear, see and concentrate on learning.
Both a physical and digital swag bag! What is a digital swag bag? You'll receive digital items such as a recording of the show ($77 value), one hour small group coaching calls from Julie answering any questions and giving tips based off topics from a survey sent to the group on a zoom face-to-face call in early September ($150 value).  Never seen before wreath making tutorials from Julie to keep forever ($27). Over $250 in digital services included in your digital swag bag.
Plus...a guest designer and expert florist Jackie Johns, aifd will be in the house! Julie met Jackie when at a Sims Pottery show three years ago and immediately fell in love with her teaching heart. She is full of knowledge! You can find her bio here.
The below is an example of our schedule but is subject to change based on feedback from classmates.
Thursday, September 26
7:00 PM - Meet & Greet, Join Julie for a meet and greet in a private room away from the noise of the hotel lobby. We'll have an ice-breaker game and this is your chance to sit and chat about anything and everything! Plus get to know your other classmates and make lasting friendships. We'll offer refreshments included in the price but not a full meal. This is also where we will display the designs we'll be making and offer a supply list to take with you shopping at Sims on Friday.
Friday, September 27
8:00-8:30 AM - Hot Breakfast Buffet, included
8:30-8:50 AM - Registration
9:00-11:55 AM - Training Class, materials included and tools supplied
12:00-1:00 PM - Catered Lunch, provided
1:00-1:30 PM - Break, freshen up to get ready for shopping
2:00-4:30 PM - Shopping, load in our vans or drive yourself and travel to Sims Pottery for shopping with Julie! Find out what she purchases and why she loves that place!
6:30-8:30 PM - Dinner provided, load back into the vans and head to dinner, provided
Saturday, September 28
8:00-8:50 AM - Hot Breakfast Buffet, included
9:00-12:30 PM - Training Class, materials included and tools supplied
12:30-1:15 PM - Catered Lunch provided
1:15-5:00 PM - Training Class continues

Don't Wait - Register Today!
In order to keep this event intimate and to provide you with personal instruction from Julie, class size is limited to ONLY 30 people. So don't wait in securing your spot.
Julie will be staying in the Marriott with you so that you can meet and mingle in the hotel lobby or restaurant throughout the weekend.
Since Julie's top priority for you is to have a hands-on educational experience, we're keeping the price as low as possible making virtually no profit in order to make sure you have a stellar weekend experience.
YES! YOU DO DESERVE THIS!
Jackie's floristry journey began in the 1990's when she opened a retail shop, although the roots go back to helping her father in his vegetable garden and mother in her flower gardens.
Jackie was a board member of the Alabama State Florist Association for ten years and ultimately its President.
She has run workshops, won design competitions and has also worked with top American designers helping with their stage presentations. Jackie was inducted into the prestigious AIFD (American Institute Floral Design) in 2015.
After 14 years she sold her retail business and opened Jackie Johns Florals Weddings and Events.
In 2017 she has downsized into retirement. She now freelances, teaches, travels and shares her extensive knowledge of Floral Design.
Jackie is an advocate for education within the Floral industry and has pledged to keep telling her knowledge of flowers to anyone who will listen and benefit.
In 2015 she was asked to become a Floral Fundamentals Ambassador and traveled to Denmark for a 2 day floral photo shoot with some of the most elite European Designers.
Her unique bridal work was published in the 2014-2015 Fusion Flowers Wedding Magazine, a top European floral magazine, that is disbursed to 77 countries. She is known for her texture and color, not only in her bridal work but all aspects of floral design.
Jackie's resume consists of designing at The Philadelphia Flower Show, Chairing one of the many committees at the 2019 FTD World Cup Floral Competition, Southern Chapter AIFD Board Member,
Countless committees and Advocate for Floral Education.
Jackie is currently one of the floral designers for Sims Wholesale Fall and Christmas Design Events in Georgia and North Carolina
Jackie resides Alabama with her husband, 3 children and 9 grandchildren.
Testimonials
The Wreath Retreat Weekend with Southern Charm Wreaths is the best event I have attended of its kind. It's a small group setting with lots of high-quality instruction and all the help you need! I've made lifelong friendships and learned so much. It's a very comfortable setting to stretch your skills and push forward in your designing. Everyone, including the other participants, is so helpful and supportive! After my first retreat, I had the confidence to try different things. At my second I kept pace and left fully prepared to continue through the busy season! Attending Julie's retreats is not the only training I have under my belt, but it's definitely the best and most fun long term investment I've made in my company!
Beth Wilson
Hickory Acres Decor, LLC 
This was my first retreat with Julie of Southern Charm Wreaths. I went in not knowing anyone there and not knowing what to expect. I was "Doing it Scared" as Julie always says. I was greeted with open arms, made to feel comfortable, and made a lot of new friends. This was the best retreat I have ever attended. During the class your taught how to design using items you would have never thought of using, adding colors that coordinate and make your designs pop. She has you thinking outside of the box and creating a beautiful design. It was very organized and ran like a very well oiled machine. Julie is an amazing designer and teacher. She takes the time to help you if you need it, shows you tips and tricks and treats you with respect and kindness. She is kind and caring and doesn't rush, she lets you create your own design so your personality shines through. If you are looking for that special someone to teach you how to make beautiful wreaths then Julie is that person. She is the most amazing teacher I know. God has given her a talent that she is willing to share. If you ever have the opportunity to go to her retreat jump on it. You won't be sorry. It's worth every penny!
Teresa Ellis
This is the 3rd retreat that I have attended, and the 2nd one that included Jackie Johns. While it was more of an investment, I would rather have experts as guests to offer a different perspective as then we not only get Julie's expertise, but also Jackie's expertise. They complement each other, and love to share their knowledge with anyone who will listen and use it. I can't think of a better combination of personalities, and knowledge. I love learning from both Julie and Jackie. I would recommend the wreath retreat to anyone wanting a small group setting to learn different techniques up close and personal. Larger groups can leave you feeling that you miss something.
Denna Howell
Squeaky Willow Decor
Southern Charm Wreath Retreats are the bombdiggity!!! You will learn all sorts of best practice techniques, gain creative insight, and amass a wealth of years of professional tips and tricks from both the presenters and other attendees!!
Alissa O'Meara
My take away from the first-ever wreath retreat was confidence!
I loved how Julie was able to break down the learning process so that during the class I could see the step-by-step "recipe" behind the creations we were making in the class, and I began to visualize for myself how I could use this for other seasonal wreaths and swags. It was a confidence-building experience for me to know that I could put what I learned in class to work and know it would be a fabulous creation! Additionally, I walked away from the retreat having made friendships that will last a lifetime - which is priceless! Through it all, we laughed, encouraged each other, shopped, and enjoyed being together. Thank you, Julie, for a tremendous learning experience!
Sue Stringer
Simply Elegant Wreaths
I have attended each wreath retreat weekend Julie has offered and have to say that I have found them all to be very beneficial. Not only have I learned new wreathing techniques, but I've also learned a lot of business tips too. The small group setting is perfect for learning and allows for one-on-one instructions and critiquing when needed. Aside from the educational aspects of the retreat, the friendships I have made at each retreat are priceless! I look forward to each retreat where I know I'll have the opportunity to learn new things and meet new friends!!
Rose Paulus
Night Owl Design by Rose
My attendance at the first wreath retreat came after I was introduced to Julie by my sister Maura Shurtleff.  I've always been amazed at Maura's creativity and natural ability to just pull things together and make everything more beautiful than it was. When she started making wreaths I was delighted to have my own personal decorator! My sister had another plan.  She introduced me to Julie by constantly talking and sharing with me things she was learning. Maura had me assisting her by sorting, organizing and purchasing supplies…
Our first road trip to Hobby Lobby (one of Julie's recommendations) was fun,  hilarious, and expensive…
Julie nurtured my sister's passion and she shared that with me every step of the way until I became a member of Wreath of the Month Club myself!
Having been to the first wreath makers live  (I was unable to attend) Maura knew the minute the wreath retreat was announced she wanted us to go! As soon as tickets went on sale she quickly purchased seats for the two of us!
I was skeptical and scared, not sure I could create like my sister. But there was no backing out, Maura's excitement about going was definitely contagious. 
At the wreath retreat, we met Julie along with so many kind, supportive creative and inspirational women, all wanting the other one to be successful. (Honestly, I'm 54 and I don't know if that happens very often, LOL!) . We learned, laughed, shopped (oh my word, did we shop!) and enjoyed it!
That along with making my very first wreaths was really the confidence-boosting, motivating experience I needed and a weekend I will not forget. 
Maura and I have since opened a business named  "Wreath Works A Boston Company"
We plan to join Julie's Success Circle ASAP and get our Etsy shop open!
We are all in, loyal followers of  Julie Siomacco's Southern Charm Wreaths!  With her guidance, we look forward to being successful wreath shop owners!
I've often heard that God places people in your path for a reason. My sister and I both needed all that Julie's retreat offered. The experience, motivation, and confidence along with new "Wreath Sisters" were an added bonus!
We are anxiously awaiting the announcement for the next retreat!
Helen Kunze
Hi wreathers!
All the testimonials here are 100% authentic. The only thing I want to add is this...getting a ticket to wreath retreat is like getting a front row seat at a concert that has been sold out for weeks! You can't afford to miss it if you are a creative wreather!
Tracy Lynn
The Gilded Elf
I had prayed for a chance to have some hands-on with Julie and God answered!!!! I learned so much from this experience. I was so new to wreath making that I didn't even have a name yet. Through this Retreat, Julie and the ladies helped me to get a name and start a Facebook page!!
Plus I learned different techniques and making bows by hand. The best part was the friends that I made through this experience!!! I'm looking forward to the next one!!!! 
Sincerely
Jennifer Moye  
JAM DESIGNS
I'm Bonny from Bonny's Crafty Boutique and I am so thankful and appreciative to have attended Julie's first Wreath Retreat. Julie's motivation, organization, expertise, and hands-on training was so effective for me and my business. I now use those skills and tips she taught me in every wreath I make today. I'm so looking forward to her next retreat in the spring and seeing our family of Wreath Retreat sisters again.
Bonny Clayborn
Bonny's Crafty Boutique
I just recently started making wreaths and nervously went to this retreat. I prayed that if this experience was meant to be I would be able to purchase a ticket. After 3 attempts I was able to purchase one!!! This hands-on experience with Julie was one of the best experiences of my life I couldn't believe I was capable of making such beautiful wreaths. With her teaching and direction, I did it and amazed myself! I cannot explain how happy I was when I made my first bow. I did a bow dance!! And the ladies I met. They were the most encouraging and supportive women I have been around. I met so many new friends And continue to talk with them on a regular basis Julia's teaching approach is creative, easy to follow and organized. Thank you Julie!
Lisa Blair
I have followed Julie for more than one year, and have learned so much from her. When she announced her very first wreath retreat, I jumped at the opportunity to attend. Julie is such a sweet, caring individual who loves to share her knowledge with others.
She provided all of the supplies to make two wreaths, including the glue pot! It was such a fun-filled two days with 25 other ladies, making new friends, offering each other encouragement, and just helping each other. Julie provided us with the opportunity to go on a shopping trip to a local craft store, and I am sure that Carolina Pottery did not know what to do with a total of 27 ladies descending on their store at one time. She ensured that we were all fed accordingly too. She had it planned very carefully, and we actually surprised her in that it did not take us as long to make our wreath and swag as planned so we had time to talk business and ask questions on the last day. We were all there to learn and paid close attention to her demonstrations and teaching moments.
I learned to make her signature funky bow left-handed! That is how good Julie taught us. I was despairing of ever being able to make her bow just because I would have to learn to make it left-handed instead of right-handed. She came over and looked at my bow, and stated that it was a great job for making it opposite of how she taught us. Proud moment for me!
If at all possible, I would attend every wreath retreat she offers. It just doesn't get any better than learning from an expert in a small face-to-face setting. Thank you Julie for the most awesome experience, and new friends!!!
Denna Howell
Squeaky Willow Decor
Julie's Wreath Retreat was 2 fun-filled days packed with learning, shopping, eating, talking, laughing, and building lifelong relationships!! Julie is a professional class act in everything she does! 
Rhonda Carrier
Rhonda Carrier Designs
During Julie's first Wreath Retreat last fall, I had the opportunity to spend a weekend with a fine group of wonderful women. We were led by a lady who has a God-given talent and is passionate about teaching new techniques and skills so others may continue to grow their own passion. I was challenged to go out of my comfort zone as the first wreath we made was "new" for me. Through Julie's guidance and patience, I learned a new style. I was also able to make and sell other wreaths very similar to the ones we made at the retreat! The fellowship was just as wonderful - if a stranger had "looked-in" on us, they would have thought that a bunch of good friends got together for a weekend of fun! It was a memorable weekend!
Cindy MacDonald
A Sentimental Season
Do you want to learn how to make beautiful wreaths in a loving, friendly environment, where there is only positivity? Would you like to make life-long friends from all parts of the country that share the same interest as you? Well, attending Julie's Wreath Retreat is for you! I can guarantee that you will have an exceptional learning experience. Julie is an excellent instructor. No matter if you are a novice or a master of design, you will learn multitudes of ideas and techniques from this Wreath Retreat. You could not ask for a more caring and patient instructor who really knows her stuff!
Diane Daniel
DD's Decor and More
Julies Wreath Retreat is extremely well planned and organized. Her hands-on instructions, tips, and tricks, along with her wealth of knowledge and experience in wreath making and floral design are invaluable. As a very successful entrepreneur who has been in the business for a long time, she uses that success to encourage others to find their purpose and be the best they can be, as well. Aside from learning, her retreats are set in a relaxed environment with great food, fun, and fellowship! I have made friendships that will last a lifetime!!
ALL PURCHASES OF TICKETS TO WREATH RETREAT WEEKEND ARE FINAL. THERE IS NO REFUND OR RETURN FOR TICKETS PURCHASED AND TICKETS ARE NOT TRANSFERABLE.
Thank you for your interest in Wreath Retreat Fall 2019. This event has sold out. Please join our wait list to be contacted if a spot opens up, or to hear about upcoming Wreath Retreats. Thank you!
&copy Southern Charm Wreaths, LLC