MASTERCLASS ADD-ON
(Optional - Not Needed to Attend Masterclass)
Exclusive Q&A Session with Julie!
Have you ever wanted to pick Julie's brain? Have a struggle with your wreath making? Not sure how to pair flowers and greenery or ribbon? Thinking about starting or scaling a handmade business?
Julie has the answers!
Join Julie LIVE for an Exclusive Group Q&A Zoom Session. This is a limited opportunity being offered to you for joining our Holiday Swag Wreath Masterclass!
Monday, October 10, 2022
7:30 PM ET
*If you are unable to join Julie live, you will be able to submit your questions for Julie to answer on the zoom call. A replay will be made available for you to review at your own convenience.
NO REFUNDS. If you do not wish to purchase, do not submit payment form below.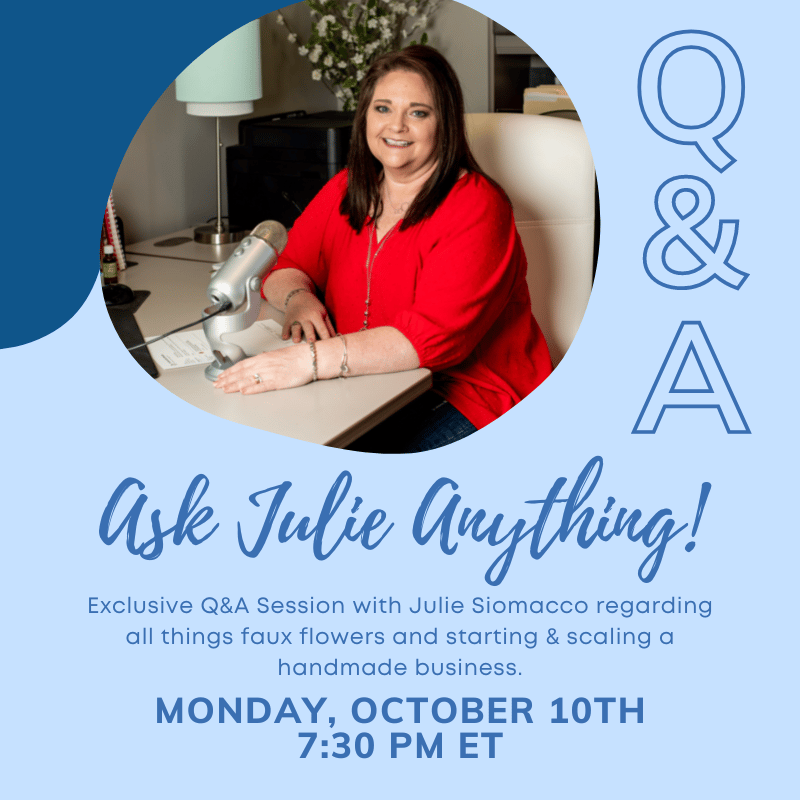 Payment Policy – You agree to this one-time payment of $19 for the Exclusive Zoom Q&A with Julie. Due to the nature of this product, we offer no refunds.
After your purchase, you'll receive an email from us with more information regarding the Exclusive Zoom Q&A with Julie. We will also send you an email reminder the day of the Zoom Q&A session. If you have any problems or questions, please contact us by clicking here.