An easy step-by-step guide on How To Make Deco Mesh Wreaths
Now YOU can learn to make Jaw Dropping, Stunning Deco Mesh Wreaths and Decorations--for fun or profit!
Why not LEARN how to make Deco Mesh Wreaths and Garlands yourself? Deco Mesh is so versatile that it works for all YOUR decorating needs from weddings to Halloween! Deco Mesh is weatherproof for outdoors yet delicate enough for indoor decorating.
Just think...
Make your own seasonal decorations, so YOU can save money by not buying pre-made wreaths, garlands and centerpieces! Learn a new craft or hobby, so YOU can find that self-rewarding fulfillment missing in your life!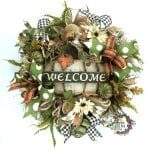 Learn to make deco mesh wreaths WITHOUT the frustration!
Why Learn from Julie Siomacco?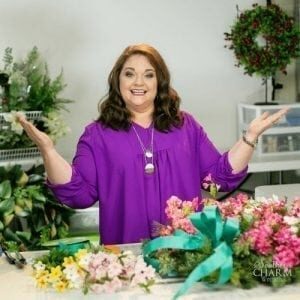 I'm Julie Siomacco, owner of Southern Charm Wreaths, where I make beautiful wreaths and teach you how to make and sell them. I am considered one of THE leading designers in deco mesh wreath design. It's hard to believe but I've been making and selling wreaths and garlands for almost ten years now...time flies when you're having fun!
I started off with just making silk wreaths but then when I started making deco mesh wreaths, my business started to explode! I had so many customers wanting my beautiful deco mesh wreaths that I couldn't keep up with the demand. I thought to myself, these wreaths aren't that difficult to make, I know I can teach others how to make them! So I decided to divulge ALL of my techniques in this e-book; I've held nothing back!  This ebook has been extremely popular in the wreath making world. If you see a deco mesh wreath maker, chances are they learned to their skills from me!
Now I've taught thousands (over 6000 copies sold) my secrets for making jaw dropping and professional looking wreaths EVERY time!  I have people turning to me for guidance in starting their OWN wreath making businesses.  I know I've found my life's calling when I receive emails weekly from e-book customers thanking me for sharing my secrets and showing them how they too can help provide for their own families! Teaching and encouraging others to succeed with making wreaths means more to me than just a sale; it's my passion!
I hope you give me the opportunity to make a difference in your life with this purchase; there is nothing to lose with my 60-day money back guarantee (scroll down to read my full gurantee below). You will see how easy these wreaths are to make!
Professionally designed Deco Mesh Wreaths and Decorations retail between $70-$200 depending on the amount of elements added and your geographical region. Then you could pay another $20-$30 for shipping because of the box size!

Get more bang for your buck by making wreaths YOURSELF! Once you start, you will see how easy and fun designing with deco mesh can be. Your neighbors will be so envious seeing your gorgeous deco mesh wreaths on your door! How shocked will they be to learn YOU MADE IT!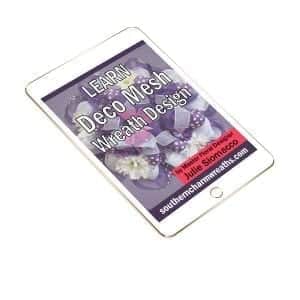 You can then SELL your gorgeous creations on Etsy, Shopify, Amazon, Facebook or craft shows, so that you can MAKE EXTRA INCOME. The economy has taken a toll on everyone, what a creative and fun way to earn extra cash!  Or make a festive, unique gift so YOU can give a gift that last season after season!
Now YOU too will see how easy making deco mesh wreaths can be. This 60-page e-Book is exclusively ONLINE ONLY and can be downloaded to any computer, iPad or mobile device as many times as needed.  You can print it but it is not available in hard back or in any store.
E-Book Chapters Include...
What is this Craze-Deco Mesh?

 

Discuss the different styles, patterns, colors, prices and uses.

What Materials to Use?

 

Learn about what types of materials are better than others, including: Wreath Bases, Ornaments, Ribbons and Signs.

Which Wreath Base?

 

Learn about the different wreath base options and learn to secure mesh in each form, including: Wreath Forms, Grapevine Wreaths, Box Wire Frames and Straw Wreaths.

Step by Step Instructions!

 

Detailed pictures and explanation guiding the reader through designing the mesh wreath pictured below, including: Securing Mesh to the wreaths, Adding Ribbons, Adding Artificial Flowers, Securing Ornaments and Adding Signs.

Where Can I Buy Deco Mesh Wreath Supplies?

 

A list of retail and wholesale suppliers found in stores and online supplying the Deco Mesh Madness. This lists grows monthly and is updated in the Facebook Group! I have found a place that sells 10" deco mesh for as low as $3.25 a roll, 21" deco mesh for as low as $3.50 a roll and 24" work wreath forms as low as $4.50.

How to Take Pictures of Wreaths?

 

Photo taking tips for listing wreaths online, to remember your talents or to share with relatives.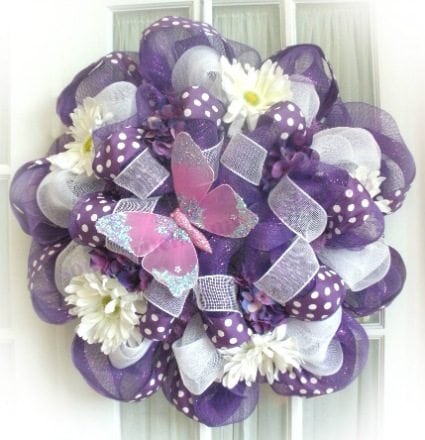 BUT WAIT! THERE'S MUCH, MUCH MORE!
After you learn the basics on how to make a deco mesh wreath, I teach you more advanced deco mesh wreath making in the form of Wreath Recipes, and these:
Deco Mesh Garland Tutorial! 1-hour video showing you step-by-step how to make a deco mesh fall garland. 
(Valued at $19.97 but you receive it FREE with this ebook purchase!)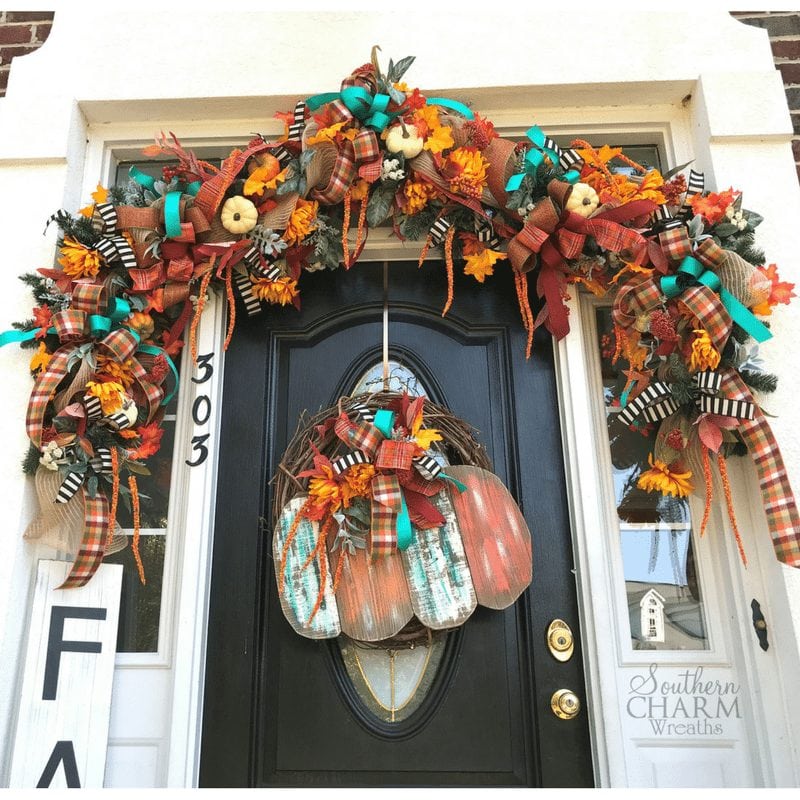 Deco Mesh Blueberry Themed Wreath! 1-hour long video showing you step-by-step how to make a deco mesh blueberry themed wreath. Including where I purchased the supplies. 
(Valued at $19.97 but you receive it FREE with this ebook purchase!)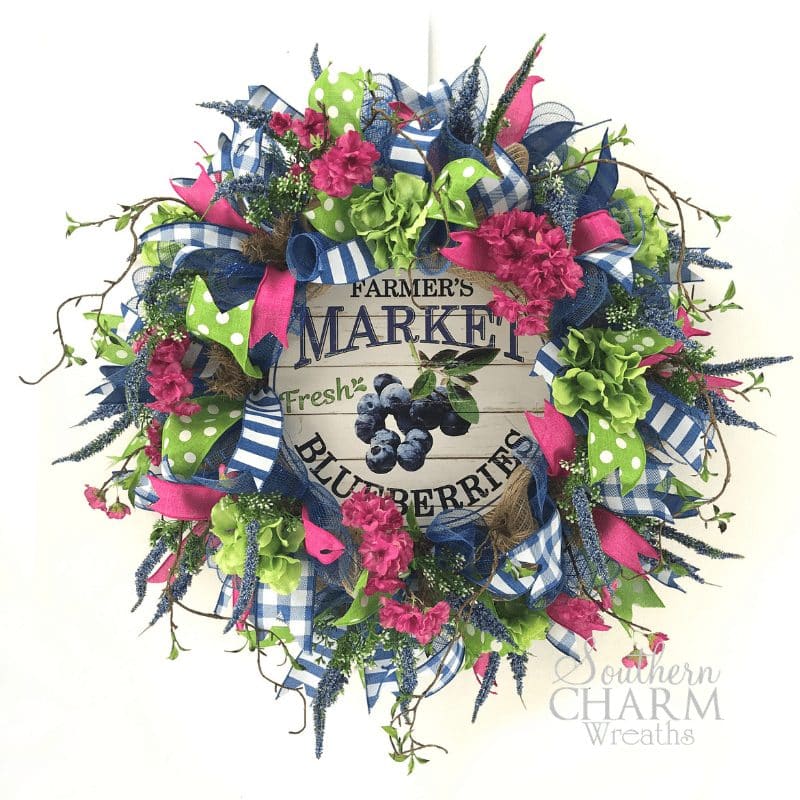 Deco Mesh Cross Wreath Center Arrangement In this video, learn how to make a flower arrangement inside of your deco mesh crosses. 
(Valued at $9.97 but you receive it FREE with this ebook purchase!)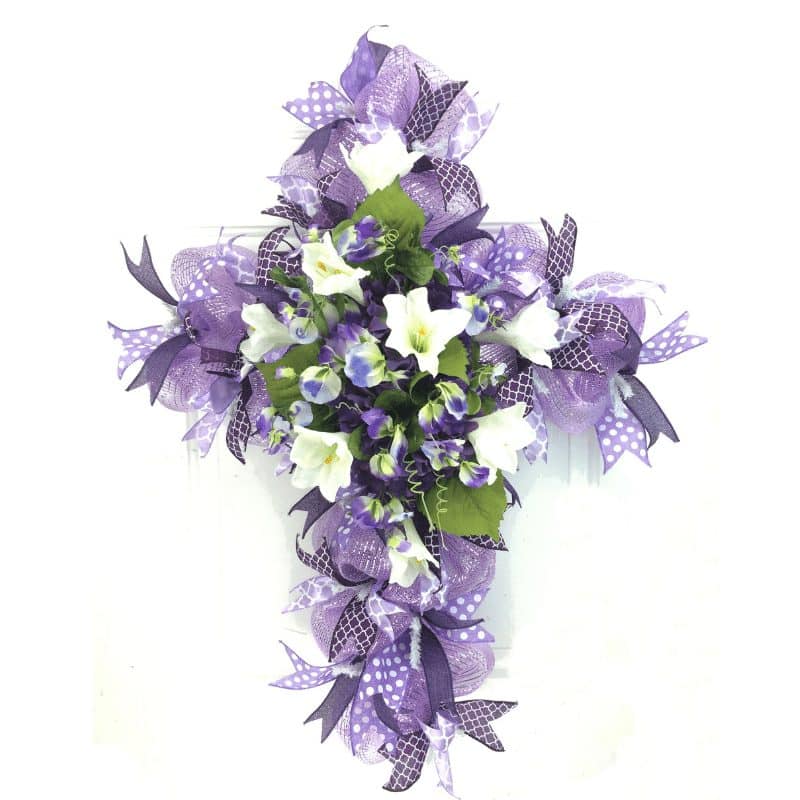 Candy Cane Wreath Video Tutorial 1-hour long video showing you step-by-step how I make this gorgeous candy cane wreath.
(Valued at $19.97 but you receive it FREE with this ebook purchase!)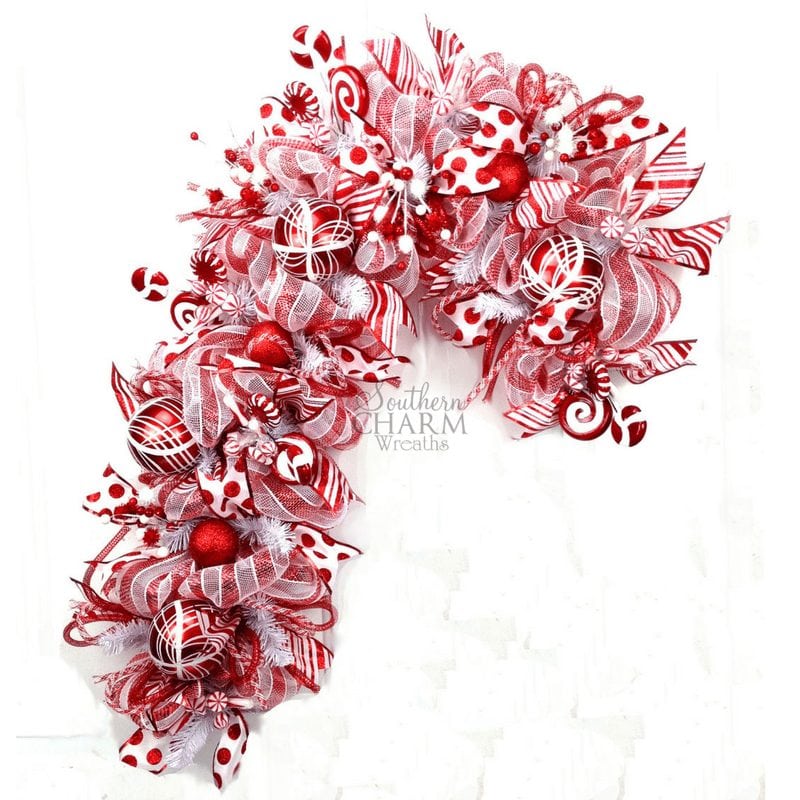 Mesh Burlap Fall Wreath Video 1-hour long video showing you step-by-step how I make a full mesh burlap wreath.
(Valued at $19.97 but you receive it FREE with this ebook purchase!)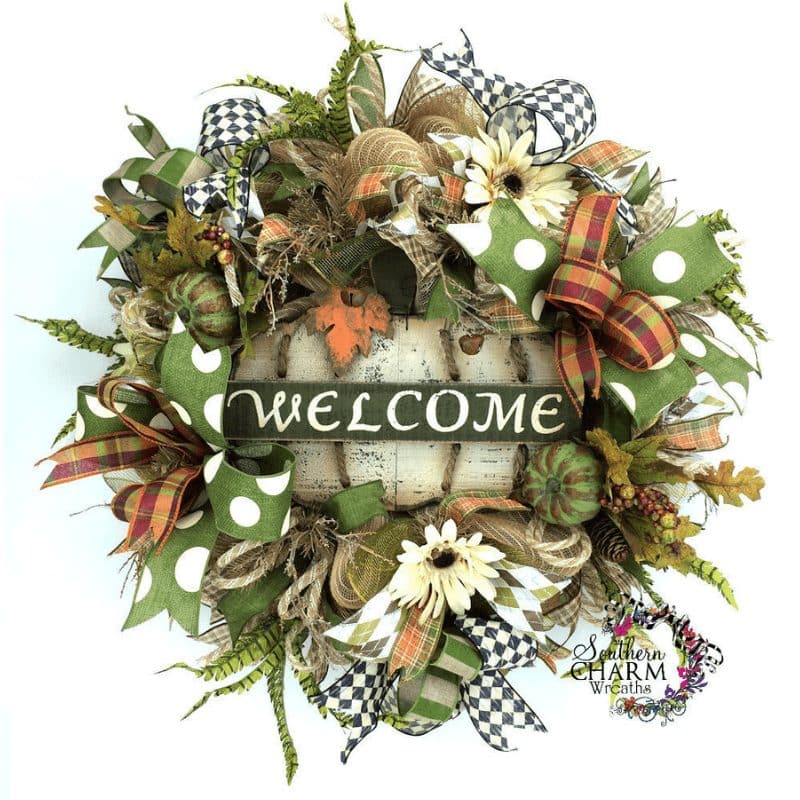 Christmas Deco Mesh Elf Wreath Learn to make this adorable elf themed deco mesh wreath. 
(Valued at $9.97 but you receive it FREE with this ebook purchase!)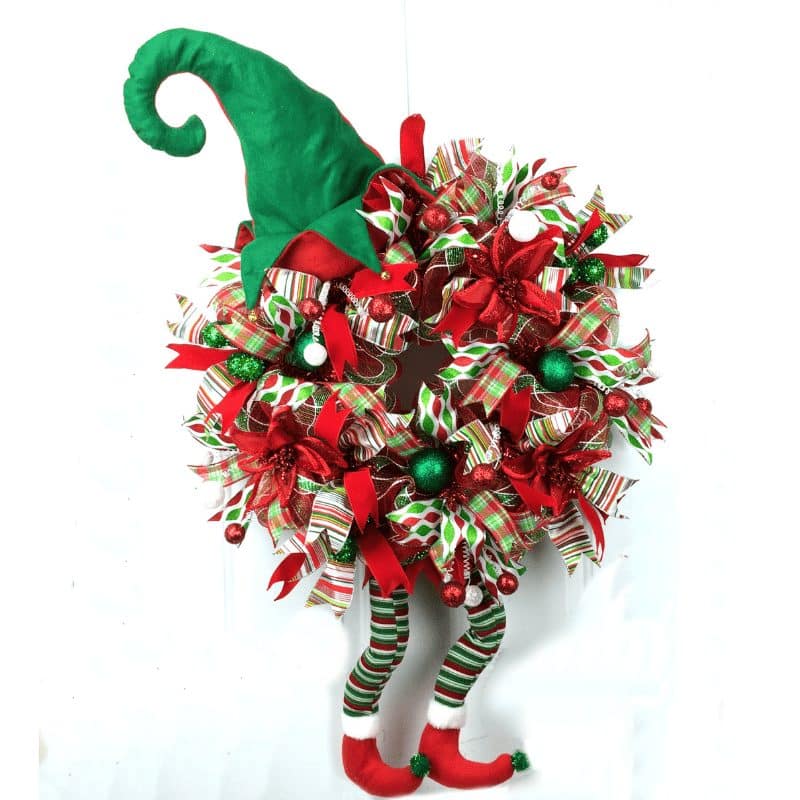 Halloween Mesh Funky Bow Wreath Learn to make this adorable Halloween wreath full of mesh and bows.
(Valued at $19.97 but you receive it FREE with this ebook purchase!)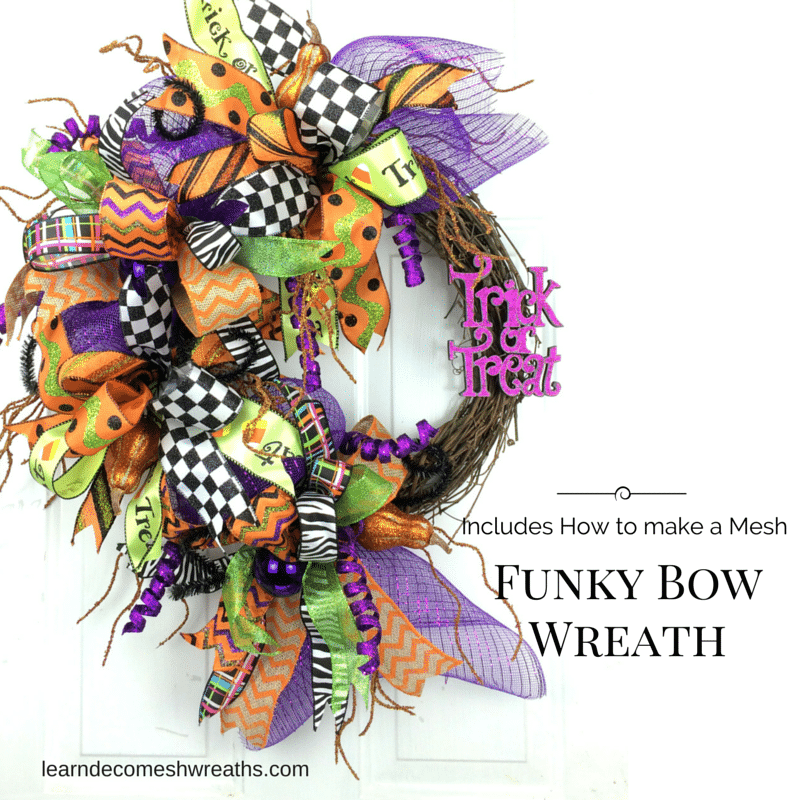 Slim Screen Door Wreath Learn to make thin wreaths to go behind a storm door.
(Valued at $5.97 but you receive it FREE with this ebook purchase!)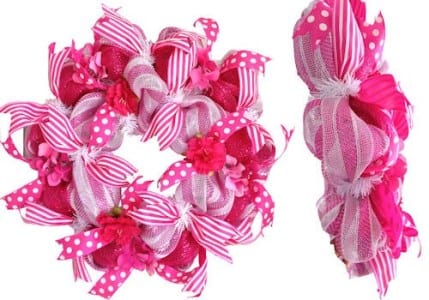 That's a lot of FREE BONUSES!
Testimonials
"You have given FAR MORE than what I have ever expected and the extras in the downloads themselves are worth a ton.  I'm still finding goodies in my downloads to go over and learn.  If your pricing was the higher price of others, it would be out of my budget and I wouldn't be learning new things every day! Your generosity is a blessing and an answer to my prayers!"
--Dena Willard
"My ebook purchase has far exceeded my expectations! You are so helpful and inspiring. I refer back to your books and videos constantly and I'm so glad that I found your ebook when I started!! It has saved me so much time and frustration.  Thank you!!"
--Barb Bowman
"I don't read very many books; however, this was the best investment I could have ever made.  I have never been very good at crafts of any kind and you have shown me that I can.  I can never thank you enough for all that you have shared with me through your ebook and your YouTube videos as well as your emails.  Thank you again for sharing all of this wonderful information with me. You have made a difference to so many people and I know we are all very grateful. Thank you!"
--Ronnie Current
"Julie, there is not enough words to tell you how much I have received from your ebook and videos.  Plus all the extras that you share with us on a continuing bases.  Plus the fact if anyone of us has a question, you will gladly answer it.  I love all the members of this Facebook group, everyone is generous with tips, ideas and encouragement.  I believe that with much of the support we give to each other is a direct relfection of the wonderful support you give to each of us.  I'm happy that I found you and for all of the friends that I have made on your group.  Thank you for all you do!"
--Donna Ibbetson
"Not having purchased a crafting e-book before, I was hesitant, but I decided to splurge for my birthday gift to myself and order the e-book. I am so glad that I did! The step by step directions and pictures make this so easy to use - and there are so many ideas! I would recommend this to anyone who wants to begin a new crafting hobby or perfect the crafts they are already making. This e-book is very user friendly and the instructions are step-by-step, even a novice to the craft world would appreciate it!"
--Sandi Goldsboro
"Your ebook has been such a blessing to me.  But the fact that you continue to educate us with your videos and tutorials without asking for more money is incredible!  You are the ONLY teacher who does that, and I appreciate it more than I can say.  A lot of these ladies in the group are just starting out with their businesses and can't afford more than what they paid for your ebook.  Another incredible thing you have done is provide a community of caring and generous ladies on this website who share their knowledge and give support to anyone who needs it.  You are the best!"
--Carol Hilton
"You pack in so much information and your tutorials are easy to follow.  I started out following someone else, but when I came across your wreaths and ebook, I was hooked.  You keep it nice and simple, yet so informative. I remember some people posting their first creations and everyone has come so far and it's great to see how people develop their own style.  I remember when I first really started looking at wreaths. I knew at a glance that it was one of yours before looking for the logo. Now I see that happening with other wreath makers you taught. Thanks for all you do."
--Lisa Whitley Muntz
"I have really enjoyed your ebook and it motivates me to try my hand at making the wreaths.  Don't know that I will every get confident enough to try to sell them but I'm having fun.  I love all the poeple in the Facebook group.  I feel like I got a whole lot more than what I invested into the purchase of the ebook and would not hesitate to buy ebook #2!"
--Jimmie Sue Custer
"Julie you have been a blessing to me.  My first job is a pastor's wife.  My second is wreath making.  I need to make money to help our family.  We live by faith! You have taught me so much and inspired me with your recipes.  I'm kind of a copycat right now because I don't think I'm that creative but the more you share, the more I learn.  You have a talent that is given from God.  There is also an enemy that will tell you to quit.  I hope you recognize that you have touched a lot of people's lives and helped immensely!  Do what God tells you to do with your business and I'll join you in prayer that it will continue to thrive!! God Bless you Julie."
--Jennifer White
"Without a doubt your ebook was one of the smartest purchased I've ever made.  I don't sell, I'm nowhere near good enough but I get so much enjoyment out of making things for my home and for gifts.  Thank you for your generous spirit, Julie!"
-- Carol Boes
"I definitely received much more than what I expected. The additional recipes for different wreaths or tutorials for doing a particular bow or using a particular new product have doubled the value of the ebook.  I often refer to the ebook, especially when I'm blank on making a new wreath.  Well worth the money."
--Sander Perkins
"The ebook is filled to the brim with info on starting a successful business.  It is also easy to follow.  The tutorials are the best.  It is easy to tell someone how to do something but you actually take the time to show us different techniques for wreaths and so much more.  The support and encouragement is out of this world and the Facebook Group has such wonderful people, that support and love and even pray for each other.  Very happy to be here.  You are blessing us with the gifts God has given you and I can't ask for more."
--L. Lynne English
P.S.: Not a technically savvy person or never purchased on the web before? No worries, I've got you covered.  If you have never downloaded a book over the web before, or if you are ever stuck, I'm here to help. I'm easily accessible by phone or email and I can help you get your copy of Learn Deco Mesh Wreath Design in a flash. In fact, I've shown one beginner after another just how quick and easy it is to download e-books off the internet.

Buy Deco Mesh Wreath Design Today!
I want to learn to make my own gorgeous, full deco mesh wreaths, saving me money and teaching me a new craft!
This bundled pack retails for over $150.
 For you TODAY you only have to invest $47 $37!
Policies – I understand that results of testimonials and examples on this page are not "typical" results and that you make NO promises or guarantees that I will produce any specific design or result. I realize that my own efforts are unique and my results may vary from those shown or implied.
I understand this e-book is an electronic book delivered over the web and will be downloaded to my computer or device in a PDF format which can be opened by a Windows computer or a Mac computer containing Adobe Acrobat Reader (download Adobe Reader for FREE here) or to an iPad using iBooks or other e-reader.  I understand that this electronic book is formated for digital use and may not print clearly if printed on a personal printer.
I will be sent immediately to the download page after successful payment and if for any reason my computer loses connection, Southern Charm Wreaths will immediately email me instructions as a back up.
However, I also know that if I don't get the results I want, or for any reason in the next 60 days, I can ask for a complete refund, and you will cheerfully refund my entire purchase price. And everything I've downloaded is mine to keep. Either way, I can't lose!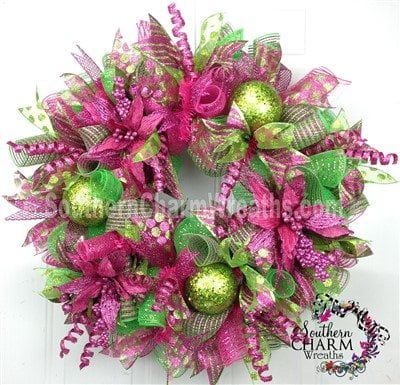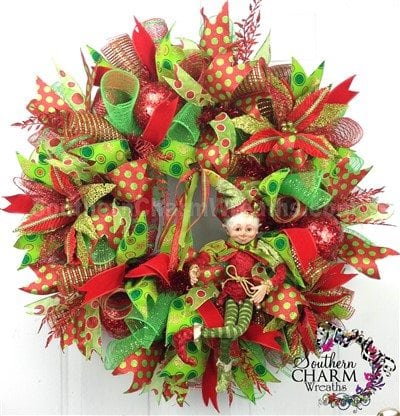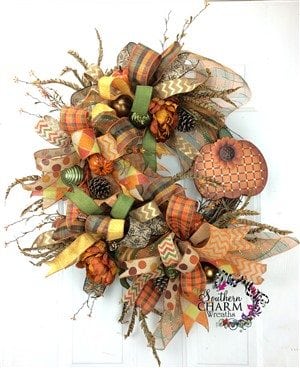 &copy Southern Charm Wreaths, LLC