Successful Wreath Making starts with Quality Supplies!
A shortcut to establishing your own vendor list.
DOWNLOAD YOUR COPY TODAY!
This is a digital download. You will not be mailed a printed copy.
After purchase, you will receive an e-mail with a link to download this planner.
If you do not see the e-mail, please check your Spam folder or contact us here.
Where to Buy Wreath Making Supplies?
I get asked this question ALL THE TIME and my answer has always been; that depends.
Because there isn't a one-stop-shop for everything wreath making and faux floral designing. I've been selling wreaths since 2009 and it's taken a lot of time, research, and expense to find suppliers or vendors I trust and feel confident recommending.
When I started wreath-making, I was desperate, like you, to find supplies for my wreath-making addiction. And when I attempted to ask other wreath makers where they purchased their supplies, I either received no response or a nasty reply of; "do your own research".
I quickly realized those who refused to share their supplier information
are fearful that it will ruin their business. 
So Why Reveal my Suppliers? 
As a wreath making industry leader, I would rather have more wreath makers in the world than be fearful of losing customers to competition. I'm a true believer of the saying, "We rise by lifting others".
---
To save you from making the same wreath rookie mistakes that I made! I wasted so much time, money, and resources on suppliers that were not good quality and even vendors who took advantage of my inexperience.
---
To help educate you and give you more confidence in buying so you'll be armed and ready to deal with vendors from a position of strength, not weakness.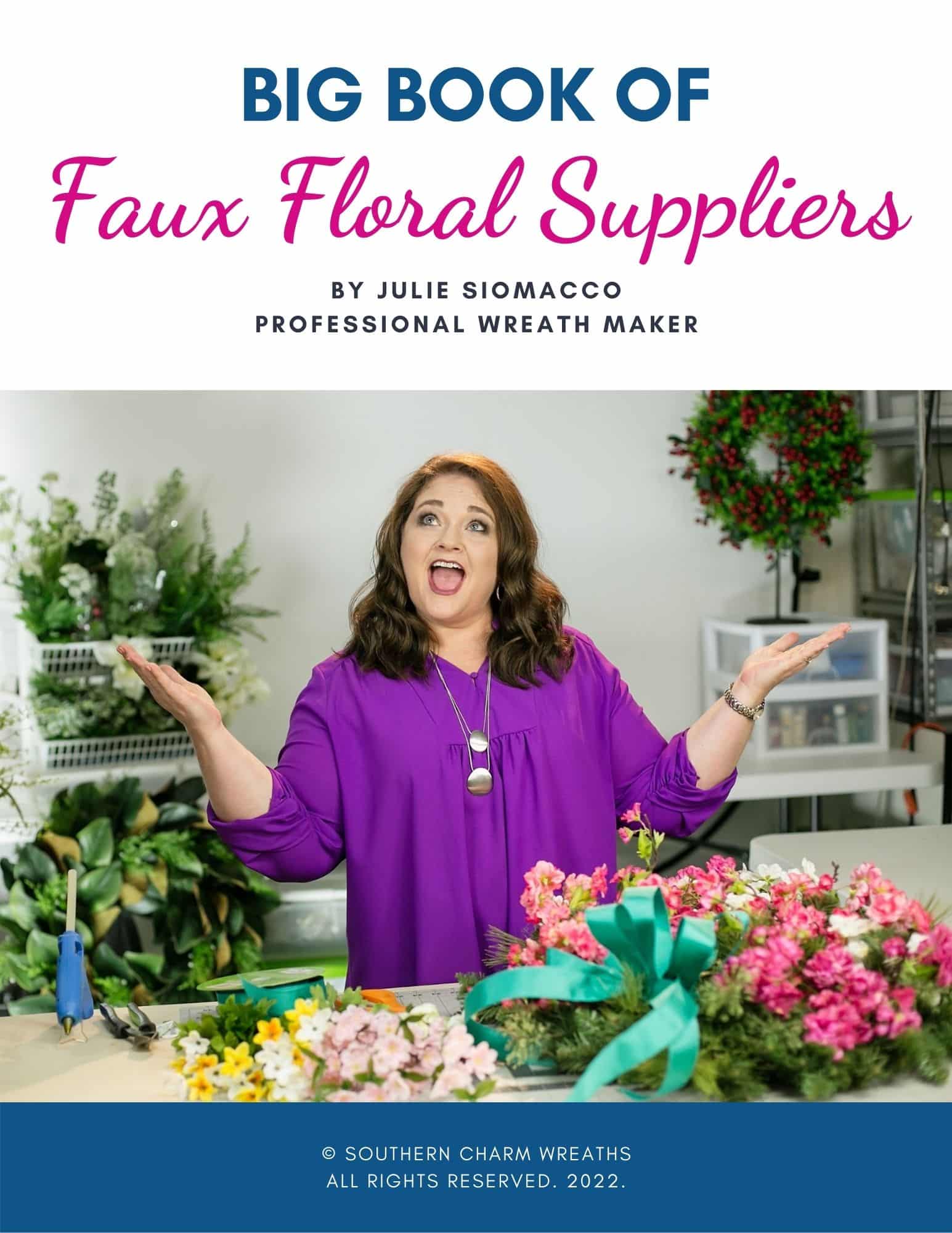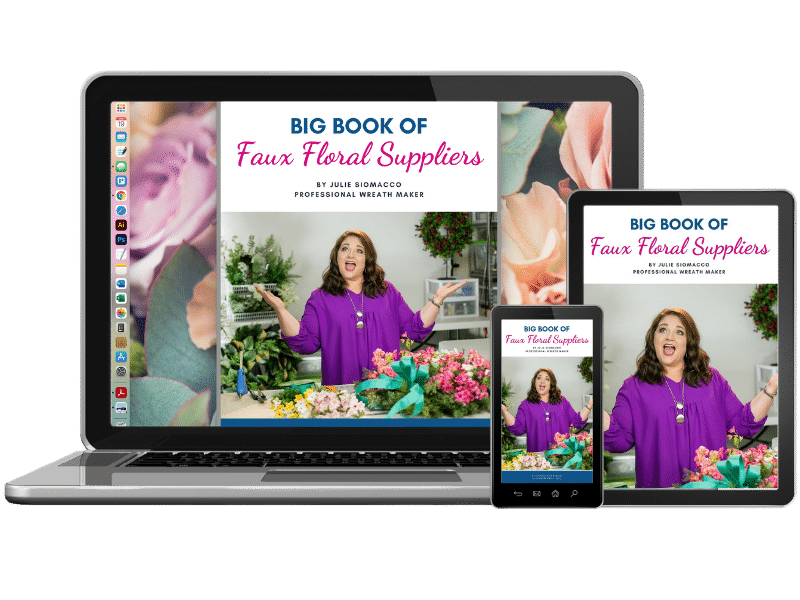 In this ebook, I'll share with you 28 Retailers (not including the obvious Hobby Lobby, Michael's, and JoAnn's); plus

26 Wholesalers

for amazing quality faux flowers, greenery, ribbons, signs, attachments, florist suppliers, and premade wreaths/garlands.
---
And because this is an ebook, you'll be able to download it today on all your devices to have it readily available while shopping!
Save time and money with these online wreath making suppliers!
My business coach thinks I should be selling this resource for much more money. However, we're living in some crazy times right now, we need wreath-making therapy more than ever! Wreath making is my go-to craft for coping with daily life; It's my therapy.
So even though you see a low price tag on this ebook, the content contained is valued at much more. This ebook contains over 12 YEARS of research and trial and error.
Just click the button below to order now, while everything is still in front of you.
Julie started creating wreaths to make her home warm and inviting while being a stay-at-home mom of three. In 2009 she turned her hobby and passion for wreath-making into a full-time business after her neighbors purchased her wreaths off her door. 
She's now the queen of wreath making and do-it-yourself holiday decorator. A master of producing quality works of art on the fly with the heart of a teacher.
Julie has turned her passion of faux floral design and holiday decorating into Southern Charm Wreaths, a thriving faith-based business that inspires thousands of crafty people every day. She's trained in several product lines and stays up to date on trends, products, techniques, and online selling strategies in her industry to give her audience the best advice possible.
She's been featured online at Martha Stewart Living, Better Home & Gardens, and BloomTV and is the co-founder of Wreath Makers Live, a conference dedicated to educating wreath makers all over the world.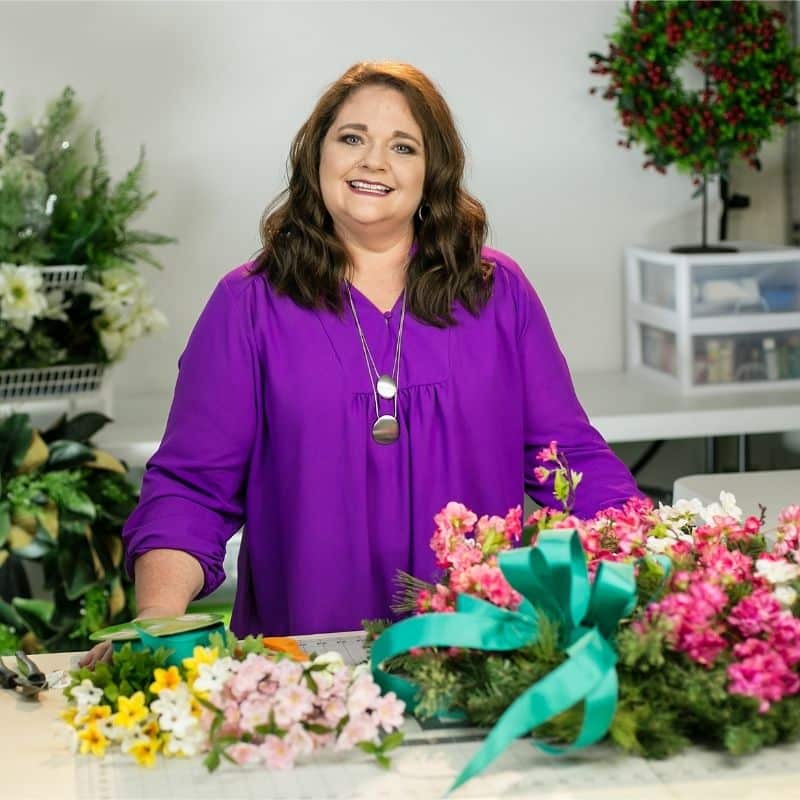 With her expertise and amazing eye for color and texture, Julie is rejuvenating the holiday decorating and wreath making industry, showing her audience how to be more confident in their creations and teaching creative business owners how to grow a business using the talents God gave them.
Julie's encouraging and welcoming personality, along with her fool proof tips, has gained her a loyal online following. She offers coaching programs, classes, decorative door wreaths and inspiration to help her audience create a festive holiday environment for their homes.
She's a Southern girl, born and raised in the South and has been a resident in South Carolina, USA since 1999.
I know finding supplies can be overwhelming but with this Big Book of Faux Floral Suppliers, you'll be much more equipped to shop.
DOWNLOAD YOUR COPY TODAY!
This is a digital download. You will not be mailed a hard copy.

After purchase, you will receive an e-mail with a link to download this planner.
If you have any issues with your download, please contact us here.
If you do not see the e-mail, please check your Spam folder or contact us here.
Due to the nature of this digital product, we offer no refunds.
Thank you. This is my most time consuming task and $ draining mistake making problem.
Sharon Partin
Julie, just wanted to thank you so much for this update. When I say it came out amazing  that is an understatement. The layout is so nice..perfect. And I truly appreciate your breaking it down and telling us a little about each vendor. I can assume myself and other people find it really helpful to see what their business sells. And the info on whether its time to buy Wholesale. Great Info.
Thank you again so much for your time and hardwork.
Kim Stivala
Julie thank you so much for believing in each of us enough to share all you do. You truly want us to do our very best! May God continue to bless you. I pray this year I get the privilege to learn from you in person.
Gennell Morgan
Thank you Julie! This is absolutely awesome!
Brenda Hollis Riden
Oh my goodness, this is amazing!!!! Thank you Julie!
Yvonne Roberts
I love that not only were the vendors are listed but you also included information and links for each company.  I am able to go directly to sites depending on my needs. I have already signed up for emails from several vendors. Yes I would recommend it to others.
Ellen Lynn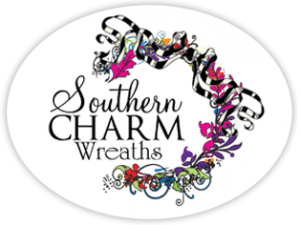 &copy Southern Charm Wreaths, LLC