"SNATCH THE SECRETS"
for Stunning Holiday Arrangements
From Concept to Compliments
Even if You've Never Tried
having a vision but not knowing how to start;
seeing the same boring flowers from name brand retailers;
not having the confidence in where to shop, start, stop & sell;
second guessing yourself at every step...
ONE-TIME PAYMENT OF $97 $38.50
Images are examples of work and not exact projects taught.
Images are examples of work and not exact projects taught.
you know exactly when to stop stuffing so that your arrangements are not so expensive and chaotic looking;
you make designs so realistic your partner tries to water them;
you make an arrangement for a holiday party or gift in the blink of an eye;
you have the confidence to take orders and sell your masterpieces;
you have a joyful & festive home to come home too;
you have quick easy craft booth and Etsy shop fillers.
"I played around with the color blocking idea and tried the stair stepping of the flowers which she showed us how to do. Which without Julie's Master Class, I can definitely say I would never have thought of doing either method." - Celeste K.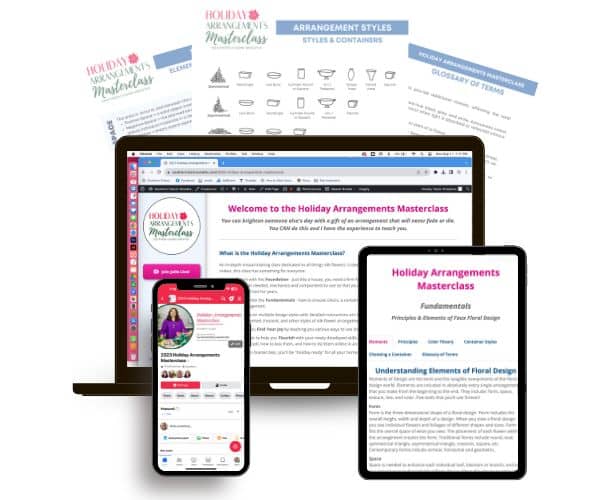 [PRE-RECORDED + LIVE TUTORIALS]
What is the Holiday Arrangements Masterclass?
An in-depth virtual course teaching you to have fun and gain confidence in making holiday silk flower arrangements. It doesn't matter if you're a beginner or more advanced maker, this class has something for everyone!
Images are examples of work and not exact projects taught.
8+ LIVE holiday arrangement tutorials teaching you different arrangement styles so that you'll have many different ideas and be able to make arrangements for any space or any occasion.
Pre-recorded training videos on the basics in order to build your confidence and have a well constructed and solid foundation.
An opportunity to "pick the brain" of a 7-figure faux florist with any questions of making and selling.
Gain confidence in coordinating colors and mixing greenery because we know it's confusing with all the options available these days.
Know exactly where Julie spends her money and finds her life-like flowers with our pro vendor list.
Save time and money with simple recipes in order to duplicate them quickly.
An exclusive Facebook community to join other like-minded crafters, share your results and ask questions.
PLUS... Holiday Silk Flower Arrangement Masterclass Recipe e-book Download for you to save to reference all the different arrangement styles made during the course and bonus downloads including choosing container shapes, holiday color palettes, pricing calculation worksheet, and more.
ONE-TIME PAYMENT OF $97 $38.50
Monday, October 9
7:00 PM ET - Live Welcome + Learning Session
Tuesday, October 10
2:00 PM ET - Live Training making a Holiday Arrangement
7:00 PM ET - Live Training making a Holiday Arrangement
Wednesday, October 11
2:00 PM ET - Live Training making a Holiday Arrangement
7:00 PM ET - Live Training making a Holiday Arrangement
Thursday, October 12
2:00 PM ET - Live Training making a Holiday Arrangement
7:00 PM ET - Live Training making a Holiday Arrangement
Reasons Why You Should Join Us
Peak over the shoulder of a pro and discover how to turn a vision into a work of art using silk flowers.
There is no other course offered teaching you how to master faux floristry AND how to profit from it.
Recipes taught in the Holiday Silk Flower Arrangements Masterclass can be used over and over for any holiday or season with a quick change of florals or colors.
For the price of one fresh flower bouquet learn a skill that will last you a lifetime.
ONE-TIME PAYMENT OF $97 $38.50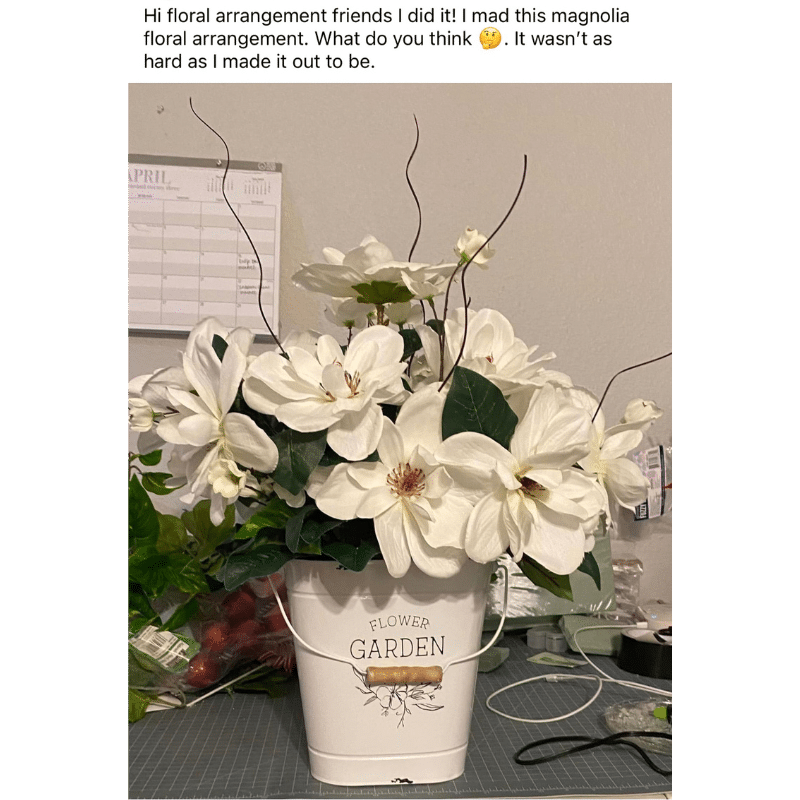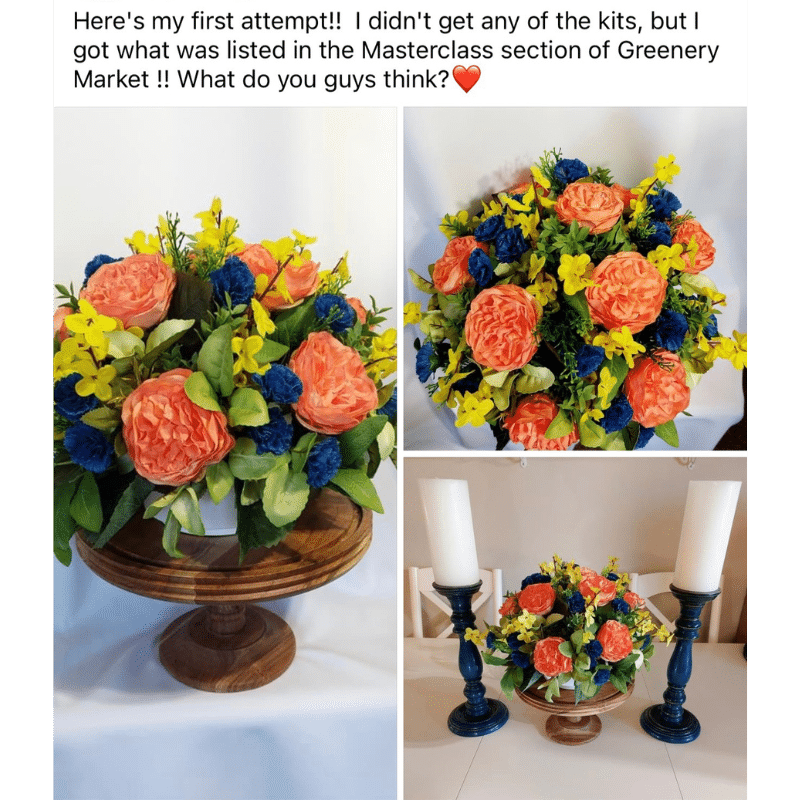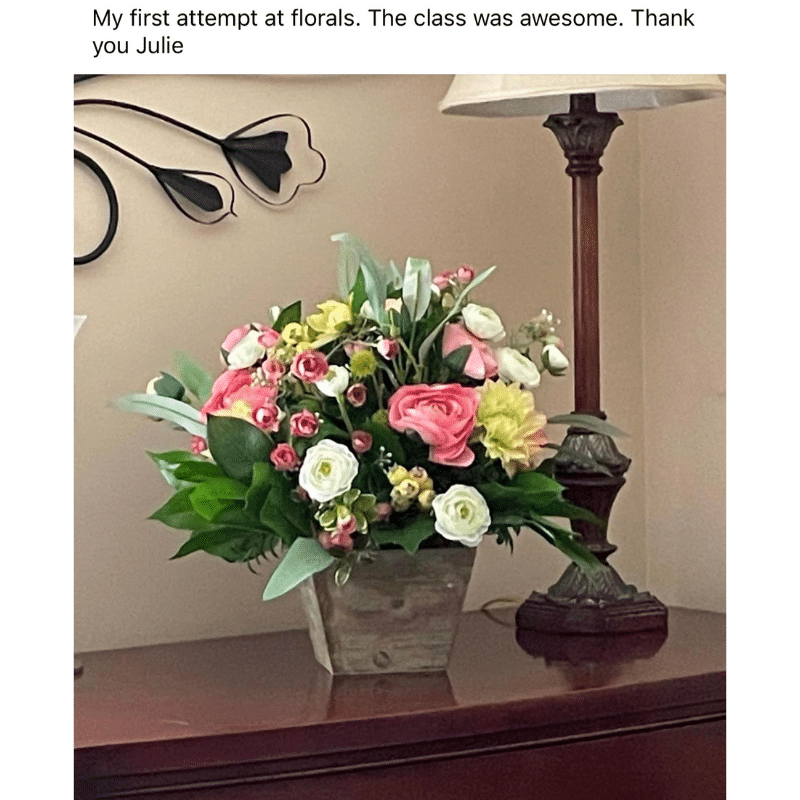 Julie Siomacco started creating wreaths to make her home warm and inviting while being a stay-at-home mom of three. In 2009 she turned her hobby and passion for wreath-making into a full-time business after her neighbors purchased her wreaths off her door.
She's now the queen of wreath making and do-it-yourself holiday decorator. A master of producing quality works of art on the fly with the heart of a teacher. Julie has turned her passion of faux floral design and holiday decorating into Southern Charm Wreaths, a thriving faith-based business that inspires thousands of crafty people every day. She's trained in several product lines and stays up to date on trends, products, techniques, and online selling strategies in her industry to give her audience the best advice possible.
And that's why she's dedicated her career to teaching blooming floral designers like you to create stunning, realistic silk flower arrangements. She's packed everything she knows into this Holiday Silk Flower Arrangements Masterclass so she can help you save money, save time, and gain confidence.  
Sign up now to be included.
ONE-TIME PAYMENT OF $97 $38.50
You can brighten someone else's day with a gift of an arrangement that will never fade or die. You CAN do this and I have over a decade of experience to teach you.
I learned so much about flowers and where they should be place. What order they should be placed. Symmetrical and Asymmetrical. Gosh, just so much. It was really a pleasure to have been in this class. - Carla
Who is the Holiday Arrangement Masterclass for?
"Budding" Silk Flower enthusiast If you're just beginning, don't worry, you've come to the right place. We'll go slow and steading to ensure you understand some of the classics.
"Blooming" Silk Flower designer If you've started making arrangments but can't figure out why they "don't look right" or have any shape, we'll make sure to teach you when to stop and how to start so that your shape is well defined before beginning.
"Flowering Silk Flower Maker If you've been making arrangements for a while and now ready to start selling your arrangements online or at craft shows, we'll share with you ways to price, box and ship arrangements or ideas for displaying arrangements at craft shows.
You'll be a CONFIDENT SILK FLOWER FLORIST in no time!
Shirley Young-Doctor
The Floral Masterclass was amazing. I've already started practicing and using Julie tips on prepping your vase. At first I stayed away from oval shaped vases b/c I didn't know how to prep it with the foam. Will be practicing more and more.
Rose VanAnth
The amount of hard work, thought, time, and effort that was put into creating this weeklong class and then seeing it through, I can't even imagine. Julie is a very knowledgeable and gifted designer. Every detail you could think of was covered. She has such a pleasant and upbeat personality that watching her tutorials helps me to get motivated even on days when I'm not feeling too motivated.
Brendalee Bear
Thanks to the Masterclass I am leveling up my wreaths.
Becky Roberge Wetzel
Hi everyone, my name is Becky and I live in Vermont. A few years ago I started making wreaths and now I'm trying to create a wedding floral rental company. I took Julie's class in hopes to learn about faux floral arranging and it was a wealth of information! I loved it.
ONE-TIME PAYMENT OF $97 $38.50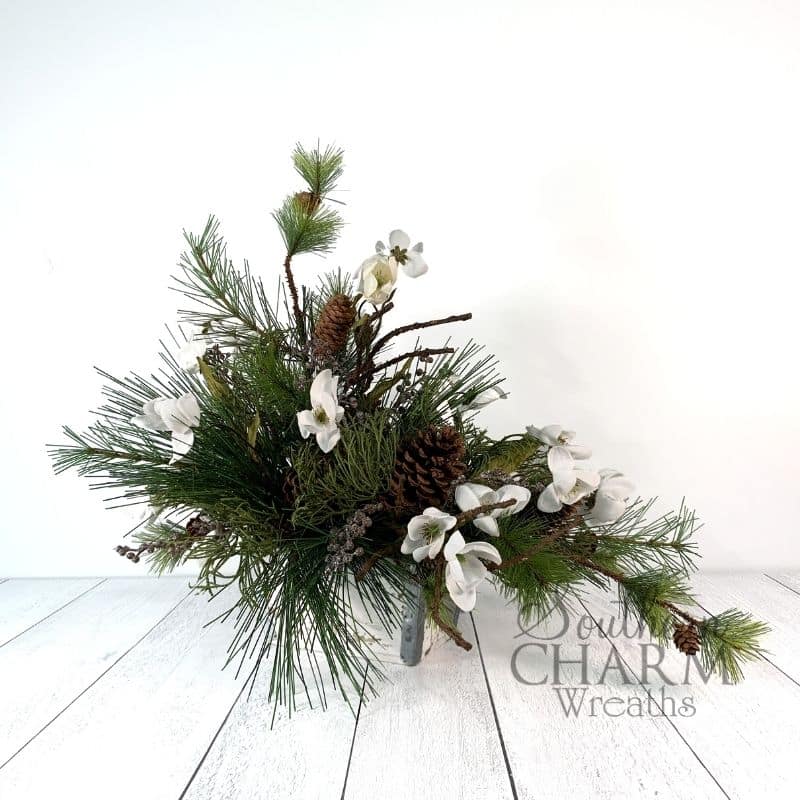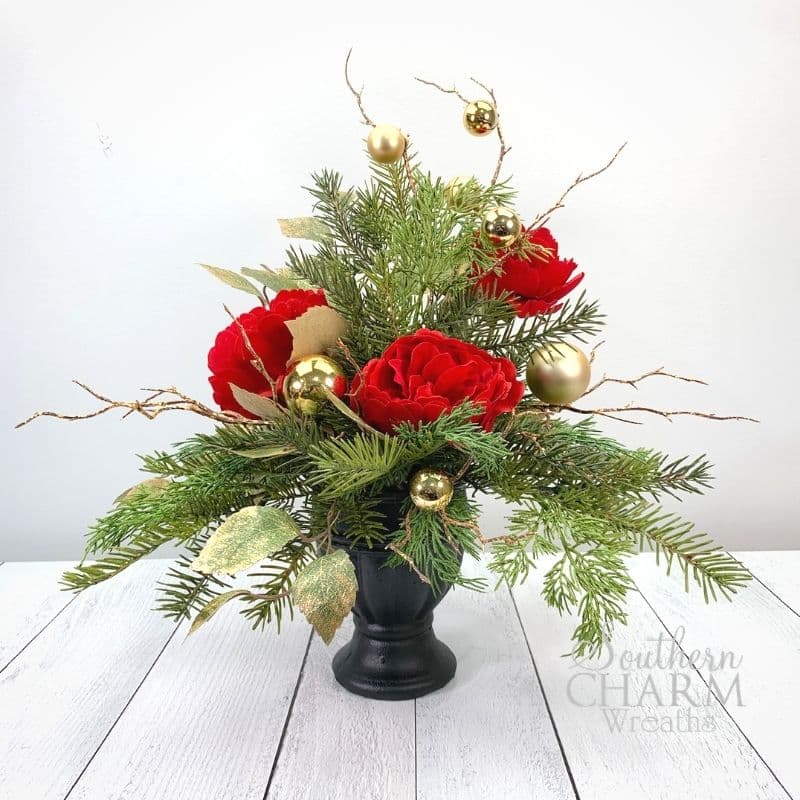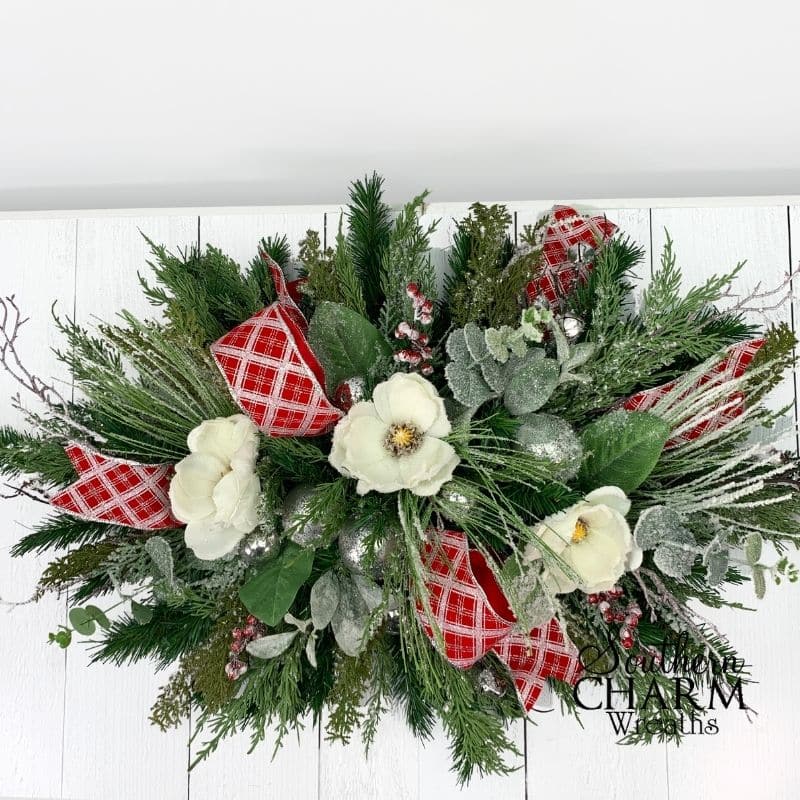 Images are examples of work and not exact projects taught.
FREQUENTLY ASKED QUESTIONS
The Holiday Silk Flower Arrangements Masterclass is a hybrid course of online tutorials found in the Holiday Silk Flower Arrangements Masterclass log-in on our website and live tutorials of silk flower arrangements training by Julie Siomacco.
After purchase, log in to the member portal area to access the course. The course contains a mixture of pre-recorded tutorials, live tutorials or replays of live tutorials, handouts, and other resources.
After your purchase, click on the Member Login link at the top of our website. Then click on the Holiday Arrangements Masterclass circle button. This gives you access to our online course.
No. Supplies are not needed to learn from this Masterclass. However, we will suggest some kits to purchase online from another vendor for an additional price. Their kits range from $65-$90 and contain quality silk flowers and containers but do sell out fast. Julie will also teach you ways to make designs if you don't have or want a kit. If you wish to practice our recipes after consuming the course, you'll need a container, foam, silk florals, and tools listed in the course. Each design gives a list of floral supplies used with their SKU numbers to source from other online vendors.
What if I can't attend the live sessions?
We understand that not everyone will be able to attend the live sessions. Joining live is not necessary to complete this Masterclass. We will have replays available of all the live tutorials posted inside the course portal for you to view at your own convenience.
How do I access the Holiday Arrangements Masterclass Course Portal?
After you purchase the Holiday Arrangements Masterclass, you will receive an email with your username and password that will give you access to the Membership Dashboard on our website. You will use this information to login at www.southerncharmwreaths.com/member-login. Once logged in, you can click on the Holiday Arrangements Masterclass button to enter the course portal.
How long will this Masterclass be available for viewing?
You will have access to the Holiday Arrangements Masterclass course portal with pre-recorded trainings, live session replays, and handouts indefinitely inside the course portal on our wesbite.
Do I need Facebook to participate in the live sessions?
No! Facebook is not required to attend the live sessions. We will have the live sessions available for you to watch in real time and you will be able to ask Julie questions inside the course portal. We will email you the information you need to attend each day before the live sessions begin.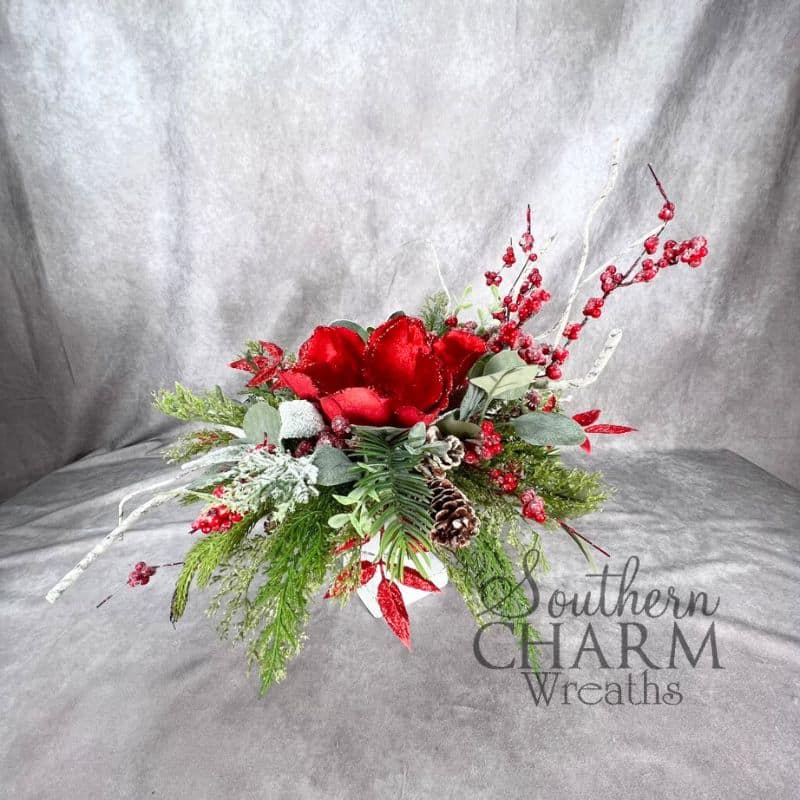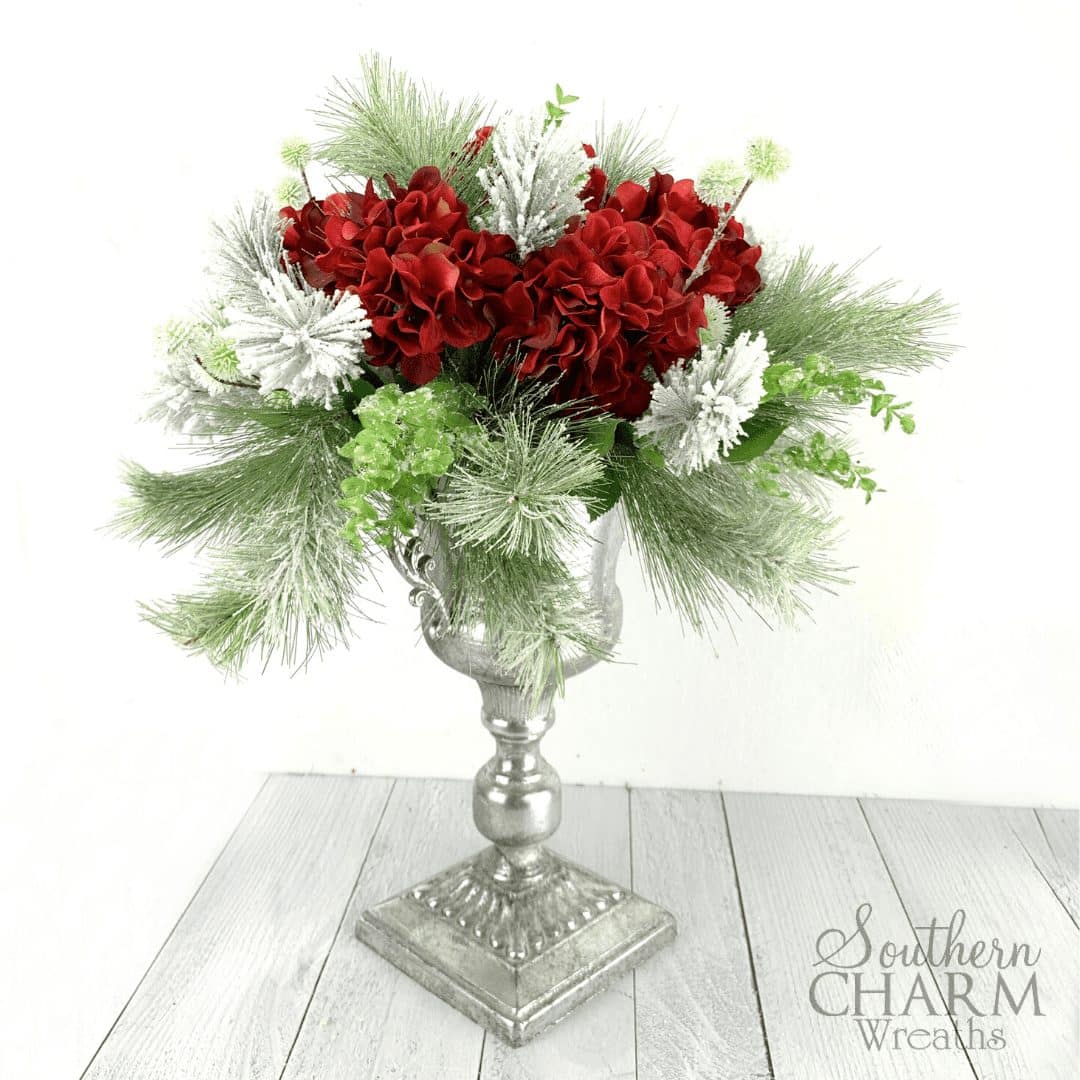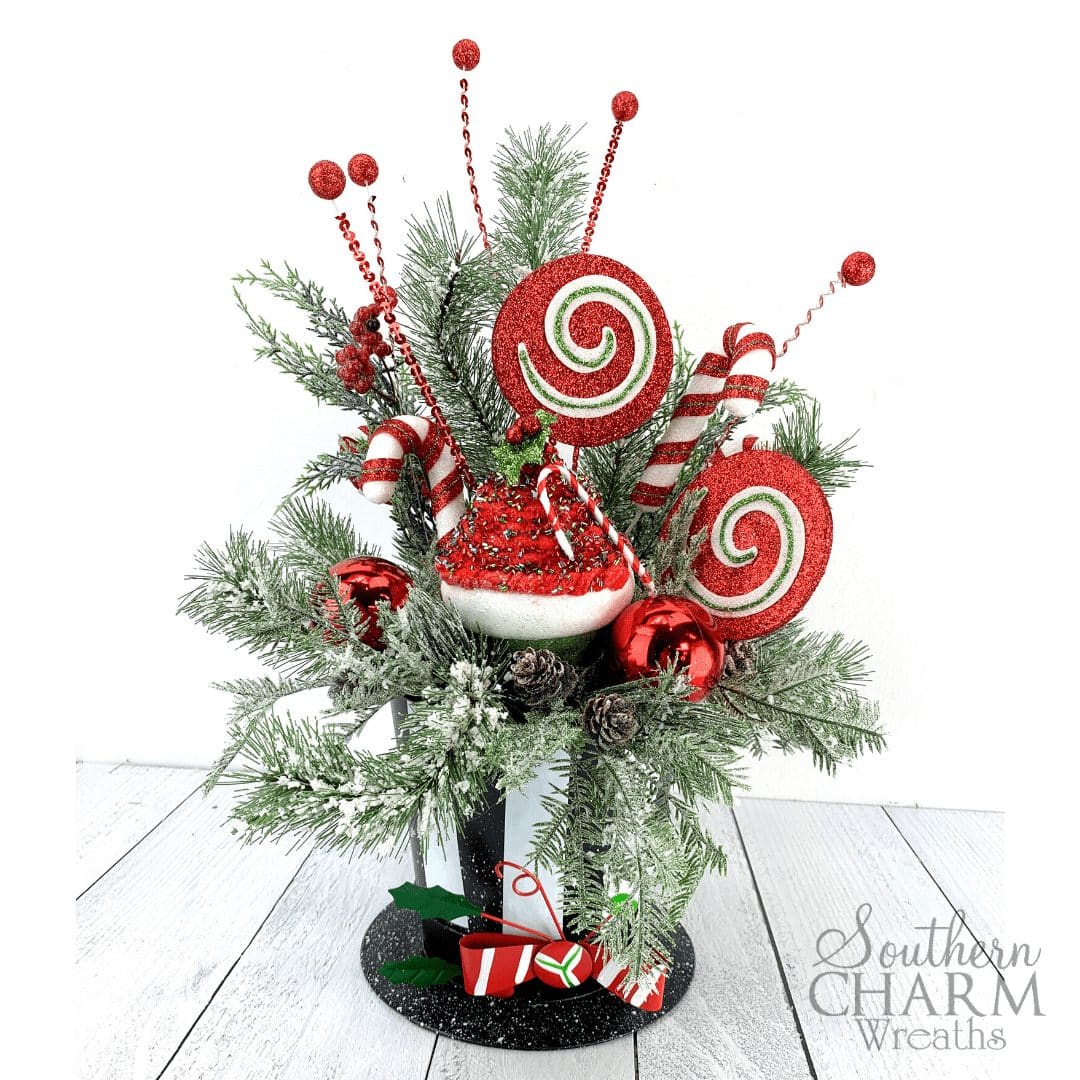 Images are examples of work and not exact projects taught.
Give yourself this OPPORTUNITY! You DESERVE it!
MASTERCLASS STARTS SOON! JOIN TODAY!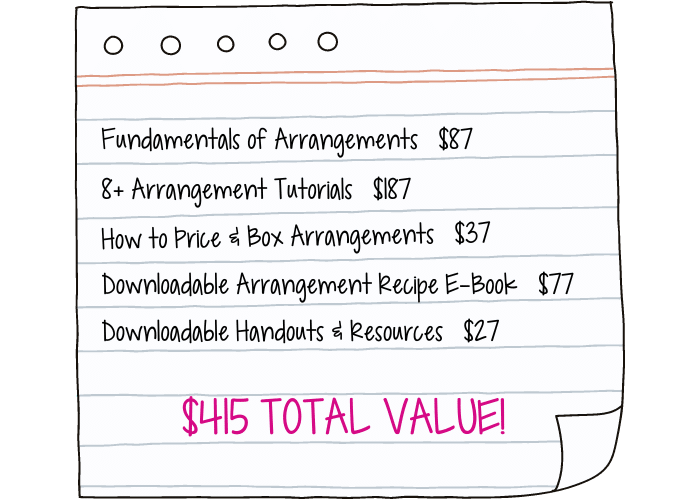 You can join the Holiday Arrangements Masterclass right now for just a limited time offer of $97 $38.50!
Click the button below to join the Holiday Arrangements Masterclass today!
ONE-TIME PAYMENT OF $97 $38.50
READ BEFORE PURCHASING!
Payment Policy – You agree to this one-time payment of $97 $38.50 for online access to our Holiday Arrangements Masterclass. Due to the nature of this product, we offer no refunds.
After your purchase, you'll receive an email from us giving you access to the Holiday Arrangements Masterclass and more information on how to access the course portal, training, and more. You can also log into your account here.
If you have any problems or questions, please contact us by clicking here.
Shirley Cianciolo
Where to begin!! Prepping, terracing, starting with greenery, starting with floral, just everything!! Thank you Julie!! This has been such a wonderful class!!
Morenia Conrad
Well I will be honest, I learned a lot, so much I didn't know, I have done several arrangements for weddings, and if I would have taken this class first, my arrangements would have been over the top to say the least! I am thrilled to have been apart of this amazing class, now that I have learned so much, I feel more confident in making arrangements for any occasion!
Melissa Smith
There are so many different types of arrangements and never new about color blocking. I'm just learning so much. I love it.
Linda Johnson
The Garden Rose arrangement was wonderful. I learned about terracing and better yet, combining with Color Blocking! The handout are outstanding!