Holiday Bow Making
MasterClass Replay
Learn to become a master bowmaker!
For a LIMITED TIME ONLY we have our
Bow Making Masterclass available for purchase.
Regularly $47, Black Friday Special $27!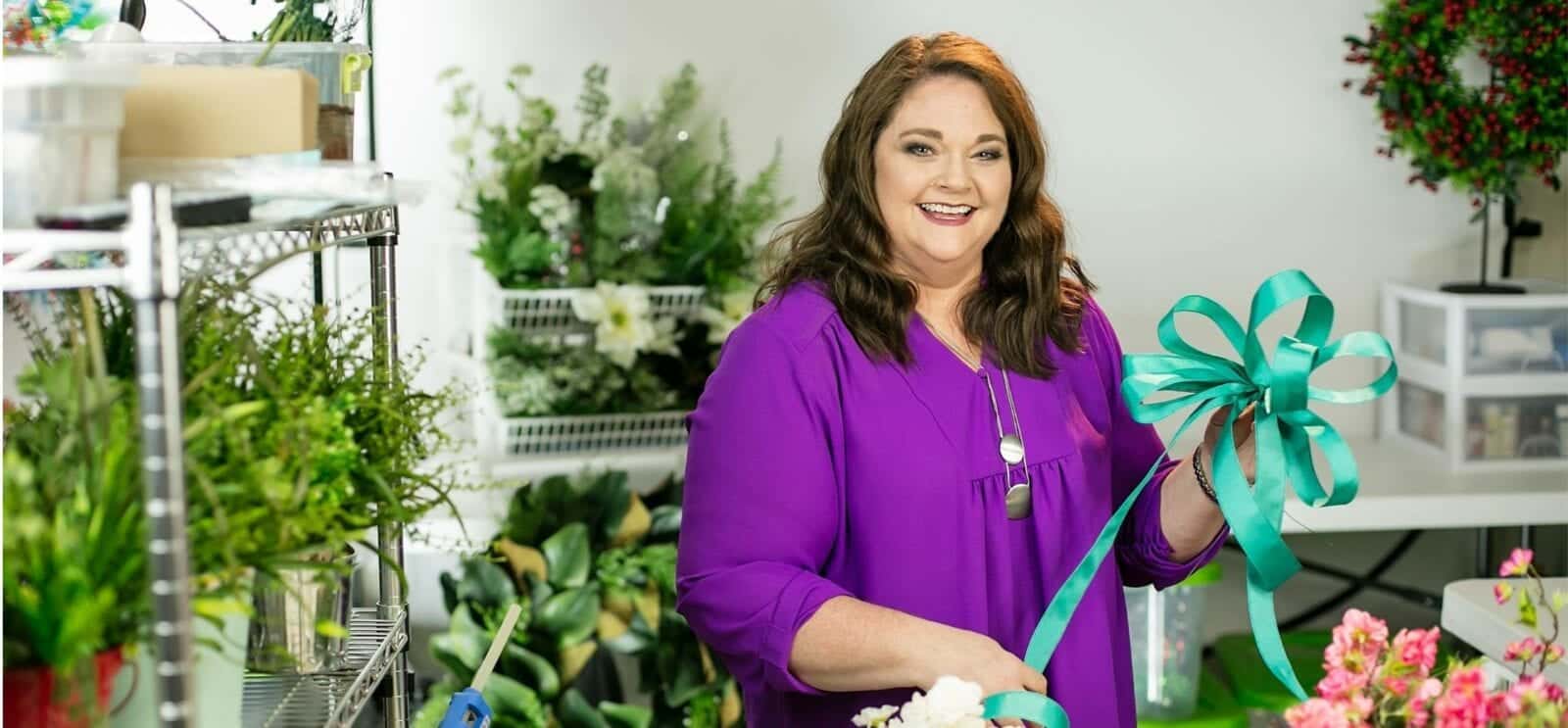 What is the Holiday Bow Making MasterClass?
It's where you'll learn to be a holiday bow-making ninja!
I challenge you to up your skill-level and bow-making strength!
Like you, when I started holiday decorating and wreath making, I could NOT make a bow and if I did... it was a hot mess!  I would rip it apart and try again, only to fail!
With trial and error over the last 12 years of creating, I developed techniques to help others become successful bow makers and created my signature bow, which is the easiest bow for anyone to make!
So, in order to make sure you're "bow ready" for all your decorating and DIY projects, my team and I are allowing this exclusive Black Friday offer, with private access to our detailed bow-making training and recipe booklet.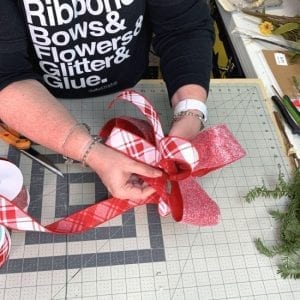 Over 10 HOURS of Video to Watch at your Leisure 
How to choose ribbon because quality matters & what ribbon to use for outdoors;

How to combine ribbon patterns & color giving you more confidence;

Where to buy quality ribbon to ensure bow making success every time;

How to make 1, 2, 3, 4, and 5 ribbon bows, both by hand and using a machine and the yardage of each ribbon; 

How to fix common mistakes without starting over;

How to price and ship bows if you're looking to make some extra money this holiday season;

How to use ribbon in Christmas Trees, a mailbox, garland bows and gift package bows;

How to tie even if left handed!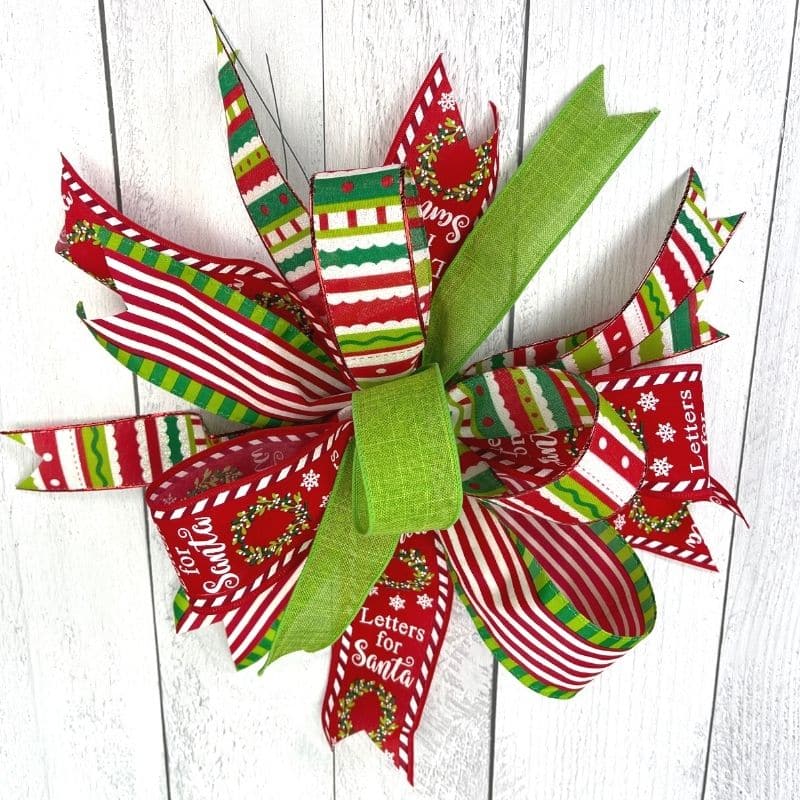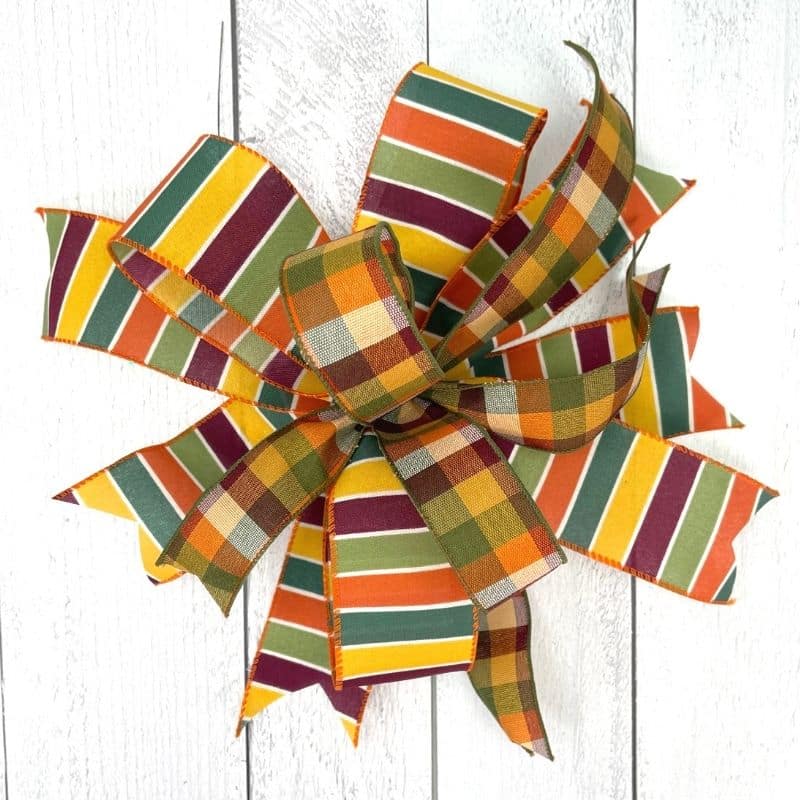 Ribbon! We'll give you a list of our favorite retailers and teach you how to shop when you're in stores.

Using primarily 2.5" and 1.5" ribbons will be taught but we also demo bow-making techniques using 4" ribbons.

scissors

pipe cleaner or florist wire (22 gauge)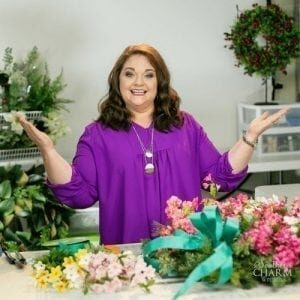 Hey there, I'm Julie Siomacco owner of Southern Charm Wreaths where we make beautiful handmade wreaths and teach you the art of making and selling them. 
I'm a self-taught, stay-at-home mom who learned to make beautiful simple designs out of my garage! If I can do it, so can you! 
And just like me, you have dreams worth achieving. You have the right to wake up every day empowered doing what you love. Listen, I already educate hundreds of thousands through my blog, ebooks and online courses. My passion is to teach you the art of wreath making and faux floral designing and to make money with your creations if you choose.  Your success is more important than just a sale to me, it is my calling.
Over the past 12 years, I've taught HUNDREDS OF THOUSANDS of women and men how to make designer wreaths, and I know I can teach you too!! Don't take my word for it, scroll down below and see the success other who've taken our bow courses in the past. 
This offer ends November 29, so don't delay!
Place your order now, while everything is still in front of you.
You're going to do great!
Regularly $47, Black Friday Special $27!
After your purchase, you'll receive an email from us giving you access to the Holiday Bow Making MasterClass videos with a link to download the corresponding recipe booklet. You can also log into your account here and download a pdf version. If you have any problems or questions, please contact us by click here.
TONI ROSITA
"Julie goes above and beyond! I came into this class only knowing how to make one bow and have left it armed with an arsenal of knowledge and confidence. She truly and genuinely wants you to learn and she is an amazing teacher! I will be taking any classes she offers in the future!"
CONNIE CANTERBURY PAULEY
"Julie, I can never Thank You enough for all I have learned in your class…You are absolutely the best, taking your time to show us step by step…Most teachers don't do that they just want to rush through it…Again Thanks so much, I have enjoyed every minute of your class…Have a wonderful summer…"
SUE ROSETTI
"This class is fantastic. Julie's method of teaching allows the student to see and hear the process of making the bow. It also gives the guidance the less experience need regarding color, quality, pattern and size when choosing ribbon. And, of course, her experience in overall wreath design as to bow placement is essential. The class is such a great experience for all skill levels."
DEBBIE ROBERTS
"Love this class. For the first time I feel confident in making a bow that actually looks like a bow a professional would make. Can't wait to make all kinds of bows. Thank you for all the valuable information."
LINDA PAULK STEINBAUGH
"Julie is so good at making beautiful bows and she makes it look so easy. She reminded us often to practice, practice to become more proficient ourselves. Julie is enthusiastic and wants her students to succeed. She is a really good teacher. I learned so much! Thank you Julie!"
NANCY KELLY
"Even after making wreaths and other designs for the last few years, I still learned new things. From choosing ribbons to new styles of bow that I haven't learned! Julie does an excellent job of explaining and demonstrating all the tips and tricks you will need! So worth the investment!"
LYNN ZUZZOLO
"This class is fantastic. Julie is a wonderful teacher with a great personality. She not only takes you from the beginning logic of how to pick out ribbons, match colors using a sign or the color wheel. She covers the quality of different ribbons, suppliers, and then starts to teach how to make the bows. She goes over each style of bow in great detail making them both by hand on a bow master. She answers all the questions students ask and is just a great teacher. I've made bows in the past, but learned new techniques and how to correct bad habits I picked up. Anyone taking the class will be delighted and feel that the cost was well worth it. I can't say enough good things about Julie and the class."
SALLY HUNT MEARS
"This is an awesome bow making marathon and well worth watching! Julie is a good teacher, explains everything in detail, and shows you hot it's done. She goes above and beyond to make sure everyone understands the process. I appreciated the beginning videos explaining how to choose ribbons and colors as well. The close up video of Julie's hands showing exactly how she hand ties her bows in invaluable. If you missed this, jump on it, you definitely won't be sorry. Thanks again Julie for such a terrific bow making master class!!"
MARY HEMMER
"I can make a bow, but Julie showing us how she makes them really brings it up a notch. I cannot believe how good my bows look now. Love how she gives you the recipe for a good bow. I will now be making the 2 and 3 ribbon bows. If you are new to bow making or know how to make one, Julie takes you step by step and answers you personally. Well worth the money spent. No question was a bad question. Just ask! Would really recommend this to anyone. Thank You for helping me."
DOREEN HAROLD
"I really enjoyed how you go through every step in the process and using the bow maker and by hand. You are so amazing for sharing your talent with us. Thank you!!"
NINA ELIZABETH McDANIEL
"As a long-time bow maker, I decided to take this class just for fun. It was fun, but I learned so much more, during these sessions! The inside tips and tricks will be invaluable in my bow/wreath making - which I make for seasonal decorations around my home. I SO enjoyed Julie's joyful Spirit in teaching and her willingness to say "well, I've never done this, but let's try…" It's very refreshing to know that mistakes can be turned into something beautiful and that confidence can create something priceless within oneself."
SUSAN RAY-PAGAN
"Julie is so talented and explains bow making so clearly that anyone can learn how to make a bow. Well worth the $$$. And what makes it even better is that the videos where she explains everything are available for 1 year so if you don't get it the first time you can watch it over and over again until you do. Very professionally done. Love it!"
CATHY ADAMS
"I struggle with making the trendy bows. After this class I am much more confident. Still need to practice but I feel like I will get it! I have learned some tricks and now can see why my bows were not as professional as I would like them to be. Julie carefully explained the steps and put in so much time making the handouts. This was well worth the money spent. I have learned many tips from her for the short time I was in the WOMC and now I am learning more in her Success Circle. I feel blessed that our paths have crossed life. She and her talents are a great inspiration. This class was perfect!!!"
MICHELLE TURK
"This class was amazing, I learned so much and I am very glad that I signed up for it and I am looking forward to using what she taught. Thank you so much for taking the time to teach us your talent. I would highly recommend this to anyone that wants to learn how to make bows."
JUDY TAYLOR BRASWELL
"This has been a great class. I have learned so much. You are a very good teacher and you have such an easy manner in the way you teach. It is amazing how just the placement of your fingers can affect the way your bow looks when you are pinching the ribbon. I joined the wreath of the month club. Thanks for sharing your talent."
Frequently Asked Questions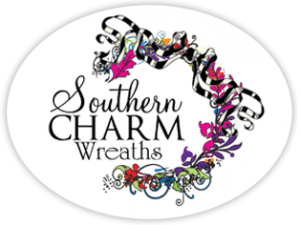 &copy Southern Charm Wreaths, LLC