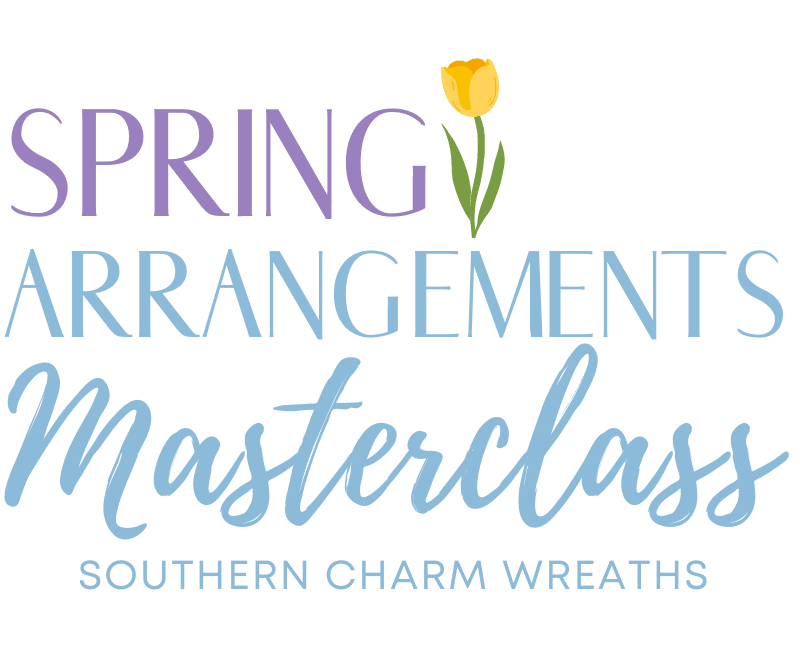 Spring Silk Flower
Arrangements Masterclass
LEARN HOW TO MAKE REALISTIC ARRANGEMENTS
WITH SILK FLOWERS EVEN IF YOU'VE NEVER TRIED!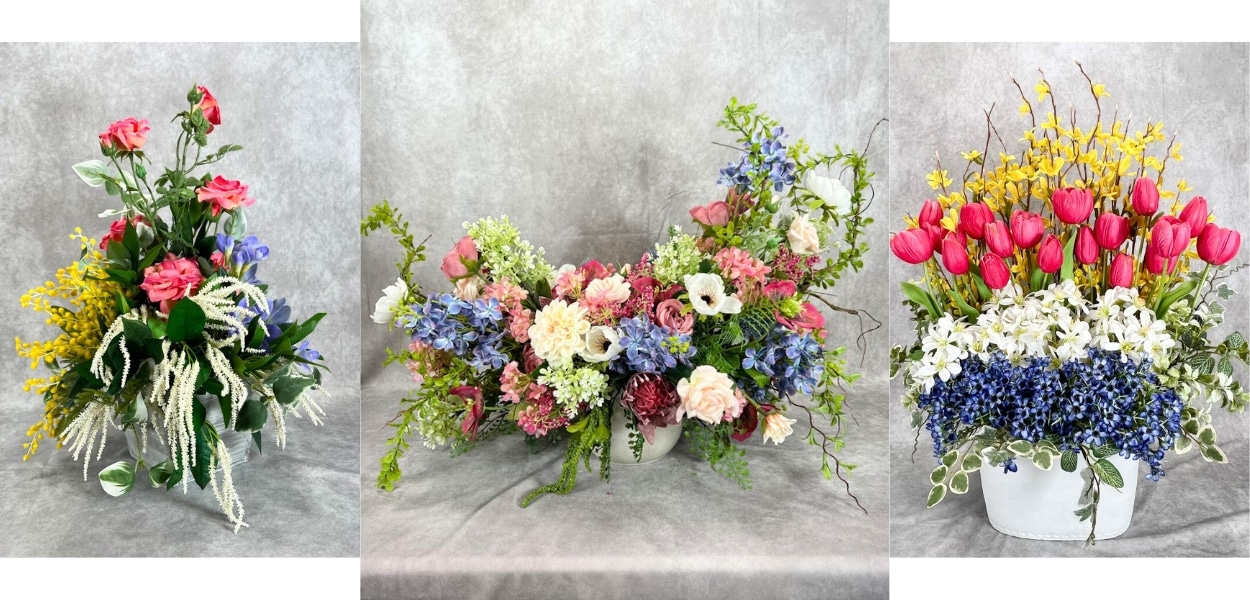 Learn how to start making various silk flower arrangements virtually from the comfort of your home!
Have you ever wondered...
Where to buy life-like silk flowers?

What containers to use for specific arrangement styles?

Where to start and how to know when to stop?

How to make fake flowers look real?
If you answered YES to any of these questions, you've come to the right place!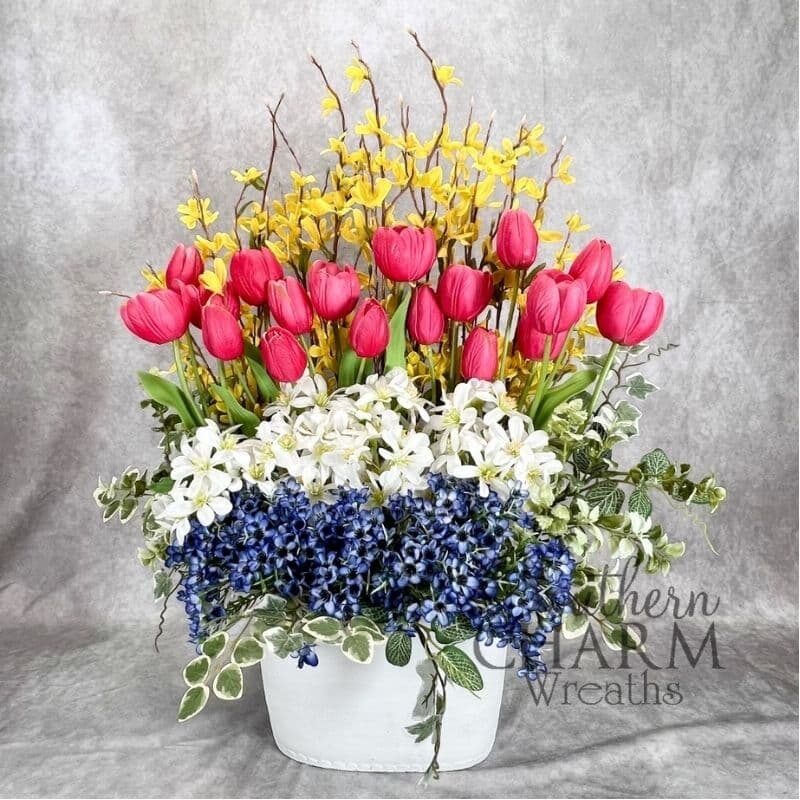 Have you ever wanted to purchase a life-like silk flower arrangement but couldn't find one you liked at a price you could afford?
Or thought to yourself, I think I can make that if I only knew where to start!
Maybe you consider yourself 'crafty' and need ideas to get you started so that you can make arrangements for your home or to give as gifts.
Or decided you're ready to start selling your creations but need a little more confidence.
In this masterclass, I'm sharing my foolproof method of creating amazing life-like silk flower arrangements for spring!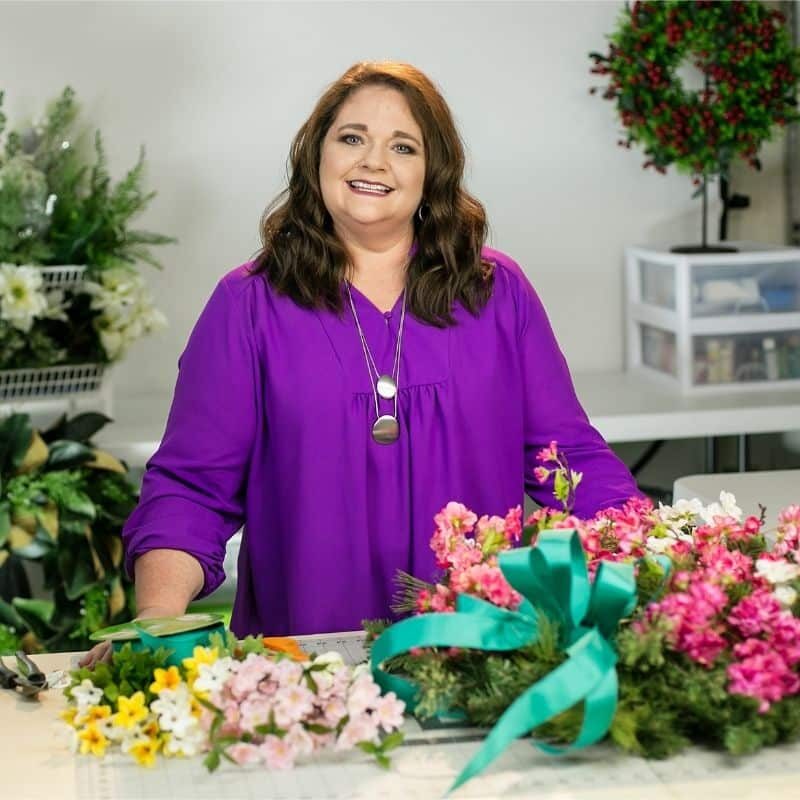 Julie Siomacco started creating wreaths to make her home warm and inviting while being a stay-at-home mom of three. In 2009 she turned her hobby and passion for wreath-making into a full-time business after her neighbors purchased her wreaths off her door.
She's now the queen of wreath making and do-it-yourself holiday decorator. A master of producing quality works of art on the fly with the heart of a teacher. Julie has turned her passion of faux floral design and holiday decorating into Southern Charm Wreaths, a thriving faith-based business that inspires thousands of crafty people every day. She's trained in several product lines and stays up to date on trends, products, techniques, and online selling strategies in her industry to give her audience the best advice possible.
She's been featured online at Martha Stewart Living, Better Home & Gardens, BloomTV Network, and Florist Review Magazine and is the co-founder of Wreath Makers Live, a conference dedicated to educating wreath makers all over the world.
With her expertise and amazing eye for color and texture, Julie is rejuvenating the holiday decorating and wreath-making industry, showing her audience how to be more confident in their creations and teaching creative business owners how to grow a business using the talents God gave them.
Julie's encouraging and welcoming personality, along with her foolproof tips, has gained her a loyal online following. She offers coaching programs, classes, decorative door wreaths, and inspiration to help her audience create a festive holiday environment for their homes.
She's a Southern girl, born and raised in the South, and is a resident of South Carolina, USA.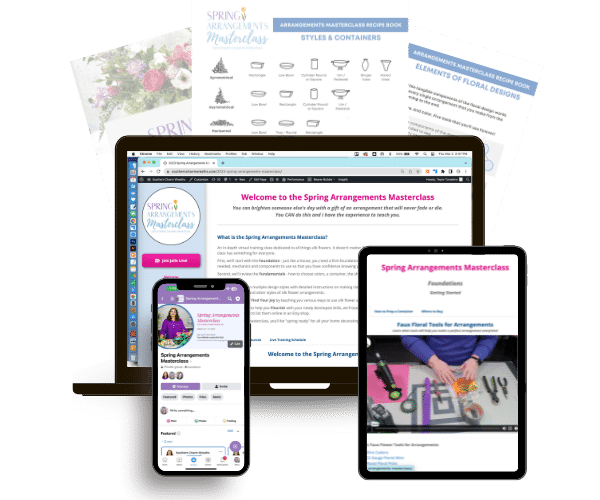 [PRE-RECORDED + REPLAY OF LIVE TUTORIALS]
What is the Silk Flower Spring Arrangements Masterclass?
An in-depth virtual training course dedicated to all things silk flowers. It doesn't matter if you're a beginner or a more advanced maker, this class has something for everyone.
First, we'll start with the Foundation - just like a house, you need a firm foundation in which to construct your masterpiece! We'll review tools needed, mechanics and components to use so that you have confidence knowing your silk flower arrangement will last for years.
Second, we'll review the Fundamentals - how to choose colors, a container, the shape and understand the basic principles of making an arrangement.
Next, we'll Focus on multiple design styles with detailed instructions on making classic round, symmetrical, asymmetrical, long and low, inverted crescent, and other styles of silk flower arrangements.
Then we'll help you Find Your Joy by teaching you various ways to use silk flower arrangements in your spring decorating.
And lastly, in order to help you Flourish with your newly developed skills, we'll teach you how to price silk flower arrangements to sell, how to box them, and how to list them online in an Etsy shop.
By the end of this masterclass, you'll be "spring ready" for all your home decorating this season or new items to list in your Etsy shop!
You can brighten someone else's day with a gift of an arrangement that will never fade or die. You CAN do this and I have the experience to teach you.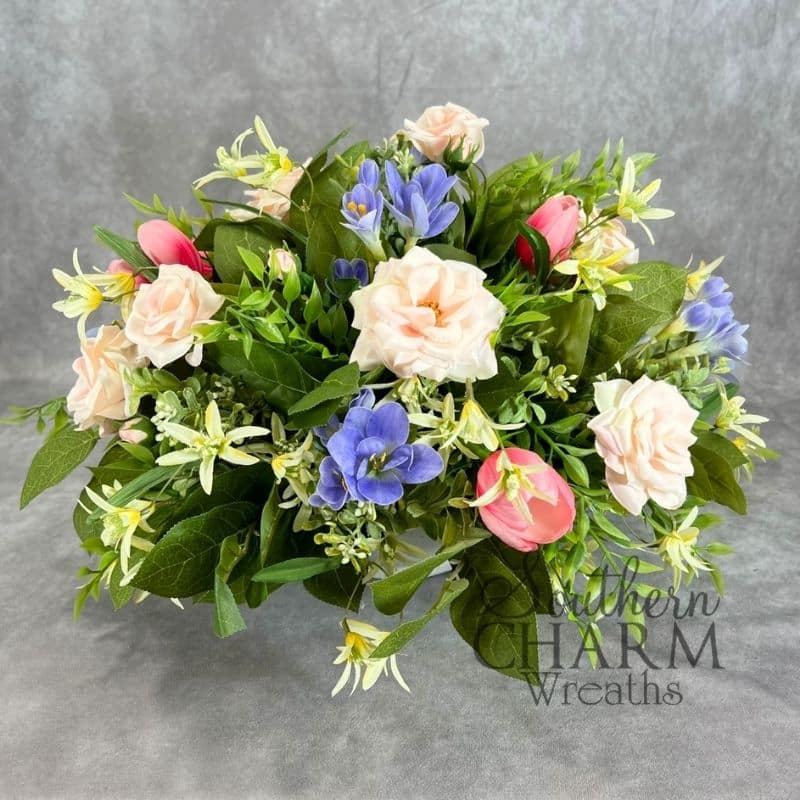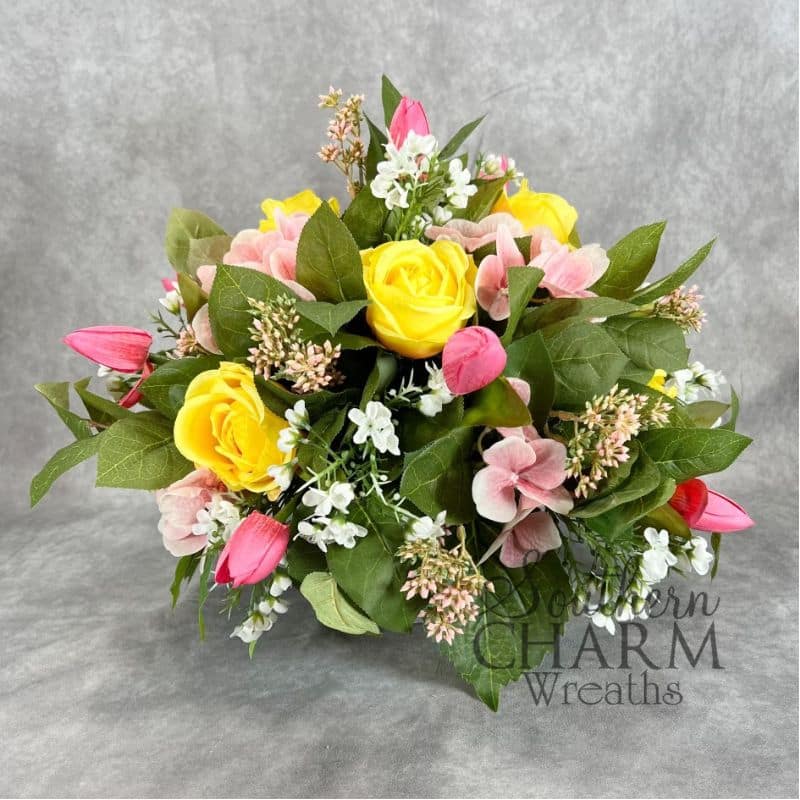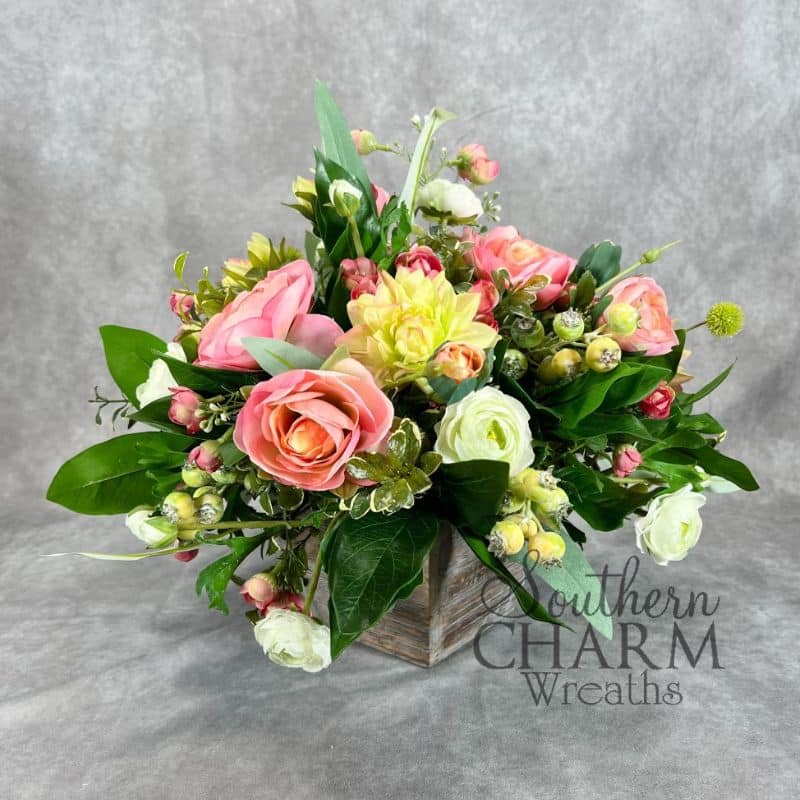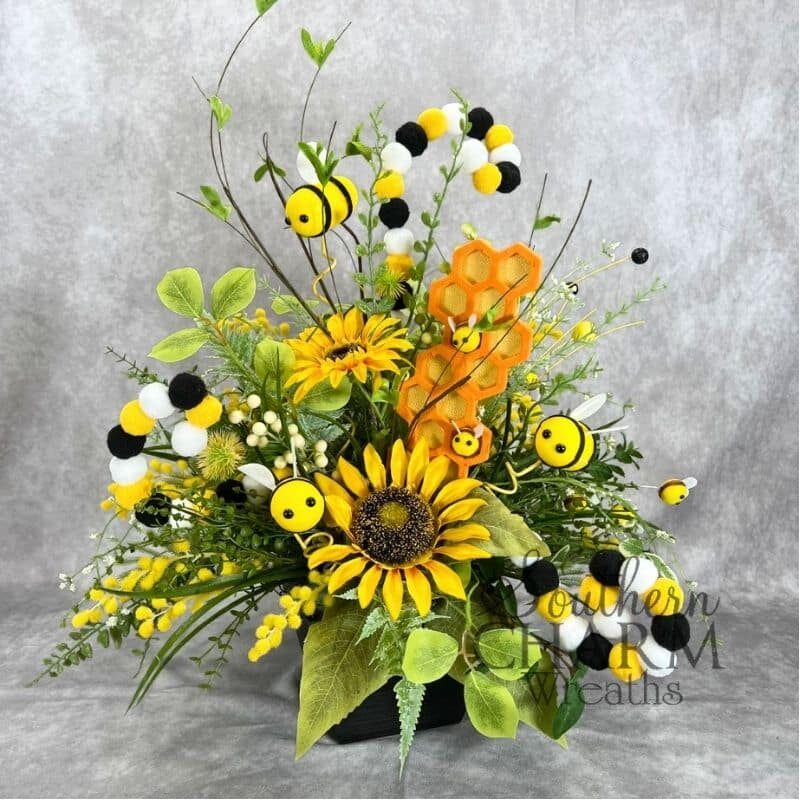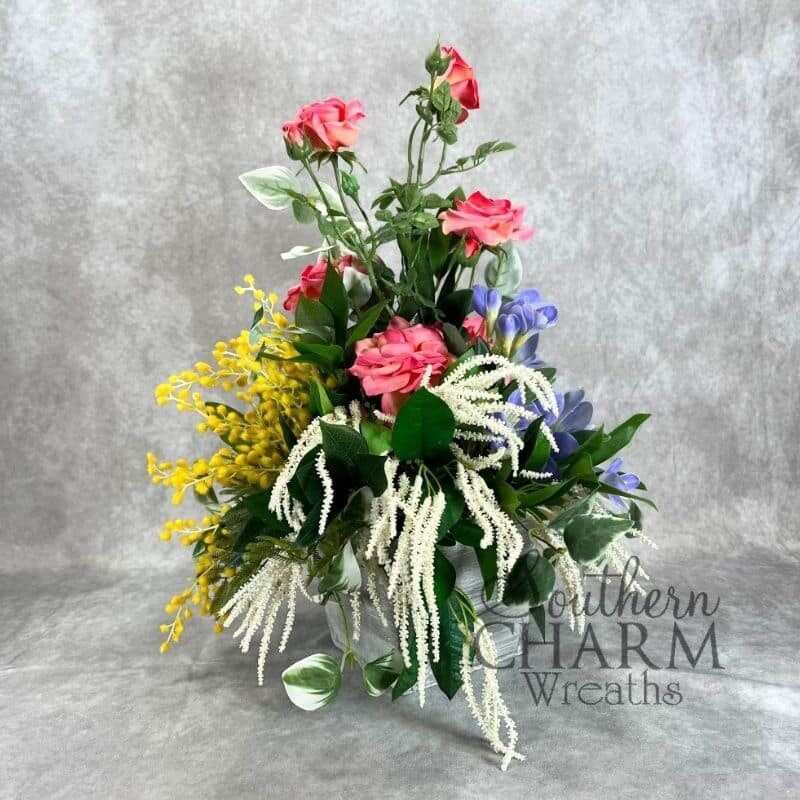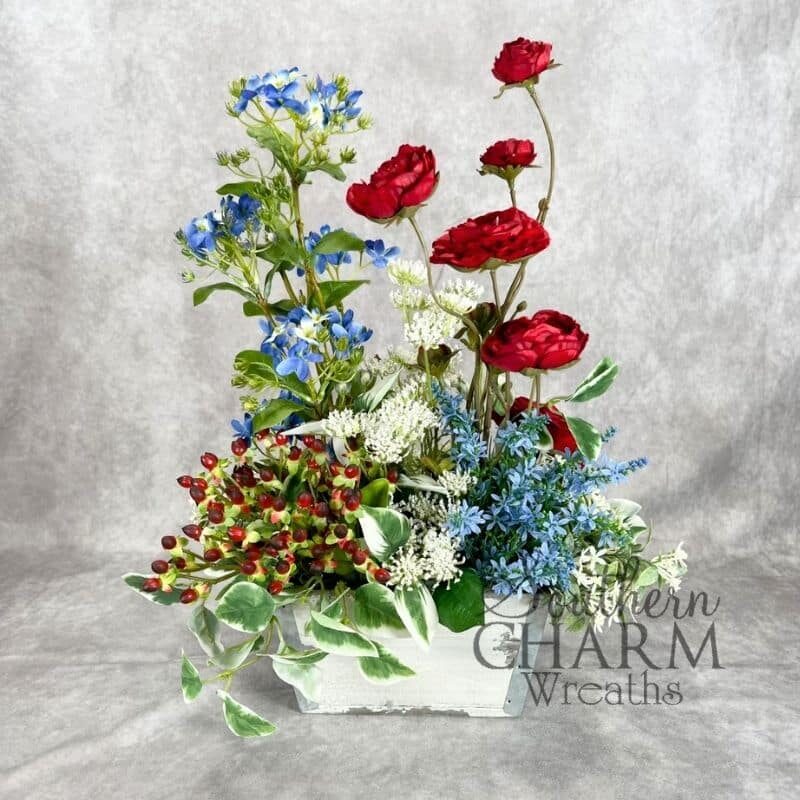 What You'll Get from the
Silk Flower Spring Arrangements Masterclass...
Access to the Silk Flower Arrangements Masterclass online course with pre-recorded training videos on tools, choosing containers, prepping containers, and more!
Learn how to coordinate colors and greenery when working with silk florals.
A list of our Favorite Silk Flower & Container Vendors
Our Silk Flower TLC handout to help guide you on your arrangement-making journey.
14 spring arrangement tutorials teaching you different arrangement styles including classic round, symmetrical, asymmetrical, horizontal, inverted crescent, and garden.
Discover various different ways to use silk flower arrangements in your spring decor.
PLUS... a Spring Silk Flower Arrangement Masterclass Recipe Download for you to save to reference all the different arrangement styles made during the course and bonus downloads including choosing container shapes, spring color palettes, and pricing calculation worksheet.
Who is the Spring Arrangement Masterclass for?
"Budding" Silk Flower enthusiast If you're just beginning, don't worry, you've come to the right place. We'll go slow and steading to ensure you understand some of the classics.
"Blooming" Silk Flower designer If you've started making arrangments but can't figure out why they "don't look right" or have any shape, we'll make sure to teach you when to stop and how to start so that your shape is well defined before beginning.
"Flowering Silk Flower Maker If you've been making arrangements for a while and now ready to start selling your arrangements online or at craft shows, we'll share with you ways to price, box and ship arrangements or ideas for displaying arrangements at craft shows.
Who is the Spring Arrangement Masterclass NOT for?
Those looking for in-person classes. This course is not for those who prefer an in-person class but instead like to learn by watching training videos at your own pace as often as you need to in order to master the skill.
Those looking to create using kits only. Kits are a great way to get started because you're able to copy a design exactly. While we do offer the opportunity to purchase a kit from our reputable vendor, they sell out fast so it's important to understand the principles and elements of faux floral designing in order to give you confidence so that you can quickly make designs based on supplies you have accessible to you.
Those who are not open to accepting new challenges. You'll be learning new and exciting things! Our training is to encourage you to get out of your comfort zone and try things you've never tried before. Confidence comes from doing and you'll be expected to take action, create, and share with our community.
Those looking to get rich quickly. We'll review ways for selling your silk flower arrangements; however, the strategies and techniques taught are to be implemented with marketing strategies over time creating a long-term goal for continued sales.
You'll be a CONFIDENT SILK FLOWER FLORIST in no time!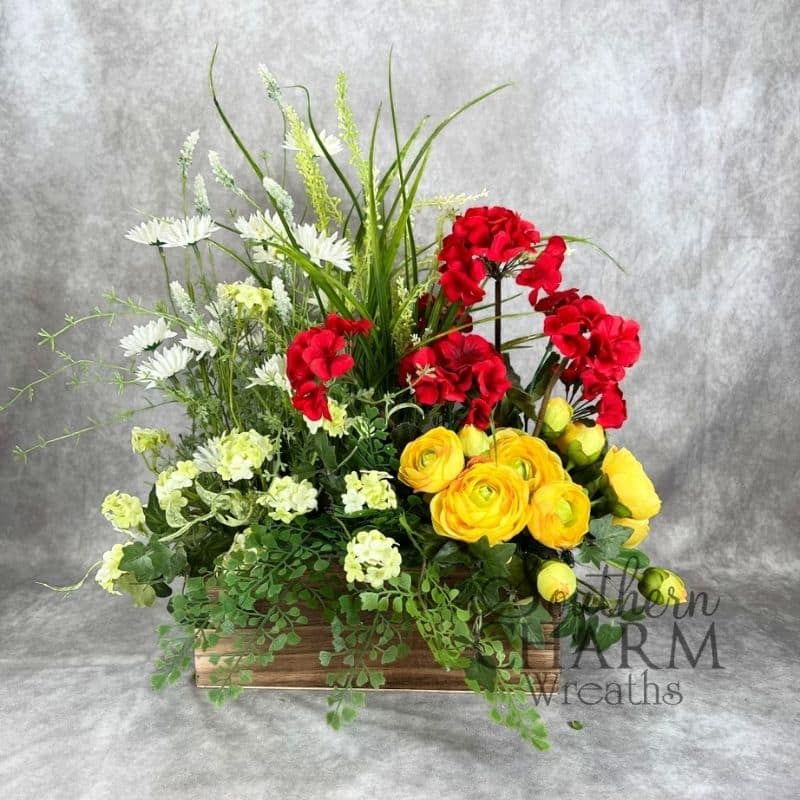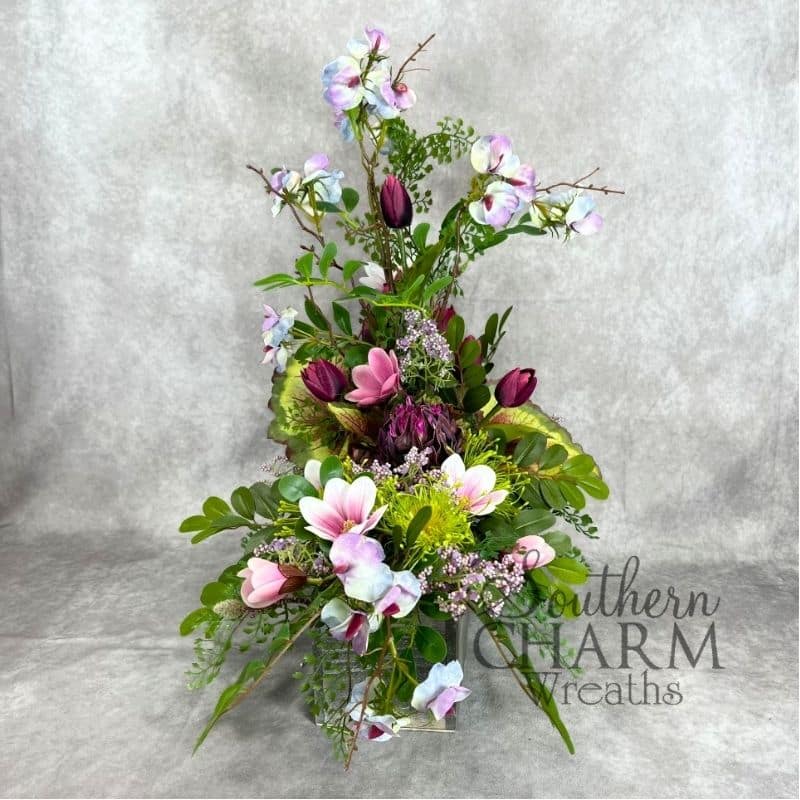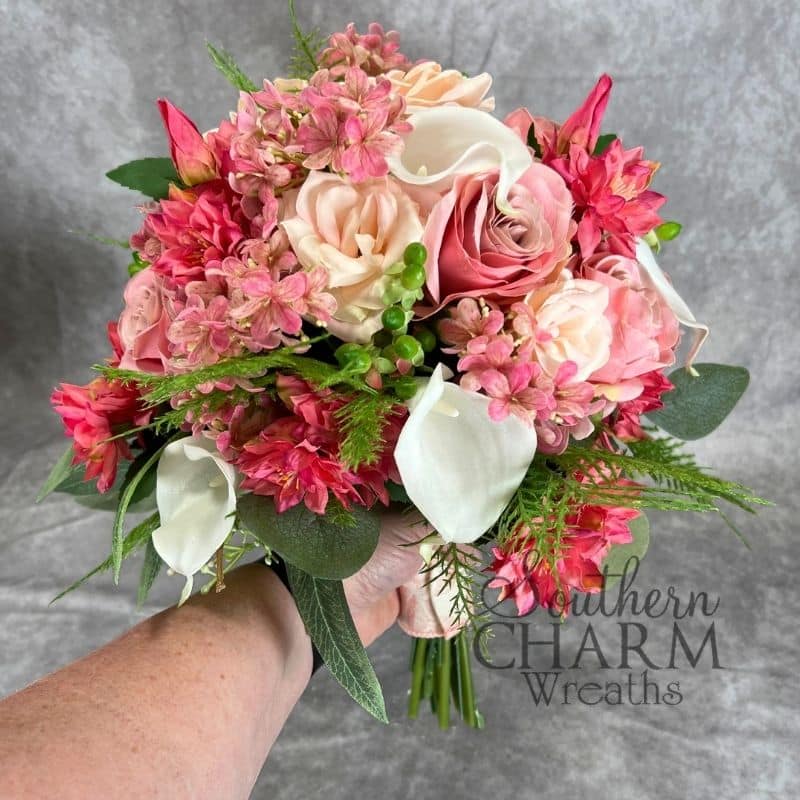 FREQUENTLY ASKED QUESTIONS
The Spring Silk Flower Arrangements Masterclass is a hybrid course of online tutorials found in the Spring Silk Flower Arrangements Masterclass log-in on our website and video replays of silk flower arrangements training by Julie Siomacco.
After purchase, log in to the member portal area to access the course. The course contains a mixture of pre-recorded tutorials, live tutorials or replays of live tutorials, handouts, and other resources.
After your purchase, click on the Member Login link at the top of our website. Then click on the Spring Arrangements Masterclass circle button. This gives you access to our online course.
No. Supplies are not needed to learn from this Masterclass. However, we will suggest some kits to purchase online from another vendor for an additional price. Their kits range from $65-$90 and contain quality silk flowers and containers but do sell out fast. Julie will also teach you ways to make designs if you don't have or want a kit. If you wish to practice our recipes after consuming the course, you'll need a container, foam, silk florals, and tools listed in the course. Each design gives a list of floral supplies used with their SKU numbers to source from other online vendors.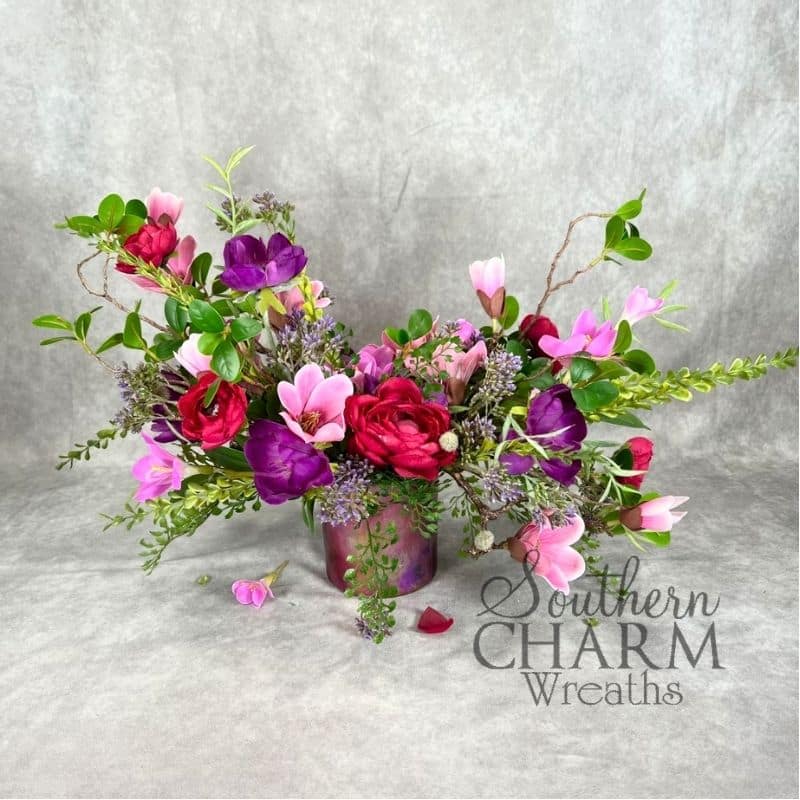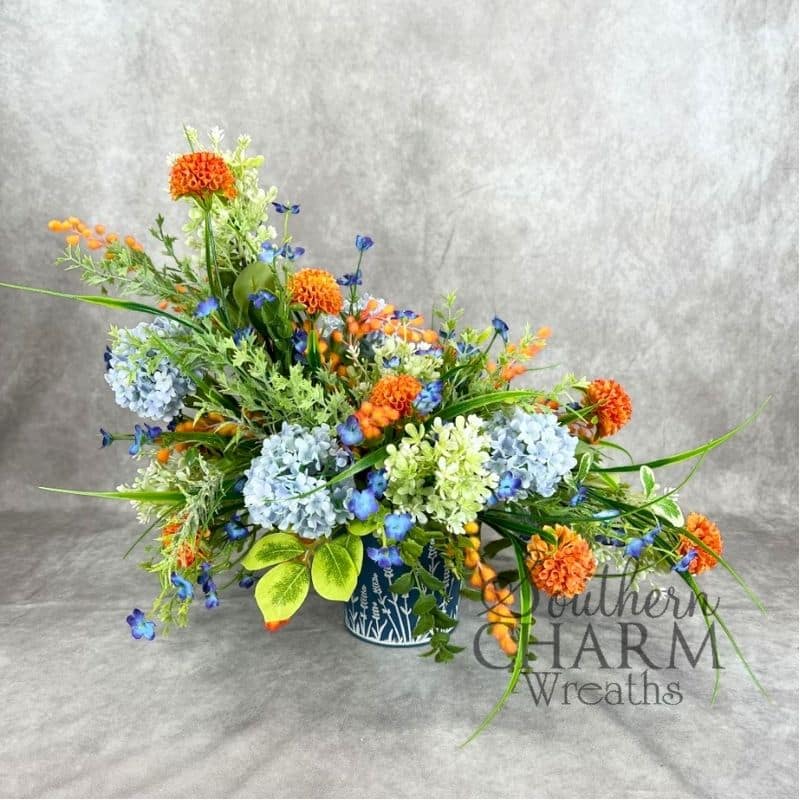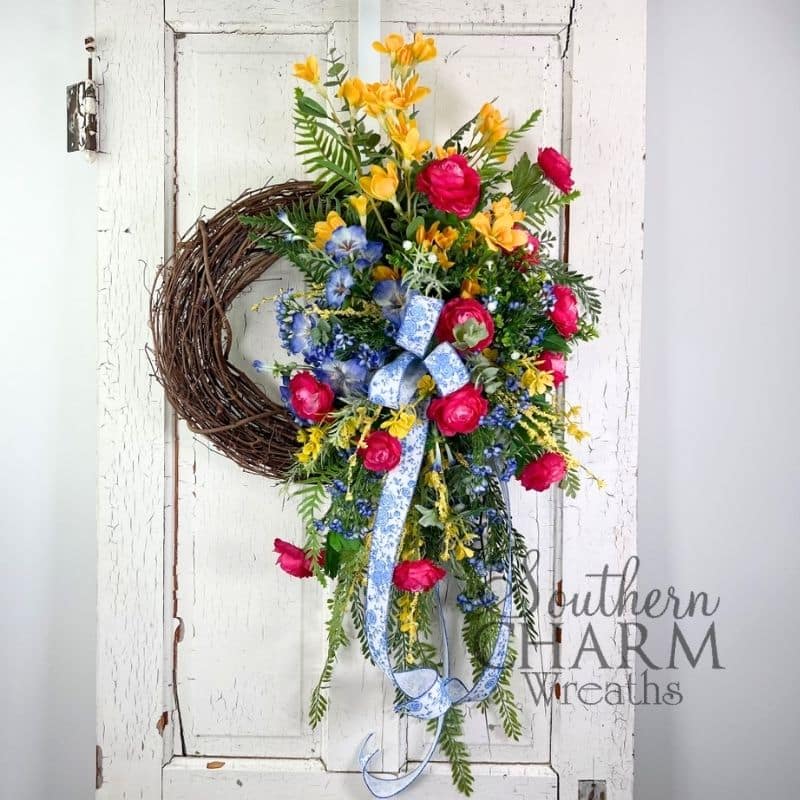 You deserve a home you feel proud of and comfortable in! Let me help you decorate it for spring with our silk flower spring arrangements masterclass tutorials!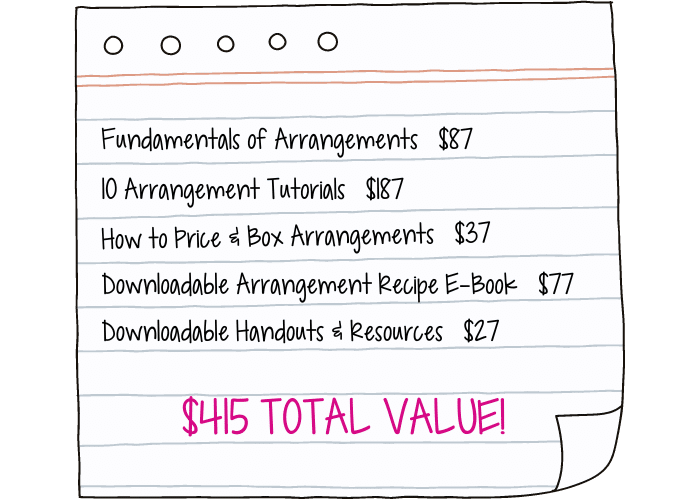 However, you won't be paying anything near that amount. We are offering this Spring Arrangements Masterclass to you for only a fraction of the normal investment because we want to make this accessible to as many people as possible.
That's why you won't be paying the full price!
You can join the Spring Arrangements Masterclass right now for just a limited time offer of $97!
Click the button below to join the Spring Arrangements Masterclass today!
NOTE: If you have an active membership in our Wreath Making of the Month Club or Success Circle, do NOT join here! Instead, log into your portal area, and click on the Blue Spring Arrangements Masterclass button on the course menu for your discounted rate.
READ BEFORE PURCHASING!
Payment Policy – You agree to this one-time payment of $97 for online access to our Spring Arrangements Masterclass. Due to the nature of this product, we offer no refunds.
After your purchase, you'll receive an email from us giving you access to the Spring Arrangements Masterclass and more information on how to access the course portal, training, and more. You can also log into your account here.
If you have any problems or questions, please contact us by clicking here.
Interested in joining our Wreath Making of the Month Club?
Our Wreath Making of the Month Club is currently closed to new members but we are giving you the opportunity to join today with your purchase of the Spring Arrangements Masterclass!
What is the Wreath Making
of the Month Club?
The purpose of our Wreath Making of the Month Club is to help you FIND YOUR JOY using Faux Flowers.
Whether that be to...
make pretty items for your own home to lift your spirits and make your home warm and inviting;
create designs to give away to family and friends as gifts, lifting their spirits so that they feel loved;
make items to donate to silent auctions to help raise money for a cause near and dear to your heart;
make quality designs to sell to help pay for family expenses.
This is Julie's wreath journey, she's done all of the above. No matter how you want to use your newly developed skill, it will change lives and Julie has the experience to guide you.
Your subscription includes 6-8 new tutorials monthly, Q&A sessions, wreath critiques, and a wreath community for support and to make lifelong friends.
JOIN BOTH TODAY FOR $124.
Price includes $97 for Spring Arrangements Masterclass and $27 Recurring Monthly Subscription Payment for the Wreath Making of the Month Club.
ONE-TIME PAYMENT OF $97 FOR SPRING ARRANGEMENTS MASTERCLASS
+ $27 MONTHLY RECURRING PAYMENT FOR WOTMC
Payment Policy – By purchasing this product, you understand that the Wreath Making of the Month Club is an automatic recurring membership. You agree that your membership will automatically renew for $27 each month and charge your credit card on file unless a cancellation is made by either logging into your account at www.southerncharmwreaths.com/member-login or by contacting us here.
Due to the nature of this product, we offer no refunds.
After your purchase, you'll receive two emails from us giving you access to the Wreath Making of the Month Club and the Spring Arrangements Masterclass including more information on how to access the online course portals, training, and more. You can also log into your
account here
.