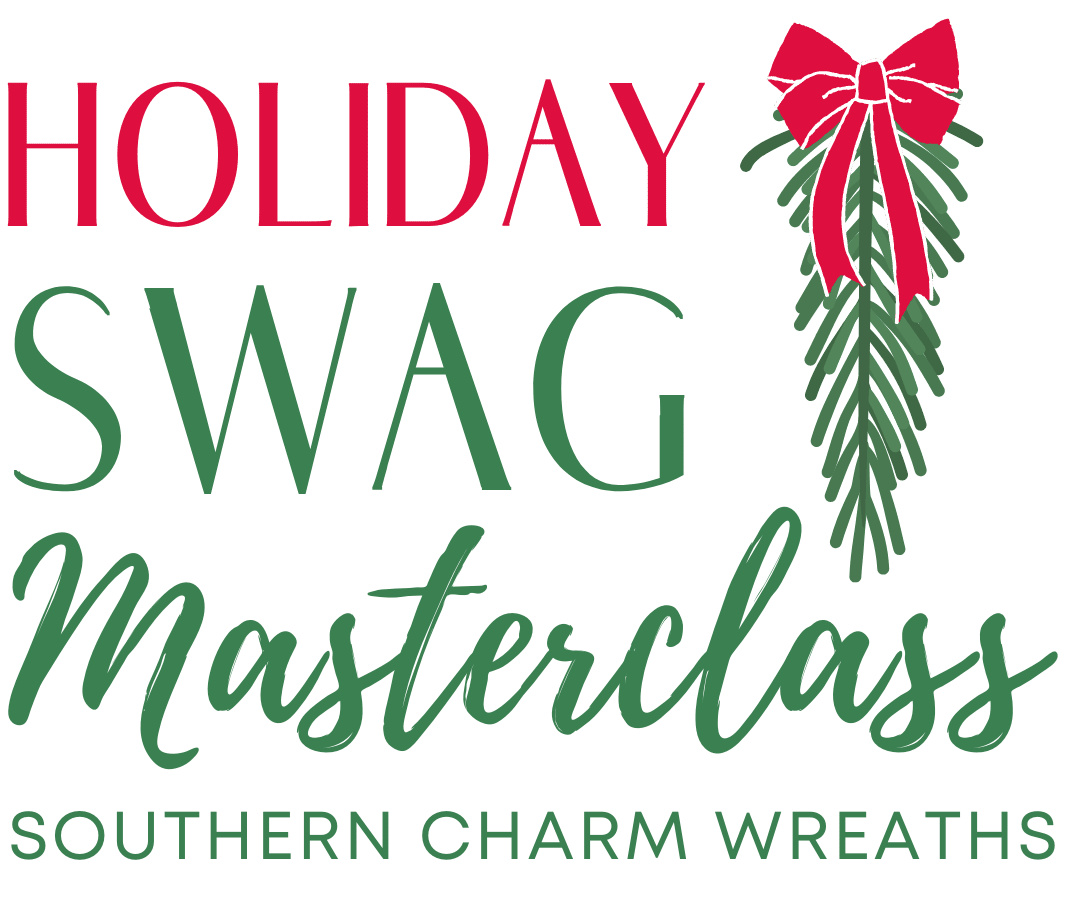 Holiday Swag Wreath
Masterclass
LEARN HOW TO MAKE AMAZING SWAG WREATHS
JUST IN TIME FOR THE HOLIDAYS EVEN IF YOU'VE NEVER TRIED!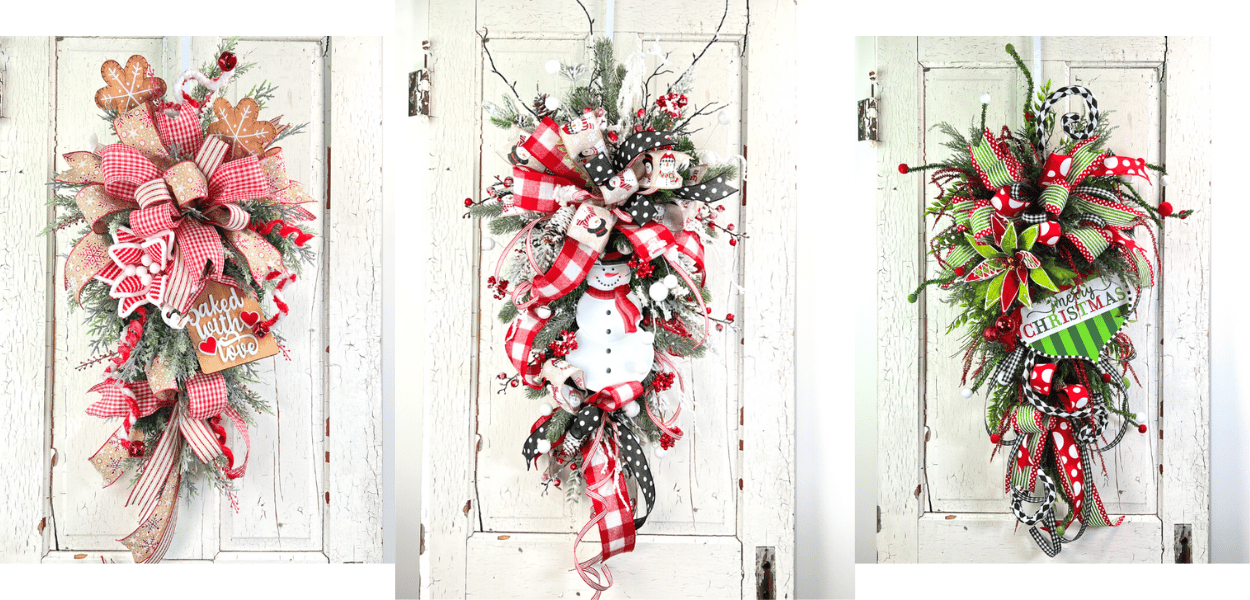 Teaching you how to master the Teardrop Swag Wreath from the comfort of your home!
What base do you use for a swag wreath?

Where do you buy all the fun stuff that goes in a swag?

How to make swag wreaths for other seasons?

How to know when to stop adding?

Get stuck when it comes to making fun, trendy designs?

How to price and box swags for selling?

How do you perfect your skills to be more confident and sell more?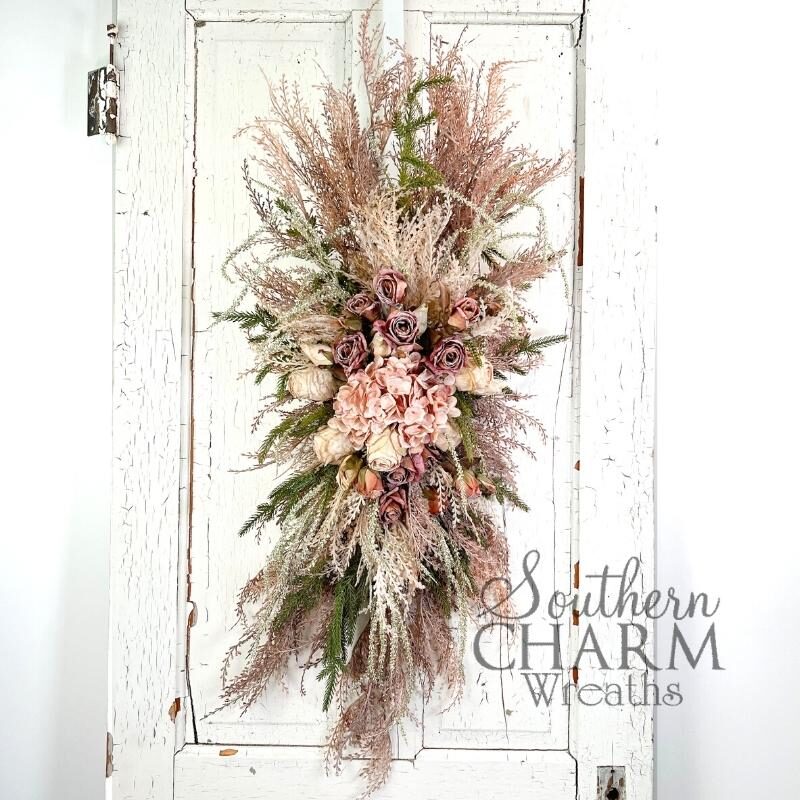 If you answered YES to any of these questions, you've come to the right place!
Have you ever wanted a swag wreath but couldn't find one you liked at a price you can afford? 
Or thought to yourself, I can make that but don't know where to start?
Maybe you like crafting but need design ideas to make gifts for family and friends.
Or decided you're ready to start selling your creations but need a little more confidence.
In this masterclass, I'm sharing my foolproof method of creating amazing swag wreaths for any holiday or season!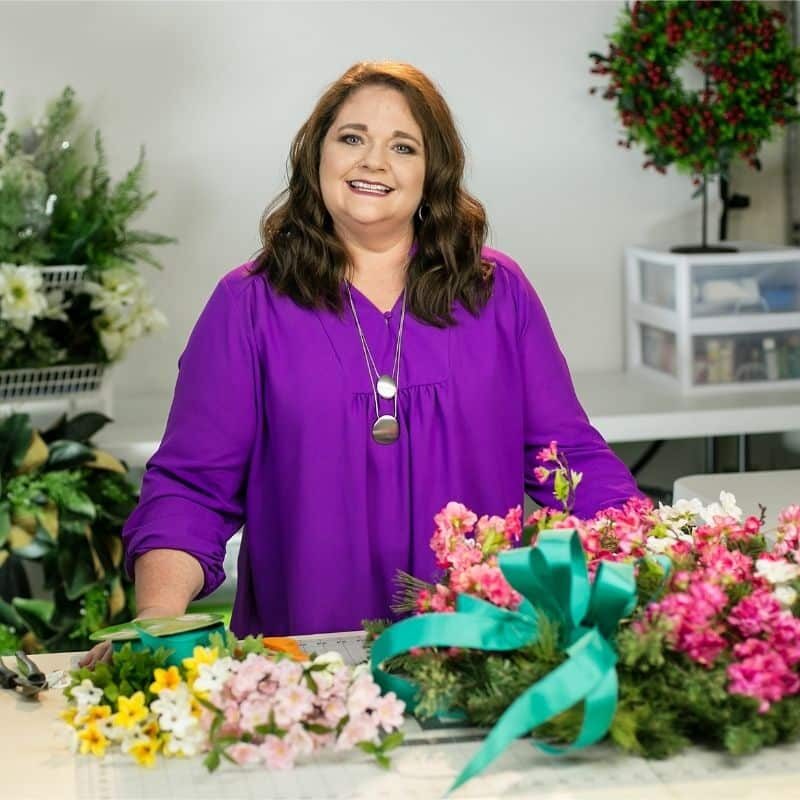 Julie Siomacco started creating wreaths to make her home warm and inviting while being a stay-at-home mom of three. In 2009 she turned her hobby and passion for wreath-making into a full-time business after her neighbors purchased her wreaths off her door.
She's now the queen of wreath making and do-it-yourself holiday decorator. A master of producing quality works of art on the fly with the heart of a teacher. Julie has turned her passion of faux floral design and holiday decorating into Southern Charm Wreaths, a thriving faith-based business that inspires thousands of crafty people every day. She's trained in several product lines and stays up to date on trends, products, techniques, and online selling strategies in her industry to give her audience the best advice possible.
She's been featured online at Martha Stewart Living, Better Home & Gardens, and BloomTV and is the co-founder of Wreath Makers Live, a conference dedicated to educating wreath makers all over the world.
With her expertise and amazing eye for color and texture, Julie is rejuvenating the holiday decorating and wreath-making industry, showing her audience how to be more confident in their creations and teaching creative business owners how to grow a business using the talents God gave them.
Julie's encouraging and welcoming personality, along with her foolproof tips, has gained her a loyal online following. She offers coaching programs, classes, decorative door wreaths, and inspiration to help her audience create a festive holiday environment for their homes.
She's a Southern girl, born and raised in the South, and has been a resident in South Carolina, USA since 1999.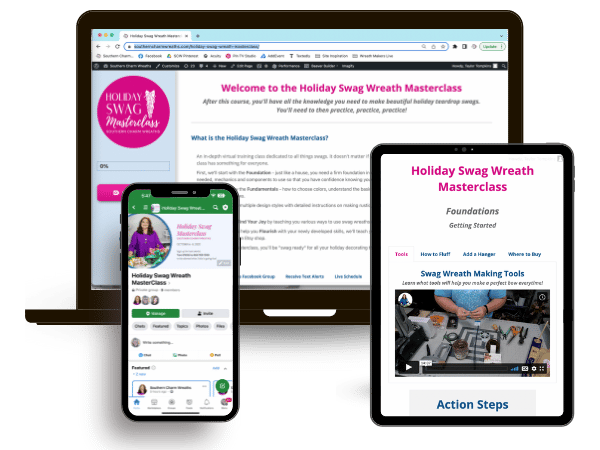 [PRE-RECORDED + RE-PLAY TUTORIALS]
What is the Holiday Swag Wreath Masterclass?
An in-depth virtual training class dedicated to all things swags. It doesn't matter if you're a beginner or a more advanced crafter, this class has something for everyone.
First, we'll start with the Foundation - just like a house, you need a firm foundation in which to construct your masterpiece! We'll review tools needed, mechanics and components to use so that you have confidence knowing your swag wreath will last for years.
Second, we'll review the Fundamentals - how to choose colors, understand the basic principles of a swag wreath design, and making a trendy, whimsical bows.
Next, we'll Focus on multiple design styles with detailed instructions on making rustic, traditional, glam, whimsical, boho and other style swag wreaths.
Then we'll help you Find Your Joy by teaching you various ways to use swag wreaths in your holiday decorating.
And lastly, in order to help you Flourish with your newly developed skills, we'll teach you how to price swags to sell, how to box them and how to list them online in an Etsy shop.
By the end of this masterclass, you'll be "swag ready" for all your holiday decorating this season!
No matter how you want to use your newly developed skill, it will change lives and I have the experience to guide you.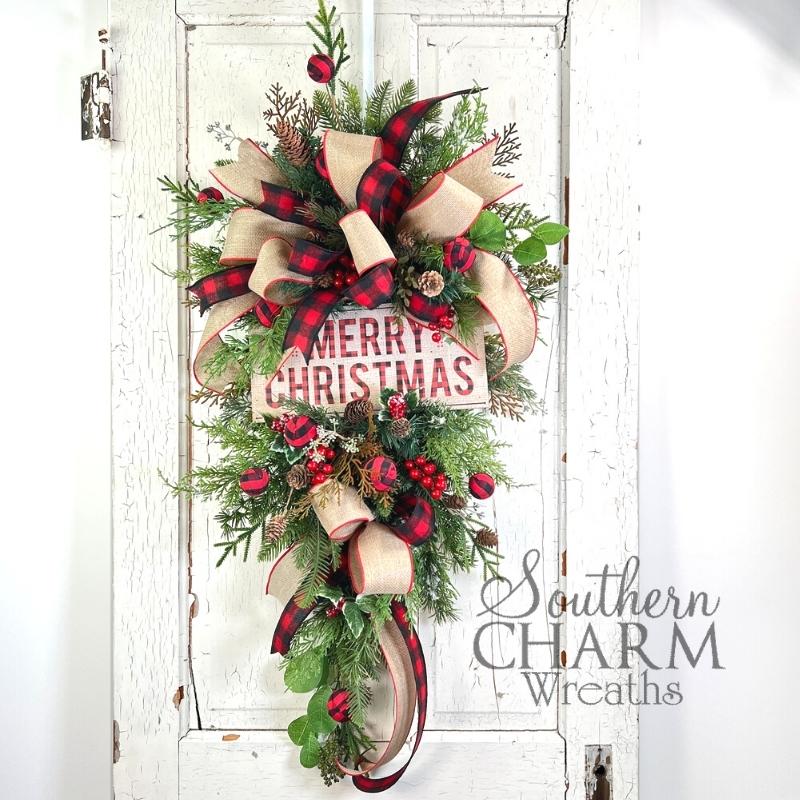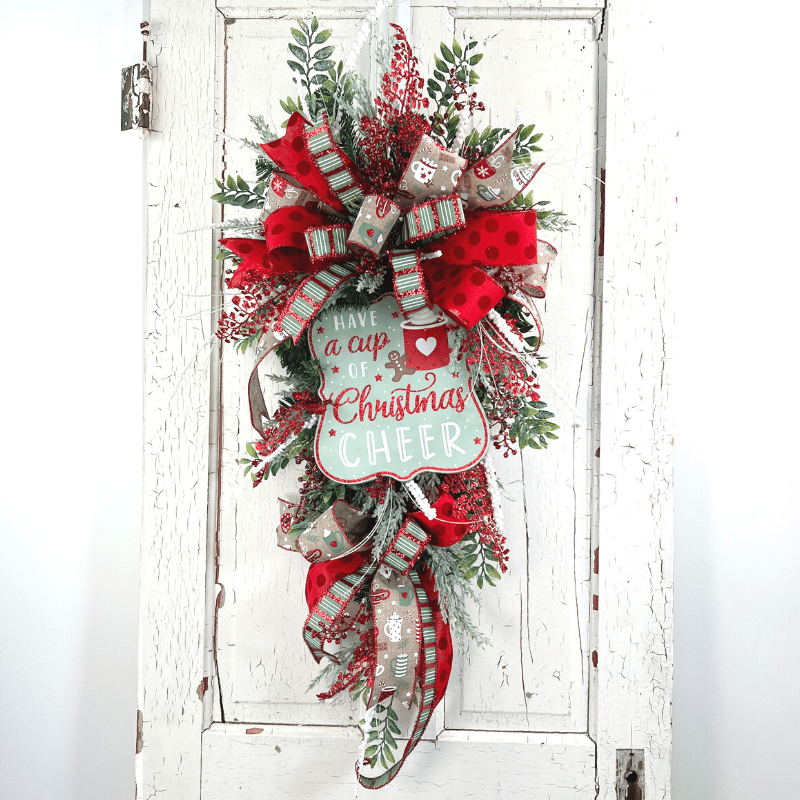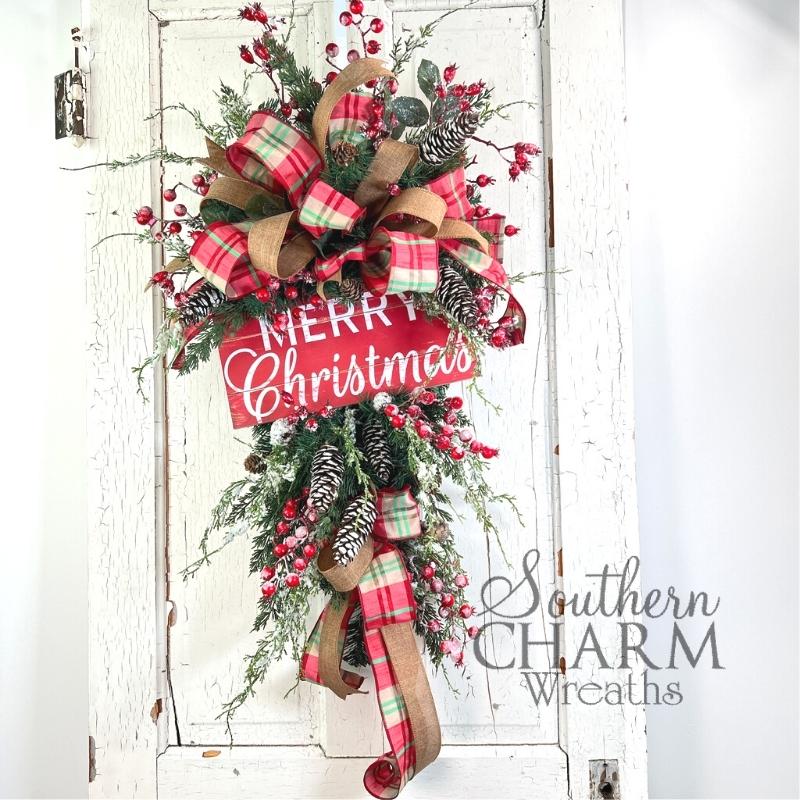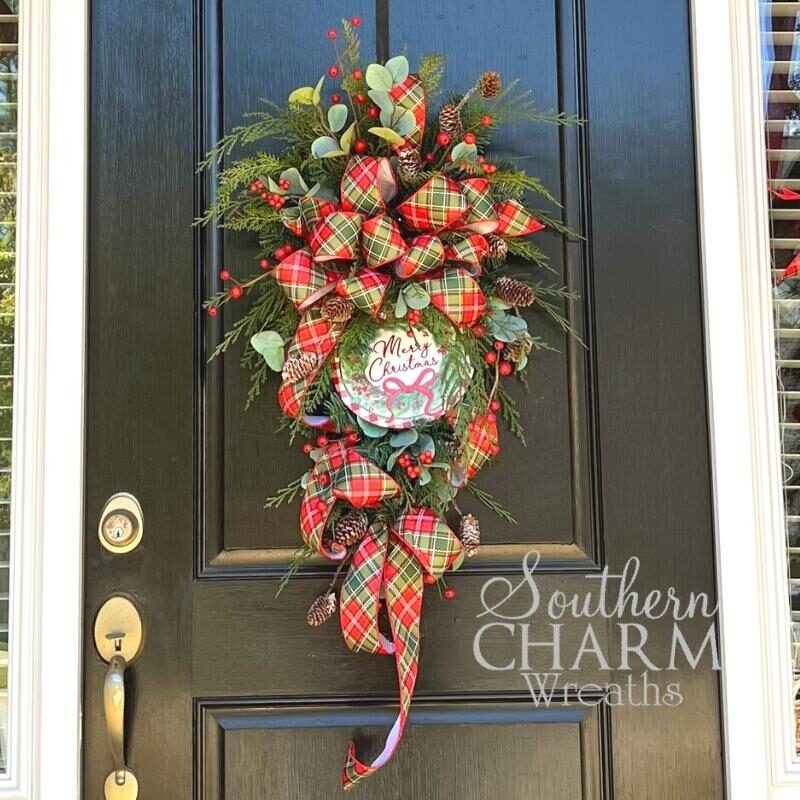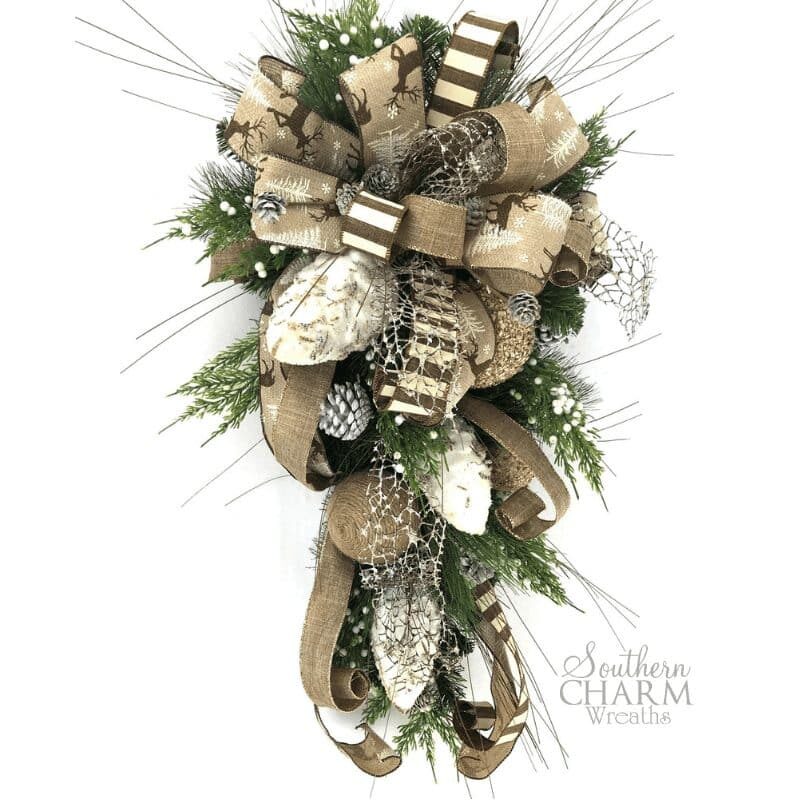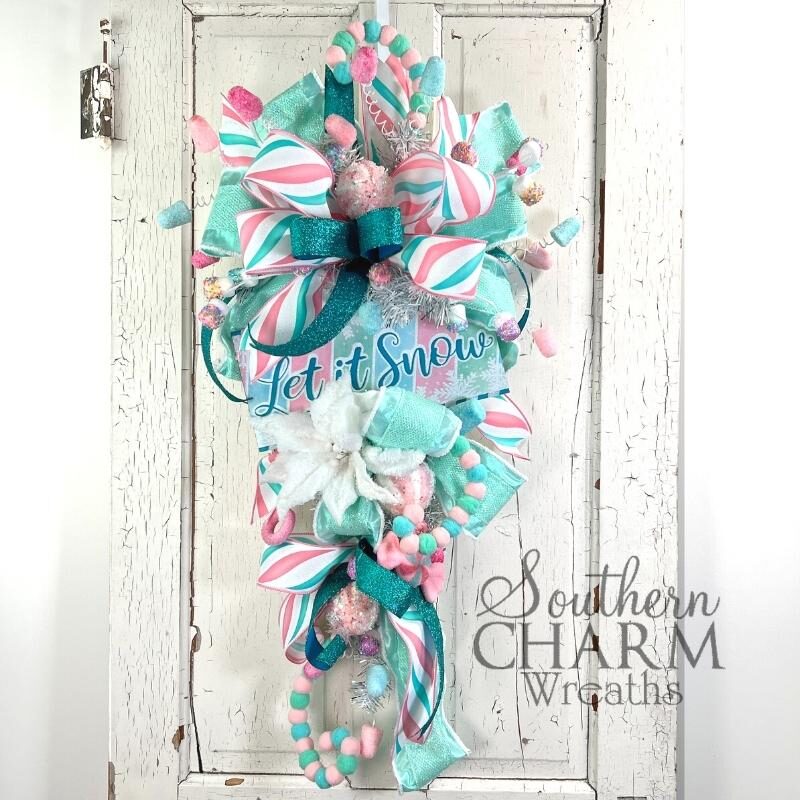 What You'll Get from the
Holiday Swag Wreath Masterclass...
Access to the Holiday Swag Wreath Masterclass online course with pre-recorded training videos on swag tools, how to prep your swags, and more!
Learn how to coordinate colors and florals.
A list of our Favorite Swag Wreath vendors
Learn how to shop for quality products online and in-stores!
Our Silk Flower TLC handout to help guide you on your wreath making journey.
A variety of holiday swag decor tutorials teaching you six different swag wreath styles including rustic, all floral, glam, traditional, whimsical, boho.
Discover various different ways to use swag wreaths in your holiday decor.
Learn how to make a garland to go with your new holiday swag.
PLUS... a Swag Wreath Masterclass Recipe E-Book for you to save to reference all the different swag wreaths made during the course.
You'll learn how to make various holiday swag wreaths and how to use them in your holiday decorating. The skills learned can be applied year round for any season.
Are you a newbie crafter? I welcome you! This Masterclass is for beginners and experts alike! Have you ever taken a class where you just didn't get it? Don't worry! I teach in a very easy manner and I promise, you WILL get it!
Do you already make? I welcome you too! Anytime you get with other creatives in your industry, you WILL pick up a tip or two, maybe learn about a new product or discover, the newest storage ideas, or something you didn't already know.
Do you want to craft for an income? You are welcome here and this will keep you in the loop with new techniques, trends and styles as well as, start to build a portfolio of what you can accomplish.
You'll be a CONFIDENT SWAG WREATH MAKER in no time!
BONUS!
Learn to make a Holiday Garland to match your new Holiday Swag.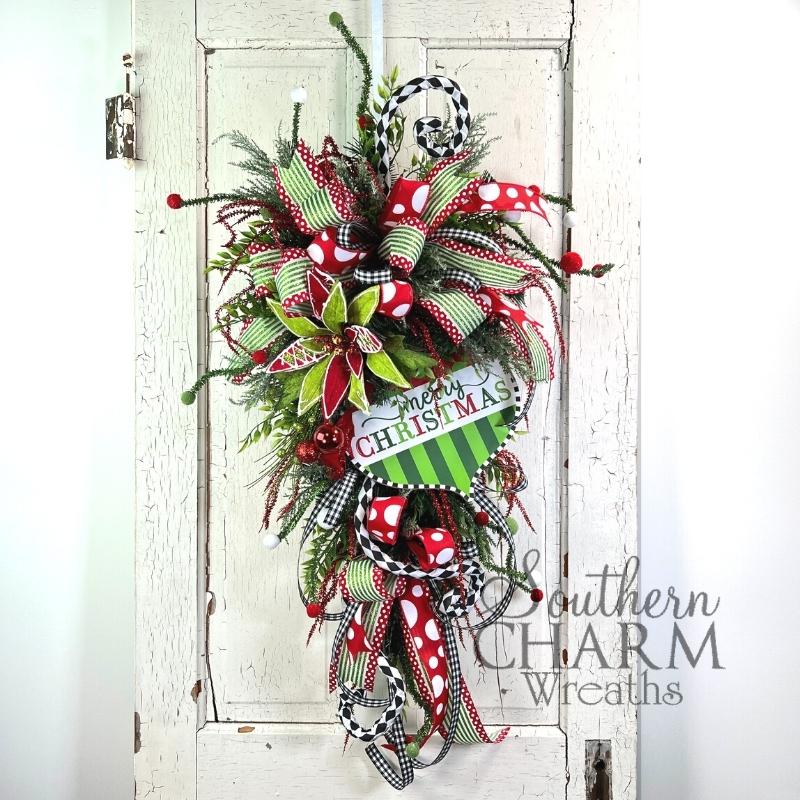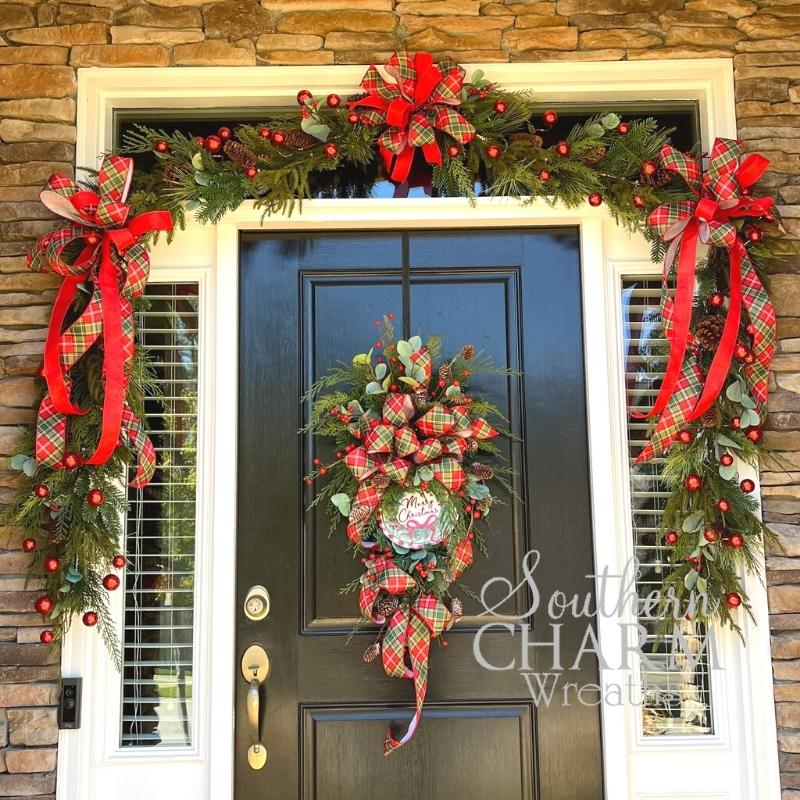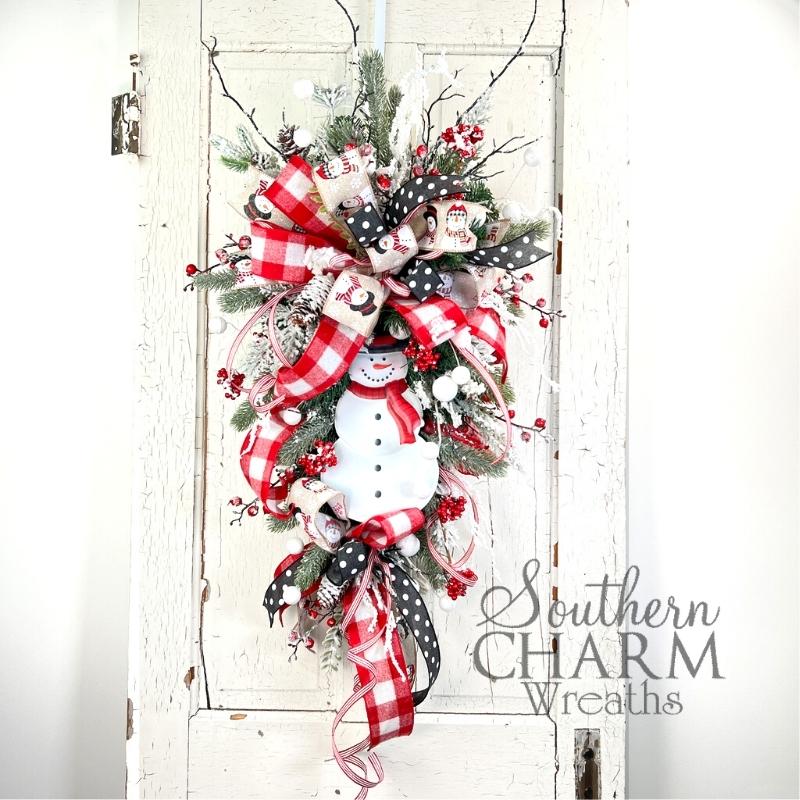 FREQUENTLY ASKED QUESTIONS
The Holiday Swag Wreath Masterclass is a hybrid course of pre-recorded tutorials found in the Holiday Swag Wreath Masterclass online course on our website and video replays of live holiday decor trainings with Julie Siomacco.
Available for you now in the online course are pre-recorded tutorials on the different tools you will need to make swag wreaths, how to coordinate colors and florals, how to prep and fluff swag wreath bases, and more. Also available are resources such as how to shop online and in-stores for quality swags and florals, a Silk Flower TLC handout, and a list of Julie's Favorite Swag Wreath Vendors.
After your purchase, click on the Member Login link at the top of our website. Then click on the Holiday Swag Wreath Masterclass pink circle. This gives you access to our online course.
No. Supplies are not needed for this Masterclass. However, if you wish to practice along with Julie, you will need a swag wreath base, florals, ribbon, and wreath making tools.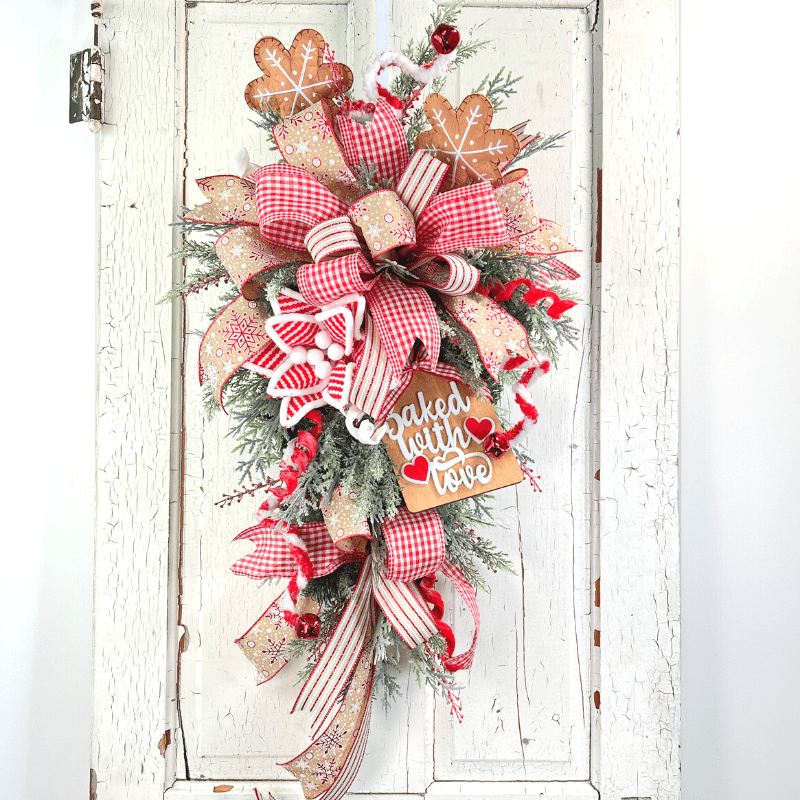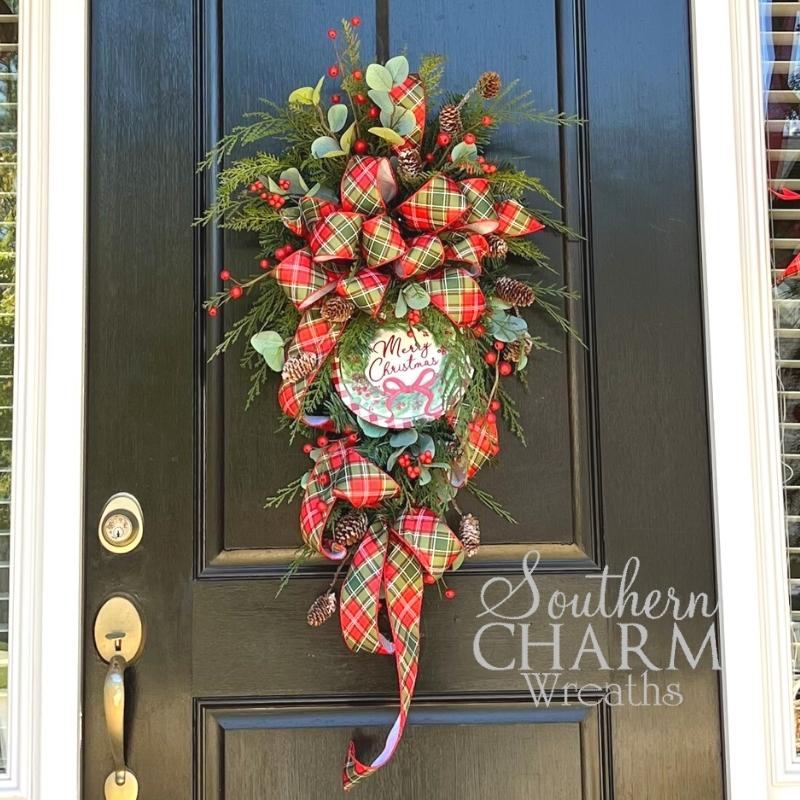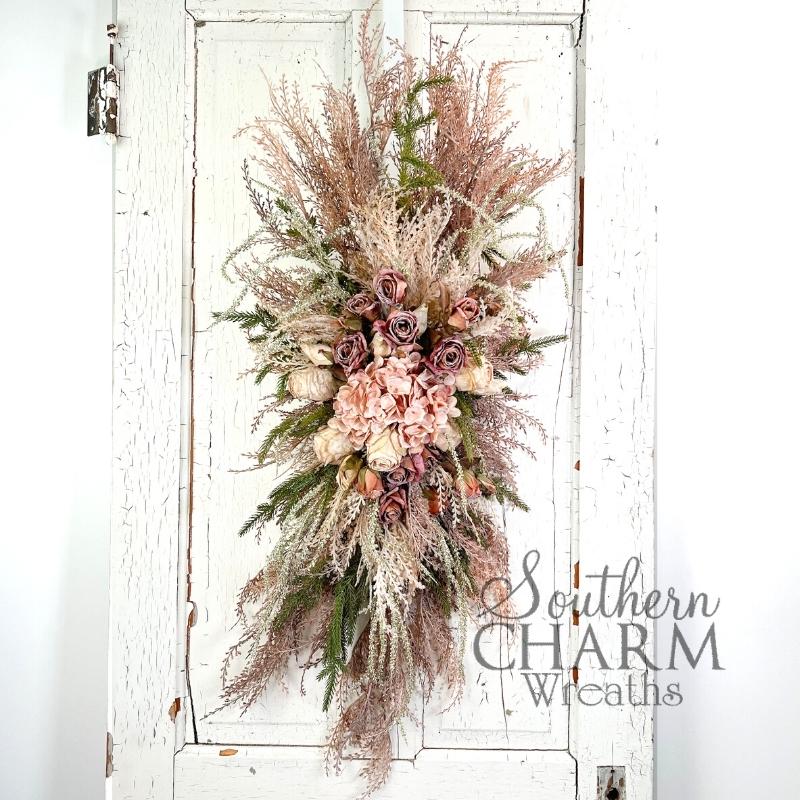 You deserve a home you feel proud of and comfortable in! Let me help you decorate it for the holidays with our holiday swag wreath masterclass tutorials!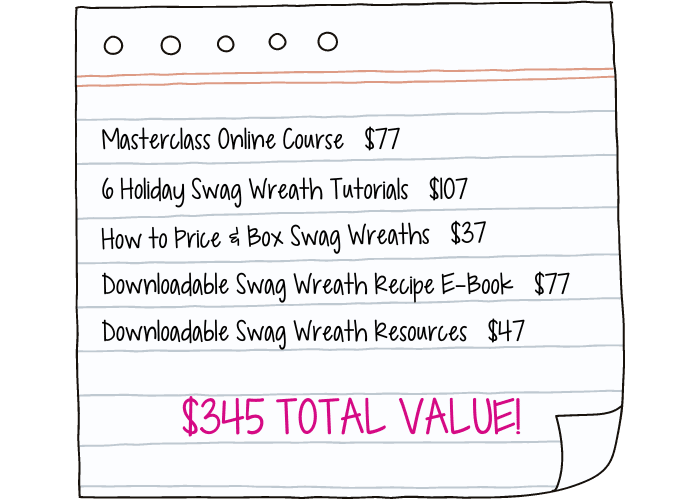 However, you won't be paying anything near that amount. We are offering this Holiday Swag Wreath Masterclass to you for only a fraction of the normal investment because we want to make this accessible to as many people as possible.
That's why you won't be paying the full price!
As a member of Julie's Wreath Making of the Month Club or Success Circle, you can join the Holiday Swag Wreath Masterclass right now for a discounted offer of $77 $47!
Click the button below to join the Holiday Swag Wreath Masterclass today!
Payment Policy – You agree to this one-time payment of $47 for the Holiday Swag Wreath Masterclass. Due to the nature of this product, we offer no refunds.
After your purchase, you'll receive an email from us giving you access to the Holiday Swag Wreath Masterclass and more information on how to access the course portal, training, and more. You can also log into your account here.
If you have any problems or questions, please contact us by clicking here.