Save money and learn to make amazing wreaths from scratch in the comfort of your home!
Frustrated on where to start?

Need help choosing color?

Have wreath signs fall off, break, sag or squish?

Get confused on where to place flowers?

Wonder where to find the best materials?

Get stuck when it comes to making fun, trendy bows?

Spend hundreds on supplies just to have them sit instead of putting them to use?

Want to perfect your skills so you can be confident and sell more?

Just want to learn how to make a professional, quality constructed wreath?
If you answered YES to any of these questions, you've come to the right place!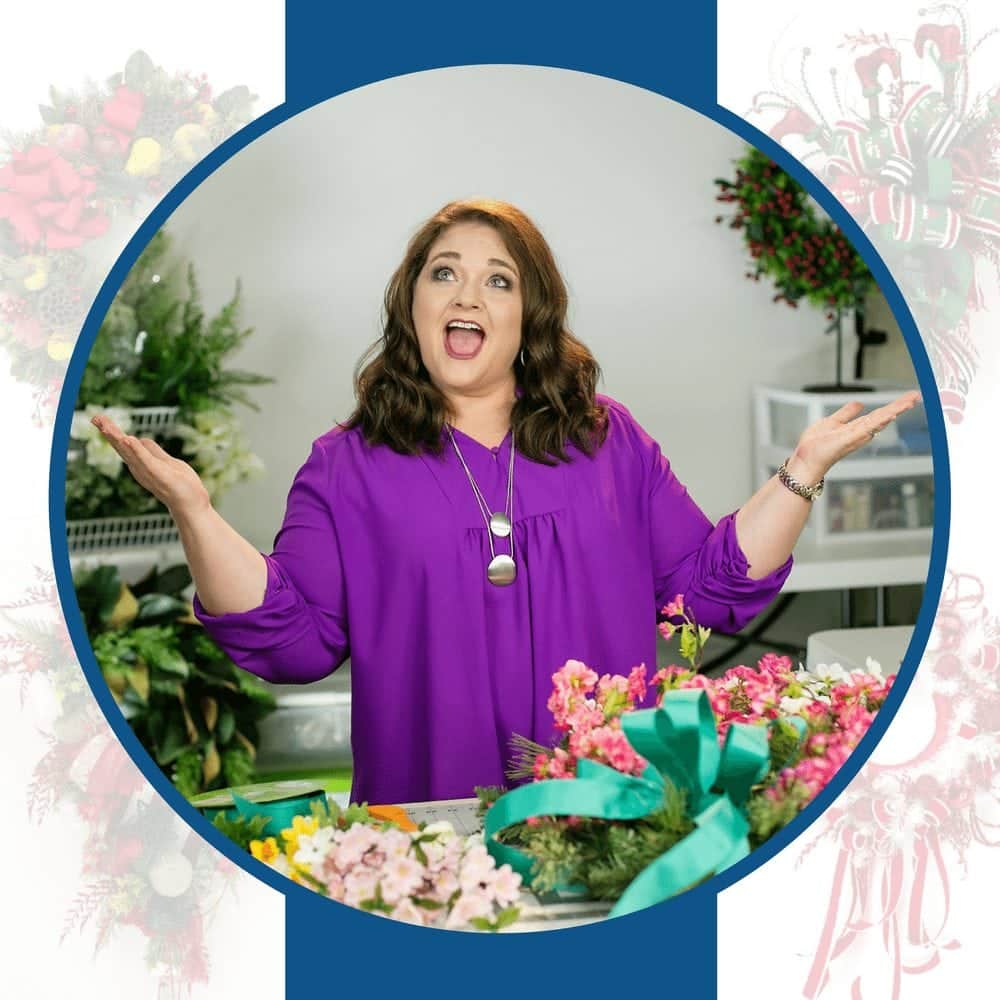 Hey there, I'm Julie Siomacco owner of Southern Charm Wreaths where we make beautiful handmade wreaths and teach you how to make and sell them.
I'm a self-taught, stay-at-home mom who learned to make beautiful simple designs out of my garage! If I can do it, so can you! 
And just like me, you have dreams worth achieving. You have the right to wake up everyday empowered doing what you love. Listen, I already educate hundreds of thousands through my blog, ebooks and ecourses. My passion is to teach you the art of wreath making and to make money with your creations if you choose.  Your success is more important than just a sale to me, it is my calling.
Over the past 12 years, I've taught HUNDREDS OF THOUSANDS of women and men how to make designer wreaths, and I know I can teach you too!! Don't take my word for it, scroll down below and see the success other club members are having with my training.
As part of your monthly membership, you'll receive...
Access to watch EVERY training video we've ever recorded for our Wreath Making of the Month Club members; plus bonus videos and freebies! That's over 300 videos total and still counting!
A new professionally recorded and edited 'feature' video each month showing you how to make a beautiful wreath, swag or arrangement using different types of mediums you can save to watch forever. Featured training videos are now Closed Captioned for the hearing impaired.
A supply list to download for the featured training video for that month and where to buy.
Access to a private Facebook Live broadcasts of Julie making a different style of wreath, swag, or arrangement and explaining how to make it.
A chance to be in the "hot seat"!  Julie will critique your creations giving you a group coaching experience.
Access to Julie and a community of other AMAZINGLY talented wreath makers to give you feedback, encouragement and ideas inside our Facebook group.
A list of commonly used vendors (both wholesale and retail).
A complete List of Tools of the trade and where to purchase.
A variety of wreath style forms including foam, grapevine, pvc, and deco mesh.
PLUS... wreath selling tips on Etsy, Pricing Wreaths to Sell and Pinterest Marketing tips.
You'll learn how to make lots of seasonal and holiday wreaths, garlands, arrangements and swags, and everyday wreaths and decor that can be displayed year-round.  Every month you'll have access to multiple new tutorials so you'll always learn something new to improve your skills making you more confident!
Are you a wreath making newbie? I welcome you! This club is for beginners and experts alike! Have you ever taken a class where you just didn't get it?  Don't worry! I teach in a very easy manner and I promise, you WILL get it! Click on the button 'Get Started' for a wreath making 101 class or just search on the word 'beginner', for all of our beginner tutorials.
Do you already make wreaths and arrangements? I welcome you too! Anytime you get with other creatives in your industry, you WILL pick up a tip or two, maybe learn about a new product or discover, the newest storage ideas, or something you didn't already know.
Do you want to make wreaths and arrangements for an income? You are welcome here and this will keep you in the loop with new techniques, trends and styles as well as, start to build a portfolio of what you can accomplish.
You'll be a CONFIDENT MAKER in no time!
Preview of a past featured tutorial...
Featured Training Videos are Closed Captioned!
Join today to learn to make these wreaths... and more!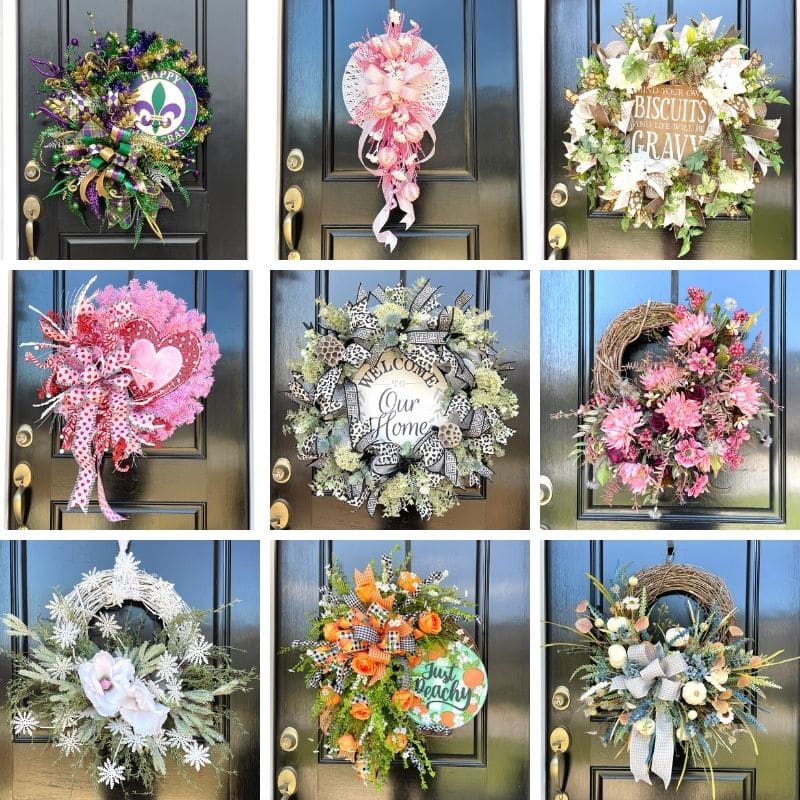 Just Some of the Previous Month's Training You Can Access NOW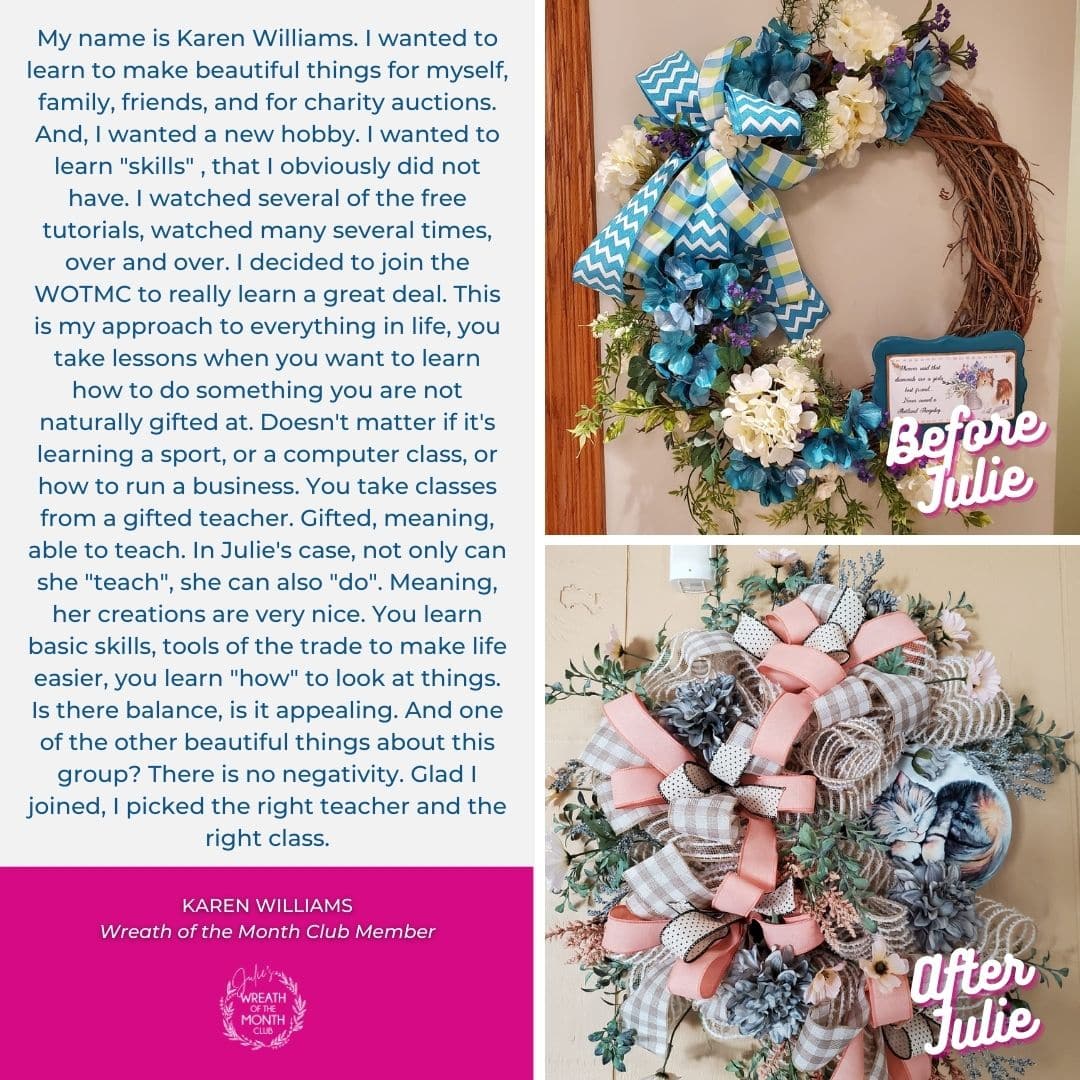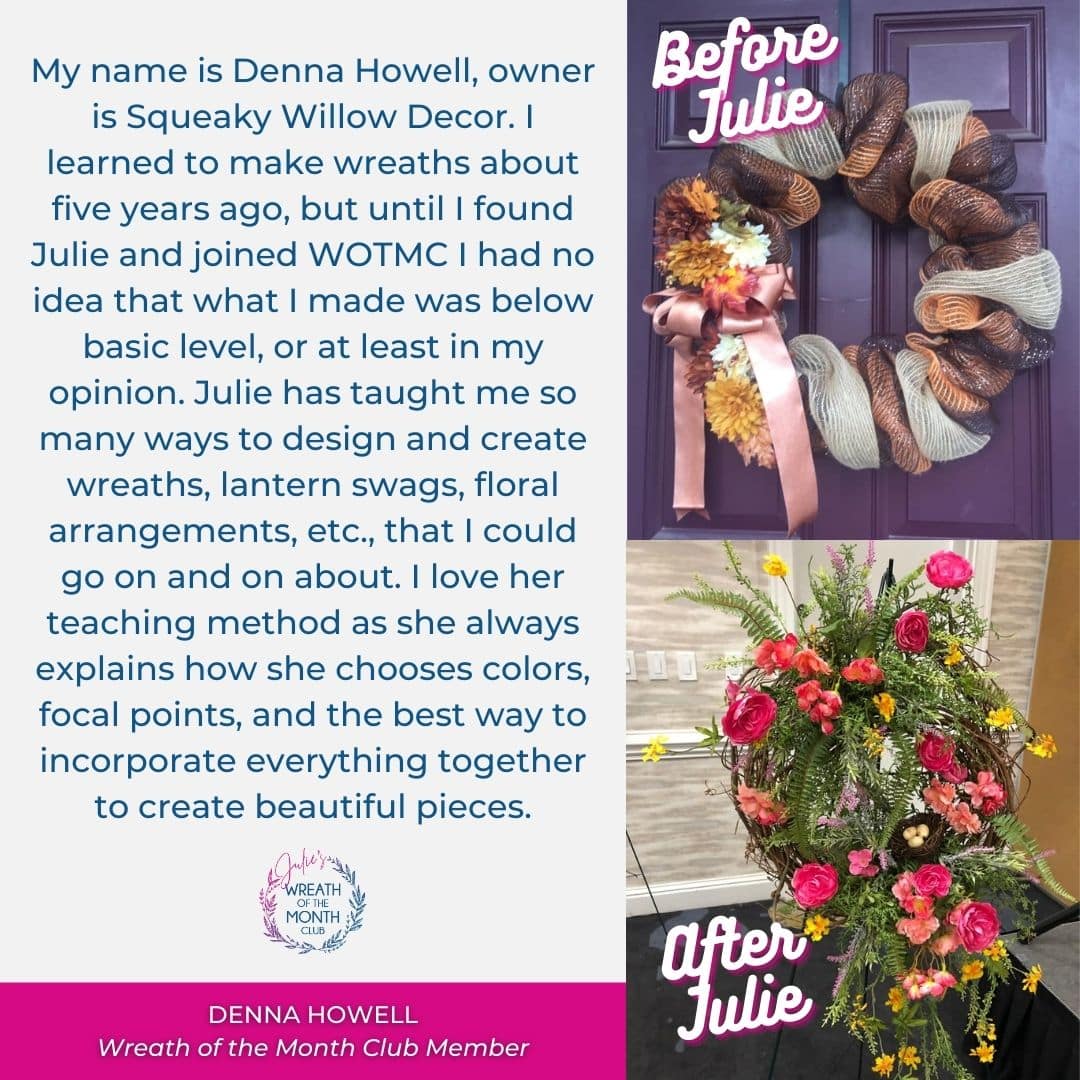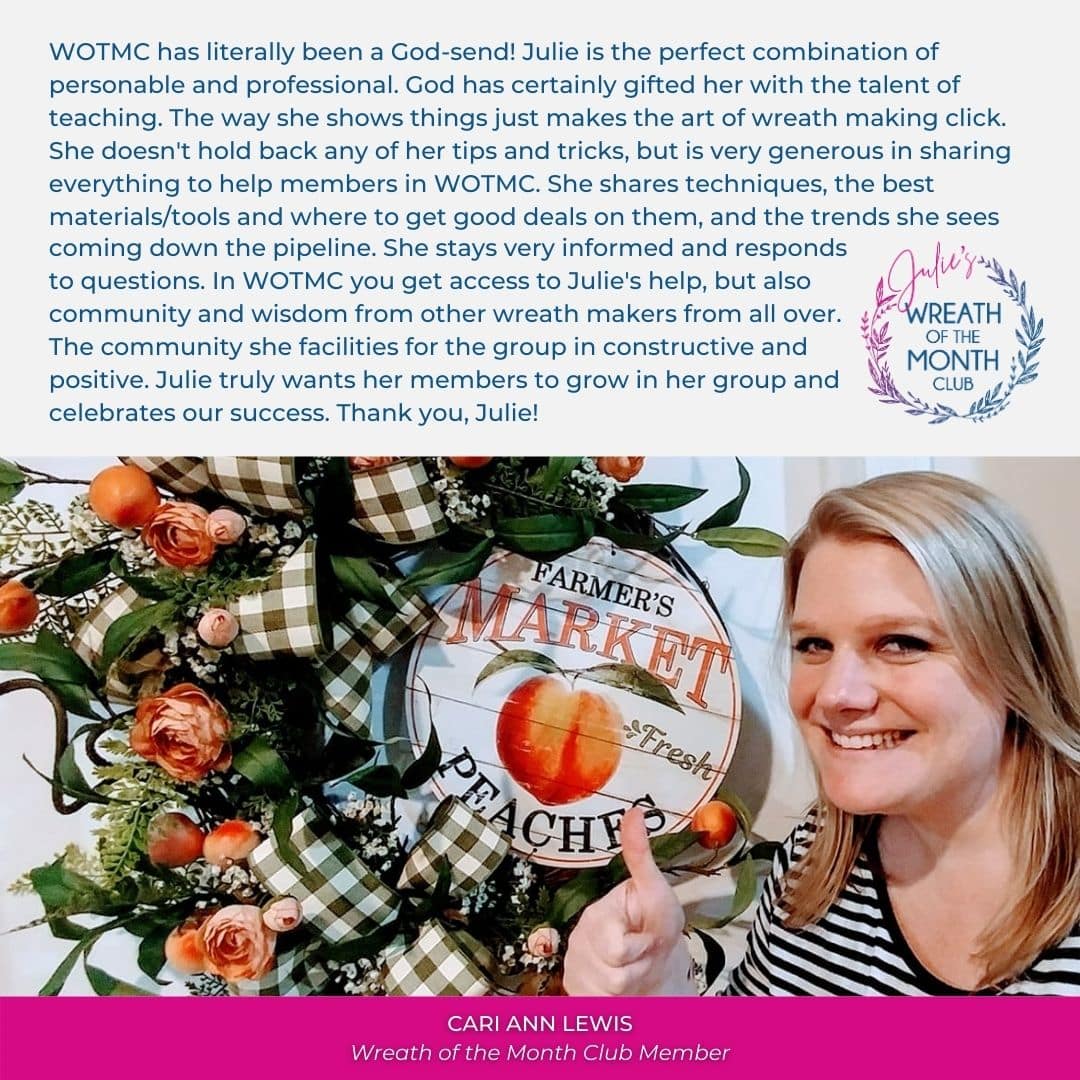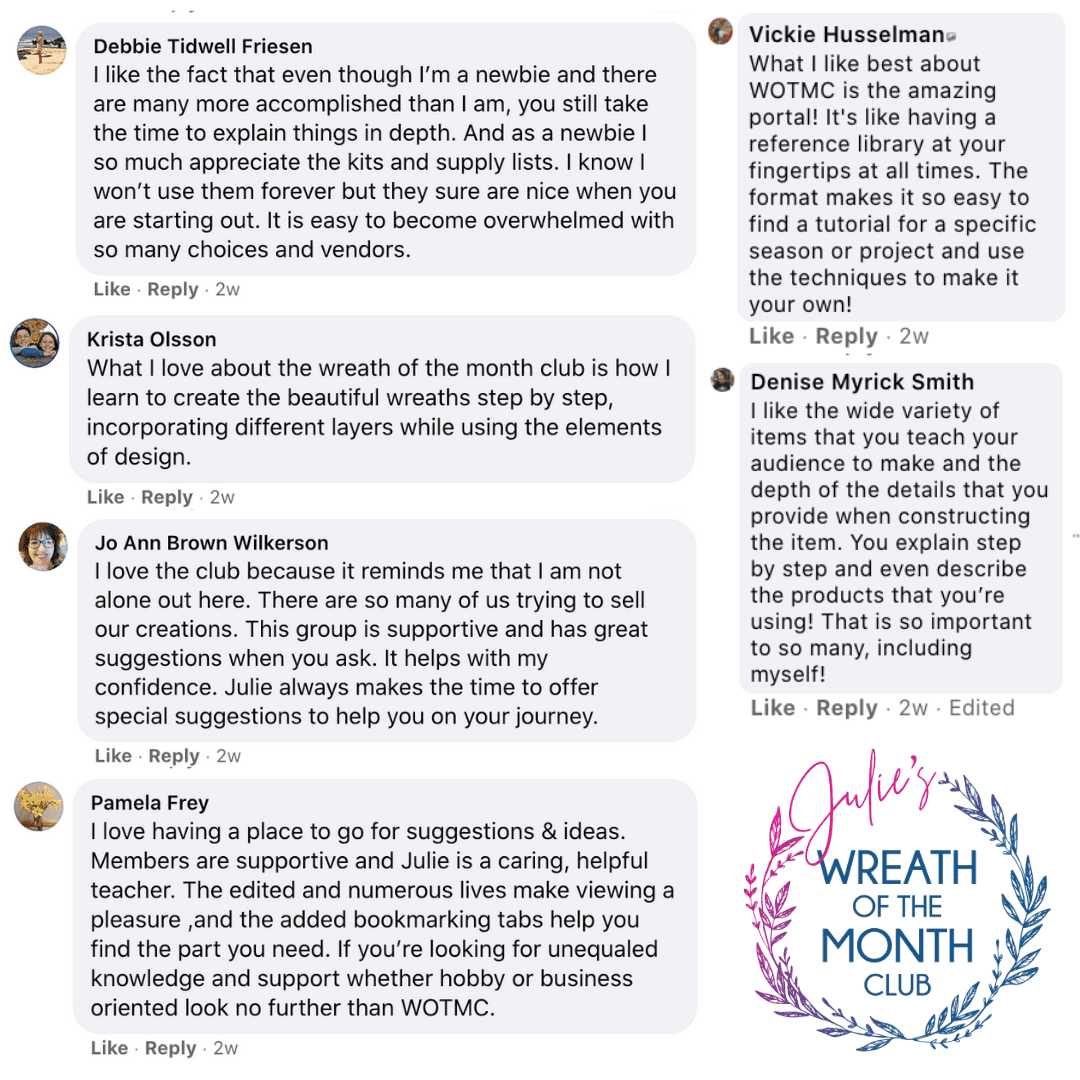 I can't wait to get to know you better inside the group!  Don't delay in joining, another season is just around the corner and your door is screaming for a new wreath!  Plus, you deserve some fun and relaxing 'you' time creating.  I mean if God made you a creative spirit, He fully expects you to use it so then let's create!
Wreath Club will not be offered again until Spring 2022
Before Paying, Please Read!
Payment Policy – When you purchase Wreath Making of the Month Club, you understand that it's an automatic recurring subscription.  You agree that your subscription will automatically renew and charge your credit card on file every month unless a cancellation is made. You can cancel at anytime.
Cancelation Policy - You can cancel your subscription at anytime by either logging into your account at www.southerncharmwreaths.com/my-account or by contacting us here. 
Due to the nature of this digital product, we offer no refunds.
&copy Southern Charm Wreaths, LLC
What Others Are Saying...
What I like best about WOTMC is the amazing portal! It's like having a reference library at your fingertips at all times. The format makes it so easy to find a tutorial for a specific season or project and use the techniques to make it your own! - Vickie Hussleman
I love the club because it reminds me that I am not alone out here. There are so many of us trying to sell our creations. This group is supportive and has great suggestions when you ask. It helps with my confidence. Julie always makes the time to offer special suggestions to help you on your journey. - Jo Ann Brown Wilkerson
I like the wide variety of items that you teach your audience to make and the depth of the details that you provide when constructing the item. You explain step by step and even describe the products that you're using! That is so important to so many, including myself! - Denise Myrick Smith
What I love about the wreath club is how I learn to create beautiful wreaths step by step, incorporating different layers while understanding and using the elements of design. - Krista Olsson
I love having a place to go for suggestions and ideas. Members are supportive and Julie is a caring, helpful teacher. The edited and numerous lives make viewing a pleasure and the added bookmarking tabs in the videos help you find the part you need faster. If you're looking for unequaled knowledge and support whether hobby or business-oriented, look no further than WOTMC - Pamela Frey
I like the fact that even though I'm a newbie and there are many more accomplished than I am, Julie still takes the time to explain things in depth. And as a newbie, I so much appreciate the kits and supply lists. I know I won't use them forever but they sure are nice when you are starting out because it's easy to get overwhelmed with so many choices and vendors. - Debbie Friesen
I have always loved wreaths. I began making them about 10 years ago. I was selling on Etsy and some retail in 2 different stores. They were ok but I knew I needed to do better.  I joined a different group but there wasn't enough training.
On my own, I couldn't figure out how to make the lush, full, three-dimensional wreaths with professional looking bows, that I loved. I put my Etsy shop on vacation and was only selling a few in the stores.
Finally, I found Julie Siomacco at Wreath Making of the Month Club, and I knew that was where I needed to be. I took several months studying her videos and bows. I learned how to make so many different items - wreaths, swags, garlands, and container arrangements.
I started improving and my wreaths started selling better. After training for several months, I was asked to do a wedding arch. I could NEVER have done this without the training I received with Julie. Wouldn't have had the confidence or the knowledge to do it. When the bride saw it she cried and said it was exactly what she wanted.
At Christmas, when I took my wreaths to the high-end local store I sell at, the owner looked at them and said "I can see these will sell for more."  And sell they did. I was so busy with special orders, etc. and I was so happy!! 
I have never regretted one penny I have spent with Julie and have certainly received more than my money's worth.
I'm almost ready to list items in my Etsy shop again. As soon as I finish studying the info in Julie's "Success Circle Group"!
It wasn't until I found Julie, and she formed this amazing group that I began to have hope that I too could make gorgeous wreaths. The desire was there; I just needed the step-by-step guidance that I found in this group! In the beginning, I would watch the whole tutorial and then I would gather my supplies. Next, I would watch the video again, but this time I would stop it after each step so that I could complete it as shown. This proved to be such a great way to build my confidence when building a wreath. I began to see the "recipe" behind the wreaths rather than the actual items being used. But not only did I find a great mentor, I found an incredible amount of support and friendship from others in the group as well. I truly am THANKFUL, GRATEFUL, BLESSED to be a part of this group!!! - Sue Stringer - Simply Elegant Wreaths by Sue
My name is Liliana Perez and I have been a member of both the WOTMC and Success Circle since December 2017. 
I had started wreath making for business purposes on my own in 2015 but only made traditional, evergreen Christmas wreaths.  When I finally decided to venture out I bought at least five books on wreath making to educate myself.  Then I came across Julie's Metal Sign Valentine Wreath online.  I watched it over and over.  I didn't understand how the books that were out there didn't explain everything the way she did.  That led me to start buying her individual videos.  You can imagine how excited I was when I bought her ebook and was invited to her Facebook group.  
A few weeks later I realized that joining both her paid groups would be a good idea and it turned out to be a GREAT idea.
Being part of her groups has been nothing short of amazing. Although I am creative I have been told that I am too analytical.  The remedy for that was being part of Julie's groups where she explains EVERYTHING step-by-step.  I don't have to try to figure anything out on my own.  I don't have to sit there and analyze how a wreath was made or how to get a business Pinterest account started. It's saved me a ton of time!
I have two little ones, and part-time corporate job but due to my husband's crazy schedule I am usually flying solo during the week.  The pros of being part of the group is that I have been able to work and learn at my own pace.  I have been a bit slow business-wise because of my personal situation.  It seems like the times that I have been a bit down on myself Julie feels the need to remind us that we are all different and not to compare ourselves to others.  That reason is why the community she has built has been so successful.  Everyone is beyond kind and helpful to each other.  I have yet to meet anyone from the groups in person but I feel like I know so many of them. 
I highly recommend Julie's groups to anyone who has a creative business and wants to go to the next level.  The information and support that you will receive are unlike any other and all you need is a computer to reach her.  She is a true gift to the industry and that is why she is my mentor.  I can't wait for the day I am able to meet her in person. - Lilliana Perez, Event Craft Studio 
I started making wreaths in the fall of 2017 after being inspired by a FB Home Talk video. After one wreath, I was hooked. I watched tons of YouTube videos but felt like I was missing some key instruction. I came across Julie's WOTMC on a FB live and felt an instant connection. I joined her group that day.
My 2018 New Year's gift to myself was also joining her Success Circle Membership for business.
Julie is an excellent teacher but she is also an excellent person. I have learned not only how to make wreaths but how to start a business, how to persevere in hardship, and most of all how not to quit. She is a natural encourager and motivator.
This month marks my 2nd year as a wreath maker. - Marsha Leneveu
One day I was scrolling through FaceBook, and somehow Julie popped up on my feed. I was instantly amazed at her talent!. I have always been a crafty individual since my early teens, and wreath design was one craft I had not tried yet. Julie made it look so easy, and I thought that I could do this. It is because of Julie that I opened my online business Squeaky Willow Decor almost two years ago. The amazing designs she teaches is so inspiring, it gets the creative juices flowing, and overall just makes you want to create beautiful decor. - Denna Howell
I have been with WOTMC since December 2017. I've been away and back. Julie's style and principles are consistent while her methods change to bring the latest trend. I love the professionalism I always feel in any of her groups. Kind of a no-nonsense business approach while I still have fun and challenges learning my placement and color coordination. This approach suits my personality. I would recommend this group if you want to learn and improve and you are willing to put in the work. - Thelma Nicholls, ArmyGurlWreaths 
Joining Julie's Wreath of the Month Club was one of the best decisions I made when I started my business over a year ago.   
Julie gives you the breakdown of the who, what, when, where and why to her projects.  I have visions in my mind of how I'd like my creations to turn out.  However, Julie with all her expertise and knowledge, helps me achieve my creative goal much easier, faster and more cost-efficient. 
She helps me figure order, arrangement, placement, combinations, and recipes for my wreaths and my centerpieces.  Her professionalism is outstanding and she earns much respect for it. 
As Julie with Southern Charm Wreaths continues to teach, I continue to learn from her.  I'm am a better designer because of her Wreath Of The Month Club. -Bonny Clayborn, Bonnys Crafty Boutique
I was always the person in town where you could get a pretty wreath for a "reasonable price".  (Might as well say I wasn't making any money because I didn't think my work was worth more).  I joined Wreath of the Month Club in order to up my game and find out once and for all if I was ever going to make any money on my wreaths.  After a couple of months and some super instruction from you, my wreath game has stepped up tremendously.   I"m a long way from your talent but I'm working that direction.  
Recently I was having a really down spell because I wasn't selling anything online or making much profit on what I was selling locally. I sat down one night during my prayers and I said God you know I love to do this,  but I can't keep going selling my wreaths at a price that doesn't make me any profit.  I said if this is a calling for me, please let me see some progress, if not, as much as it would break my heart, I will give it up.  Two days later, I decided to try my hand at making a door swag.  I made a 44" long Christmas door swag (my first) and was thrilled at how well it turned out.  I decided to "do it afraid" and price it at what I would be excited to sell it for and would be making a hefty profit.  Keep in mind I only had 8 Etsy sales in the past year.  I priced that swag at $225 and honestly felt like I was out of my mind for charging such a high price for my work but I felt like I didn't have anything to lose. I knew selling stuff cheap just made me miserable. I put that swag in my Etsy store and sold that swag in one week!  I also sold a wreath for $90 and another for $89 !   would have probably charged my friends $35 or so for them and not made any profit. 
I have already thanked God for his blessing and now I want to thank you!  Not just for teaching us HOW to make a great wreath, but teaching us THAT WE ARE WORTH IT!   Thank you again! - Connie Clayburn 
I finally learned how to make a bow from watching you and listening to your above-the-thumb/under-the-thumb explanations and was able to build off of your teachings to create my own style of bow. I appreciate that you took the time to teach us how to do it by hand versus using the Pro Bow or EZ bow. I get so much more satisfaction out of making a gorgeous hand-tied bow!! - Aime Samuel
I have always had an eye for wreaths but never knew the basics. I feel like I am learning on a whole new level!! You are amazing, Julie!! - Mindy Wolf
I have enjoyed the videos so much! I really liked all the Christmas tree tips! I want to get the cord that goes down the center for plugging in lights, and love the twinkling lights on the inside! Each video showed me I need to do more layers! Thank you to all of you! - ️Linda Morris
Here's my testimonial for Julie's group:
Hello, my name is Rose Paulus and I'm the owner of Night Owl Design by Rose.  I've been a member of Julie's Wreath Making of the Month Club for a few years now and I can honestly say, joining was one of the best decisions I made for my business.  Julie is a natural-born teacher!  With her help, I have gone outside my comfort zone and learned new wreath designing skills.  I love the way she takes the time to show all the details that go into making a design.  I equally love the way she explains what other supplies could be substituted so that you can use what you have on hand.  Prior to joining the group, I couldn't make a bow to save my life!  Now, although I do own two bow makers, I find myself hand tying my bows the way Julie has taught me.  All the tutorial videos are professionally done with clear views and great sound, making it easy to see and hear all directions.  In my opinion, Julie is the best wreath designer out there.  She is a super sweet lady that I am proud to call my "mentor" but most importantly, my friend!!
Rose Paulus
Night Owl Design by Rose
The Fall Teardrop Swag video was amazing.  I watched several times, I used all your ideas and made a lantern swag.    I like the fact that I could save it for future reference.
Now I can change it make one Christmas, Easter, and Spring.  Thanks for your help. - B
lessing 
Phyllis Shuffler
I want to thank you for your fantastic online Southern Charm Wreaths Wreath Makers of the Month Club. Knowing nothing about wreath-making, I signed up for, and became a member of the Club. It was one of the best decisions I ever made! Following your online instruction, I felt like you were a friend standing next to me guiding me through the wreath-making process. You gave me so much confidence that I could do it! And you taught me so many tips and tricks to elevate my wreaths to a more professional look. The process itself of creating a wreath is so rewarding and therapeutic.
Mostly, I've made wreaths as gifts. I have made so many people happy with them — you can't put a price tag on that! The compliments I have received are innumerable, and so many folks have asked me to teach them the process. Being quite humble as someone who never made wreaths before, I found it difficult to accept the accolades, but hearing them over and over made me aware of how true they must be and how much folks appreciate my wreaths. I have you to thank for that. - Adelina Plait
I love watching you make the beautiful wreaths, bows, etc and then going and trying to make my own version.  My wonderful husband will say " that is your best one yet" or "now I love the colors in that one". I have taught school for 23+ years and learning new things never gets old.  That is exactly what I would try to teach my kids each year.  Julie, you are such a Blessing to me and I am sure to so many other. - Bonita K Urton
I like the nurturing environment you have set. I can ask questions about wreath-making and/or the business side and I know you will take the time to answer me personally on Facebook. You are a born teacher. I also love the dynamic of our group. We help each other and give opinions on various things. - Rachel Metcalfe Provenza
I love the fact that you teach in a way that anyone can understand it! And if I don't I can ask and you will explain it in a way that I get it!! - Shary Albert
Julie doesn't make wreath creating only LOOK easy...she MAKES it easy with her detailed and insightful instructions on each and every tutorial/LIVE! It's not just educational, but fun too! - Maggie Watts
The WOTMC is amaze balls! With Julie's guidance and instruction style, you literally see your design come to life. Design concept, Scale, How to layer and why it's important, Use of quality supplies and the difference it makes, even Business tips for "Dummies" I.e. "me" - ALL THE THINGS! Not to mention the WOTMC wreath kits and special Discount Codes that are made available to members. Oh...and the online Membership Portal is loaded - Everything in one place! Julie thinks of everything and holds nothing back from us. Absolutely love WOTMC! - Linda Jewell Spearman
I love the spirit of encouragement, the way the seasoned veterans nurture the newbies. I also love Julie's teaching style, especially the way she explains her thought process as she designs. - Carol Does
I love the way you explain your thought process for each creation you design and the way you take us step by step as you make each piece, be it a wreath, swag or a centerpiece I also love the way you have categorized previous tutorials on the WOTMC website, making it extremely easy to find what I am looking for. - Penny McElheny
Even though I have been making wreaths for quite a few years, I learn something new from EVERY SINGLE VIDEO! Julie is an amazing teacher who shares a ton of tips to help in the design process as well as business tips for those who sell wreaths and floral designs. WOTMC is a wonderful support group where the philosophy is community over competition. I've paid for like many groups over the years, but truly feel like WOTMC is the best value of any I have tried! - Susan Godbold Williams
I love that you take time to show every step and tell why you are doing that one step. You make everything look so easy and I know you have had a lot of experience and appreciate you sharing that experience with all of us. - Debbie Carol Byrd
Julie's willingness to share her knowledge, sources for supplies, her "recipes" for her beautiful wreaths and her upbeat and "can-do" attitude are contagious! It's also a place you can get your questions answered in a professional manner no matter how trivial they may seem to a well seasoned experienced wreath designer. - Debbie Guffey
There are many things I love about WOTMC but the thing that stands out the most to me is the great detail and the variety of ideas and techniques Julie teaches us. I have learned so much from her about wreath making and much more. Julie is an excellent teacher. - Margaret Espinoza
I've been a member for not quite 2 years now, and just when I think the training videos are going to be repeats, bam Julie you change it completely up and I learn a totally new method! Love that I am still always learning something - Debi Barber
I love that you are REAL and truly care about us and we are not just another number in your profit margin. I feel like I have known you all my life and have never spoken to you. You inspire and motivate us! - JeffandKim Williams
What I love the best about your training videos is that you get right to the point. No talking and welcoming all 100+ viewers! No online discussions with people that you know. A little is OK, but other wreath trainers go on and on. I must say you are a breath of fresh air, and I love watching your videos. You and the grandma on Buon-A-Petitti, who teaches some of the best Italian cooking ever have been my salvation during this lockdown.... THANK you. - Diane Moorhead
what I love about WOTMC is your teachings and letting us know we can create beautiful weather and even if we don't think they are perfect dont take them apart without getting another opinion. I have began to get out of my comfort zone and trying new teaches and challenging myself. Also learning how to procr wreaths without only making 20$. Thank you for being a great coach to the team. I appreciate everything you do for us. - Jacquelyn Waters Davy
There is a lot of thought and design knowledge put into every project that makes each one flow beautifully. Even if you don't have the exact supplies you can apply the recipe and learn the techniques to apply to your own creation. - Shermala Sugar Bartlett Austermann
Julie, I know that you are a very busy lady and give so much of yourself to this group, but I wanted to take a minute to encourage you.
I have always loved decorating, but lacked knowledge of basic design techniques. I have been watching video after video since I joined WOTMC a month ago. I have seen  every live.
Below is a before and after picture of a wreath I started Monday night. After watching the Hotseat live today, I went and made changes based on basic design elements that you have been teaching. Something just clicked with me today.
Please keep re-enforcing those basic design elements. I couldn't be happier with this wreath! Well, I could if I sold it for a profit. - Kathy Hadden