15 Beautiful DIY Fall Wreath Ideas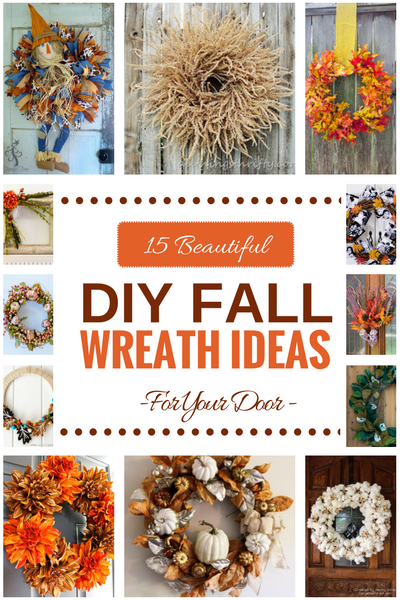 Yippee, it's fall and that means change.  Typically, the first thing we change in the Siomacco house is our entry way!  And I can't wait because my summer flowers, well let's just say they didn't make it past June in this hot South Carolina heat.  So, I ripped them up long ago.  Now it's just empty planters.  The hubs likes to give the door a fresh coat of paint and I like to plant lots of pretty fall mums.  How do you plan to change your door this fall?  For starters, how about a beautiful wreath?  If you don't want to invest in a professional handmade wreath, you could try your hand at making one.  I've come up with a few DIY Fall Wreath ideas for you here made by other bloggers and I'm sure you will find one you love.  Don't forget to switch up colors or use different materials to make it your own.  And when your guests arrive, they will ask where you purchased your beautiful Fall wreath and you can tell them you made it! This post contains some affiliate links for your convenience. Click here to read my full disclosure policy.
[Tweet "15 Beautiful DIY Fall Wreath Ideas"]
15 Beautiful DIY Fall Wreath Ideas
1. DIY Scarecrow Wreath with Legs by Trendy Tree
2. DIY Fall Burlap Wreath Tutorial by Decor By The Seashore
3. 10 Minute Decorating: A Quick & Easy Fall Wreath by Making It In The Mountains
4. Easy Fall Dahlia Wreath by 2 Bees in a Pod
5. DIY Fall Cotton Wreath by The Hamby Home
6. Fall Paper Cone Wreath by Ribbons & Glue
7. Fall Corn Tassel Wreath That Costs $1 or Less by All Things Thrifty
8. Fall Painted Acorn Wreath by The Silly Pearl
9. Square Faux Wood Fall Wreath by A Home To Grow Old In
10. DIY Rustic Glam Fall Wreath by Our Crafty Mom
11. Cherish the Memories Fall Wreath by Paint Me Pink
12. Tulle Turkey Wreath by Occasionally Crafty
13. Magnolia and Oyster Shell Fall Wreath by Nourish and Nestle
14. Fall Leaves Rake Wreath by Dream a Little Bigger
15. Tied Ribbon Wreath by Carla Schauer Designs
If you're looking for something for your door but you don't want a wreath, how about a fall door hanger? Click here for my free video where I teach you how to make a fall door hanger.
Comment below and tell what's your favorite Fall Wreath is to make!  If you don't want to make a DIY Fall wreath yourself, consider purchasing one on Etsy by other amazing wreath makers.  Click here to find some amazing Fall Wreaths on Etsy.
Julie
If you enjoyed this post, you might also like
Easy Tips on How to Make a Fall Door Hanger
How to Make a Fall Lantern Swag Video
7 Great Tips to Save Money on Silk Flowers
Save
Save
Save
Save