25 DIY Home Projects for Spring
If the temperature is still cold in your area but you are ready for Spring, why not spend the weekend indoors working on a DIY home project? I've found 25 DIY Home Projects for Spring I want to share with you to help spark ideas. Several of these will make great Mother's Day gifts too!  These are not my projects but of other bloggers I respect and you can find the list with links back to their blogs below.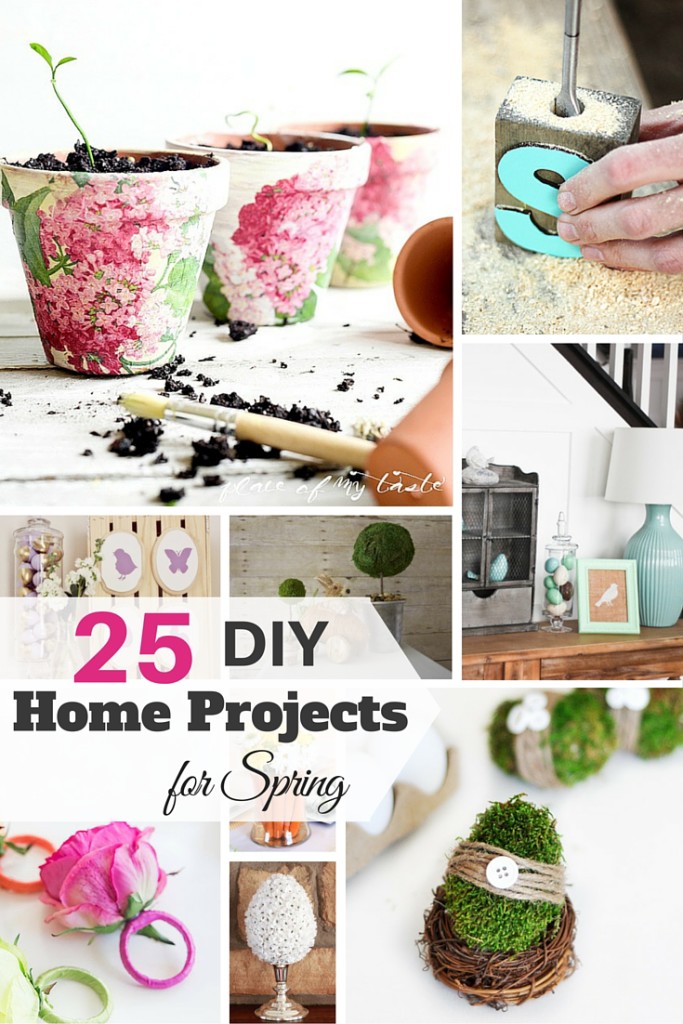 [Tweet "25 DIY Home Projects for Spring"]
25 DIY Home Projects for Spring
1. Well you know, I have to list a wreath first! Here is a DIY Spring Tulle Wreath byThriftyJinxy.com
2. Easy Painted Spring Decor by HoneyBearLane.com
3. This Yarn Egg Garland by ModpodgeRocksBlog.com will look beautiful over a mantle or Easter table.
4. Need to add spring flair to your desk? Why not a Tulip Pen? Tutorial by MuslinandMerlot.blogspot.com
5. If crochet is your thing, check out these lovely Crochet Baskets for Spring by StitchandUnwind.com
6. Only have seconds to make your DIY? Then these DIY Moss Topiaries by 2beesinapod.com are right up your alley.
7. I think these Decoupaged Terra Cotta Pots by PlaceofMyTaste.com will be the perfect DIY gift for Mother's Day.
8. Dandelion Paper Lanterns have been spotted in magazines and APieceofRainbow.com is teaching you how to make them.
9. If candles are your thing, then a pair of Spring Stenciled Votives are what you should make. This DIY by EveryDayDishes.com
10. Need a vase for Mother's Day flowers? Check out Spring Inspired Vase tutorial by AmyKrist.org
11. This Mossy Spring Sign by CraftCuts.com will look pretty on any shelf in your home.
12. Looking for something unique? How about a The Hat Belt Basket by MuslinandMerlot.blogspot.com
13. This Blooming Monogram by AllParenting.com as been all over Pinterest.
14. I love, love love this Succulent Birdhouse by JoyUsGarden.com. I can just picture hanging this in my yard or in a wreath design.
15. Another Pinterest favorite of mine, Moss-Covered Easter Eggs by LoveGrowsWild.com.
16. Looking to update that table in the foyer or buffet? Check out this Spring Vignette idea by LacquerAndLinen.com
17. If you walk on the rustic side, you have to make this DIY Rustic Wood Planter Box by MakeLifeLovely.com
18. These Hollow String Eggs will look great on my Easter table, how bout you? This tutorial is by ThinkCrafts.com
19. How about making a DIY Color-Blocked Tray to place on your coffee table with a few bunny figurines and a spring flower vase? This idea by DesignforSoul.com
20. With all the silk flowers I have laying around, this Blooming Easter Eggs by ThatsWhatCheSaid.net looked intriguing!
21. This Spring DIY Printer Tray by ConsumerCrafts.com will look cute in my office or daughters room.
22. Look at this festive Carrot Centerpiece by LoveGrowsWild.com for your Easter table.
23. You know how much I love decorating my door for Spring, so I couldn't pass up sharing this Door Decoration For Spring by SadieSeasonGoods.com
24. Another Spring Flower Vase idea. This one is by TriedandTrueblog.com
25. Love the simplicity of this Rose Napking Rings by TheChicSite.com. It will look great for a spring tablescape.
Let me know what you think of these 25 DIY Home Projects for Spring. Do you like to make projects with your kids or do you use your craft time to unwind and detox from the week?
Julie