30 Craft Show Tips for Beginners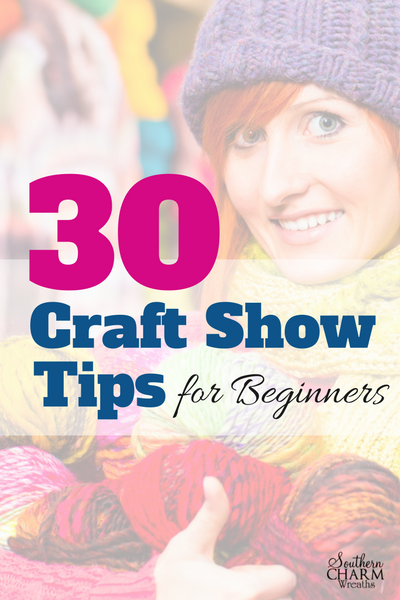 Have you ever sold your goods at a craft show? If you have, you know it is not for the faint of heart! The payoff can be big, but you MUST have a game plan and do your homework. That's why I'm sharing my top 30 Craft Show Tips for Beginners today!  This post contains some affiliate links for your convenience. Click here to read my full disclosure policy.
30 Craft Show Tips for Beginners
Okay, it's time to get your booty up and get your act together, because today I'm teaching you tips for making some serious dough at your next craft show!  I've watched thousands attempt to sell at craft shows and those that don't succeed are missing some key elements.  After my polling, I've compiled my 30 Craft Show Tips for beginners that I shared in a recent Facebook Live video (see below) and now I'm sharing them with you here.
[Tweet "30 Craft Show Tips for Beginners Video"]
Summary of my 30 tips:
The number one tip is to do your research and only participate in shows that are well advertised by those hosting it.  You can find craft shows in your area using these websites (festivalnet.com, craftsfaironline.com, craftlister.com, nationalcraftshows.com) but you must research them. Look at past show vendors to get a feel for the price range of what they offer to see if your goods will fit within the price range of the other vendors.
Book in advance because the good shows only take a few duplicate vendors and/or book up.
Create a Facebook event for your Facebook Business Page including the date, the time and location of the craft show.  Starting two weeks in advance, post photos of what you will be selling once a day to give your fans teasers.
Email your contact list to let them know where you will be and where to find your booth.
Create an Etsy Local Event.  This lets die hard Etsy buyers locate craft shows near them.  It also shows examples of what they can buy during the craft show.
Invest in or borrow a tent that will cover on all sides.  You want to cover the sides to protect your goods if there is a lot of wind or rain, plus sometimes you might want a divider from you and the other booths.
Bring tables & chairs – cover the tables with quality table clothes and use the underneath for storage.
Bring an emergency kit such as tape measure, hot glue gun, glue sticks, wire, pipe cleaners, extension cord, zip ties, wire cutters, scissors, markers, extra hang tags (like these from bagsandbows.com), gum, breath mints, pens, paper, snacks, smart phone, phone charger, sun glasses, sun hats, water, etc.
Take lots of business cards!
Make your area/booth a mini retail shop (see video below for more detials).
a. Think warm and inviting
b. Set the mood with rugs, lamps, plants, etc. (put price tags on these items too)
c. Display your items using multi-levels to bring eye up
d. Stage the items you're selling using other store bought stuff like pumpkins, scarecrows, and ornaments, etc. (price these too)
e. Have towers or displays that come out of the tent and use both sides of the tent to hang items. See my craft show towers here.
Set up an iPad or a smart TV/monitor with a slide show of items you have made in the past. If no iPad or electricity, use a 3 ring binder with large quality photos in sheet protectors.
PRACTICE SETTING UP YOUR BOOTH BEFORE YOU GET THERE!!! Take the time at home and set up everything the way you like it.  Use tape to measure off exactly how much room you will have.  Take lots of photos too and it will make setting up so much easier.
So you know how you have to make a lot of inventory for the show right?  Well, why not save yourself some time by making one item of your popular items to display and then take custom orders!
Also save yourself some time on inventory by making several simple designs, not every design needs to be over the top.
Wrap sold items in cellophane bags with raffia and attach a business card so that when buyers carry it out, others might ask where they purchased it. BUYERS ADVERTISE FOR YOU! The bag in this video is from creativegiftpackaging.com and measures 30"x40".
Fill your booth with items!  You have to offer a lot of items and your booth should be full but not so full that your eye doesn't know where to look.  So you want to make sure to bring enough items to restock as needed but store them out of sight until you need them.
Place your most expensive items at eye level.
Sell items of various price points. You want the majority of your items to be what the average selling point is for that craft show, then add in a few more expensive items and a few more inexpensive items.  So if your in the home decor biz like me, offer centerpieces, lantern swags, bows, smaller wreaths, etc.  Also, try grouping items together for a more expensive price point (i.e, bracelet sets, 5 bows, a wreath and matching mailbox topper, etc.).
Print off my packing checklist to use as a guide for your next craft show.
SELL YOUR SUPPLIES! For example, if in the home décor biz, sell new unused ornaments, full unopened rolls of mesh, ribbon by the rolls, holiday picks, signs, monograms, etc.  You know you have too many supplies in your stash and now is a great way to try to sell of some of them.  Obviously price it to where you make a profit, not what you paid for it.
Consider selling a kit for shoppers to make their own items when they get home. You know you always here, "I can make that." So be prepared and offer them a kit.  Selling your knowledge always pays off. This is what I teach the wonderful ladies in my Success Circle Membership group.
Consider selling items you don't make but fit in your niche. For example if you sell jewelry, consider scarves and if you sell wreaths, consider painted door hangers.
Take a card reader (Etsy, Square, Paypal). Debit/Credit card readers are free however, they charge a fee when you use them per sale.  However, it is so worth it because people rarely carry cash anymore and if aren't able to take their card, then you won't get their money.
Use the Sell On Etsy App and try to get the buyer to accept an emailed receipt because when they receive the receipt, it will have your branding and shop link info.
Capture shoppers emails by holding a drawing of a premium item (see video).  You can use a QR code to make it that much easier for you because the shopper types all their info in for you.  You can even request that they have to do two things, Like you on Facebook and enter their email.
Use an email service provider to save their emails. During my Success Circle Membership Training, I will be teaching creative business owners how to use an email service provider, set it up, make newsletters, etc.  When you email your shoppers with a follow up email, you can include a reminder where you met, any sales you are currently running (perhaps given them a show discount), any new items you listed in your Etsy shop, ask for custom orders and don't forget to announce who won the giveaway, etc.
Take a friend to help you!
Take photos of your set up, you engaging happily with customers and post them on your Instagram and Facebook biz page the day of your show.
Demonstrate how to make your product as you wait to help draw customers in to your booth.
For items that don't sell, list them online in an Etsy shop (check out my Etsy Success Tips!) or save them for the next show.
In closing….remember to take notes after the show ends of what you will do different next time; for example, was the show a hit or bust, what was your profit, what was your biggest seller or most popular items (MAKE MORE OF THESE), etc.  You think you will remember but I promise you, you won't, not everything.
Now that you've heard my 30 craft show tips for beginners, click here to download an example of a Craft Show Packing List!  My friend, Patti Manning with Patti's Pretties helped me come up with the list.  Thank's Patti!
I hope these tips will help you at your next craft show. Do you have a favorite tip that I didn't mention? Comment below and don't forget to share this with your friends!
If you haven't already, join my mailing list and follow me on Facebook where I'm LIVE most Thursdays.  I can't wait for you to join in on the conversation at  www.facebook.com/southerncharmwreaths.
Happy Wreathing,
Julie
If you enjoyed this post, you might also like:
Download my 15 Steps to Great Etsy SEO
How to Beat the Competition on Etsy and Win