30 Sensational Summer Wreath Ideas for Your Door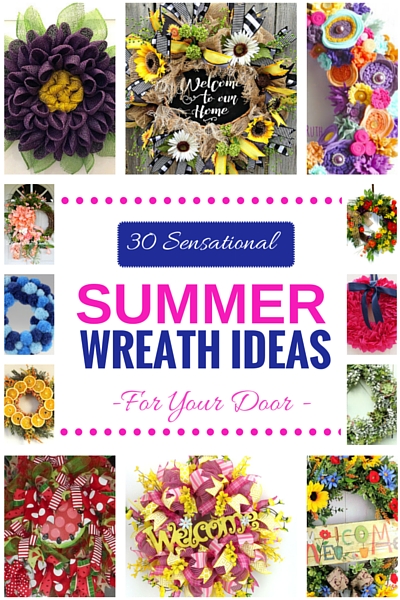 My list of 30 Sensational Summer Wreath Ideas for your door will inspire you to freshen up your own door this summer.  That hot summer sun can fade a wreath, so it is best to replace your wreath every 2-3 years.  Whether you like vibrant and bold color wreaths, calming ocean blue colored wreaths, wreaths using natural elements, or fruit themed wreaths, my list of 30 Sensational Summer Wreaths has something for you.  This list is compiled by some of the top wreath artisans such as myself who use all types of mediums including: yarn, dried flowers, felt, grapevine, silk flowers, and deco mesh. Enjoy!
[Tweet "30 Sensational Summer Wreath Ideas for Your Front Door"]
30 Sensational Summer Wreath Ideas for Your Door
1. Burlap Watermelon Wreath by XtinesDoornaments
2. Dried Orange Summer Wreath by Ghirlande
3. Memories At The Beach Deco Mesh Wreath by FollowYourWreath
4. Vibrant Yellow & Hot Pink Welcome Wreath by SouthernCharmWreaths
5. Water Melon Ribbon Wreath by AmazingGraceWreaths
6. My Heart Sleeps by the Sea Wreath by PanacheWreathDesigns
7. XL Silk Flower Summer Wreath by LisasLaurels
8. Welcome Garden Wreath by TheGreetingDoor
9. Deco Mesh Watermelon Slice Wreath  by CJCCreations
10. Whimsical Pineapple Wreath by WreathWhimsybyRobin
11. Summer Beach Parrot Wreath by KecksKreations
12. Rustic Sunflower Burlap Wreath by KattfishKreations
13. Summer Dahlia Flower Wreath by JuliesWreathBoutique
14. Hot Pink Fabric Wreath by SweetGeorgiaSweet
15. Turquoise Seashell Wreath by DesignsbyTiffanyw
16. Beach Bum Pink Green Starfish Wreath by BeautifulMesh
17. Gone Fishing Wreath by CraftyChique06
18. Summer Felt Flower Wreath by WreathsbyEmmaRuth
19. Country Sunflower Welcome Wreath by AmberFosterCreativity
20. Free Weeds Wreath by TullenAroundWithNolleGrace
21. Dried Lavender Potpourri Wreath by JuliesHomeCreations
22. Faux Summer Succulent Wreath by DaisyMaeBelle
23. Simple Summer Geranium Wreath by DesigningCreations
24. Summer Grapevine Wreath in Coral by BlossomShopWreaths
25. Deco Mesh Ladybug Wreath by TwistedSisters
26. It's Five O'Clock Somewhere Wreath by CoyoteCountryMarket
27. Sunflower Burlap Ladybug Wreath by FancyWreathLady
28. Ocean Blue Pom Pom Wreath by PomPomMyWorld
29. Vibrant Orange and Pink Silk Flower Summer Wreath by FestiveByNature
30. Lemon Wreath by EverBloomingOriginal
There you have it, my list of 30 Sensational Summer Wreath Ideas for your door! Comment below and tell me about your favorite summer wreath. How often do you replace your Summer wreath? What medium do you prefer: deco mesh, silk flower, live flowers, dried, felt, yarn, etc.?
Happy Wreathing,
Julie
If you enjoyed this post, you might also like:
30 Amazing 4th of July Wreaths
25 DIY Home Project for Spring
How to Make a Simple Spring Wreath Bow