7 Great Tips to Save Money on Silk Flowers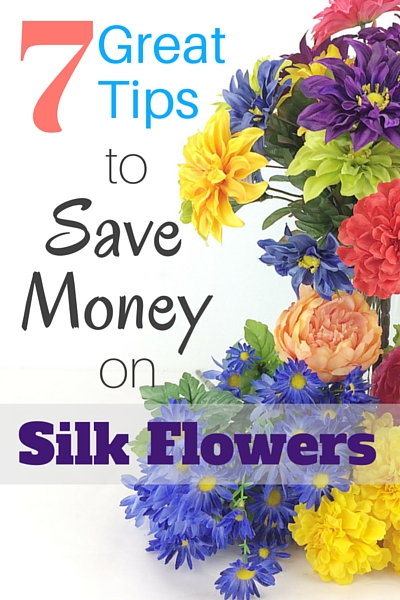 Silk flowers are what makes or breaks a wreath and choosing silk flowers for your wreaths can be tricky and expensive. I have 7 great tips to save money on silk flowers and I included these tips in a recent Facebook Live video. You can watch the video at the bottom of this post but I wanted to give more details here on my blog.  Read below for my tips to save money on silk flowers. This post contains some affiliate links for your convenience. Click here to read my full disclosure policy.
[Tweet "Does the season matter when selecting silk flowers for wreaths?"]
Before we talk about my tips to save money on silk flowers, lets first talk about when to use flowers. I get asked all the time if seasons matter when selecting silk flowers for wreaths? I feel this is really a personal preference. There are so many colors of silk flowers these days, including colors that the real live flower would never bloom in. Therefore, unless you really don't feel a mum should appear in a wreath before August, I say whatever you want goes. The wreath or flower arrangement you make is 'your' work of art, your masterpiece so why not include the silk flowers that you prefer?
I personally have a seasonal preference for only a couple of flowers. For example, to me, daffodils and tulips should be in spring wreaths only. But again, that is just me for my wreaths. Now, when it comes to hydrangeas on the other hand, I personally feel they can be added to a wreath any time of the year. I mean they come in so many colors; burnt orange for fall and red which can be used for summer wreaths, Valentine's wreaths and Christmas wreaths.
Hey, here is a tip. To add holiday sparkle to any silk flower, spray Krylon Glitter Blaster on the flower bud. I love doing this for my holiday wreaths when I use hydrangeas and dahlias that I purchased earlier in the year. I spray the Krylon Glitter Blaster, let it dry and then I have instant sparkle on my silk flowers. Give it a try! You can purchase Krylon Glitter Blaster on Amazon here: http://amzn.to/246albQ
Of course if my customer wants me to produce a botanically correct seasonal wreath, then I definitely will only use flowers that grow in that season when making the wreath.
[Tweet "7 Great Tips to Save Money on Silk Flowers"]
7 Great Tips to Save Money on Silk Flowers
Silk flowers can be very expensive and there are many price ranges to choose from depending on where you purchase. Here are some tips to save money on silk flowers.
Purchase your silk flowers from retailers when they are on sale.
Some retailers reduce their silk flowers by 40% every other week and some have huge blow out sales where the flowers are on sale AND also have a 20% off coupon on your entire purchase. This is an awesome time to stock up on your seasonal silk flowers. Additionally, sign up for the retailer's email list to have these coupons sent directly to your in box and don't forget to download the retailer's app to access even more coupons right when you are standing in the checkout line.
Purchase silk flowers in bushes.
While there are different sizes of bushes to choose from, buying your silk flowers on bushes is always cheaper than buying individual stems. As you can see in the video below, I give an example of purchasing a peony by the stem versus purchasing a bush containing nine peonies. The stem when purchased, and on sale mind you, is $2.99 while the bush prices out to $1.00 per flower. This little bit of savings can add up when you are making a large wreath full of silk flowers or make tons of wreaths like me.  TIP: When you see a silk flower bush description online and it has an "X" in front of a number, that means that there are that many flowers on the bush.
Combine expensive stems with less expensive stems.
Meaning when you purchase your less expensive silk flowers, they may look weak and not fantastic when they stand alone, but when you mix in more expensive silk flowers with them, they give off a much nicer appearance. So instead of having a wreath full of expensive silk flowers, mix it up to bring down the cost of the wreath as a whole.
Wholesale Yay or Nay?
Buying wholesale can sometimes be cheaper but not always. Some wholesalers have very expensive silk flowers and yes, while they are cheaper than a retail boutique, they can still be too pricey for my wreaths. Additionally, some of these nicer flowers, are not even made to be used outdoors so make sure to ask questions and read the labels. If you find a good price for silk flowers at a wholesaler but the minimum is too high, then consider teaming up with another wreath maker to split the order with you. Sometimes these wholesalers want you to buy 12 of these silk flower bushes. Well if there are 10 pink peonies on a bush and you need to purchase 12 bushes to meet their minimum, you will have pink peonies coming out of your ears. So try asking one or two wreath makers in your area or Facebook groups if they would be willing to split the order with you.
Purchase your silk flowers from more than one source.
Another tip to save money on silk flower wreaths is to diversify your vendors.  For example, one of my sources might have hydrangeas that are nice quality and reasonably priced but their filler flowers have a lot to be desired. So, I find another source for my filler flowers. Same is true for my greenery. I rarely purchase my greenery from the same source I purchase my silk flowers. So you need to consider looking at many sources when making your flower selections. You can find my vendor list of over 100 vendors in my ebook here www.learndecomeshwreaths.com.
Make sure to use all of the flower.
Don't just use the flowering bud on the end, you can save the silk flower leaves and use them too. You can use leftover silk flower leaves as fillers for your wreaths or even in the loops of a bow when you need the bow to blend more with the wreath or lantern swag. You can also use the left over leaves to help cover up the mechanics on the back of the wreath. The mechanics would be things like, floral wire, pipe cleaners and glue drips. Covering up the mechanics gives a professional appearance to your wreath. You can use the leftover leaves to cover up rough areas on the back of the wreath so that it won't scratch the wall or door. Believe me, customers love this! Just look at this customer review from my Etsy shop.
While this isn't a save money tip, it is a "get more for your money" tip.
When inserting your flowers into your wreaths, you can either cut the stems short to produce a more compact wreath or you can cut your stems longer (i.e., 6 inches) to produce an airier and more dimensional wreath. Customers actually pay more for wreaths that have more dimension and come out farther from the wreath base than those that are compact in nature.
If you would like to learn to make an airy, more dimensional silk flower wreath then checkout my video on How to Make a Silk Flower Spring Wreath which is on sale until Monday, May 30. In this video I teach you how to develop the overall shape of your wreath using greenery, give you my tried and true formula for flower placement which you can use over and over again for any seasonal wreath, how to tie a bow and attach a bird's nest. Of course if you were using my flower placement formula for a fall wreath, just replace the bird's nest with a pumpkin or how about a monogram?
You can watch a sneak peek of my video here: http://makewreaths.com/videos/offer-sfsw-20/
There you have it, my 7 Great Tips to Save Money on Silk Flowers!
In case you missed it, my Facebook Live video on discussing Silk Flowers. Make sure to subscribe to me on Facebook so you won't miss my next Live video. I gave another tip in my video regarding the notches on the some of the thicker silk flower stems.  If you cut your flower stems at those notches, you will find it easier to cut with your wire cutters. I don't use typical wire cutters for my flowers, I actually use wire cutters meant for electrical work which cut better. I also like the angled tip and grip of these wire cutters. You can purchase a pair of the wire cutters I recommend on Amazon here: http://amzn.to/24nI9mI
Did you find this post useful? Comment below and let me know. Also, do you have any silk flower tips to share?
Happy Wreathing,
Julie
If you enjoyed this post, you might also like:
How to Prepare Pine Cones for Wreaths
How to Use Wood Floral Picks in Wreaths