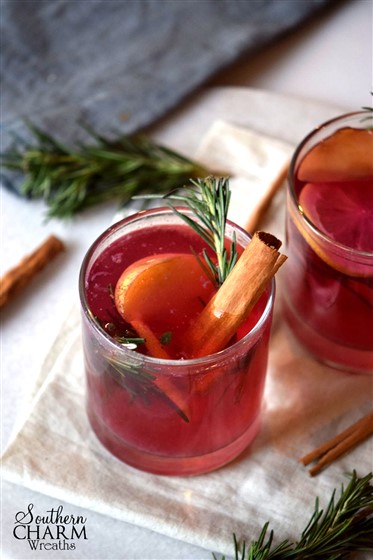 Fall is one of my favorite seasons, the air is chilly, the warm scents are everywhere (cinnamon candles + pumpkin spice candles are my favorite!), and the leaves create the most beautiful colors. Fall it's also a great season to decorate your front door, and it also means that the holidays are approaching. So when this season comes I know it's time to shake up an Autumn Mocktail.
And friends, this is so good! Like really really good, actually it has become a real crowd favorite around here and friends and family ask for the recipe every single time.
The Autumn Mocktail tastes very similarly to an apple cider but with hints and bits that make it feel extra especial. It's also completely homemade which really amps up all the flavors + it leaves your home smelling amazing.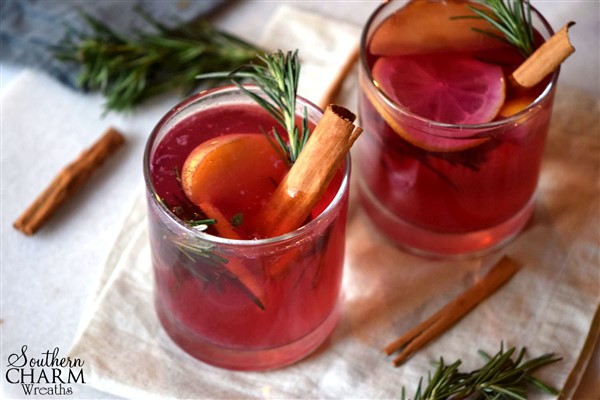 Let's talk about the scent for a second, we are going to be slowly simmering cinnamon + apples + oranges + cloves + cranberries and rosemary and a couple of pear slices. Just imagine for a second how the smell is? Well, it's almost 10 times better than what you are imagining. I actually joke with friends that we should bottle up this scent.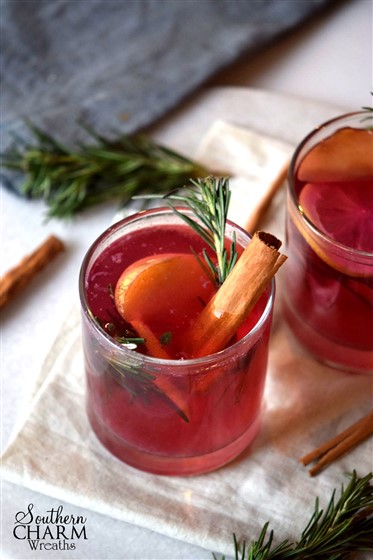 The other thing is that it looks really festive without the need of alcohol or soda. I know that most of the mocktail recipes call for soda but in this case is not necessary at all! While you could definitely spike it if you want, the flavor combo is so powerful that you don't need it at all.
Just make sure to make a big batch, so there's enough for everybody.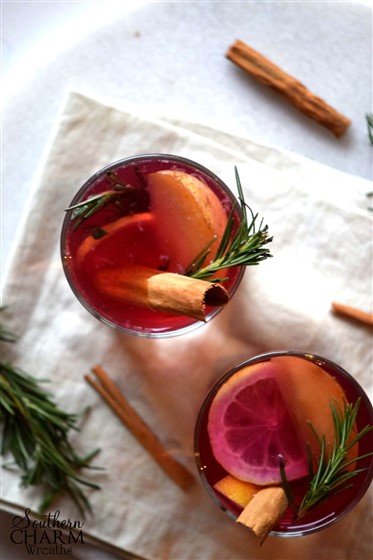 Autumn Mocktail Recipe
Ingredients
6 Apples chopped
2 Cups water
2 Cups cranberries
1 Orange juiced
4 Cinnamon sticks
1 Tbsp cloves
2 Rosemary sprigs
Lemon slices to garnish
Rosemary sprigs to garnish
Cinnamon sticks to garnish
Directions
In a pot over medium heat, pour the water, apple slices, cranberries, clove, orange juice, rosemary sprigs, and cinnamon sticks.
Boil for 1 hour.
Reduce and simmer for 2 more hours.
Remove from the heat and strain into a pitcher.
Pour into the glasses and garnish with lemon slices, rosemary sprigs, and cinnamon sticks.
Serve and enjoy.