Etsy – Customer & Market Experience
Your review score, whether or not you offer free shipping, processing times, about section and shop policies can all help make a shopper feel more confident and excited about making a purchase from your shop. Etsy states that having these areas complete can give your shop a slight boost in Etsy Search.
Think about what might influence you to make a purchase when looking at a listing. Those factors are also taken into consideration when the algorithm determines a listing's search placement.
Competitive Shipping
Etsy buyers tell Etsy that shipping price is one of the most important factors they look at when deciding to make a purchase. In a 2018 survey, they said they were 50% less likely to buy an item if they thought the price of shipping was even a little bit more expensive than they were used to. Because of this, the most visible spots in United States search results are reserved for listings that ship for free or shops that offer a US free shipping guarantee to shoppers in the US.
We also include shipping price as a factor in search ranking. If you don't offer a US free shipping guarantee or free shipping to US shoppers, offering free shipping or lowering your shipping costs for shoppers in your country can also improve your search ranking.
Click here to learn ways to develop a competitive shipping strategy that can help you appeal to shoppers and have a positive impact in Etsy search.
Great Reviews
Reviews give shoppers confidence in purchasing from you. It's easier said than done and takes time to make sales but even longer to build up reviews. Approximately 10-20% of your purchases will result in a review. Here are some things you can do to accommodate a shopper's needs and encourage that 5 Star Review!
Quickly respond to customer questions

Try using snippets to help! By creating your own library of saved snippets, you can save time while still providing great customer service.

Offer quick processing times
Set up Estimated Delivery Dates

Showing estimated delivery date ranges on your listings will help deliver a great customer experience for your shoppers and make it easier for you to manage.
The Estimated Delivery Dates feature is available to sellers in most countries

Do your best to accommodate a buyer's needs
Offer personalization to create an extra special experience
Create incentives to encourage business and repeat buyers

Abandoned Cart Discount
% off a buyer's next purchase from you
Have buyers join a mailing list to stay in touch with them

A handwritten note goes a long way!
One of the ways to ensure a review is to ask for it! In my followup email to a buyer I include the following:
Thank you for purchasing from Southern Charm Wreaths! I know you have many choices on Etsy and I appreciate that you've chosen to shop with me. I look forward to shipping your order and hearing about how much you love it. Your review will give confidence to others making a purchase from my small family-based business. If I can do anything for you, please reply back to me.
Don't forget to add my shop to your favorites so that you can be notified in your activity feed when I have additional items and please take the time to follow me on the following social media sites for exclusive discount codes
Facebook: @southerncharmwreaths
Instagram: @southerncharmwreaths
Julie Siomacco
Owner, Lead Designer
SouthernCharmWreaths
Access the Message to Buyers and customize your own message here:
Shop Manager> Settings> Info & Appearance> Message to Buyers
Another way to remind a buyer to leave a review is to include a handwritten note on the packing slip. Something like this:
Please contact us if there is a problem with your order and if you're happy with the order, please take the time to leave a review to give others confidence in purchasing from me.
Even better is a printed card or paper you can slip inside their shipment. My example here: Southern Charm Wreaths Thank You to Wreath Buyer Handout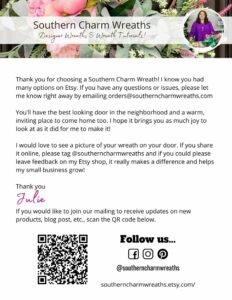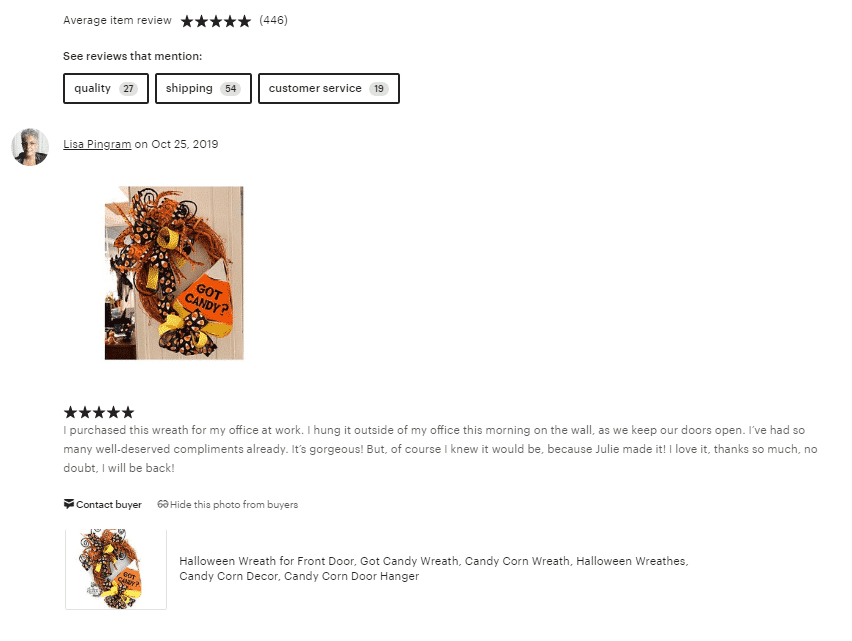 About section
This is your opportunity to tell the story behind your business using photos and video.
Adding an About section to your shop can help buyers feel more excited and confident towards making a purchase. Thus, the search algorithm considers its presence when determining search ranking. About sections are considered contributors to a positive customer experience, which is weighted in shop and listing visibility.
Be short and sweet, it only takes 10-15 minutes to complete
Items to include in your about section:
Who you are?
How long have you been perfecting your craft?
What makes you different than competitors?
Where do you find your inspiration?
What is your why for your Etsy shop?
Shop Policies
The same is true with shop policies. Having them in place will give you a slight boost in Etsy search but more importantly, they help buyers understand exactly what to expect when making a purchase from your shop. Offering this information upfront can help avoid any possible confusion should an issue arise.
Etsy says that buyers tell them that shops with no policies are a turn-off.