Giveaways to Grow Your Followers with Kingsumo
Giveaways are one of the fastest ways to grow an audience or a following but if not done carefully, they could attract the wrong kind of followers and this will not help your sales.
The trick is to run the giveaway away from your social media accounts and also to offer something that will attract CUSTOMERS.  Viral giveaways are the ones that work the best!
So what is a viral giveaway? It's a giveaway where those entering have an increased chance of winning when they share your giveaway on their social media accounts. Plus added points for doing things like, following you on Instagram or Facebook.  Not to mention you get all of their emails and you can use the emails on your email lists as well as create a look alike audience to run Facebook ads.
I learned of Kingsumo a few years ago when they offered a plugin for purchase for WordPress websites.  Back then, I was just starting on my WordPress site and paying for a plugin wasn't in the budget.  Fast forward a few years, and Kingsumo has now opened up their viral giveaway platform on a stand alone website and even better, it's free.
The best way to run a giveaway is to partner with another company (or a couple of companies) your typical customer can relate too. The company doesn't necessarily have to be the same niche as you but the prize must benefit the interest of your core customers. For example, I recently partnered with a wreath supply company for a $200 wreath making gift card giveaway. This was a perfect fit for my wreath making followers.  But you don't have to partner with a company at all if you don't want. You can also just purchase gift cards from places your audience will love and give that away.  You just have to be careful that your prize lines up with the type of followers/customers you want to attract.  So for me, to giveaway an ipad or iphone, will draw in the wrong type of followers to my accounts and it will make my engagement go down. Because people wanting those technology items, would not necessarily care about wreaths or wreath making.
The best time to run a giveaway is whenever you want a surge of followers or emails.
Look at the results of my last Kingsumo giveaway:
I had over 5000 people enter which added approx 3000 people to my email list in a weeks time. That's good even for me!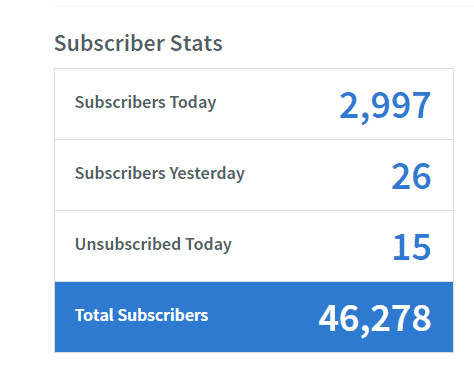 Plus this giveaway increased in all my social media accounts:
Instagram +724
Facebook +2763
YouTube +722
Note: results may be different for you based on your followers.
Steps for creating a Kingsumo giveaway:
Decide what you want to giveaway, whether you partner with someone or not.
Create your images for promoting the giveaway using canva.
Create the giveaway on Kingsumo.com
Promote the giveaway in email, on Facebook, Instagram, etc. on a daily basis.
Announce the winner of the giveaway via emails.
Upload or import your giveaway emails into your email list provider (mailchimp integrates directly with kingsumo so this is automatic).
Watch this video on how I create a Kingsumo giveaway:
Email Copy I use for my giveaways for a hard pitch:
INCLUDE A PARAGRAPH OF WHAT YOU'VE BEEN UP TO THIS WEEK
Hey but that's not why I'm writing to you today! I'm writing to let you know that I've partnered with Deco Exchange for a gift card giveaway! It's for a $200 fall crafting gift card and I know you could use some extra cash to make a new fall or Christmas wreath!
Use this link [ADD KINGSUMO LINK] to enter the drawing and make sure to check the giveaway everyday for additional ways to earn points plus if you share it on social media, even more points. Winner will be announced next week on September 17. Good luck!
Enter here >>https://kingsumo.com/g/umtwiy/200-deco-exchange-fall-gift-card
Happy Wreathing,
Julie
Email copy I use for giveawasy for a soft pitch:
INCLUDE PARAGRAPH OF WHAT THE EMAIL IS ABOUT (FOR ME THATS A BLOG POST ARTICLE)
And don't forget about our giveaway! You can enter to win a $200 fall crafting gift card from Deco Exchange! Use this link to enter the drawing and make sure to check the giveaway everyday for additional ways to earn points plus if you share it on social media, even more points! Winner will be announced next week on September 17. Good luck!
Enter here >>https://kingsumo.com/g/4np1vt/200-deco-exchange-fall-gift-card
Other Tips:
Examples for giveaways might include: an amazon gift card, for you creators how about a new item shipped once a quarter for a year, or books your audience might want, gift cards to a place your audience shops, or what about a course?  What ideas do you have for a giveaway?
Only partner with other people who have followers that will be a good customer for you.
You'll have a better response if you partner with people who have more or a similar amount of followers as you.
Picking Your Winner:
Ways to get sales from a giveaway
After the giveaway is over, you can email those who participated and offer them a discount code to your shop or even a free tutorial that you've created. Make sure to add the names into your email list with your follow up emails so they can get to know you and your story better.  Below is an email I sent out after one of my giveaways:
Hey, hey, hey…
If you're new to Southern Charm Wreaths, first let me introduce myself!
I'm Julie Siomacco, owner.  As a stay-at-home mom, I started making decorative door wreaths many years ago after wanting designer holiday decor for my home but heck, I couldn't afford the designer price tags! Can you relate?? LOL!
But when my neighbors began asking me if they could buy stuff off my front door or make things for them, I had a light bulb moment! Maybe I could start a business out of this wreath making hobby and pay for extra things like Christmas and vacations.  So I opened shop in 2009.
Fast forward to 2018, I've had the pleasure of teaching hundreds of thousands of men and women from all over the world how to make designer quality holiday decorations, saving them tons of money and time.  Plus I teach them how to also make a business from their hobby, if they want.
Hey, if a self-taught, stay-at-home mom can do it…anyone can! Right?
And with the holidays quickly approaching, its the perfect time to learn how to make an amazing wreath for your own home!  Since we only had one grand prize winner, I want to offer you a discount to use for any (or all) of my online DIY wreath making videos, teaching you the art of wreath making from the comfort of your home.
Just use coupon code 
WINNER
 at checkout for 20% off.
Offer expires Sunday, Sept. 23.
Click 
here
 to use your coupon.
I can't wait to get to know you better and share with you more about decorating for the holidays with silk flowers! Learn more about me and my journey on my blog.
Happy Wreathing!
PS – Oh, yea…Congratulations to Pat Drummond for winning our $300 gift card giveaway!