January 2018 – Memberships
Memberships are an important role in my business but if you try to launch one too soon, you will not have the results you want and need to sustain them. Below is my video intro but you can find more information below as well as a some workbooks to download.
Researching
The key to determining whether your membership launch is successful, first take time to validate your membership idea before you jump into creating your full membership. This can save you a lot of time, stress and even money in the long run.
1. Don't rely on friends and family for this – they are not your target audience.
2. Look to see if there's something already out there. If there is, then your idea is probably a good one. If there isn't an idea in your niche, is there one in a niche that is similar to yours?
3. Start collecting Leads in the form of an email list. The main thing you're looking for is validation that there are people out there who'll be interested in what you have to say and what knowledge you have on a particular subject.
The actual specifics aren't important yet – it doesn't matter at this stage whether you're thinking of a full-blown membership site, ebook or video course; if your basic idea sucks, the "delivery method" won't make a difference.
4. Test the market with a 'minimum viable product'
Your goal is to try to get people to buy something that's in the same ballpark, by offering them a minimum viable product.
A "minimum viable product" – or "MVP" as the industry calls it, is a smaller product in the same genre as your intended membership product, targeting the same audience, but done in such a way that it doesn't require as much work, time and financial investment to you to get going.
Note that this doesn't mean a "rushed" version of a topic but something that will achieve the same objectives for your customer as you hope to achieve with your membership, but in a manner that doesn't require too much input to "go to market".
For example, I started with one off video tutorials to help build my list, my worth, my name and to see if there was a market for what I wanted to offer.
When you take the time to do research up front, it will give you confidence to complete the final product and help you when you go to sell your membership.
What does your audience want?
When planning your membership, it's easy to fall into the trap of building something that we think would be good, rather than something that's based on research into what your audience really wants and needs.
The more you match your membership to what your audience needs, the more successful you'll be. To help you do this, here are 4 ways to discover what your audience wants from your membership site.
Social Media Listening
Potential customers are out there discussing their problems, asking questions, sharing in frustrations and a lot more in a variety of locations across the web; including:
Online communities and other membership sites
Social media groups on Facebook, Google and LinkedIn, etc.
Blog comment sections
On Twitter or IG, connecting via hashtags
Q&A sites like Quora and Yahoo Answers
Questions and comments on Amazon books
Conduct Surveys
Use survey monkey or even free google forms to create surveys and ask your audience for feedback.
Although a survey can give you access to a lot of information; keep in mind that often what people say, and what people do can be different things. Behavior and preference don't always line up; so use survey-based data with the other techniques mentioned above.
You'll also want to use surveys after you have members in your membership to make sure you provide them what they want. For example, I'm polling my group about ever 3-6 months to make sure I'm providing the content they want from me. After a while, you can also poll your members for other product ideas you may have such as bootcamp courses, masterminds, 1 on 1 coaching, etc.
Observe Market Trends
Pay attention to others in your market. What are some things their followers are asking them? Also attending conferences, where you can mingle and ask what people are lacking so you know what you can provide them in the near future.
Google Analytics
Using your google analytics from your blog can help. What is your top 10 blog posts or website links regarding? This could also be a sign of what you should provide more of.
Just note, if you don't have an audience, you won't have anyone to sell your membership site too. So while you're researching and building, you constantly need to continue to build an audience so you will have someone listening to you when the time comes to launch a membership. So, keep building your email list and your Facebook page for this.
Membership Myths
Myth: Everyone should run a membership site
There are plenty of marketers who will be quick to tell you that you NEED to be running a membership site, and that everyone can and should do it.
Truth is, it's definitely not for everyone. Dealing with customer service issues, producing a regular stream of content, continuously having to come up with fresh ways of keeping the masses engaged and paying for your site – there is a lot of hard work on the backend that your members won't see and some people don't want to spend their time this type of work.
Plus you need to have something to teach, I mean you do need to have success under your belt or the knowledge of how to implement your topic in order to achieve success for your members. The pressure is on for you to deliver every week.
Myth: If you build it the will come
We all want to think that our memberships are the one thing the world has been waiting for, and that it's arrival will be met with applause and swarms of customers just begging you to let them join up.
Reality is, nobody will notice. Nobody will care. Unless you give them a reason to. Simply building your membership isn't enough, the work doesn't end when your landing page is built and/or your website launches – that's when the real work begins.
Myth: Membership Sites are Easy money
Passive income, is what the marketers call the Holy Grail of business. Passive income just means setting up a product that can be sold over and over again with minimal effort. Unlike a tangible item such as a widget that will need to be made before you make a sale. Passive income is great for making money in your sleep and while on vacation.
Yes, membership sites can be a great business to run as your recurring income builds month on month; however that doesn't mean it's easy.
Unlike other forms of informational products where the customer's journey concludes with a purchase; with membership sites that's when your customer journey starts, and your responsibility is to continuously deliver a product that they'll pay for on an ongoing basis.
If you're looking to get rich quick with minimal effort then you definitely want to pursue another options.
Myth: They Can be Difficult to Set up
Not necessarily, you can actually purchase membership site plug ins to run on a wordpress website or even run it inside a FB group
Myth: You'll need to have all of your content ready in advance
This was something even my husband was trying to get me to do…bank up the training.
The tendency when planning and creating your membership is to want to create all of the content you'll be offering to your members in advance.
If your site is mainly based around one or more amazing course topics, then it would stand to reason that you'd write, record and produce these courses before you even think about opening your doors.
However, it's entirely feasible to launch a membership site with absolutely no content whatsoever – and indeed many people do just that.
If your membership offers live training, ongoing coaching or is primarily community based, then your product isn't pre-created, static content, instead it's content that is produced in real-time; so until you have members onboard you're not actually creating any content at all. But there should be action steps your new members take while they're waiting on content and we'll get to that later.
The same approach can be taken with your amazing course too. Rather than recording hours of lessons, you could deliver the course in real-time to your first wave of members via live streaming – and then record and edit those sessions into your static content for future members; so again you're not producing content until after you've picked up members and started making money.
Exactly what I've been doing in the success circle group. Recording my training for my courses with you live and now, I can offer a vault of info for a higher price.
Myth: There needs to be a big launch
In reality, a membership site launch is often very different to a regular information product launch – in that it's not "one and done". You're always in launch mode, you're always trying to attract members, constantly improving and building on your offer.
In order to establish and maintain the right sort of community dynamic and to better handle the burden of customer support, growing slowly can be a benefit when you're just starting.
Imagine if you were to open your doors and had 1000 people sign up and asking your questions. Are you ready for that kind of customer support? Probably not, instead start off slower until you get the hang of things and to help build your confidence.
My first year was a huge learning curve on getting to know my members, understanding what they expect of me and making sure I can have them be successful. I'm glad I didn't have 1000 people on day one.
Implementation – 4 step process
The planning stage is all about getting clarity on your membership idea and the features of your membership. For example, what type of content will you provide? How will people join and what do you want them to achieve from your membership? What will be the pricing structure? etc. It's important to get these details clear before you start to think about things like getting members.
The aim of this stage is to have a clear plan for your membership that you can move forward with into the creating stage and beyond.
What content will you provide?
What problem will you solve?
Who will be your niche?
How will you deliver content to members?
Create the group or the membership site if you choose a plugin.
Create TOS (terms and services) and rules
Basically getting it ready to start accepting members
This stage is perhaps the briefest part of the membership journey, but in many ways it can be the most important. A successful launch will validate your membership idea, give you confidence, provide some financial return and, most importantly, bring you those vital first members who will bring your membership site to life.
The aim of this stage is to plan and execute a successful launch of your membership site, including settling in your new members.
Expect a launch to take a minimum of 1 – 2 weeks
How will you announce your membership site? Will it be in email? Facebook live? etc.How will you deliver the benefits to your potential members? Remember the difference between benefits and features of a product. Features are the nuts and bolts, and benefits are the problems you will solve for your customer.
Once your membership site is up and running it's time to focus on getting members, keeping members and the day to day management of your membership. This growth stage of your membership site is one that will be in constant motion. Unlike the other stages this is one that will never be 'finished' and that you will likely keep coming back to and perfecting.
The aim of this stage is for you to be able to grow and manage your membership site on an ongoing basis.
Managing
It's an amazing feeling when you get your first few members but there will also be behind the scenes maintenance and managing that you'll have to do. For example, when people pay, how will they be added to the site? Will it be manual or automatic? This can be taken care of the in-creation part if you're running it through a membership site but if you're running it through paypal subscriptions, you will have to manually add people.
There will be customers who can't figure out how to download, they don't understand how to get materials or manage through your membership site. How will you handle these?
There will be customers who's credit cards expire or they don't renew. How will you be notified of this so that you can remove them from your site?
In order for your membership to be successful, you need to give consistent information on a weekly basis. How will you do this?
Logistics
A landing or sales page on your website with a recurring payment button. I use woosubscriptions but you can also use paypal subscriptions
Customer pays and gets access to your information.
You send them a series of emails welcoming them and letting them know how they can access the membership site.
You provide your training to them.
You provide a way to keep the community going strong.
When they cancel, you have a plan to remove them from the site.
Membership Launch
How long are you planning to run your launch? 3-7 days, 7-14 days, etc.
What will your special launch offer be?

Discounted price
Special Bonus
Other

What promotional activity will you be doing?

webinars
free challenge
facebook lives
email marketing
competition/contest/giveaway
facebook ads
affiliate marketing
other?
5 Launch Emails to send
Email 1: Doors Open
Announce Your Launch
Give cliff notes of wat the membership is and who's it for
mention special launch pricing/bonuses
give incentive to click through to a sales page
Email 2: Features/Benefits/Incentives
Provide additional details about the membership
Could tell a story of why you've created the site
Could provide a behind the scenes video
Could mention potential results of joining
Email 3: Social Proof
Provide testimonials from existing members or beta testers
share what people are saying on social media (use screenshot images)
Email 4: FAQ
Answer the most common objections most likely to have (i.e., cost, time, not sure it's for them, etc.)
Email 5: Launch Ending
Remind that launch discount/bonuses ending at X time
If doors closing, highlight won't be able to join afterwards
Send additional 1-2 reminder emails too (i.e., last 12 hours, last 2 hours)
In all emails encourage people to hit reply if they have any questions and don't forget to provide no less than 2 places to join your membership.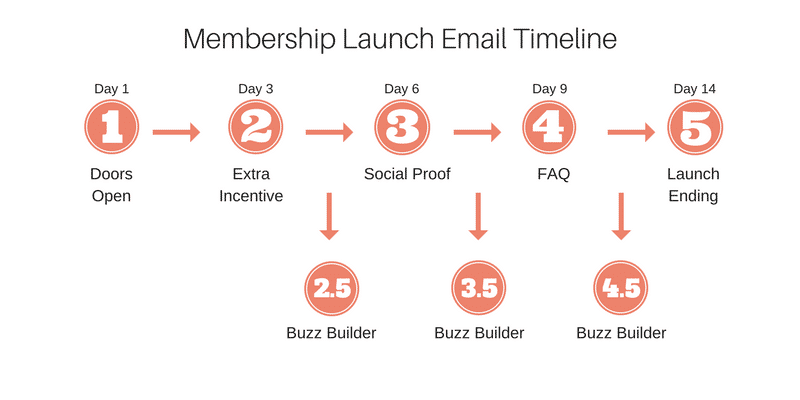 Buzz Builder – if you do any social media blog posts or Facebook lives talking about and discussing the product, you can email those out to your list.
Pricing
Go with your gut, what's your competition charging, what services will you provide, how much will you spend in advertising, how much you paying VA's, etc.
For hobby based businesses they will be priced a little lower than say an attorney or a social media marketing specialist and the average prices for hobby based memberships are between $15-$27.
Month, Quarterly, Annual payments? – Understand how your market buys to decide which payment frequency to use. With some small businesses they're payments are coming out of their personal checking accounts, so it will be noticed more. Personally, I started with monthly, quarterly and annual and had several people purchase yearly right off the bat, they forget they paid and you don't have to deal with monthly failed payments but however, I wasn't getting the recurring monthly revenue every month from them in order to help run my business. So I took it away and just this year, added it back.
Onboarding Members Process
What are the most important features for new members to be aware of?
What are the first 3-5 actions you would like members to take on your membership?
Are you going to run a trial for your membership? If so, how long will it be? 7 days, 14 days, etc.?
Example of what you can do for onboarding new members:
Step 1 – Thank you
First page after sign up. You want to make them feel welcomed and reassure they made the right choice. Give them immediate instructions (i.e., login info, check email, join community, watch this video, etc.) Follow up with an email confirming their registration.
Step 2 – Induction
Provide a tour of the site.
Ensure members know where to find everything.
Highlight areas of key importance.
Step 3 – First Steps
Provide 3-5 steps to get started with.
This could be complete a profile, introductions, start a piece of content you provide, etc.
Try to provide a quick win where possible making a customer feel as if they accomplished something.
Step 4 – Sequence
The initial onboarding sequence should last 2-4 weeks, depending on your audience. It's always important to know your audience.
Highlight key features and content and provide actions for members
Make sure they are aware of the future value they will receive.
Include additional later emails for check ins and more action steps.
If your site does not have a lot of different features or is not result based, you may have a shorter onboarding email sequence.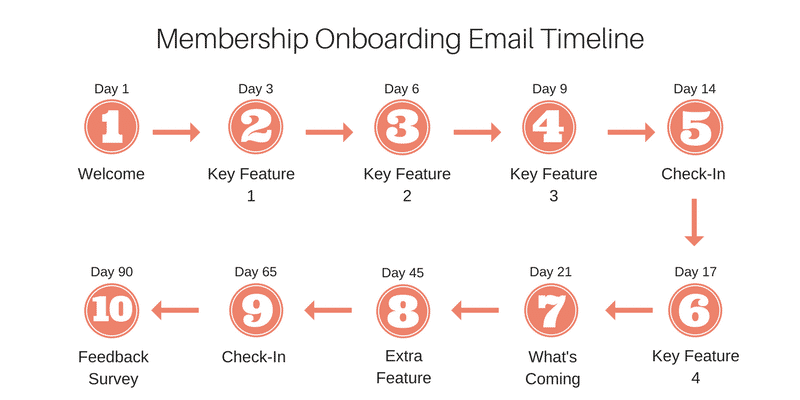 Onboarding options besides emails could include: personal videos via bombbomb or loom; welcome tours or Q/A once a month for new members, new member questionnaire where you can guide them to a starting point on your membership.
Additionally, if you don't have an emails system set up yet, try using manychat to connect with members or just post your email sequence inside your membership group.
How much content should you provide?
This is up to you and your audience. It's a fine line of giving great content but not overwhelming. Once you overwhelm your member, they will find it hard to keep up and will then drop out of your membership.
It's important however to give some type of content on a weekly basis, whether that be your training tutorials, answering questions, lives, critiques, round ups, challenges, etc.)
Some Popular Membership Plugins
Paid Membership Pro
Restrict Content Pro
WP-Members
WP E-member
S2 Membership
MemberPress
membermouse
Prepackaged Membership websites I've heard of
https://www.wildapricot.com/
https://www.patreon.com/
https://www.thinkific.com/
What to do when People Cancel?
In general, a healthy membership group can lose up to 10% of it's members and still be okay. If it starts to creep up to 15-20% drop off rate, then you might have a problem you need to fix. But also understand that your members will come and go like the wind. Some of reasons people cancel memberships are:
They don't see the value.
They now can't afford it financially.
They couldn't find your content.
They get overwhelmed with the amount of content.
When someone cancels, you can email them and have them complete a very short 3 option survey so that you can get a feel of why they canceled. Ask them what their main reason for canceling is: 1. They didn't see the value; 2. They couldn't locate the content; 3. They didn't have time to implement the content (this option is a round about way of asking if they were overwhelmed)
What About Video for Memberships?
I prefer to give content to my groups by either doing a Facebook live I can repurpose and store in my membership vault or prerecording my videos using Vimeo. Once in Vimeo, I can create an album that I password protect and then share the link to the album with the password to my members.
Affiliates for your groups
Running an affiliate for your group is a great way to build it up and promote it. You can decide to either pay your affiliate as a one time payment with each membership they sell or you can pay them on a monthly basis as long as their member still remains in your membership. The decision is up to you. I say go with your gut and offer what you would want.
In the end, you really need to make sure you are passionate about your topic and your members because memberships require a lot of time, energy and money so if you're not passionate about it, it will not be worth it in the end.
Download Examples of Launch Emails Here.
Download Creating Your Launch Sequence Here.
Content Calendar Open this Google Spreadsheet, Copy it to save it to your, own account.