SEO – Creating Valuable Content for Search
Below are some of the notes I took when at the Haven Blogging Conference last month.
SEO stands for Search Engine Optimization (meaning words to use in order to get found on google, Pinterest, YouTube and Facebook)
SEO is a game on two main fronts; User Experience/Intent and Content
User Experience
This may not seem like it would have such a large impact on your search rankings but it does.
▸ Do you create user friendly content?
▸ Are your posts arranged in a well thought out way with Headings, Subheadings, lists, FAQs, etc.
▸ Does your website page load quickly? Are there so many ads it makes getting through the content difficult?
▸ Are you giving your reader easy sharing options?
Creating User Friendly Content
Creating user friendly content is something you can plan for.
▸ Do you keep paragraphs small. View your posts on your phone, is the paragraph longer than the screen allows the reader to view? If so, this makes reading your content harder for your readers.
▸ Are you creating digestible amounts of information. The smaller bites of valuable information the more likely you will be to see those bits of information featured in a Google snippet (see below).


▸ How many pictures are you adding to your posts, does EACH picture add value? For example, too many pictures will make your page load slower and it may make it harder for the reader to understand the content. Instead of 10 pictures, you can create photo collages. Even if your internet is fast, there is always a reader reading on LTE loading your images slowly they will x out of your page before getting to your content. Also make sure your pictures are compressed, never upload the full sized image to a website. I like to use canva for creating my pictures and then save them as a png file.
▸ Google specifically points out that it favors writing at an 8th grade level. So don't use fancy words or difficult sentences.
Targeting User Intent
This is learning how Google understands a keyword.
▸ Let's say you search for "Philly Cheesesteak"
▸ Google is trying to determine, do you want to find a Philly Cheesesteak nearby? Learn the history of the Philly Cheesesteak or learn how to cook one.
▸ For each exact keyword Google makes that determination.
▸You will NOT rank for a keyword if you have the intent wrong. For example, the keyword quilt. Make sure you specify in the title what your intent is (how to make a quilt, quilts for sale, ideas for memory quilts, etc.)
▸ How to determine this? Look at the top 10 or top 5 options in a google search. Try to determine a pattern.
▸ How have the writers of those posts tackled the keyword? How are their posts formatted in their blogs?
User Intent Formatting
Google favors many types of data:
▸ Check to see what Google is valuing for the keyword term you're trying to rank for.
▸Do they have headings and subheadings? Lists? Do they give alternate ideas? Do they break it down in steps or give a history. When you create your content in small digestible ways such as a list, this brings attention to that lists because it draws your readers eyes to it and it also creates content google can index easier. Lists are also breaks for the reader from paragraphs and their eyes get a chance to relax. Use subheadings for secondary keywords or answering the Google question box (which I've not seen a question box yet for my industry of wreath making but do for food bloggers).
▸ You're looking for structure because this is how Google's RankBrain (algorithm computer) is breaking down the topic in it's favored pattern.
▸ You have to be clear that aside from clearly explaining your topic in a way that your reader will get value, that you structure it in a way Google can digest. Not only that they can
digest it, but in the preferred way they've chosen for EACH keyword. These will differ.
To find out what keywords your website is ranking for now, you will have to install google analytics onto your website (www.analytics.google.com). You'll need to create a google account (most of you already have one if you have a gmail account or if you have a youtube account). I do this using the WordPress Yoast plugin but there are other ways of doing it too. You'll have to either go to google for directions or check with your host provider for help. Then connect google analytics with search console and submit your sitemap to google. I followed these instructions https://madlemmings.com/2017/01/17/where-find-keywords-google-analytics/
▸ Make sure readers can find your categories easily and that your search bar is visible and accessible.
▸ Can a viewer on mobile navigate your site easily? Google runs on a mobile first index. So even if your site is absolutely gorgeous and you love it on desktop, 75-80% of your users are viewing it on mobile.
Domain Level SEO
There are a lot of domain level factors that will play into your site's ability to rank. Use this link for a list of factors to check your site. It might take a while so you can work them a little at a time.
Review: https://backlinko.com/google-ranking-factors
There's a list of 200 factors that Brian Dean covers in depth. Many are easy to adjust, others relate to content creation and organization. Bookmark this page for updates.
Post Level SEO
▸You may not be able to always win against more established pages based upon your domain's page rank with Google, but with good post level SEO you can try to make up ground.
▸ Establish two important pieces of data before writing out the post
1. Your keyword – goes in your title, file name of every photo uploaded (i.e., diy fall wreath tutorial 1, diy fall wreath tutorial 2, etc.), first words in Heading2, first words in first paragraph, used another 2-3 times in your post (assuming a post of 500 words or more), tag and break keywords apart if possible for more tags.
2. Your thesis – one sentence of less than 160 characters. This sentence is the elevator pitch of your post. If you had to get someone's interest quickly this
is your pitch. Your thesis sentence also goes: in "Image Title Attribute" for your photos along with Pinterest hashtags, (Each Alt-Text must be different and descriptive), in the Meta Description (I use Yoast Plugin for this), an Excerpt (if you use one) – this prevents your homepage from loading text that ends with the … in the middle of the sentence, in a long pin (if you hide long pins on your site).
These two pieces of content will be copied throughout your post to ensure Google understands they are the key focus of the post.
▸ Include secondary and tertiary keywords. If your post is how to paint a kitchen cabinet include things like "easy cabinet upgrades" or "easy painting projects" or something similar. Start thinking outside the box of the immediate keywords.
▸ Keep photos around 100kb or less
▸ Keep to 4-6 or less photos (if more, try collages that don't look like collages)
▸ Make a bulleted list (must be relevant to your keyword)
▸ Make sure this list adds value, maybe alternate ways to create item.
Title of Post (H1 of a post)
▸ If your title and keyword are similar and sufficient use just your keyword.
▸ You can add adjectives or numbers or calls to action in the title for CTR reasons, but keep the slug (the link) clean for SEO purposes.
▸ Above all else, in your slug always use your main keyword.
Above the Photo First
▸ Above your first photo, include your thesis sentence first.
▸ Include second sentence with relevant internal linking to your most important and relevant posts. The higher the internal linking the stronger SEO boost you are giving the links.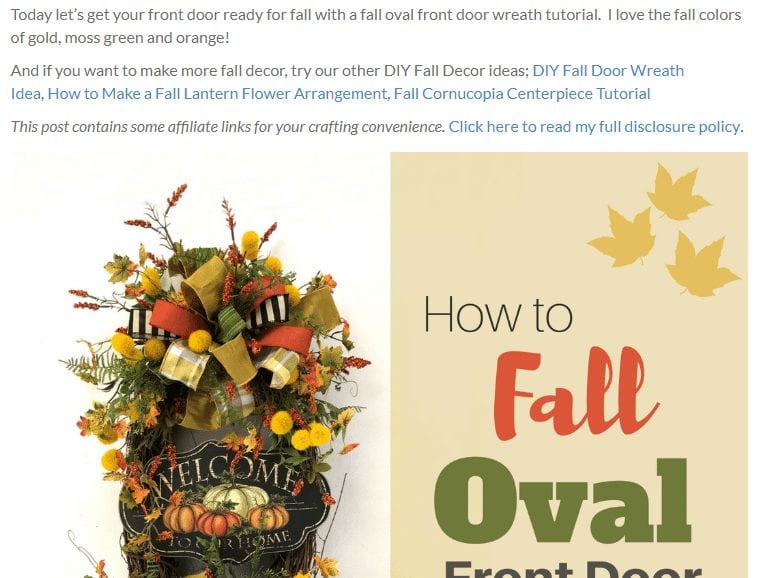 Keyword Planning Tools
▸Semrush.com: This resource is expensive ($99/month) but will give you search volume as well as the search volume of related keywords. It helps you plan out your primary and secondary keywords quickly, view your competition and track your rankings.
▸ Google: No matter what Semrush gives you, you have to search Google too. Search your primary keyword you've decided on, note any answer boxes, question boxes and related keywords (shown at bottom)
▸ Pinterest: Search Pinterest for your chosen topic, does it get traction on Pinterest? You want to be sure you aren't creating content that will flop on a platform as important as Pinterest. Take note of how keywords/titles chosen perform differently for pins.
▸ Pinterest: Make sure you look at the tiles on the top of the search results of your keyword. Those tiles are the hashtags you should be using along with suggestions for your post title and alternate keywords you should be targeting. And your post title is not what needs to be on your pin image. Instead, create a clean post title for Google's purposes and create an enticing title on your image.
▸ Keywordseverywhere.com
Climbing up the Bottom of Page One of Google Search
▸Let's say you have a post in any position from 5-10. You are sharing (according to statistics) less than 20% of the click throughs among all 6 spots. So positions 1-4 (really 1-3) where bloggers strive for.
▸So how do you move up? First, do not touch a post in the top 4, ever. And don't even breathe near a post in the top position except to increase your internal linking in and out of it.
▸Learn the intent of the keyword. There may be a chance you have some of the intent but aren't targeted right onto it.
▸If you are ranking for images well on the post, keep those images in the post. Maybe create a new featured image if yours is old. If your old featured image is ranking, move it to a secondary spot and add a new one. Update all the alt text, clean up and conversational topics that aren't adding value, create valuable lists.
▸Most of our page 1 rankings will be content that may need refreshing, it more than likely has some age to it. Updating it with value will help it gain traction. Add pictures, add lists, add keywords, answer questions, etc.
▸If your post is aging out of page one, freshness is an indicator, consider republishing WITH the extra content and bringing it to a newer date. If you don't want it to go out to the feed, publish it for the week prior and it won't even show as a recent post on your main page.
Other articles
http://hashtagjeff.com/bloggers-guide-to-seo/
http://backlinko.com/google-ranking-factors
https://www.screamingfrog.co.uk/seo-spider/
http://searchengineland.com/library/google/google-algorithm-updates