Ways to Use Facebook Stories
So, what's so special about stories?
After having a conversation with my media specialist at Facebook, she says Facebook is pushing stories in news feeds and since a lot of brands are not using them, suggested I use them to help with engagement on my page or with posts, I've already shared. She gave me ideas for using stories effectively for my Facebook Page and thought I would share.
First, What are Facebook Stories?
Stories offer people fun, creative ways to express themselves and connect with what matters to them. People can stitch together video, photo and text overlays to communicate moments with their friends, family and followers.
They're quick, playful, fullscreen, attention-grabbing and in real time. Unlike regular feed posts, stories are only visible for 24 hours. The ephemeral aspect means there's less pressure to be perfect, which drives authenticity. In addition, people can retain and recall information faster on mobile than on desktop and since stories are optimized for fullscreen, vertical viewing, they allow people to watch multiple videos and photos quickly and fully engaged.
The images below show where stories are located on Instagram, Facebook, Messenger and WhatsApp (Status).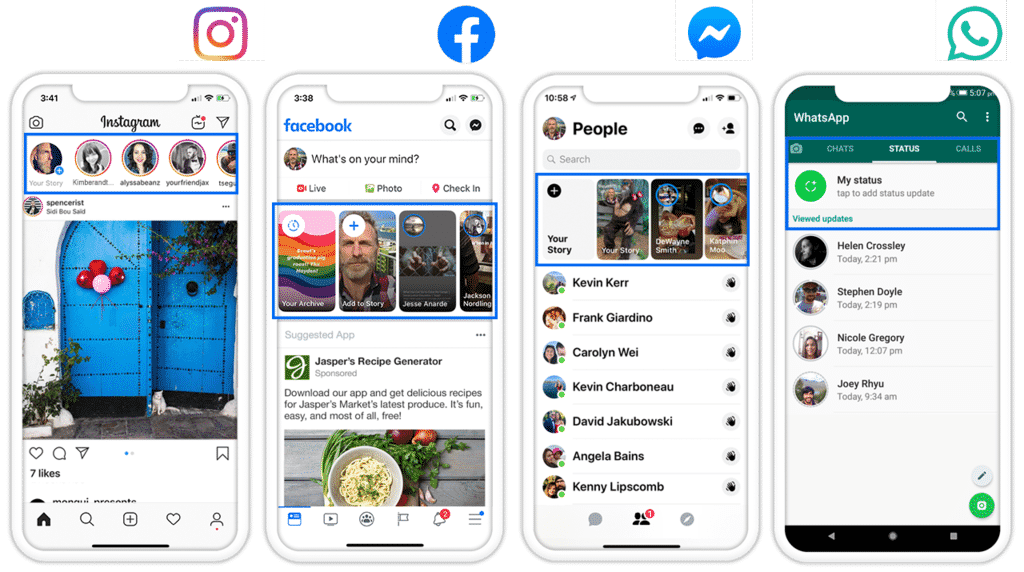 Reasons Why Handmade Businesses Should Consider using Facebook Stories
Prime Location on the App – Facebook Stories appear right at the top of the Facebook app.
They're the first thing that your followers and potential customers see when they log onto their profile. This means Stories are great for grabbing attention. The Stories section even follows your customers as they scroll through their news on a desktop too!
As anyone who's ever dealt with an SEO strategy will know, having your content front and center is crucial for engagement.
Builds Trust in a Brand – Facebook Stories provides an organic way to connect with your followers and potential customers. With Stories, brands demonstrate what makes them special in an easy-to-consume way. Show what's going on behind the scenes of your business or introduce them to what you're working on next. Let your audience get to know the people behind the company.
Drive Traffic – When I say 'drive traffic' I mean send people to a location online to learn more. This can be a Facebook page post or Facebook live, an external link like Etsy shop or blog. Watch below on 4 ways I used Facebook stories to drive traffic using the link feature:
(note, if you don't see the custom link option, you may only be able to link to your shop now button already established on your Facebook page)
Download Ideas of What to Share on Facebook Stories here
Stories only last 24 hours, so you can do them on a daily basis and if you mess up or don't like it, just delete it. This is perfect if you want to get into the habit of talking on camera but don't want to commit to a full Facebook live.
How have you used Facebook stories? Comment below and tell us.