Carolina Pottery Fall Haul 2016 & Shopping Tips For Wreaths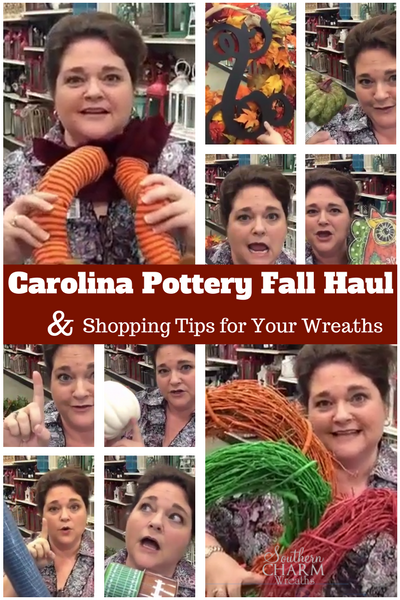 If you live anywhere in North or South Carolina, get your booty to Carolina Pottery this weekend!  They have some of the best selections for your fall wreaths.  I found ribbon galore…a ribbon addicts dream come true, no joke!  They had tons of fall silk flowers, fall signs, pumpkins, work wreath forms, deco mesh and Halloween goodies too.  So what did this freaky gal do?  I took my iPhone into their store and filmed a Facebook Live video.  You will see in the video, others thought I was a freak too! Bahaha!  But before I get to the Carolina Pottery Fall Haul video, let me tell you a little about their customer service. This post contains some affiliate links for your convenience. Click here to read my full disclosure policy.
I heard stories from my ebook customers who say they would call and the awesome people at Carolina Pottery would spend 45 minutes or more helping them purchase over the phone.  Say what? That's is awesome.  But some good news for you is that they now have shopping directly from their website. Whenever I'm in their store, the staff are always so willing to help search for items and eager to answer all my questions.  Not to mention all the ideas I get from analyzing their beautiful premade wreaths.  Also, if you have a tax exempt status for your creative business, just head to their customer service counter and create an account and you won't have to pay sales tax.
[Tweet "Carolina Pottery Fall Haul 2016 Shopping for Wreath Supplies"]
My Carolina Pottery Fall Haul 2016 & Tips
Take your car that has the biggest trunk for all the awesome stuff you will find at great prices.
Bring your friends because the store is large and you may get distracted from all the items.  Your friends will be there to keep you focused!  Plus shopping with friends can spark more ideas.
Don't be afraid to use unusual colors for your fall wreaths.  As you can see in the video, I suggest using a denim colored deco mesh, which produced this cute fall wreath below.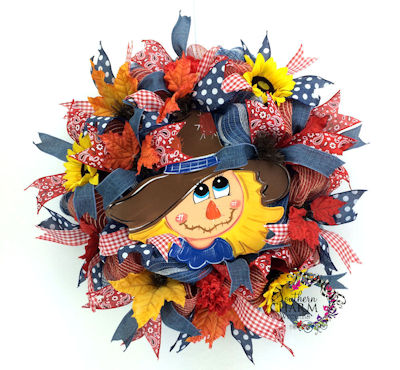 Make sure to fluff your silk flowers and make them come to life before using them in your arrangements.
Don't be afraid to purchase a premade wreath for your door, especially if you are just too dang busy.  You can make it personal by adding a monogram sign on top of it.
Purchase silk flowers in bushes that can be divided to save money.
For metal signs, you can drill holes in the sign and use florist wire to attach to your arrangements.  Click here for tools I recommend for wreath making.
Girl, save yo self some time and do not paint your grapevine wreaths…well unless you just really like paint fumes.  Time is money, and this will save you TONS of time.  Also, since the painted wreath is so pretty, don't cover up the whole thing, keep your wreath design so that half of the wreath is showing.  You can see how I used a Carolina Pottery painted grapevine and sign in my Christmas wreath here.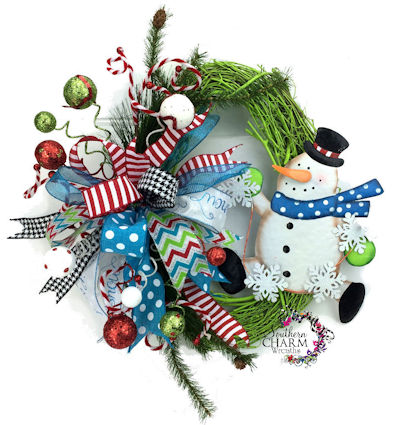 Here is my Facebook Live video.. MAKE SURE TO WATCH UNTIL THE END TO SEE A MINI WALKING TOUR.
If you can't drive to Carolina Pottery, you can shop online here www.carolinapottery.com
Comment below and tell me, how you liked the video.  If you liked watching me shop, let me know where I should go next! Have you gone to Carolina Pottery yet?
Julie
If you enjoyed this post, you might also like:
Hobby Lobby Fall Haul 2016 & Sign Tips for Your Wreaths
How to Make a Fall Lantern Swag Video
How to Make a Whimsical Funky Bow
7 Great Tips to Save Money on Silk Flowers
Save
Save
Save
Save
Save
Save
Save
Save