Christmas Gift Wrapping with Silk Flower Scraps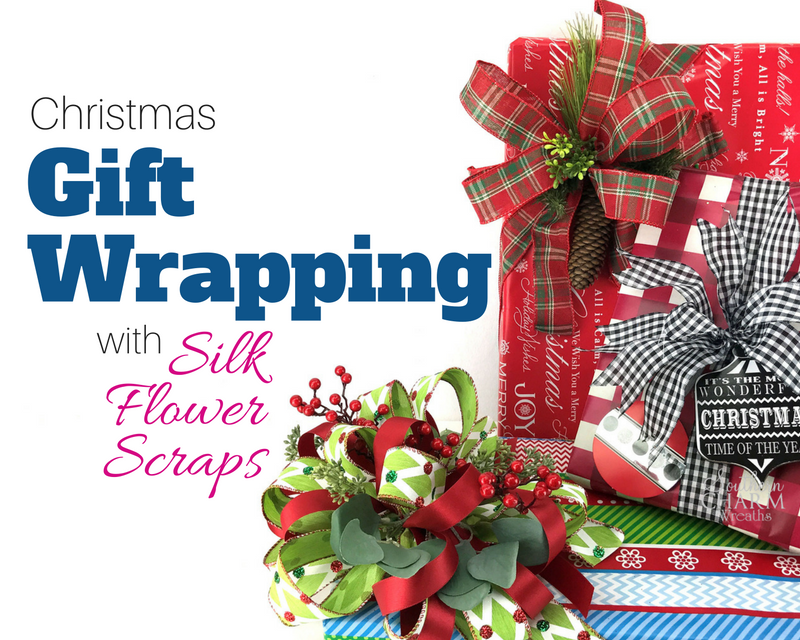 When you work with silk flowers as much as I do, you are bound to have leftovers and every year around Christmas, I pull out my leftovers to add them to my Christmas gift wrapping.  Last week I was asking the hubs what I should do for my next Facebook live video, and he said that I should show you how I always make my Christmas gift wrapping look so "neat" (his words). LOL  So here are my Christmas Gift Wrapping tips. This post contains some affiliate links for your convenience. Click here to read my full disclosure policy.
[Tweet "How to up your Christmas Gift Wrapping game with Silk Flower Scraps!"]
Christmas Gift Wrapping with Silk Flower Scraps
Supplies Used
Pre-wrapped Christmas presents
Silk Flower scraps such as evergreen, berries, pine cones, picks, etc.
Small gift tag sized ornaments
Satin Ribbon
Wired Ribbon
Florist Wire
Hot Glue Gun
Instructions
It's best to watch the video for complete instructions on the bow making as it's very difficult to type them out.  But once you have your bow on your gift wrapped package, hot glue your leftover silk flower scraps around the bow.
As you can see in the image below, leftover berries and eucalyptus help to fill in a bow.  Just hot glue the scraps in between the bow loops and under the bow itself to fill it out.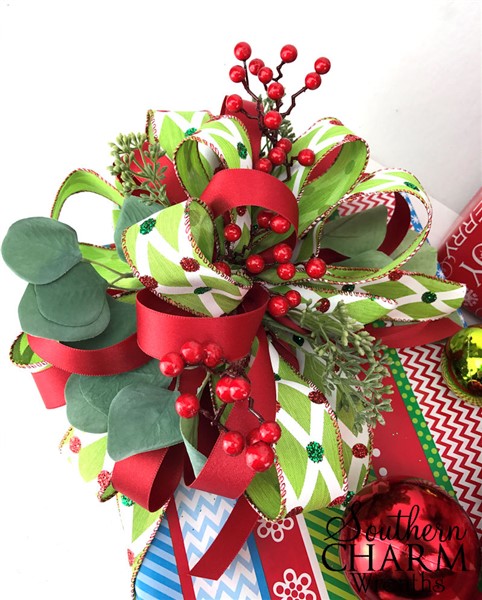 Other items that could be salvaged are pine cones, small pieces of boxwood or tea leaf stems and of course pine works great too.  This makes for a rustic style of Christmas gift wrapping.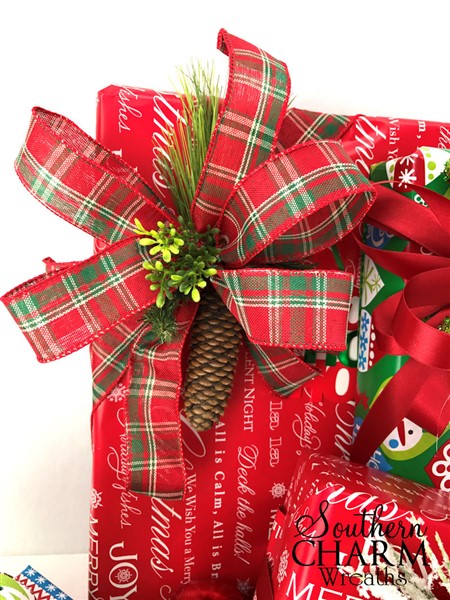 If you have a hard time making a traditional bow by hand, I give you an idea for making this simple bow.  All you do is cut 10-12″ strips and tie them together in the center.  This technique only works with wired ribbon because you will need to fluff the ribbon streamers to get them to stand up.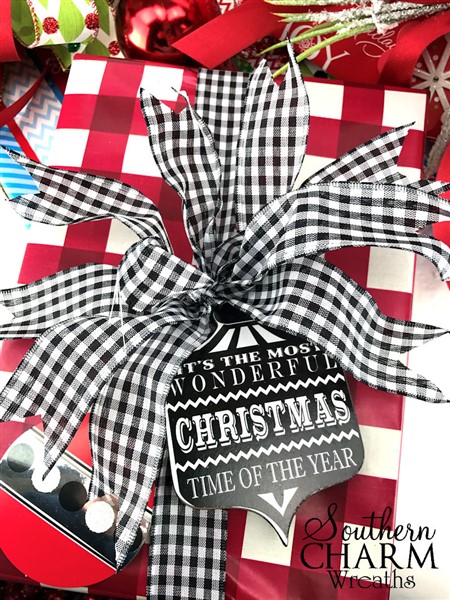 Attaching small gift tag size ornaments to the bow always makes the recipient feel extra special and if you tie it on versus hot gluing it on, they can then use it in their own Christmas tree.  Attaching tinsel picks like in the image below gives a more whimsical look to a package don't you think?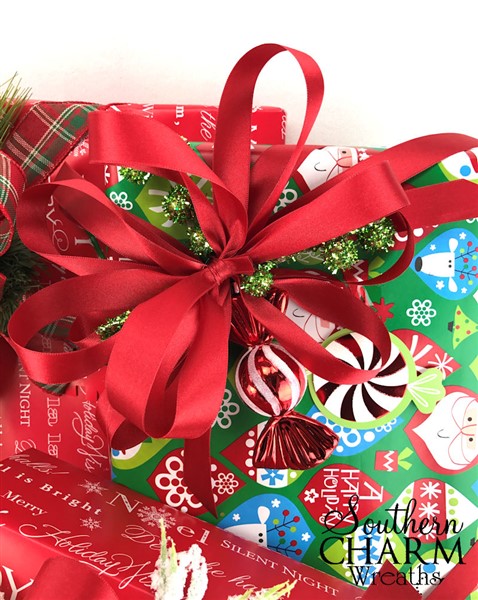 My favorite go to ribbon for gift wrapping bows is a #9 double faced satin ribbon (non wired).  You can purchase it from places like Carolina Pottery or from your local florist.  Just be careful when you rub your hands down the length of the ribbon as I've been known to get paper cuts from the edges.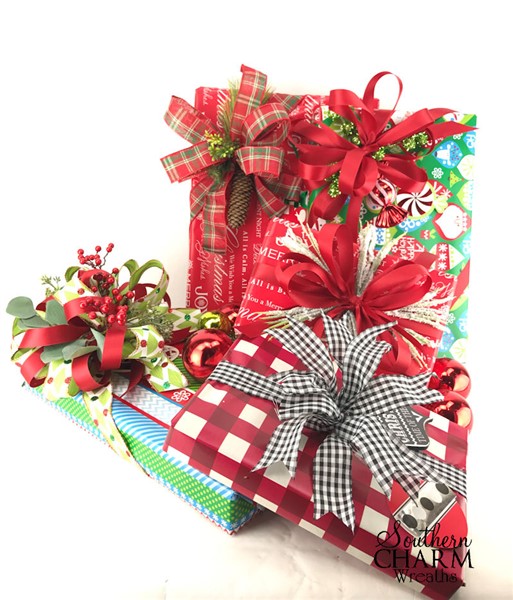 You can watch my Christmas Gift Wrapping with Silk Flower Scraps video here:
Have you ever used your leftover silk flowers for your Christmas gift wrapping? If so, I would love to hear about it.
Make sure to leave a comment below to let me know if you liked the video or if you have suggestions for my next Facebook Live video.  You can also follow me on Facebook here if you want to join in on the conversation during the video broadcast.
If you like working with silk flowers, I would love to teach you the art of wreath making in my Silk Flower Christmas Video? It's a downloadable video showing you step by step how to make a stunning silk flower Christmas wreath that includes a sign, ribbon, greenery, flowers and ornaments, all downloadable to watch in the comfort of your home.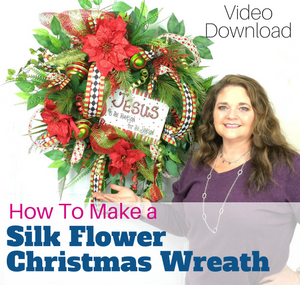 If you enjoyed this video, you might also like:
Chocolate Crinkle Cookies Recipe
How to make a Slim Storm Door Christmas Wreath
How to Make a Christmas Picture Frame Wreath