How to Make a Festive Christmas Santa Hat Centerpiece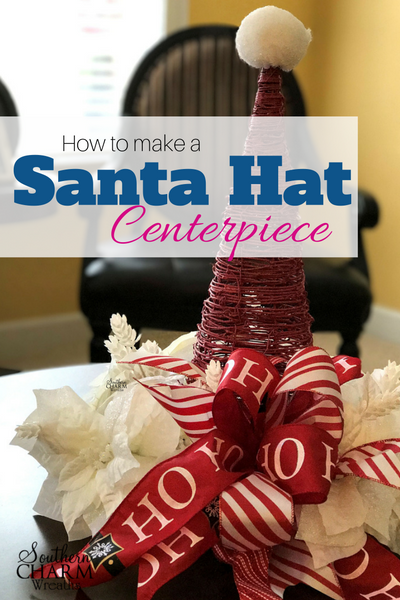 Today, how to make one of my favorite Pinterest pins, a Christmas Santa Hat Centerpiece! This is the perfect piece to liven up your dining table and could also make a wonderful hostess gift. This post contains some affiliate links for your convenience. Click here to read my full disclosure policy.
How to Make a Festive Christmas Santa Hat Centerpiece
In this video, I share everything you need to know, step-by-step, to make this fun Christmas Santa Hat centerpiece. We will use paint and silk flowers to transform a simple grapevine cone and wreath into a festive decoration! This is the perfect project if you are short on time or afraid of flower arranging. So simple! Here's how:
Supplies needed
18″ x 7″ grapevine cone (Hobby Lobby)
10″ grapevine wreath (Hobby Lobby)
Krylon red spray paint (Hobby Lobby)
Krylon Diamond Dust Glitter Blast (Hobby Lobby)
Krylon Crystal Clear Finish matte or gloss (Hobby Lobby)
2 white silk poinsettia bush (Michael's or Hobby Lobby)
assorted white flower picks (Michael's)
Snowball ornament or pom pom (Michael's)
coordinating  wired ribbon
floral wire
zip ties
wire cutters
scissors
hot glue gun
glue sticks
awl
craft mat
[Tweet "How to make a Festive Christmas Santa Hat Centerpiece"]
How to make a Festive Christmas Santa Hat Centerpiece:
Attach the grapevine wreath to the bottom of the cone with zip ties and cut any excess off the zip ties.
Spray paint the cone and wreath red (do this outside!), let dry.  Make sure to spray from all sides including turning upside down and the inside of the cone.
Spray the cone and wreath with Krylon Glitter Blast, let dry.
Spray with Krylon clear finish (you can use matte or gloss, your choice), let dry.
Like I recommend in my 7 Great Tips to Save Money on Silk Flowers, I recommend purchasing a bush of silk flowers you like and then cutting the stems off. No exception here! Simply purchase a white poinsettia bush and cut each stem, leaving enough of the stem to poke into the grapevine.
Position the poinsettia stems around the grapevine wreath base. Leave enough room between the flower and the wreath to give a good base for a santa hat.  Then hot glue them into the grapevine base once you like where they are positioned. You may need two rows of poinsetias to fill in the gaps.
Add a few white flower picks (I used a spiky white flower) throughout to add more texture and interest. Hot glue them once you have them in place. You could also add decorative peppermints or whatever you would like!
Make a funky bow with your choice of ribbon (I used red and white ribbons, striped and Ho Ho Ho purchased from Sam's Club of all places).
Add your funky bow to the arrangement (I like to look for a place that looks a bit empty on the arrangement and put the bow there!).
Turn the arrangement over and if you have any stems that were a bit too long and are sticking through, cut those back now.
If you would like a professional finish, make sure the underside of the arrangement looks good as well! Simply hot glue silk leaves leftover from other arrangements or even ribbon over any areas with excess glue showing under the arrangement.
Lastly, attach a snowball ornament (Styrofoam) to the top of the cone to form the tip of Santa's hat. First, use an awl or other sharp instrument to make a hole in the bottom of the ornament. Then simply add some hot glue to the hole and place the ornament, hole side down, onto the cone.  Or, as mentioned from my viewers during the video, you could take two pom poms and glue one on either side.
Ok, let's watch the video!
What do you think? Cute isn't it?
If you aren't sure how to make a funky bow, don't worry! I have full instructions for you here.
In the video I mentioned another project I did with a cone, you can check that out here.
Are you ready to learn to make beautiful wreaths yourself? Then my How to Make a Silk Flower Christmas Wreath video is for you!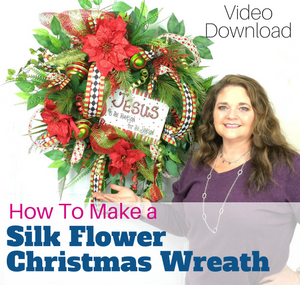 .
I hope you enjoyed this tutorial! Make sure to comment below and tell me if you like it so that I know to keep making more tutorials like this. Don't forget to share this with your family and friends!
Join my mailing list and/or follow me on Facebook where I'm LIVE most Thursdays so that you can join in on the conversation www.facebook.com/southerncharmwreaths.
Happy Wreathing,
Julie
If you enjoyed this post, you might also like:
How to Make a Slim Storm Door Christmas Wreath