How to Make a Christmas Wall Sconce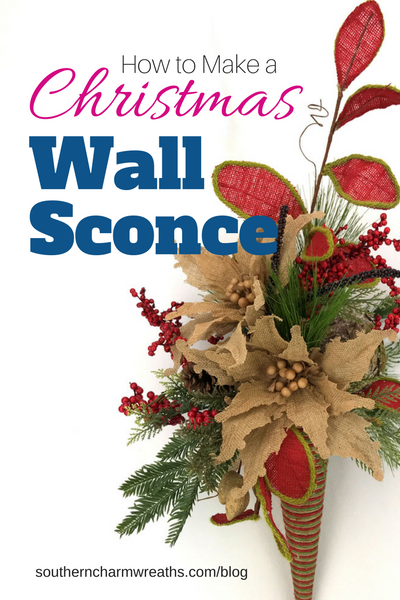 Are you ready for something new? Today we are making a Christmas Wall Sconce! A wall sconce is the perfect item to liven up any room from kitchen to bathroom or even your door. By using silk flowers, it is easy to save your sconce from one year to the next which is a huge time (and money!) saver. This post contains some affiliate links for your convenience. Click here to read my full disclosure policy.
How to Make a Christmas Wall Sconce
In this video, I not only share the steps to make a Christmas Wall Sconce but also a bit about my process – determining what goes in, what doesn't make the cut, and how to put it all together. You could make any size you need – a larger one for a door or even a small "mini" sconce for hostess or teacher gifts! In this version I used a cone tree from Hobby Lobby and simply turned it upside down. Take a walk through the shops in your area and look at items in a new way by turning them over, sideways, you get the idea. Of course there are ready made sconce holders available in various finishes and sizes. If you would like to use one of those you would simply follow the rest of the instructions below after the prep of the cone-shaped sconce holder. Here's how to make a beautiful Christmas Wall Sconce in about an hour.
Supplies needed
Christmas tree cone (Hobby Lobby)
burlap poinsettias  (Carolina Pottery)
burlap red and green leaves on stem (Carolina Pottery)
greenery (wholesale)
wired ribbon (if you want to add a bow)
large ornaments
sheet moss
floral wire
zip ties
wire cutters
scissors
hot glue gun
glue sticks
craft mat
awl
knife
wooden floral pick
floral pins
[Tweet "How to make a Christmas Wall Sconce"]
How to make a Christmas Wall Sconce:
Start with a cone-shaped tree and turn it over to use as your base. I love to use things in different ways than they were intended!
Add holes for your wire handle by using an awl or similar tool to punch through the cone. Be careful! If you use too much force you could break the cone!
Wrap wire around your cone and extra for a handle so it can hang on the wall. In the video, I wrapped it so the wire twist shows on the outside but I recommend putting that part on the INSIDE of the cone instead. (oops!)
Use a steak knife or something similar to trim foam to fit in your cone. If you cut too much of the foam off and it is loose, don't worry! Just add some of the pieces you cut off to the cone to fill in the gaps.
To cover that ugly foam, simply put moss on top of it with floral pins and watch it disappear!
Silk flowers tend to get flat and misshapen so be sure to fluff / reshape them before you add them to your arrangement.
Not sure where to start? I find it easiest to start with the largest elements, in this example it was the poinsettias.
Fill in the arrangement by adding greenery in the gaps. If needed, thin out the greenery stems/bushes first but save the extras!
If you add a piece to the sconce and it feels loose, simply add a bit of hot glue to the stem.
Remember this is going on the wall so keep the back of your arrangement fairly flat but do pay attention to how it looks underneath and from the sides.
If you feel you need a leaf or something small in a certain spot, simply hot glue it in the arrangement.
To add an ornament or other larger or odd shaped item that does not have a stem, add a floral pick to secure it in place.
Ok folks, off we go, here's the Facebook Live replay of the video…
Need some more inspiration? Checkout
Pinterest
and while you are there you can
follow me
!
In the video I mentioned my Hobby Lobby shopping video, you can find it here – Hobby Lobby Christmas Haul.  Also, are you ready to learn to make beautiful wreaths yourself? Then my How to Make a Silk Flower Christmas Wreath video is for you!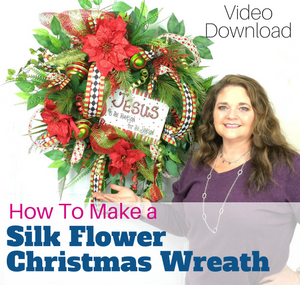 I hope you enjoyed this tutorial! Make sure to comment below and tell me if you like it so that I know to keep making more tutorials like this. Don't forget to share this with your family and friends!
Join my mailing list and/or follow me on Facebook where I'm LIVE most Thursdays so that you can join in on the conversation www.facebook.com/southerncharmwreaths.
Happy Wreathing,
Julie
If you enjoyed this post, you might also like:
How to Make a Slim Storm Door Christmas Wreath
How to Make a Funky Bow – Christmas Edition
Save
Save