Deco Mesh Wreaths- Twist Tie Dilemma Solved
I love using wreath forms to make my deco mesh wreaths but there are times when the twist ties on the wreath forms are not evenly placed.  When this happens, I have a "twist tie dilemma"!  This happens during manufacturing and there is no need to return the wreath form because I have this very simple fix:
1. When one pair of twist ties are right beside another pair of twist ties (or not evenly spaced with other twist ties on the wreath form), use wire cutters to cut off the misplaced twist ties.  Make sure to cut as close to the wire frame as possible but do not cut the wire the twist ties are attached too. Put the cut twist ties to the side for later use. You should have 1 set of cut twist ties (2 pieces).
2. Twist a coordinating colored pipe cleaner in the correct location where the twist ties should have been placed. Note: When the color of the pipe cleaner matches the wreath form, it makes for a professional looking deco mesh wreath.
3. Continue to tie in your mesh as usual for making a deco mesh wreath and when you come to the pipe cleaner use it as you would a twist tie by placing your mesh inside and twisting it a couple of times.
4. Add your ribbon as you would normally.  You can see a video for how to add ribbon streamers to deco mesh wreaths by clicking here.
5. Keep twisting the pipe cleaner until there is about 1 inch of twisted pipe cleaner and then use wire cutters to cut off the excess pipe cleaner. Wrap the twisted 1 inch part of the pipe cleaner back inside the mesh toward the back of the wreath.
6. Now find the two pieces of twist ties you cut off of the wreath form in Step 1.  Add hot glue to the tips of 1 end of the twist ties and stick them into the mesh where the pipe cleaner is.
7. Add in your ornaments and picks as you normally would. I would not put heavy items on the twist ties you just hot glued into the wreath as they will not be sturdy enough to hold heavy items but you can hot glue lighter items.
Here is a video I took on my phone (sorry for the quality) showing the above steps:
The finished wreath, can you spot the pipe cleaner??
Have you seen my FREE tutorial on making a curly deco mesh wreath? This tutorial gives away my secrets for making a full deco mesh wreath, how I cut my mesh quickly without the use of scissors, why pipe cleaners are my best friend and where to purchase deco mesh supplies. Click on the link below to learn how you can download my FREE tutorial on making a Deco Mesh Wreath!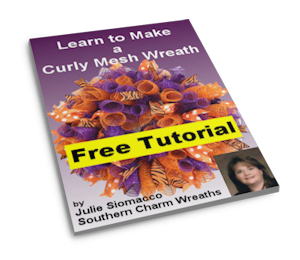 I hope this tip helps you, if so please leave me a comment! Found a better way to fix this Dilemma, if so I would love to hear it!
Happy Wreathing, Ya'll!
Julie 🙂