DIY Outdoor Winter Wreath For Your Door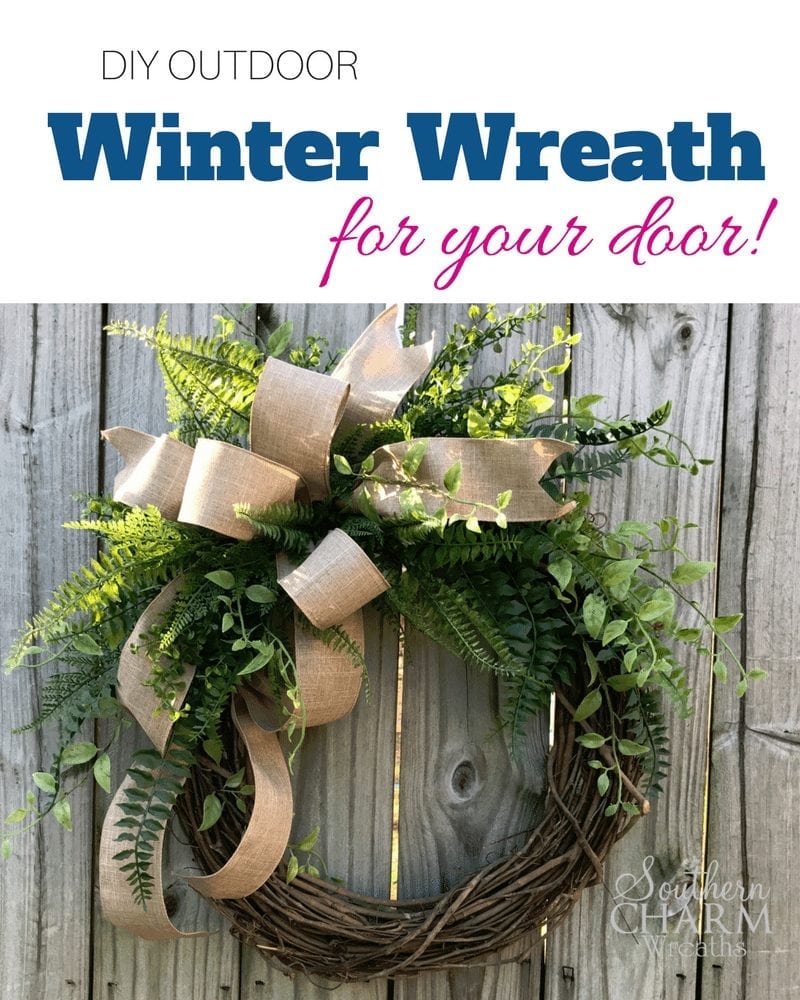 Today in the wreath shop we're making a DIY Outdoor Winter Wreath for your door! My neighbor showed me a picture of a wreath she wanted for her door this winter so I sprung into action to make my own version. This post contains some affiliate links for your convenience. Click here to read my full disclosure policy.
DIY Outdoor Winter Wreath For Your Door
In today's video, we're creating a DIY Outdoor Winter Wreath for Your door. Truly you could use this wreath anytime. It's a simple, elegant wreath made using a grapevine wreath as the base and filled in using plastic greenery and a neutral, burlap bow. Here's how:
Supplies
Grapevine wreath
Evergreen bush (plastic) – Carolina Pottery
Fern bushes (plastic) – Carolina Pottery
Sheet moss
Wired Ribbon
Rustic wire
Scissors
Zip Ties
glue sticks
[Tweet "DIY Outdoor Winter Wreath For Your Door"]
DIY Outdoor Winter Wreath For Your Door
Separate the individual pieces from the evergreen and fern bushes so you have individual pieces and not one large bush.
Take the time now to prep your greenery – open up all the leaves, trim any excess pieces towards the bottom and add floral picks to the bottom of pieces that need the extra support.
Grapevine wreaths are not always perfectly round so take a moment to look yours over and determine which part of the wreath you want to be the top and bottom.
Next, make the bow. I used a wired neutral linen burlap style ribbon but you could use anything you would like. For this bow I made three 14 inch long loops. For detailed bow making instructions, click here.
Attach the bow to the grapevine by attaching the wire into a few of the grapevine pieces. Note: Do not wrap the wire around the entire wreath.
Start placing the greenery around the wreath. I like to go in the direction of the wreath so I do not put everything straight up and down, I turn pieces sideways or even upside down. Note: Do not hot glue until you are sure you love the placement!
Once you are sure of the placement, hot glue the stems in place.
In any areas where hot glue is showing, simply cover it with sheet moss.
If you would like your bow tails to lay a certain way, you can attach wire to an area of the ribbon and attach it to a certain part of the wreath or add a bit of hot glue to help it stay.
Trim any of the wooden picks you used to ensure they aren't sticking out from the wreath.
Hot glue leftover silk leaves from another project (or other leaves would be fine too) to cover the back of the wreath to give it a more finished look.
DIY Outdoor Winter Wreath For Your Door Video…
I hope you enjoyed this Outdoor Winter Wreath tutorial. What do you have on your door for the winter? Let me know if you enjoyed this and don't forget to join me on Facebook Live, Thursdays 7:30PM EST.
If you would like to join my wreath making of the month club, you can join here.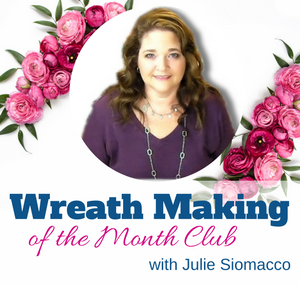 Happy Wreathing,
Julie
If you enjoyed this post, you might also like:
How to Make a Mardi Gras Lantern Swag
How Kroger ClickList Saves Me Time
How to Make a Silk Flower Spring Wreath Video