DIY Silk Flower Cowboy Boot Wreath
My silk flower cowboy boot wreath is the perfect mix of Southern charm with feminine elements. Learn how to make this floral display with light pink roses and airy accents!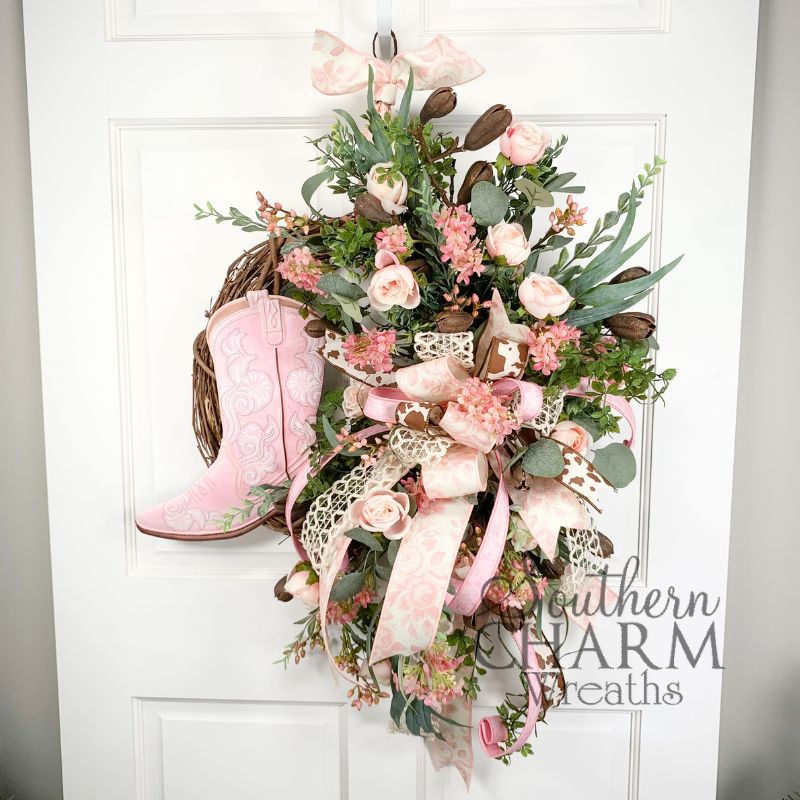 Silk flower cowboy boot wreath
This year, Wreath Makers Live is celebrating its southern roots with a full-fledged Western-themed event!
And today, I'm bringing that celebration to your wreath-making studio through this gorgeous cowboy boot wreath.
I love all the girly elements in this design, from pastel roses to light and spindly greenery. And subtle Western accents make this design truly special.
This post may contain affiliate links for your convenience. Click here to read my full disclosure policy.

Supplies for this project
You'll need:
16" Grapevine wreath
Embossed cowboy boot sign
Silk wired ribbon

2 ½" Pink and white
2 ½" White lace
1 ½" Cow print
1" Pink

Assorted greenery
Silk & artificial flowers

Light pink roses
Pink berries
Brown dried seed pods
Pink filler flowers

Clippers
Hot glue
Florist wire
Zip ties
How to make a silk flower cowboy boot wreath: Step-by-step tutorial
1. Prep your base
To begin, attach your cowboy boot to one side of your grapevine wreath. Depending on the weight, you may use florist wire or zip ties to secure it.
2. Make your bow
A well-made bow is a beautiful centerpiece for any wreath.
Start with a 19" streamer of your 2 ½" pink and white ribbon, pinch, and pleat. Then measure 12" for a 6" loop and repeat for a total of two loops. Pinch, twist, and trim your tail.
Repeat these steps for your 2 ½" white lace ribbon, 1 ½" cow print ribbon, and 1" pink ribbon, working on top of your base.
Add a final loop of 2 ½" pink and white ribbon, measuring a streamer, then 10" for one 5" loop.
Fluff your bow, separating the loops, and attach at the center with florist wire or a zip tie for a thicker bow.
Add your bow to your wreath, opposite the cowboy boot, securing it with florist wire.
3. Incorporate greenery
Next, we're going to establish our base using assorted greenery.
Begin with long, spindly greenery with plenty of twigs. Use your bow as a center and work outwards, moving with the shape of the wreath and attaching it with hot glue.
For more shape and structure, use florist wire to keep twigs in place.
Next, add a blue-green variety for length and texture, evenly dispersing throughout.
Finally, add a few pieces of eucalyptus for more shape and form.
4. Add focal flowers
For a feminine touch, incorporate an abundance of light pink roses throughout your greenery base. The results should be full and bountiful!
5. Fill in for texture
For further texture, add full elements like pink berries, extra greenery, dried seed pods, and pink filler flowers.
Disperse evenly and secure with hot glue.
6. Finish your cowboy boot wreath
Before you're done, complete a few final touches for professional results.
Fill in any blank spots with greenery and use scraps for more texture. Fluff your bow, add additional loops of ribbon, and dovetail ends.
And with that, step back and admire your gorgeous silk flower cowboy boot wreath!
Watch the video: How to make a silk flower cowboy boot wreath
If you enjoyed this post, you might also like:
Like this post? Pin it for later!