DIY Traditional Christmas Santa Wreath
Create a traditional Santa wreath on a grapevine base. This classic wreath is full of rustic Christmas charm with dark reds and greens.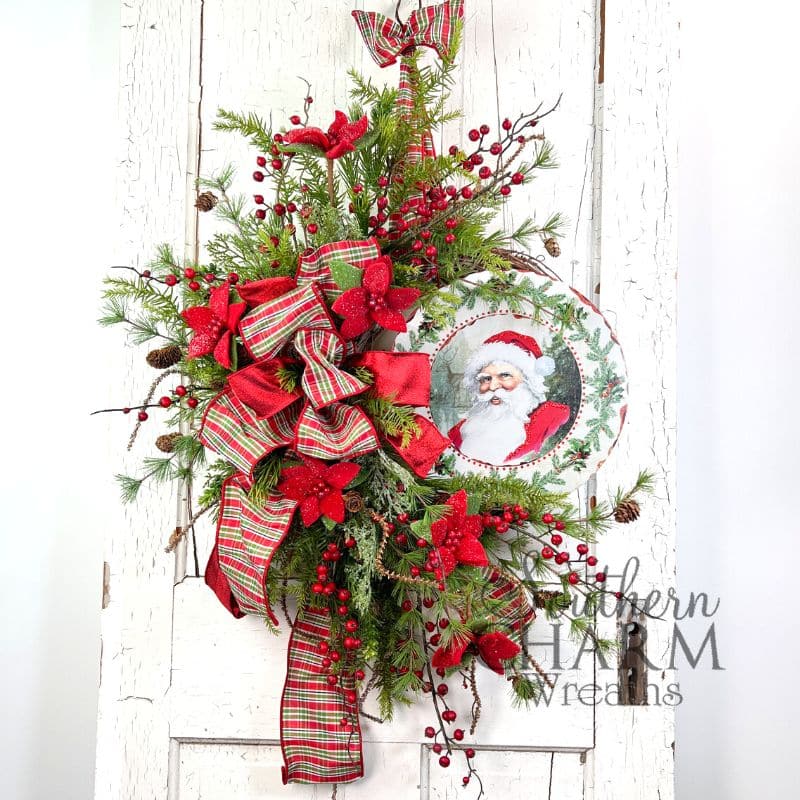 How to make a DIY traditional Christmas Santa wreath
Christmas wreaths are some of my favorite ones to make – what about you? Turn on some holiday music, and get in the spirit!
This wreath never goes out of style. The classic Santa sign harkens back to vintage Christmas parties, sleigh bells, hot cocoa, and stockings hung near the fireplace.
If you sell wreaths, this is one that you should make and stock in your shop. Its rustic charm will draw buyers to your booth or Etsy shop – it's definitely a crowd-pleaser!
In this tutorial, I'm going to show you how to make this wreath. Plus, if you are a visual learner, watch my video and make it along with me.
This post may contain affiliate links for your convenience. Click here to read my full disclosure policy.

Supplies for this project:
Grapevine Wreath
Round Traditional Santa Christmas Sign
22 gauge Florist Wire
4-inch Wired Ribbons
2 1/2-inch Wired Ribbon
U-Shaped Wire Floral Pins
Flocking
3 Types of Greenery
Mini Felt Poinsettias Pick
Winter Berry Picks
How to make a traditional Christmas Santa wreath: Step-by-step tutorial
1. Attach the sign
Always start with your main focal point. For this Christmas wreath, I used the sign as the eye-catcher.
Staple florist wire to the back of the sign, then twist the wire through the grapevine brambles and twist it tightly. Make sure it's so tight that it doesn't dangle or move around.
Where you place the sign is up to you. I put my sign on the right-hand side of my wreath.
2. Make the bow
Now you're ready to make the bow! This is another place you can use your creativity – make it as thick and layered or as simple as you want.
I'm going to share the measurements of the tails and loops of my bows, but you don't have to measure them. The information is more for beginners that need that information, so they aren't as intimidated.
I started with the 4-inch wired red and green striped ribbon.
Pinch and pleat the ribbon between two fingers on your non-dominate hand.
Then, measure 14 inches, loop it away, and pinch it with your same two fingers.
This is the start of your bow's first loop. Since you folded it in half, this is now a 7-inch loop.
Repeat this process one more time so that you have two loops.
Cut the ribbon off the bolt and keep this bow in your hand.
Then, I did the same thing with the 2 1/2-inch wired red ribbon.
Make two more loops that are 7-inches each. (Don't forget to shape your bow as you go.)
Place the ribbon tails behind your loops so the loops are on the top.
When you are satisfied with how your bow looks, tie them together with a 22-gauge florist wire.
If the florist wire feels slippery and you need something with a thicker texture to grab onto, you can use florist tape or pipe cleaners. I have found that florist wire feeds better through a grapevine wreath.
Attach the bow to your wreath directly across from the sign – this gives your wreath's design balance.
3. Add greenery
Now it's time to add the greenery – use this to define the line of vision. When you define your line, you will establish how people's eyes will travel across your wreath's design.
Start by gluing the light-green greenery branches behind the top of the red bow. Then, add some more at the bottom. Both of them draw a person's eyes from the bow to the large Santa sign.
Keep layering with more greenery until it is as thick as you want it.
Remember: The bow is the binding point which means it looks like it is holding everything together. So, anything above your bow goes in one direction, and anything below your bow goes in the opposite direction.
Keep layering and adding more greenery until you either reach the sign or it is as full as you want it to be.
4. Insert mini poinsettias
Start adding pops of color to the wreath by adding the mini poinsettias into the area on top of the bow. Then, keep the design balanced by layering them below the bow too.
5. Add winter berries
Now let's add even more red colors. Trim the berry picks and layer them around the top and bottom of the bow. Bend the berries so they are pointing towards the Santa sign.
Keep adding more berry picks and greenery until you are satisfied with how it looks.
Watch the video: How to make a DIY traditional Christmas Santa wreath
If you enjoyed this post, you might also like:
Like this post? Pin it for later!