Amazing Farmhouse Decor Under $50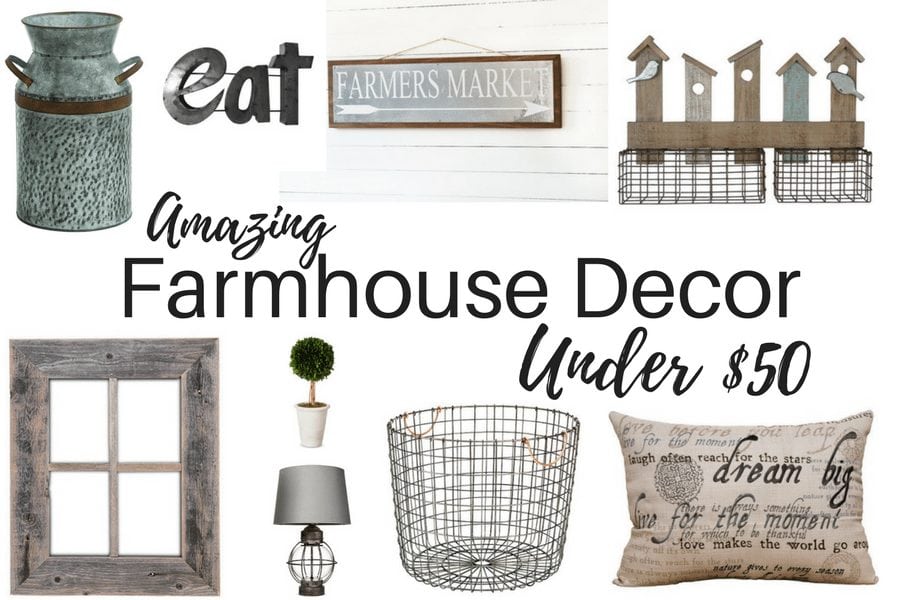 Oh my gosh, I'm so ready to redecorate my home! I'm leaning towards the farmhouse style of decorating because it's such a clean refreshing look for all seasons, unlike what I have now.  I like that I can easily decorate with just a minimal amount.  Plus the neutral pallet is so easy to accent with various colors for the different holidays and seasons.  This post contains some affiliate links for your convenience. Click here to read my full disclosure policy.
Amazing Farmhouse Decor Under $50
My decor now is more traditional in warm colors and dark furniture.  For example, the den sofa is espresso and the tables are also dark colored.  I'm just ready for light, airy and casual to help open up the space.
Trying to convince the hubs to change seems like a loosing battle sometimes. He would be just happy as a lark not changing anything.  I mean, gosh, we have the same paint on the walls as when the builders built the house!  It will take time but I'm thinking of doing one room at a time.  Now, what room to do first? Ha!   You know your home should be the place where you can exhale when you come home, relax, feel comfortable and mine doesn't feel like that anymore.  Do you ever get an itch to make a huge change?
While I'm not quite at the point of changing paint and furniture, I can shop online for some smaller decor to get me (and the hubs) in the mood of changing to a farmhouse style of decorating!  As a result of my online shopping, I've compiled a list of some farmhouse decor under $50 that I liked and thought you might like too.
[show_boutique_widget id="558844″]
What style of decor is your home? Are you on the farmhouse look bandwagon? Or are you just ready to make a change?
Happy Wreathing,
Julie
If you enjoyed this post, you might also like:
DIY No Sew Spring Pillow Cover Tutorial
DIY Outdoor Winter Wreath For Your Door