Hobby Lobby Christmas Haul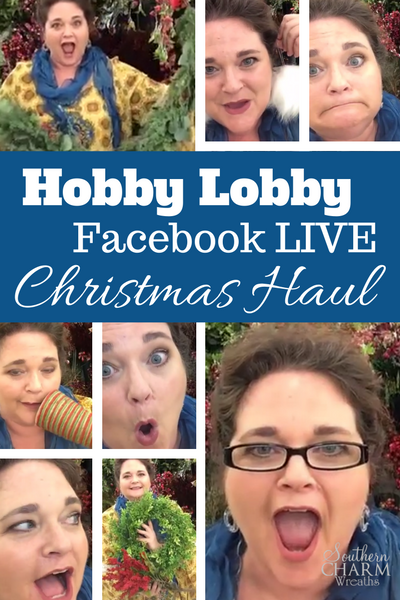 You know I love sharing my shopping trips with y'all and this is no different – welcome to my Hobby Lobby Christmas Haul! Wait until you see what I found for Christmas at Hobby Lobby! Do you have one near you? If you do, get there ASAP! It might seem early to some to talk about Christmas but when you're a crafter like me, you need to start planning way ahead of the holiday. This post contains some affiliate links for your convenience. Click here to read my full disclosure policy.

[Tweet "Hobby Lobby Christmas Haul"]
My Hobby Lobby Christmas Haul 2016 Tips
Shop the sales! Most of the items in my cart were 40% off. Hobby Lobby is known for it's sales so if something isn't on sale today, it might be next week but check their online flyers before leaving the house!
Remember, you don't have to use an item the way it was intended. Turn a Christmas tree cone into a vessel for a floral arrangement, turn a hat over and use as a base for an arrangement…you get the idea.
Found a sign you love? Drill holes in it and use florist wire to attach to your arrangements.  Click here for tools I recommend for wreath making.
If you find a wreath like I did that is beautiful on it's own, don't feel you have to cover the whole thing. Add some simple decorations to one side and show off the rest!
Things definitely sell out so shop early in the season!
Ok, ready or not, here is my Facebook Live video…
Did you see that snowman hat!? I just love it and can't wait to show you what I'm going to do with it. What about those Christmas tree cones that you can put upside down and hang? Isn't that a fun idea! You could even make those as hostess gifts!
Not near a Hobby Lobby? Never fear, you can shop online!
Comment below and tell me how you liked the video. What is your favorite place to shop for holiday craft items or decor?
Julie
If you enjoyed this post, you might also like:
How to Make a Tree Topper Bow

Carolina Pottery Fall Haul 2016 & Shopping Tips For Wreaths

30 Craft Show Tips for Beginners