Hobby Lobby Fall Haul 2016 & Sign Tips for Your Wreaths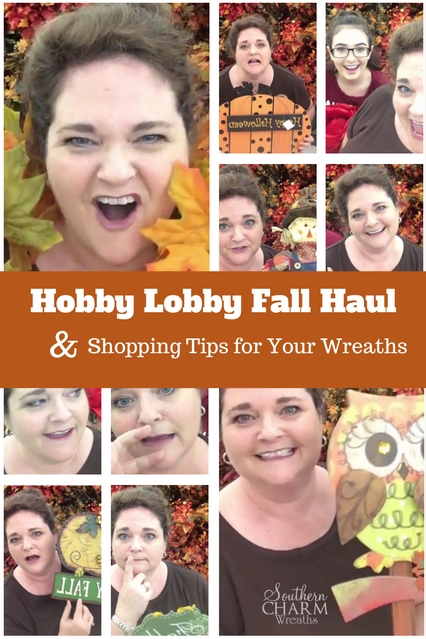 So, I was in the HobLob a couple of weeks ago looking for Fall signs to add to my wreaths.  Well of course I found a lot more than signs!  I found pumpkins of all kinds; Styrofoam, wood, fabric, you name it.  I also found scarecrows, fall picks, garlands, ornaments and flowers!  But before we get to my Hobby Lobby Fall Haul video and all the fun I had, can I just say how much I LOVE, LOVE, LOVE Hobby Lobby!!  They always have some of the BEST stuff for wreaths!  I also LOVE how I can find Christian items for my wreaths, which are hard to find sometimes.
And while shopping in the store with Miss K, my beautiful daughter, I decided I would do a Facebook Live video on my Fall haul and give you tips on purchasing as well as how to secure them to your wreaths.  Scroll to the bottom of the post to watch the video replay.
[Tweet "Hobby Lobby Fall Haul 2016 & Shopping Tips for Your Wreaths"]
My Hobby Lobby Fall Haul 2016 & Tips
Below are a few of my shopping tips when it comes to signs and other items you might find at Hobby Lobby.
Before buying a sign or item, make sure you know exactly how you will attach it to the wreath.  You don't want to get back home or to the wreath shop and then not be able to wire it on.  Or even worse, realizing that the dang thang is too heavy!  That is a bummer.
Don't be afraid to cut off the metal hangers on signs and use your own by either drilling a hole or use existing holes.
Always wire signs into wreaths, never just glue.  It's best if you can do both, hot glue and wire but sometimes, like with metal, wiring is enough.  Wire in more than one place too, typically 3-4 places.
Make sure your sign will hold up in the elements.  You don't want to use a sign that will be yucky after a rain fall.
You can get ideas from items in the stores or cool color combos.  For example, in the video I show you a sign that uses turquoise for Fall and it's adorbs!!
If items are too heavy, see if you can find ways to make them lighter.  For example, in the video there is a plush scarecrow that is made to sit on a shelf.  Well it's too heaving for a wreath, so I take out all the rocks from his butt.  Hey, I have a video showing you how to do just that here: How to Add Plush Dolls to Wreaths.  If only someone can shave off some stuff from my butt! Bahaha
Instead of purchasing individual flower stems, consider purchasing garlands of flowers and leaves that can be divided in order to save money.
Use premade floral picks and layer them together to make lantern swags.  You can see what I mean here on my How to Make a Fall Lantern Swag Video
Use small signs or ornaments to hang in lantern swags.
Make sure to hot glue any dangling items on signs so that they don't jiggle around when the door gets slammed, like when your teenager gets that attitude!  Mamas, you know what I mean!
Comment below and let me know if you enjoyed watching me shop!  Hey, if you want to catch me Live on Facebook next time, make sure to follow me there and then subscribe to my Page by
following these directions
.
Happy Wreathing,
Julie
If you enjoyed this post, you might also like:
7 Great Tips to Save Money on Silk Flowers
Wreath Making How to Choose Colors