How to Add Ribbon Streamers to Deco Mesh Wreaths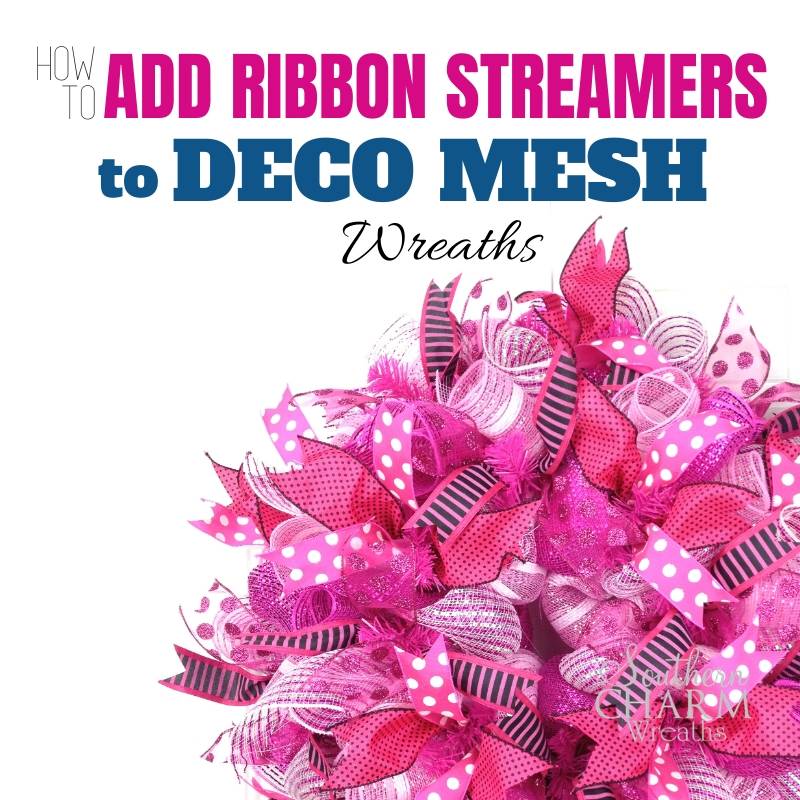 I am a ribbon addict and ribbon is an inexpensive way to add lots of texture, color and interest to Deco Mesh Wreaths.  Here is my quick tutorial on how to add ribbon to Deco Mesh Wreaths and Garlands.
[Tweet "How to Add Ribbon Streamers to Deco Mesh Wreaths"]
I like to use two widths of ribbon, a 2.5″ and a 1.5″, in two different styles of each size. For example two styles in the 2.5″ width and two styles in the 1.5″ width. I make sure the ribbon coordinates with the deco mesh used in the wreath.  I cut my ribbon streamers 2-3″ longer than the loops used for my wreath. So if I made my deco mesh loops 10″ long on my wreaths, I would use 12-13″ long streamers. Make sense?
To attach the streamers, I pair up one 2.5″ width with one 1.5″ width, pinch them in the middle and twist them into a twist tie. Then on the twist tie beside it, I pair up the other 2.5″ and 1.5″ ribbon streamers; so that these pairs alternate around the wreath.
Spread the ribbons out to form an X shape. But I don't pull them our tightly into an X, but make sure they have some curve and movement.
I only used wired ribbon so that the customer can reshape the ribbon streamers when needed, which comes in handy on those windy days.
If for some reason, there is an odd number of twist ties, I don't let that stress me. There will just be two styles right beside each other, no one will be able to tell once all the decorations are on.
Video – How to Add Ribbon to Deco Mesh Wreaths
Hey, you're interested in learning how I hand tie my bows for wreaths you can watch my FREE video, 9 Ways to Make a Bow For a Wreath here.  Of course my bows work on garlands and mailboxes too, but you know I'm partial to wreaths!
I can also teach you how to make beautiful deco mesh wreaths like mine in my ebook, www.learndecomeshwreaths.com, as well as other trade secrets including a vendor list of over 100 vendors (wholesale and retail) on where I purchase my ribbon, mesh and wreath forms (like this one http://amzn.to/1MemmUu).
You see, adding ribbon to deco mesh wreaths is simple! Comment below to let me know what you think. What colors of ribbon would you have used on this wreath? Do you think I should make more videos like this one? I would love your feedback!
Happy Wreathing,
Julie
If you enjoyed this, you might also like…
How to Make a Deco Mesh Snowman Wreath
How to Make a Deco Mesh Valentine Wreath