How to Make Christmas Window Sill Swags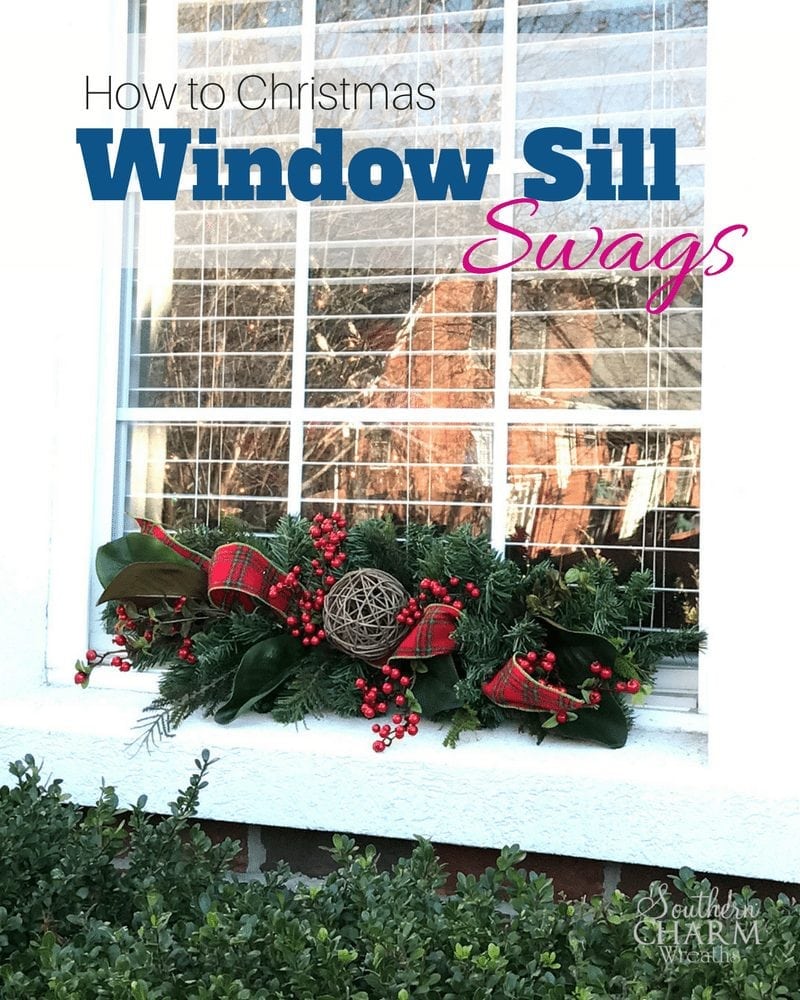 We're dressing up our window sills today with my Christmas Window Sill Swag! This simple project can enhance your holiday curb appeal in a jiff and make your home the envy of your neighbors. This post contains some affiliate links for your convenience. Click here to read my full disclosure policy.
How to Make Christmas Window Sill Swags
In today's video, we're making Christmas Window Sill Swags. I'm making 10 of these for my home and thought I would share my tips and tricks with you! These are approximately 30 inches long with an evergreen base. Here's how to make your Christmas Window Sill Swag:
Supplies needed
30 inch evergreen swag
magnolia bush (Sims Pottery)
cedar bush (Sims Pottery)
boxwood bush (Sims Pottery)
wild berry stems (Sims Pottery)
ribbon
glue sticks
[Tweet "How to Make Christmas Window Sill Swags"]
How to Make Christmas Window Sill Swags:
Using approximately 1 yard of ribbon, run the ribbon length wise down the greenery. Stop about every 5-6 inches to pinch it and attach it with the needle ties in the greenery. This will give you two loops and ribbon tales on each end. Cut a "v" or dovetail in each end of ribbon to give it a more finished look.
Cut a small piece of wire to thread through the grapevine ball and attach it to the center of the swag between the two loops.
Remove all of the magnolia stems from the bush. For two of the stems, remove one leaf so you are left with a longer stem and two leaves. Add hot glue to the stems and put one in each end of the swag.
Hot glue the leaves you removed and add them in around the grapevine wreath.
Fill in with additional magnolia leaves wherever you like. I like to add at least one with the brown side showing for more dimension and interest.
Next, cut the stems from the cedar and boxwood bushes.
Add cedar throughout the arrangement, no rhyme or reason to it! Just keep them evenly spaced and attach using hot glue on the stems.
The boxwood is up next. Again, use hot glue to attach (I use a high temperate glue gun) and add throughout the swag while keeping them evenly spaced.
Add the wild berry stems throughout to fill in the swag using hot glue on the stems to keep it in place.
That's all! Simple right? To attach it to your window, simply add a piece of ribbon to the back of the swag and shut it down in your window!
Now we're off to the video….
Here are some pictures of the front of my home with the swags on the windows.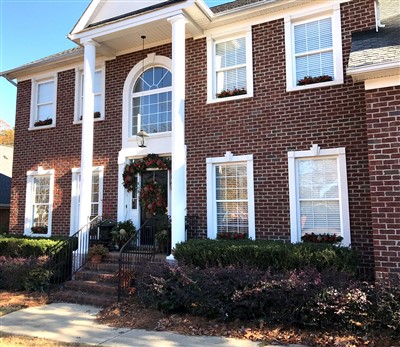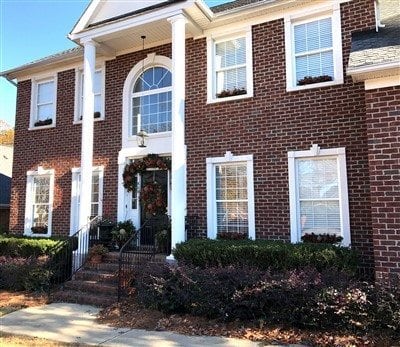 If you're interested in how I get jazzed up my front porch planters with evergreen and shrub clippings, you can watch my Youtube video here.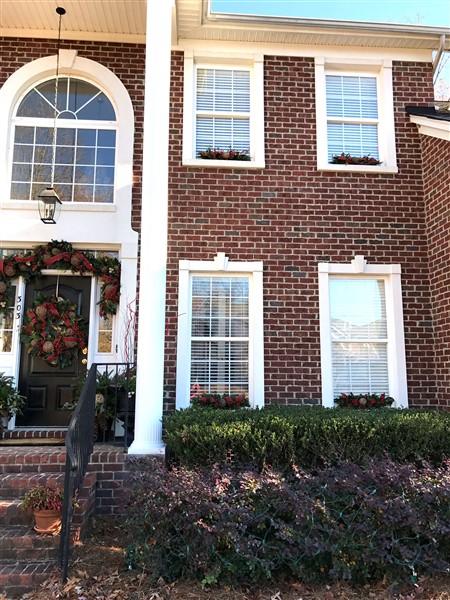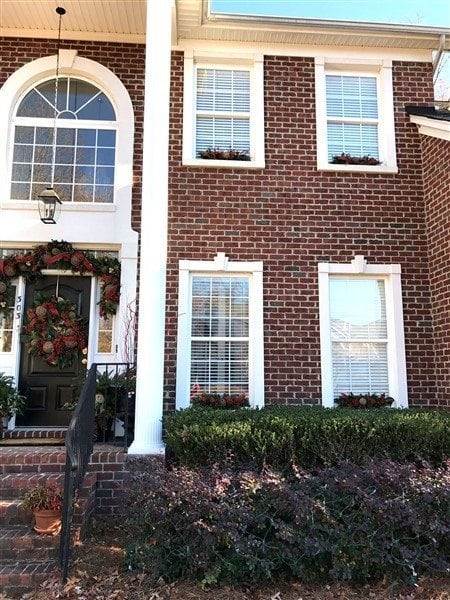 Don't the swags match perfectly with my magnolia door wreath and garland?  I teach you how to make the magnolia wreath in my December issue of Wreath Making of the Month Club.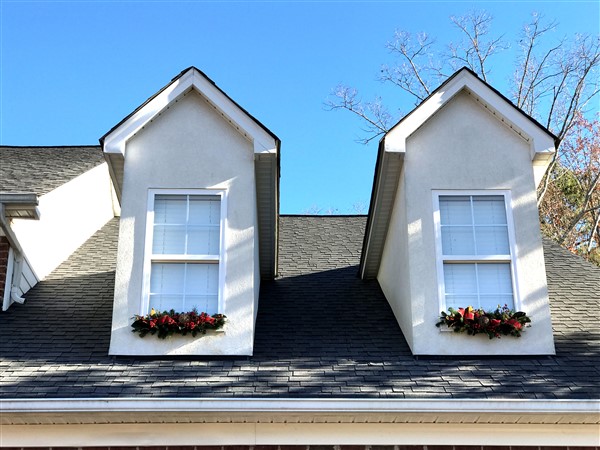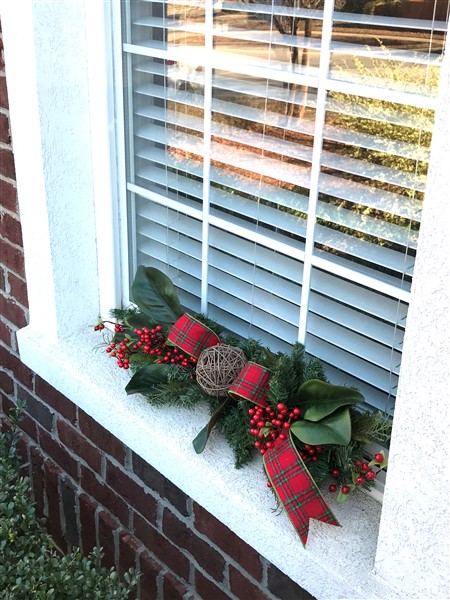 Remember, the greenery and decor I used are just ideas! You can use whatever colors go best with your holiday decor. I would love to see pictures of your project when it's done. Please also comment below and tell me if you like this project so that I know to keep making more tutorials like this. Don't forget to share this with your friends and family!
In the video I mentioned my new Wreath Making of the Month club. For more information about the club, click here.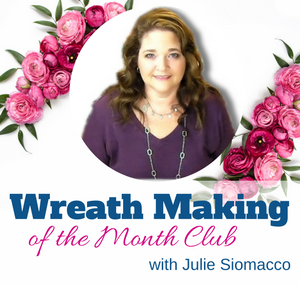 Join my mailing list and/or follow me on Facebook where I'm LIVE most Thursdays if you want to join in on the conversation  www.facebook.com/southerncharmwreaths.
Happy Wreathing,
Julie

If you enjoyed this post, you might also like:
How to Make a Christmas Tool Box Centerpiece
How to Make a Christmas Picture Frame Wreath
Top 10 Gift Ideas for Crafters and Creators
How to Make a Festive Christmas Santa Hat Centerpiece
Save
Save