How to Make an Adorable Easter Bunny Door Wreath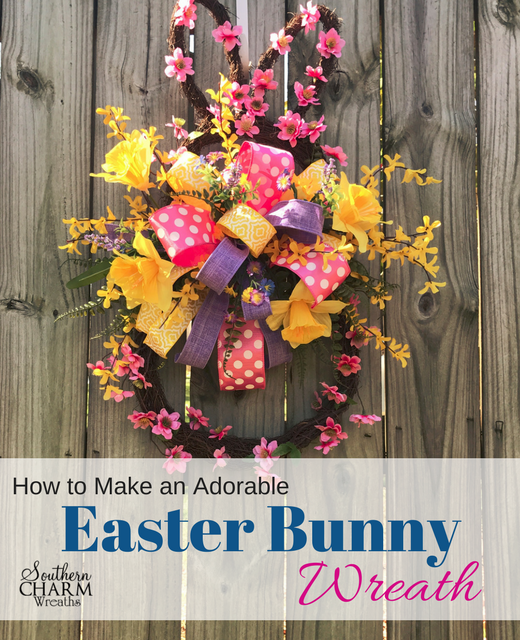 Today we're hopping into Spring with an Adorable Easter Bunny Door Wreath! There is still plenty of time to make one of these cute wreaths for your front door and maybe even one to give as a gift. This post contains some affiliate links for your convenience. Click here to read my full disclosure policy.
How to Make an Adorable Easter Bunny Door Wreath
In today's video, we're making an Adorable Easter Bunny Door Wreath. It feels like Spring now in the South and the beautiful flowers are already starting to come out. You can add a big dose of Spring to your front door with this wreath, no matter the weather where you are!  Here's how:
Supplies
Bunny wreath (Carolina Pottery) or this one from Hobby Lobby
Wired ribbon (I used 3 different ribbons but you could use more or less)
Silk Flowers (Cherry Blossoms & fern from Hobby Lobby)
glue sticks
[Tweet "How to Make an Adorable Easter Bunny Door Wreath"]
If you don't want to make your own, purchase one premade…
[show_shopthepost_widget id="2499820″]
How to Make an Adorable Easter Bunny Door Wreath
First, make the bow for this project. By making the bow in the beginning, you can determine how large you want it.  You can also better determine how much and where you want the other decorations. Note: Checkout my new FREE video to learn how to make 9 different types of bows for wreaths!
Cut the silk cherry blossoms from the stem. Note: Cut at the notch in the stem and it is easier to cut!
For flower placement, start by putting the end of one stem where the two circles meet and allow it to trail down one side of the bottom circle. Then attach using the bind wire. Note: I started with a 1 yard piece of wire.
Repeat the last step, trailing the flower stem down the other side of the bottom circle. Attach with bind wire.
If there is an open area of the bottom circle, fill in with another stem. Note: The bow is going to go where you started the two stems where the two circles meet so it is OK for that to be bare.
Follow the same process as above but attach flower stems to the top circle.
Hot glue individual flowers (cut off stems) to the ears. You can do as many or as little as you would like.
Gather any silk flowers that you would like (I used a fern and some beautiful yellow forsythia and daffodils) and arrange them in the center of your wreath and zip tie to the bunny wreath but make sure to leave a gap in the center for your bow.   Note: For fern or other items where stems are covered in plastic, separate it by cutting the plastic down the stem with a knife.
Add your bow to the center of them (your flowers will be sticking out around your bow).
For a professional finish, hot glue silk flower leaves to the back of your wreath where wire and zip ties are showing.
Use rust wire rope attached between the bunny ears to make a hanger for your wreath.
After you flip your wreath back over, fluff up your bow so that it is not flat. You can also trim any ribbons at this point that are too long, you don't want them covering the bunny so much that you can't see the shape.
Take extra flower blooms and/or greenery and hot glue them to the bow loops for added dimension and interest.
How to Make an Adorable Easter Bunny Door Wreath Video…
I hope you enjoyed this Adorable Easter Bunny Door Wreath tutorial. Do you decorate much for Easter? Let me know if you enjoyed this and don't forget to join me on Facebook Live, Thursdays 7:30PM EST.
If you would like to join my wreath making of the month club, you can join here.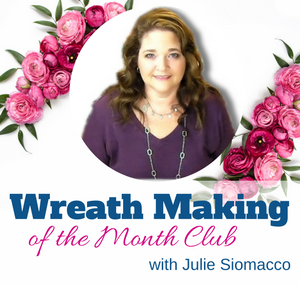 Happy Wreathing,
Julie
If you enjoyed this post, you might also like:
How to Make a Simple Spring Flower Arrangement in a Toolbox
Amazing Farmhouse Decor Under $50