How To Fluff An Artificial Wreath – Christmas Wreath Tip
This is the BEST tip to make your Christmas wreath look full and beautiful! Learn how to fluff an artificial wreath the professional way every single time.
These wreaths are useful all year long. Evergreen Christmas wreaths are the perfect background for all kinds of wreaths, no matter the season or holiday.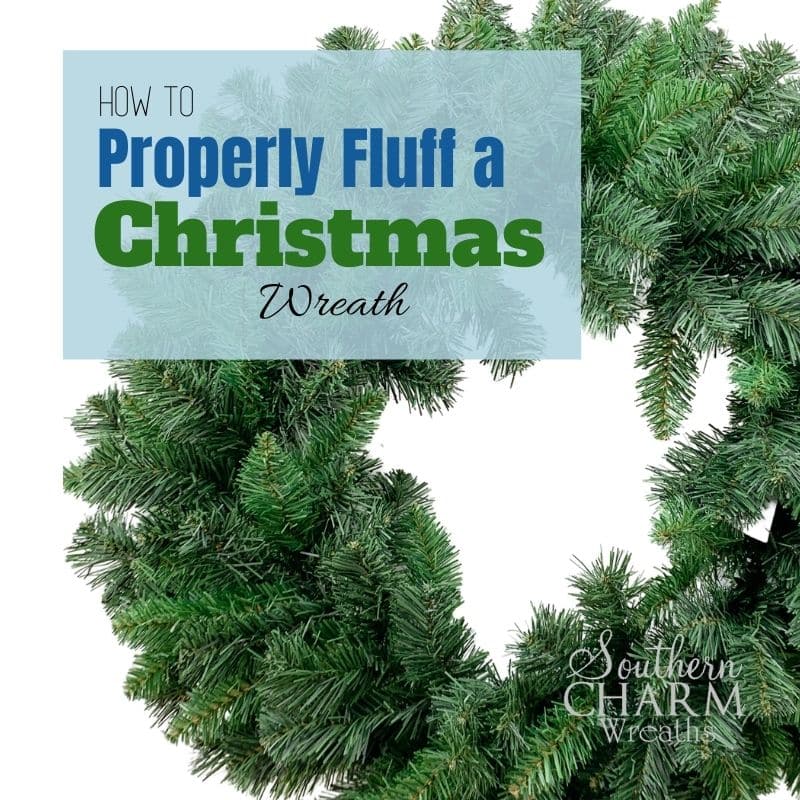 This page contains affiliate links for your convenience. Click here to read my full disclosure policy.
Different Names of Christmas Wreaths
The first thing I want to point out is that there are different things this wreath base is called. Here are a few different names for this wreath:
Evergreen Wreath Base
PVC Wreath
Christmas Wreath
You can see how I use each of these wreaths specifically for the holidays here! As you'll notice, the wreaths are always nice and fluffy.
PVC Wreath Ideas
Before I teach you how to fluff this wreath, here are some different things you can make with a PVC wreath.
Spring Wreaths
Everyday Wreaths
Christmas Wreaths
Fall Wreaths
Easter Wreaths
PVC wreaths make an excellent product. They are much easier to decorate than a grapevine wreath as those can be difficult to maneuver around.
Tips For Choosing a Wreath
When you choose a wreath, keep these tips in mind. This will make your crafting much more successful.
Needle Tips
Pay attention to needle tips – the height and quantity of the needle tips are very important. Anything with fewer than 150 needles is going to be more bare.
Another reason we want more needle is that it makes the wreath thicker, and that provides more places to adhere the glue from our stems.
Wreath Frame
You also need to look at the wreath frame underneath. Some wreaths have one frame and others have 2 frames.
Either option is fine. When you have two frames, the inside frame is smaller than the outside hoop, this is called an 'elevated' wreath. It will pop up more in the center and it will give you a thicker, more dimensional wreath to work with.
Where To Buy Evergreen Wreaths
There are lots of places – even online – where you can buy these wreaths. Here are some of my favorite places to buy these wreaths.
I like to buy my wreaths at wholesale shops. You can also find these wreaths at Michael's and Hobby Lobby, however, they will have shorter needles. I prefer to use a 3 or 4-inch needle tips with my wreaths because they are fuller and thicker, making it easy to add more florals.
How To Fluff an Artificial Wreath
Learn how to successfully fluff an artificial wreath so that it looks full and shows off all of your artistic decorations.
Pull Out Each Needle Stem
The very first thing you want to do is pull out each of your needle stems. As you do this, lift them up and out. Give them a lift and straighten them out.
No matter how much you add to your wreath – whether it's just a bow or a lot of greenery – you need to touch each one of your ties and lift them up.
Don't lift and separate so much that you see the frame. You want to have just enough lift that you can attach your decor.
Use an Elevated Wreath
If you want a really fluffy wreath, I suggest buying an elevated wreath. As you fluff out the wreath, it will look so much fuller and three-dimensional. The two different-sized hoops push the needles out and give it a thicker appearance.
Watch the Video: How to Fluff an Artificial Wreath
Finally, if you are a visual learner, I've put together a simple video for you showing you how to get a nice, fluffy wreath every single time.
Final Thoughts
As you fluff out your wreath, spend time on every single needle tie. Pull them out, but not so far that you see the frame underneath. It might take a little bit of practice, but that's the fun part!