How To Make A Traditional Christmas Wreath
Spruce up your front door for the jolly winter holidays! Learn how to make a traditional Christmas wreath. It's a lot of fun and adds jovial festivity to your porch decorations.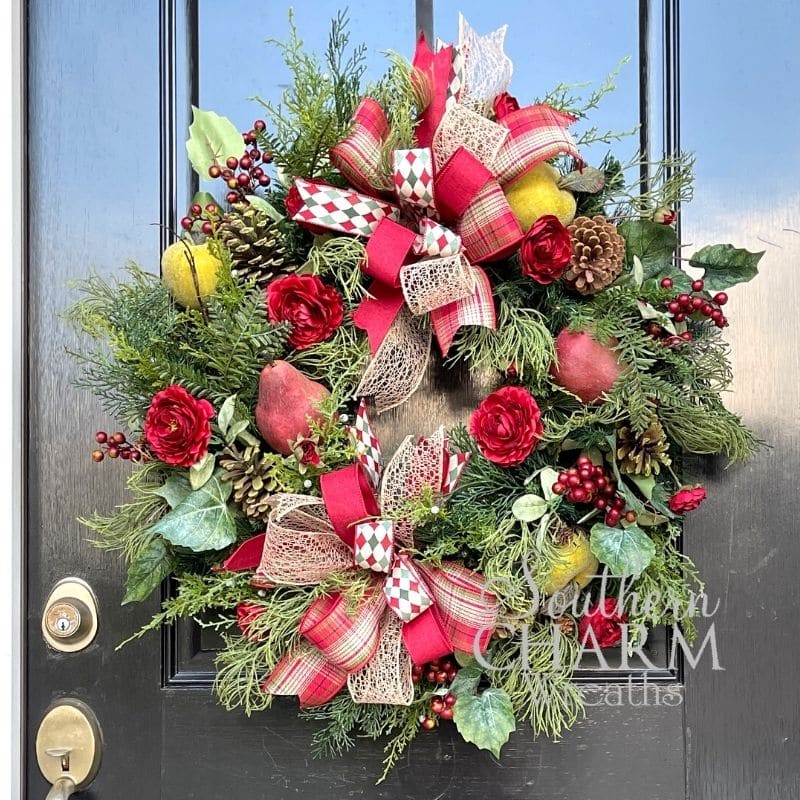 How To Make A Traditional Christmas Wreath
Let's take it way back to times of sleigh rides and chestnuts roasting on an open fire. This traditional Christmas wreath looks beautiful on your front door even after Christmas is over. It is timeless and classic.
There is a time and place for trendy winter signs and funny photos of Santa. But this wreath built on an evergreen base is reminiscent of so many Christmas celebrations of the past.
If you have an Etsy shop, then this is a perfect wreath to add to your stock. Since it isn't trendy, it is one that appeals to almost anyone!
This post may contain affiliate links for your convenience. Click here to read my full disclosure policy.

Supplies for This Project:
Evergreen Wreath Base
Christmas Wreath Sprays
Juniper Bush Pick
Winter Fruit Picks
Red Rose Bouquet
Wired Ribbon Bows

Wood Easel (Optional)
How to Make A Traditional Christmas Wreath: Step-By-Step Tutorial
1. Fluff The Wreath Base
Before you start adding anything to your wreath base, you need to fluff the evergreen Christmas wreath base. Pull out all the little branches, so it looks nice and full.
2. Insert Christmas Sprays Into The Wreath
A spray is a floral pick that has a few different items all on one stem. For example, mine has winter berries, leaves, and a pinecone on it. Trim the bottom of the spray so that when you insert it into your wreath, it doesn't stick out the back or stand out too tall.
Then, dip the end into your melted hot glue and place it anywhere on the wreath. I placed it on the bottom of the wreath. Don't just rely on the glue. Secure the pick by twisting the evergreen branches around a few pieces of the spray.
Continue adding more sprays. Alternate around opposite ends of the wreath so that you keep it visually balanced.
3. Add Some Bows
Decide how many bows you want to add to your wreath. You can add just one really large bow as a focal point or add multiple bows. I put one bow on the top and one at the bottom.
Your bow should have a wire around it that you can use to twist around the wreath. Use the needles on the wreath to secure the bows.
Either use bows that you pre-made ahead of time or whip up some bows while you are making the wreath.
4. Layer With More Greenery
I am all about creating wreaths with lots of different textures to them. One of the best ways to add more texture to a traditional Christmas wreath is to insert some different types of greenery into it.
A juniper bush pick is lighter green than the wreath and has a wonderful texture, with berries dotting it.
Start your second layer closest to the bow and then layer outward, moving up towards the middle of the wreath.
5. Decorate With Winter Fruit
At this point, the wreath is full of different shades of green, with the ribbons and berries providing the only pops of color. Enhance your wreath with more textures and color by inserting some winter fruit.
I love the reddish-colored pears with the golden apples. They add the perfect amount of bright colors to liven up this full wreath.
Before you secure them permanently to the wreath, lay them loosely within the needles so you can move them around and get the look that appears the most cohesive to you. When it looks just right, add some florist wire and twist them around the wreath's branches.
6. Insert Red Roses
To really bring out the reds in the bows and berries, add some individual roses around your wreath. This is also a fantastic way to give the wreath more height. Leave the rose stems a little longer and allow them to pop out of the wreath a little bit.
Keep adding different florals and greenery until your wreath is complete.
Watch The Video: How To Make A Traditional Christmas Wreath
If you enjoyed this post, you might also like:
Like this post? Pin it for later!