Easy Tips on How to Make a Fall Door Hanger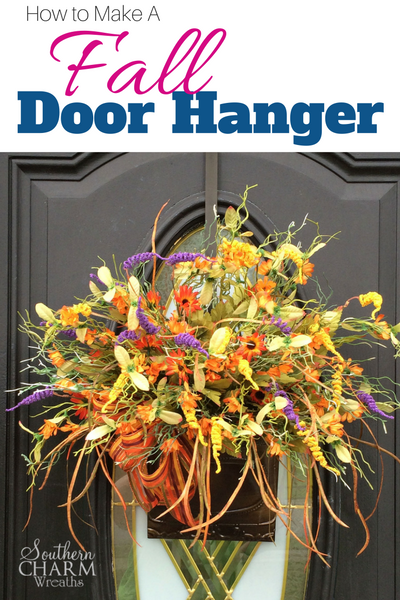 Today I'm not sharing a wreath. What?!  I know but please stay with me. Instead, I'm going to show you how to make a fall door hanger, it's super cute don't you think?  I used some of the fabulous finds from my Carolina Pottery shopping trip to put this together and I just L-O-V-E how it turned out. This post contains some affiliate links for your convenience. Click here to read my full disclosure policy.
How to Make a Fall Door Hanger
In my latest video, I share step by step how to create a beautiful Fall door hanger. From cutting the foam to fit the container (anyone else hate the noise that makes?!) to making sure your arrangement is full and beautiful.
[Tweet "How to Make a Fall Door Hanger"]
This is a great alternative to a wreath and a fabulous arrangement to keep up all Fall. Add a little Halloween or Thanksgiving ornament or bow to make it even more special for those holidays. Ok, let's get to it, here's the video. (Please try not to pay too much attention to how I "clean up" my mess!)
How to make a Fall Door Hanger Tips:
If you recall my post on 7 Great Tips to Save Money on Silk Flowers, I teach you to purchase flowers on bushes to save money.  So the stems in this project are just that, from a large silk flower bush.  I chose a wild and untamed flower bush because I love that look.  Plus when the breeze picks up, the flowers and grasses will move in the breeze, giving your arrangement movement.
Use a kitchen steak knife to cut and shape the styrofoam and place it inside of the basket.  You can see my tips in the video.  If you make the foam snug enough, you won't need hot glue to keep in in place.
Cover the top of the foam with sheet moss or Spanish moss.
Cut the stems off the bush at the base of the stem.
Don't forget to "fluff" the stems so they aren't flat; bend them around however you need them.  The purpose of this is to bring them to life.
Start with longer stems in the back and work your way forward by size.
If stems seem too "loosey goosey" once you stick them in the foam or you have to reposition too many times, you can add a little hot glue to the stem.
Add felt dots to the back of the arrangement to keep it from scratching your door.
As noted in the video, if you don't use glue when securing the foam, you can simply pop out the whole arrangement and start fresh with a new arrangement for the next season or holiday. Isn't this just brilliant? Girl, You know I'm all about saving money!


I hope you liked this tutorial even though it's not exactly a wreath.  Make sure to comment below and tell me if you like it so that I know to keep making more tutorials like this.  Have you started your Fall decorating?
Julie
Also, if you liked this video, you might also like to learn how to make a Teardrop Swag wreath.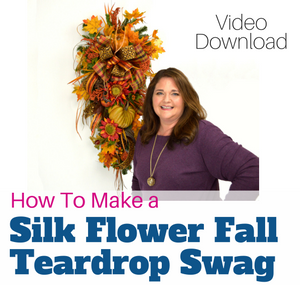 If you enjoyed this post, you might also like:
Hobby Lobby Fall Haul 2016 & Sign Tips for Your Wreaths
How to Make a Fall Lantern Swag Video
Carolina Pottery Fall Haul 2016 & Shopping Tips
Save
Save
Save
Save
Save
Save
Save
Save