How to Make Pumpkin Centerpieces Video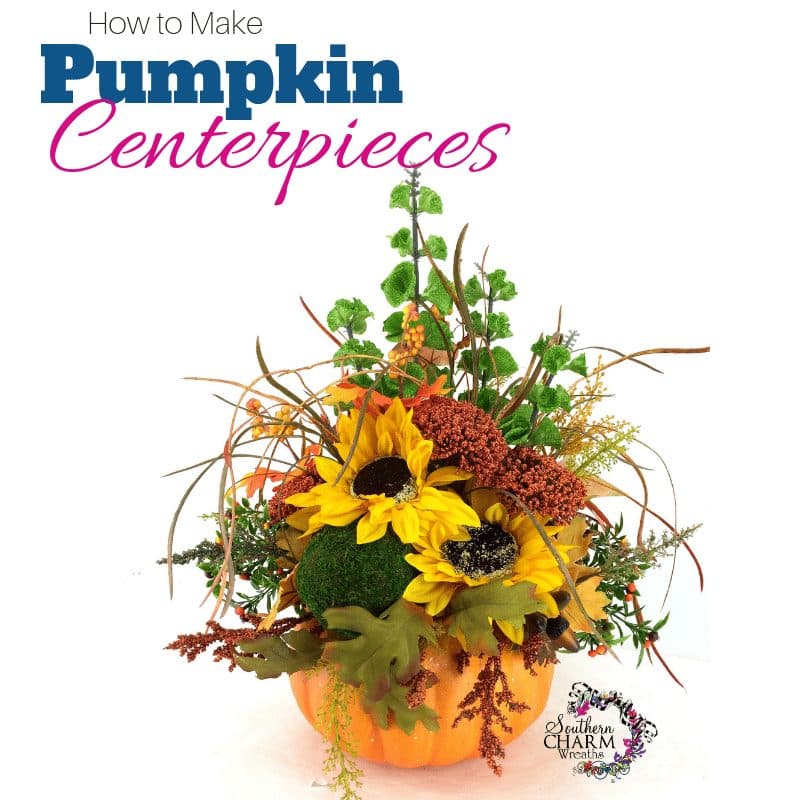 It's starting to feel like Fall y'all – cooler weather, football, and now a pumpkin centerpiece! Seriously, there's pumpkin everything now – coffee, tea, cookies, bread – so why not a centerpiece. I made a video for you explaining my every step on how to make pumpkin centerpieces for your home or shop! And yes, I'm still using items from my awesome Carolina Pottery shopping trip. This post contains some affiliate links for your convenience. Click here to read my full disclosure policy.

How to Make Pumpkin Centerpieces
In this video, I share step by step how to create this adorable pumpkin centerpiece. This is a brand new design for me! Yep, my first attempt for making one was on a Facebook LIVE video!  It was crazy fun and I hope you like it! I'll show you everything from how to practice before you begin to how to decide the right stem placement.  When you watch, you can also get a feel for my thinking process.  You see, even I have no clue how my design will turn out when I first start!
[Tweet "Detailed video on How to Make Pumpkin Centerpieces"]
This is such a fun design. It would be great for your dining table or even a mantle (I think I'm going to put mine on my kitchen island).
First, Tips on How to make Pumpkin Centerpieces:
Use a Styrofoam pumpkin (9.5″ x 6.5″) for this project instead of a hollow one so the stems will have something to stick to.
If this is your first time doing this project, use a foam block first instead of the pumpkin to practice the placement of your stems.
If stems seem too "loosey goosey" once you stick them in the foam, or you have to reposition too many times, or you plan on shipping your pumpkin centerpieces, you can add a little hot glue to the stem.
Before gluing your stems, make sure of your placement first and then glue.
Not sure how tall to make the arrangement? A good rule of thumb is that the height of the tallest stems should be equal to the height of the pumpkin or taller.
When adding small pine cones or other items as filler and they don't have a pick, simply add a dollop of hot glue to the bottom. You know girl, hot glue fixes everything!
Never throw your scraps away! You can always use the extra pieces for filler on other projects.
One Facebook LIVE watcher asked after the broadcast ended what to do if your pumpkin centerpieces get too top heavy.  What I would do, is to adhere a 4×4 ceramic tile to the bottom for a base.  This will give it more weight. I would use E6000 glue to adhere the tile instead of hot glue.  Make sure to follow the directions and be careful as the glue tends to come out fast.  You can then put Vaseline around the tip of the cap so that when you put the cap back on it will come off easier with your next use.  You will need to place a heavy book on top of the pumpkin until it dries; usually 24 hours.  If you have any glue that leaks out, cover  with moss or leftover silk flower leaves.
Share your own pumpkin centerpiece creations on my Facebook Page.
Ok, here we go, to the Facebook Live replay of the video….
Here are close up photos of the finished pumpkin centerpiece from the sides and the back.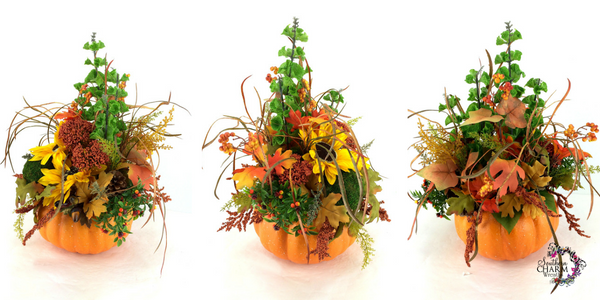 I hope you enjoyed this tutorial! Make sure to comment below and tell me if you like it so that I know to keep making more tutorials like this. What is your favorite part of Fall?  Join my mailing list and/or follow me on Facebook where I'm LIVE most Thursdays if you want to join in on the conversation www.facebook.com/southerncharmwreaths.
Happy Wreathing,
Julie
Tools used in this video.
Pin this tutorial now so you don't loose it.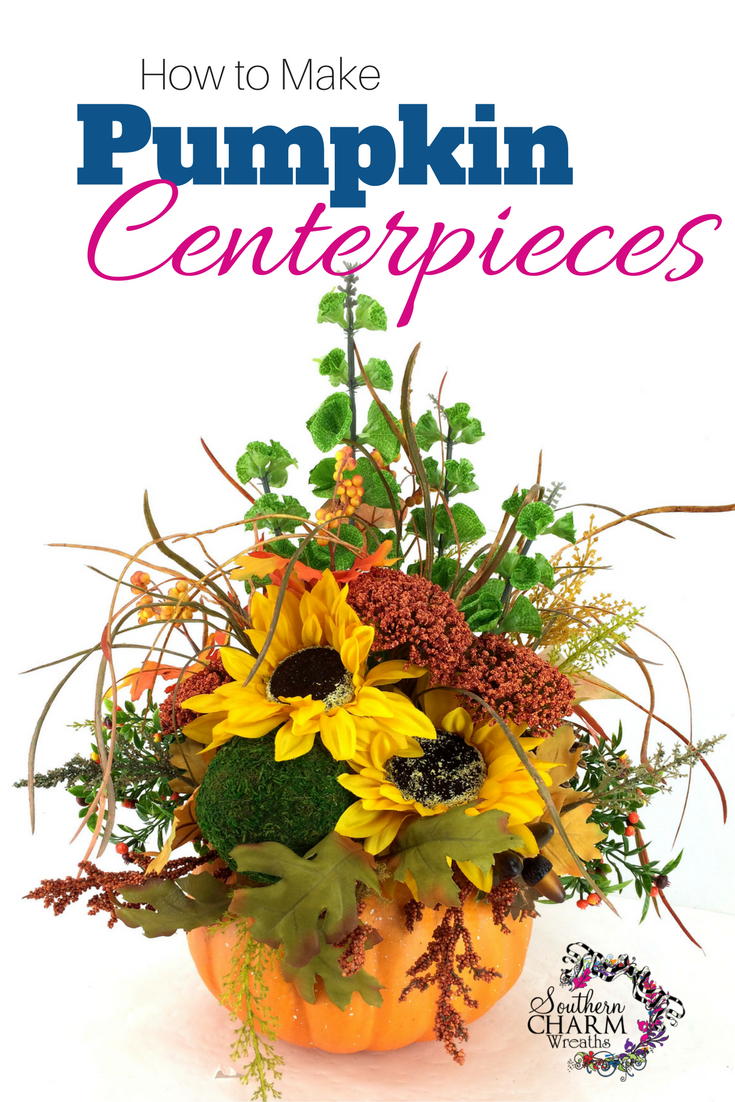 Also, if you liked this video, you might also like to learn how to make a fall door hanger.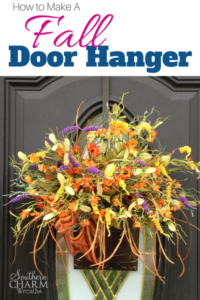 If you enjoyed this post, you might also like:
Hobby Lobby Fall Haul 2016 & Sign Tips for Your Wreaths
How to Make a Fall Lantern Swag Video
Carolina Pottery Fall Haul 2016 & Shopping Tips
Save
Save
Save
Save
Save
Save