How to Make an Elegant Wedding Wreath for Front Door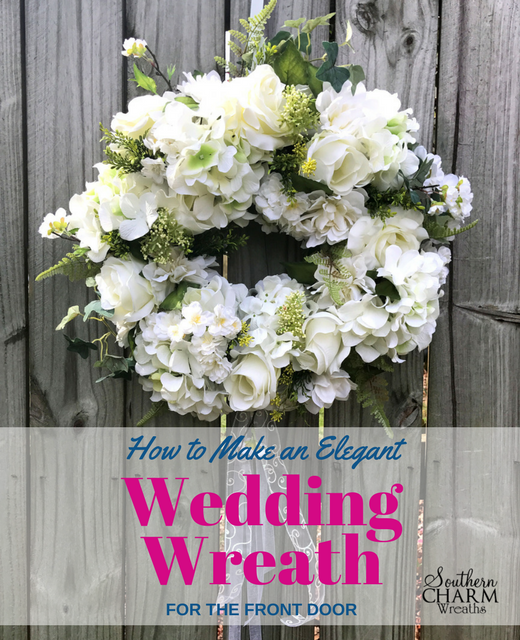 Today we're getting ready for wedding season by learning How to Make an Elegant Wedding Wreath for the Front Door! This gorgeous full wreath would also look pretty as a spring or summer wreath for your home. This post contains some affiliate links for your convenience. Click here to read my full disclosure policy.
How to Make an Elegant Wedding Wreath for Front Door
In this video, we're heading into wedding season by making an Elegant Wedding Wreath for the Front Door! You can hang this elegant wreath on the front door of the church (perhaps a larger size) or add several of these to the ends of the pews. You can also make this for the bride-to-be's front door or even the mother of the bride as a gift. This is a beautiful full wreath I know you're going to love, with a simple mix of whites and greenery. Here's how to make it:
Supplies
12″ Grapevine wreath (Carolina Pottery)
Silk Flower Bushes (I used a white rose bush, hydrangea bush, dahlia bush and greenery – Carolina Pottery)
Ribbon (5/8″ white sheer, wired white print, sheer cream wired – Carolina Pottery)
glue sticks
[Tweet "How to Make an Elegant Wedding Wreath for Front Door"]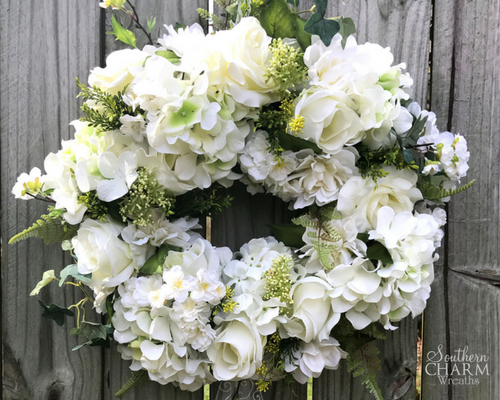 How to Make an Elegant Wedding Wreath for Front Door
First, add ribbon tails to your wreath. I used three different ribbons in sheer and iridescent whites. To add the tails, simply cut the length of ribbon you would like, wrap it around the bottom of the wreath and tie it in a knot. Do this with each ribbon until you like the amount of tails. Tip: Before you start working with a wreath on your table top, cover the table with parchment or wax paper to protect it.
I decided to use roses as my focal point. To prep the roses and other flowers and greenery, trim the stems as needed and remove any extra plastic coating on the stems. Open up and spread out stems and flowers so they look full and not flat.
Place your flowers on the wreath to determine exactly where you want them before you hot glue. Put the flower stems down in the grapevine wreath to hide them.
Tip: Place your flowers all facing the same direction.
Once you have the roses where you like them, hot glue them in place by adding hot glue to the stem and put the stem into the grapevine wreath (not poking through to the back).
Next, add additional flowers and greenery. I added the roses first because they were my favorite flower and I wanted them to be seen.  I then added the hydrangeas next because they were larger, followed by the dahlias and then the smaller flowers and greenery. Again, place them where you like and wait to hot glue until you are sure of their placement.
Tip: Step back and look at the wreath from further away every so often so you can really see where you need additional flowers or greenery.
This should be a very full, fluffy wreath! Continue filling it in anywhere you have an empty space.
How to Make an Elegant Wedding Wreath for Front Door Video…
If you don't want to make one, you can purchase one too. I've found these on some of my favorite wreath places.
[show_shopthepost_widget id="2513396″]
I hope you enjoyed this Elegant Wedding Wreath for Front Door tutorial. You can also use this as a table arrangement with a hurricane candle in the middle! Wouldn't that be gorgeous? Of course you can also change the colors to match your wedding or spring colors.
Let me know if you enjoyed this and don't forget to join me on Facebook Live, Thursdays 7:30PM EST.
If you enjoy watching me and/or learning to make wreaths of various styles, you should consider joining my Wreath Making of the Month Club, learn more here.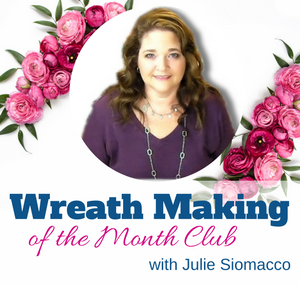 Happy Wreathing,
Julie
If you enjoyed this post, you might also like:
Carolina Pottery Fall Haul 2016 & Shopping Tips for Wreaths
How to Make an Adorable Easter Bunny Door Wreath