Making Deco Mesh Wreaths is Fun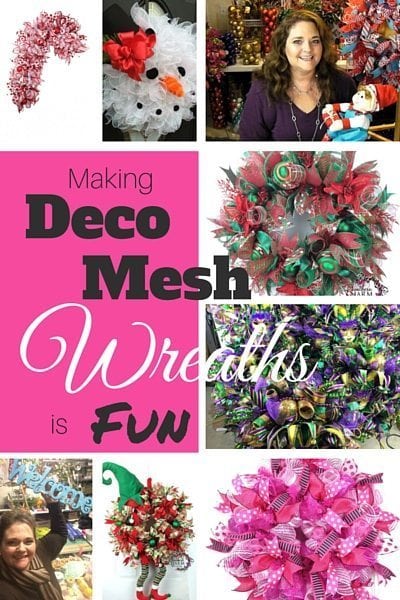 Wreath making has added so much happiness, joy and purpose to my life! Making deco mesh wreaths is FUN! You should see me dancing around my wreath shop to the radio as I make deco mesh wreaths. What a sight THAT is…LOL! I love making deco mesh wreaths so much that I sometimes dream of new designs in my sleep and can't wait to start them the next morning!
Once you catch the deco mesh wreath making bug…it is fun and ADDICTING! It will be for you too when you start to make wreaths, you will see. Wreath making can become one of the easiest and most rewarding hobbies you will ever undertake. You see, there is no right way or wrong way to make a wreath! You are creating art, just let it flow from your heart and it will be a masterpiece every time. Why? Because it is an original designed by you!
[Tweet "Making Deco Mesh Wreaths is Fun!"]
Wreaths aren't just for doors anymore; a wreath can add so much warmth and a festive flair to any area of your home. Small wreaths look great in bathrooms, children's rooms, on bedroom doors, etc. And larger wreaths can be used on a screened in porch, family room or even the kitchen. Imagine a wreath matching your favorite sport's team colors hung in the TV room during the big playoff game! Wouldn't that be fun and a unique way to display your pride! What about a wreath for a new baby? Can't you just image a pale pink or blue wreath with bears, raddles,and pacifiers tied in with coordinating ribbon? What about making wreaths to give away as holiday gifts, for wedding showers, as teachers' gifts? The possibilities are just endless!
I often think how blessed I am that GOD has given me this wonderful opportunity to use my talent in my home based business. So happy that I can make money at home and be home for my children when they get out of school. And not to mention the relief of being able to help with our household expenses, times are hard for all of us.
Additionally, it is equally as important that I make a difference in people's lives as I share, teach and encourage others with making wreaths (and selling them if they choose). I am so thankful that I have this opportunity. I have already had so much wonderful feedback for sharing my wreath-making secrets and I can't wait to share and teach more! That's why I created my Learn Deco Mesh ebook.
Do you love making deco mesh wreaths as much as I do? Comment below and tell me your thoughts on making deco mesh wreaths.
Happy Wreathing, Ya'll!
Julie Siomacco
If you enjoyed this post, you might also like:
How I Set Up a Wreath Shop in my Garage
Wreath Making – How to Choose Colors