The New Etsy Shop Homepage – Are You Ready?
The new Etsy shop homepage was unveiled last week and I have to say, the updates for an Etsy seller are promising.  There may be a few things I'm not thrilled about but for the most part, I love the streamlined, blog-like look to the new layout.  The new design brings all of your shop's content together on one page.  Shoppers can now browse your items, learn about your story and see your policies all in one place.  I suggest making changes now to get your shop ready for the new Etsy shop homepage.   Shop owners can now play around and make changes to their shop before Etsy goes live with the changes on April 5th.  What is changing with this Etsy update? 
[Tweet "What is changing in the New Etsy Shop Homepage?"]
Takes steps now to update for the new Etsy shop homepage
Etsy Branding
We all know how important branding is and the most notable change is how Etsy brought the shop owner's branding to the forefront.  With its larger shop banner, now called "cover photo" (1200 x 300 pixels), it gives you ample room to display your brand with tag lines, coloring, or even examples of your past work.  Once you upload a cover photo, shoppers will see it while browsing your shop on a desktop computer, a mobile web browser, and in the Etsy app. While in the past, your shop banner would only be displayed when viewing on a desktop. If you have a shop banner, you can display it in this new shop design by going to Your Shop > Edit shop, and clicking the "Add a cover photo to highlight your brand" link. From there, you can select the small banner option. Sellers who aren't interested in displaying a large cover photo have the option to stick with the current smaller banner size or have no banner at all. Keep in mind that only the cover photo will display on mobile devices and the Etsy app.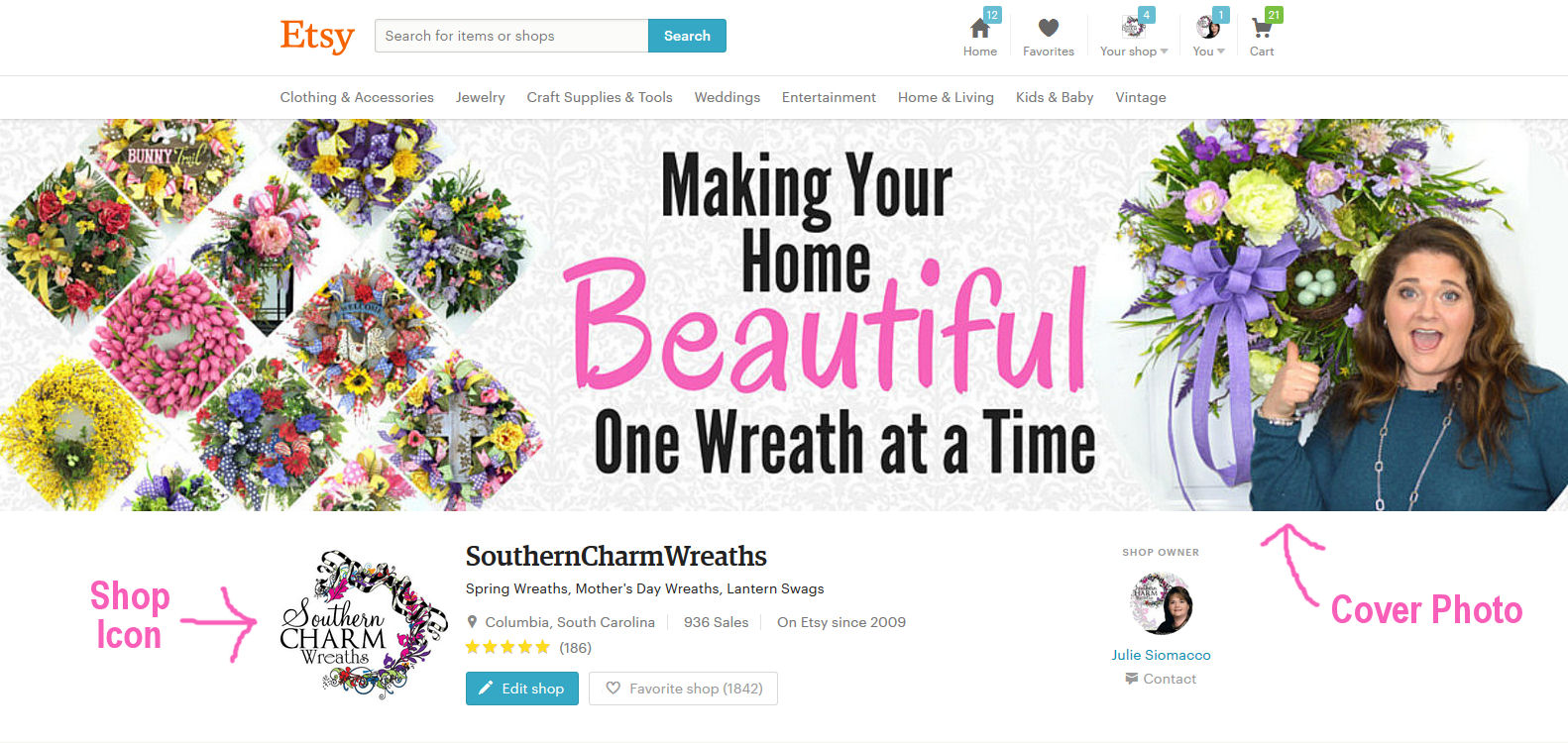 How can you get a new cover photo for your Etsy shop? Well you can quickly and easily design your own Etsy Cover Photo at Canva.com or purchase a design from an Etsy shop owner specializing in Etsy branding.
How to Create Cover Photo for Etsy in Canva
While there was a place for your Shop Icon before, it is now getting a more prominent placement on your shop's homepage by making it larger and at the top!  Shoppers will see this image in other places too where your shop appears on Etsy, including their personalized Etsy homepages and your shop receipts. Having a Shop Icon strengthens your brand identity, allowing you to differentiate your shop branding from your profile picture. You can also create a Shop Icon easily using Canva.com the same way I showed you how to create a Cover Photo above.
Navigation Bar
A new navigation bar is located just above the featured listings allowing shoppers to quickly find and click on your About page, which used to be frustratingly difficult to find, along with Reviews, Updates and Policies.  Moving this to the top makes the homepage feel more like a website or blog.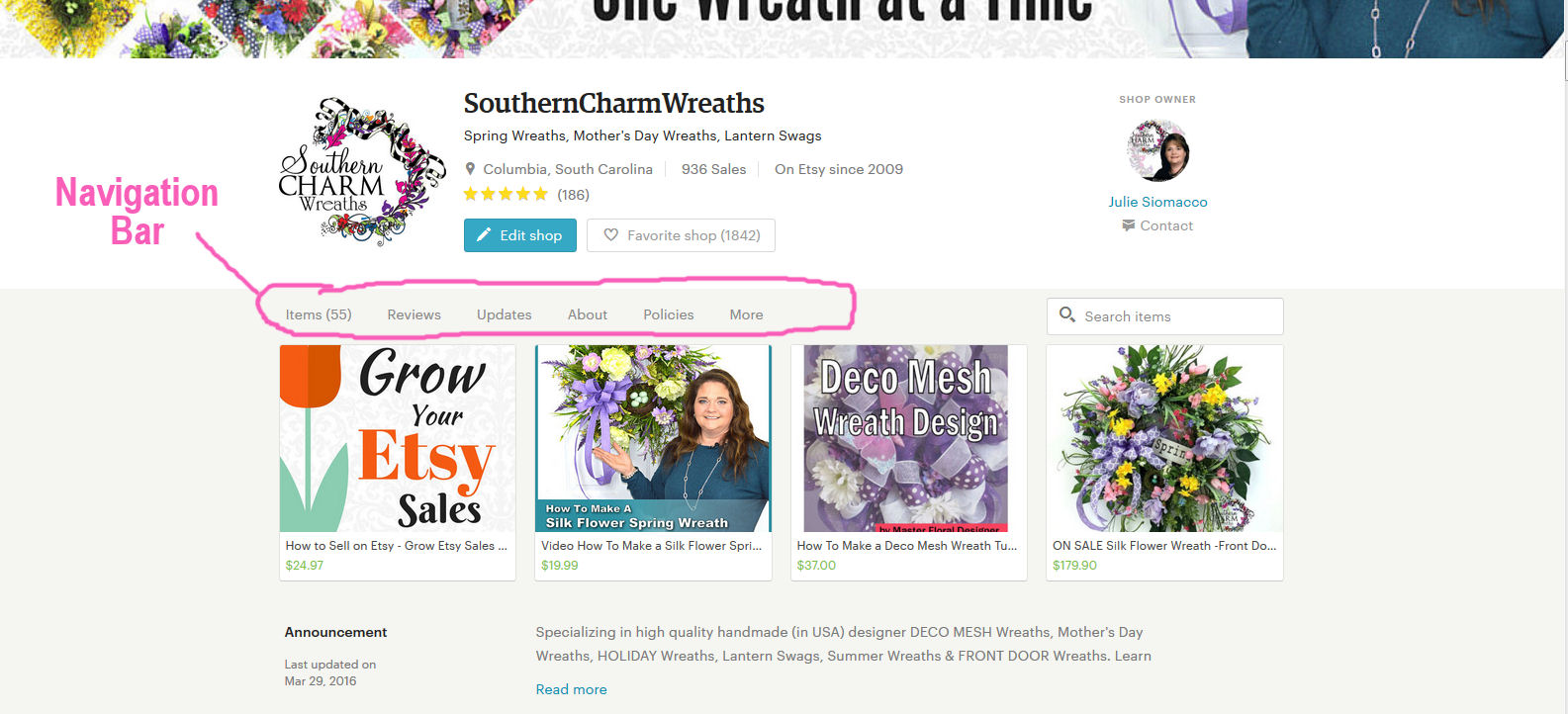 Shop Announcement
The shop announcement will now be located under your featured product images and while it is still an excerpt, it seems to be even shorter. So make sure to put important announcements in the very first sentence. The buyer can always click on Read More if they want to see your full shop announcement.
Shop Sections
Okay, I know you can't see me right now but I'm seriously jumping with joy! Etsy has added an additional 5 Shop Sections bringing the total now to 15! This is great news for shops like me who make seasonal items.  If you try adding shop sections but they don't look like they've saved, don't worry, they will not display if they are empty.   I like to fill my Shop Sections with keywords. To learn why using keywords is important for your Etsy shop, check out my ebook, Grow Your Etsy Sales here.
[Tweet "Etsy Shops Now Have a Total of 15 Shop Sections"]
Shop Items
With the new design, there will only be 3 Items (or product listings) listed per row instead of four.  Also the Item images appear to be larger, which is great for those (like me) who have aging eyes! But now, with the larger Cover Photo and larger Item photos, the homepage as a whole gives the appearance of being zoomed in.
The only thing I'm not thrilled with is the loss of Item pages. Instead of providing the shopper and shop owners with pages to click through containing all the Items, we now have to keep clicking and scrolling with a "More Items" button.  This feels like it would be a bit more tedious if a shopper wants to see all your items, but like I said…there are 5 more Shop Categories so this will help sort your items for the shopper.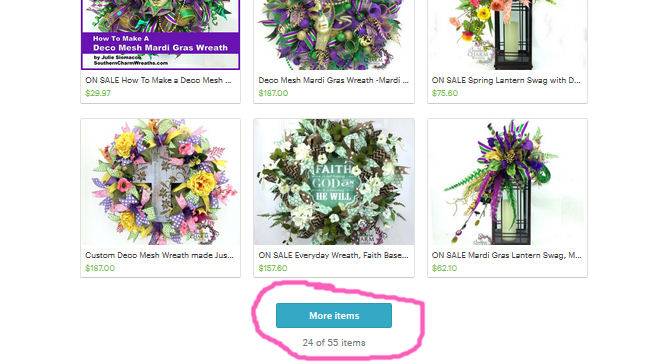 Etsy moved the Rearrange Your Shop link to a button format at the top of the Items section.  You can click that button and rearrange your Items.  In order to move items that are towards the end of the feed, you will need to click the "More Items" button and keep scrolling until all of the Items are revealed. Then click the Rearrange Items button to move those Items up.  There is no need to click save anymore, the new positions are automatically saved once you click "Exit Rearrange Mode".

There are two other updated features of shop Items; one, when an Item is relisted it will now stay in the same position, where previously it would move to the first slot location of your Items; and second, a new privacy option allowing shop owners to hide sold listings from buyers (Your Shop> Shop Settings >Options >Sold Listings).

Shop Reviews
Reviews are now displayed prominently on the homepage, again the shopper has to click a "More" button and scroll through in order to read them all.
Shop Updates
The shop updates are proving to be very important when it comes to marketing your Etsy shop items. With the new homepage layout, your Etsy Shop Updates are now located directly on your shop homepage under Reviews.
Shop Policies
Shop Policies are now easier than ever to complete with answering a few short questions and ticking off boxes. This gives a very easy to read and understand guideline to your potential shopper.  Now shoppers don't have to read through paragraphs of text to find what really matters — when will I get my items? However, with no customization to these questions and answers I find that they don't quite disclose all of my Policies.  Therefore, I added more in the form and FAQ under the Policies section. You can find more information on Etsy's Shop Policies in their seller handbook here
[Tweet "Etsy Makes Shop Policies Easier To Understand"]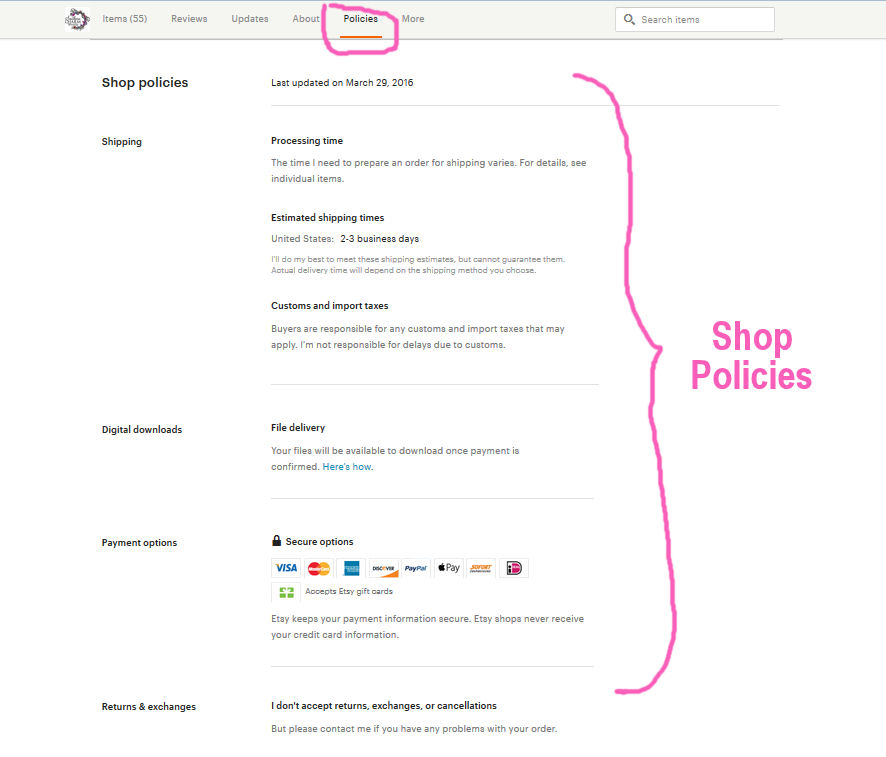 Around the Web
Finally Etsy gives shoppers more links than just Facebook and Twitter! You can now include links to your other social media accounts like Pinterest, Instagram, a blog if you have one and even a link to a website.
[Tweet "Etsy Now Gives Shops More Social Media Links"]


I find that with the new redesign, it makes editing and updating your Etsy shop very quick and easy.  Have you gotten your shop ready for the update? If not, you have until April 5th to make changes before Etsy makes it live to the public. You can view my newly updated Etsy shop here Southern Charm Wreaths Etsy Shop
Happy Wreathing,
Julie
Learn How To Grow Your Etsy Sales with my downloadable ebook here: etsy.me/1YBQQqk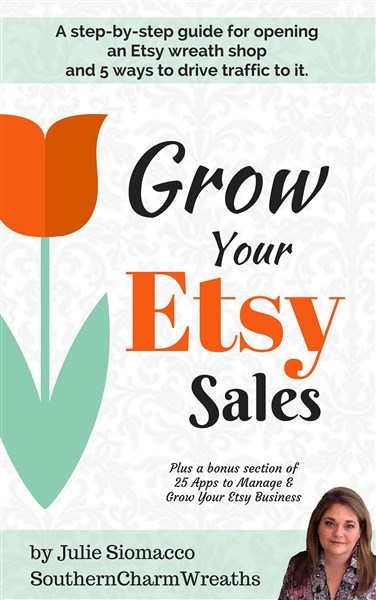 If you are interested in opening your own Etsy shop, here is a link to help you get started with 40 FREE product listings with a new shop: http://etsy.me/1Ui6hUa
If you enjoyed this post, you might also like:
10 Proven Productivity Tips for Successful Etsy Shops
How to Beat the Competition on Etsy and Win