Sale!
How to Make a Deco Mesh Wreath eBook
It's clear this deco mesh craze is popular and not going anywhere any time soon.  With my ebook, Learn Deco Mesh Wreath Design, you will be making beautiful wreaths in no time.  PDF ebook comes with several videos, retail pricing sheet, how to ship bonus, access to private Facebook Group and wreath recipes.
Description
Join the Deco Mesh Craze and

Learn To Make Deco Mesh Wreaths

!
Now YOU too can make fun & funky PROFESSIONAL deco mesh wreaths for fun or profit!
It's clear to me now, that the deco mesh craze isn't going anywhere and DIYers want to learn how to use it. I still get emails daily of fans asking me how to make my popular deco mesh wreaths. Just like me when I started, they're having problems getting their loops just right and making a circular base and they're not sure what to do after they do get it.  They're having problems attaching flowers securely so they don't pop off when the door is slammed.  Plus, just like me when I started, where to find the RIBBON and wreath making supplies.  Can you relate?
I mean…look at my first ever deco mesh wreath. I've come a long way don't you think?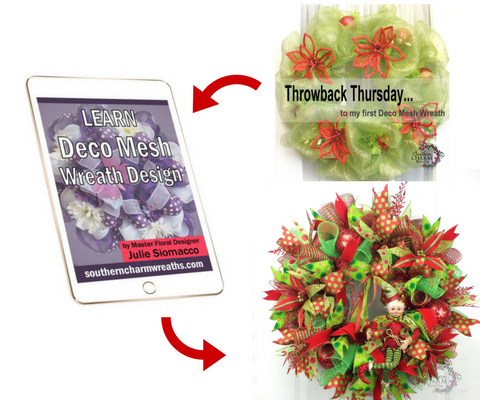 If you want to make wreaths for your own door or to sell, deco mesh wreaths are a great place to start.  They're a lot easier to master than silk flower wreaths and they give a huge punch of color to your door.
Plus deco mesh wreaths are hip, modern and whimsical where silk flower wreaths are more traditional, don't you agree?  I've been making deco mesh wreaths for many years now and still to this day, the wreaths that sell the fastest from my shop are my deco mesh wreaths. Buyers just can't seem to get enough of them.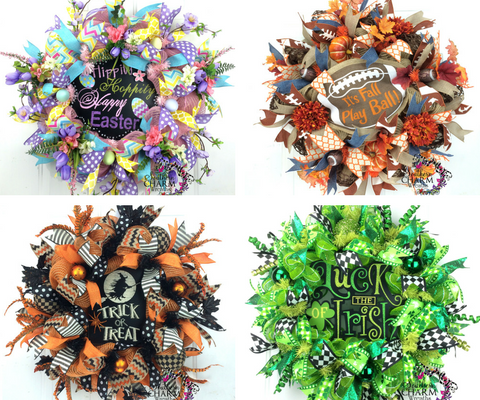 When I decided that I couldn't keep up with demand a few years ago, I knew I had to teach others my secrets for making professional deco mesh wreaths and I'm so glad I did.  This ebook has been a true blessing to me. I've met thousands of wreath lovers just like me and we still chat daily in the private Facebook group.
We discuss where to buy signs, tips for selling wreaths, the different styles of deco mesh wreaths, the new mesh trends, help with choosing color, etc.  If it's anything about deco mesh wreaths or selling wreaths, then we talk about it. LOL
My eBook (an electronic book that you download) contains 60 pages of step-by-step instructions with over 150 clear and detailed instructional photos. Chapters in the book include:
What is this Craze–Deco Mesh? Discuss the different styles, patterns, colors, prices and uses.
What Materials to Use? Learn about what types of materials are better than others, including: Wreath Bases, Ornaments, Ribbons and Signs
Which Wreath Base? Learn about the different wreath base options and learn to secure the mesh in each form, including Wreath Forms, Grapevine Wreaths, Box Wire Frames and Straw Wreaths.
Step-by-step Instructions! Detailed pictures and explanation guiding the reader through designing the mesh wreath pictured above in this listing, including Securing Mesh to the wreaths, Adding Ribbons, Adding Artificial Flowers, Securing Ornaments and Adding Signs.
Where can I buy Deco Mesh Wreath Supplies? A list of vendors found in retail stores and online shops supplying Deco Mesh wreath materials.
How to take Pictures of Wreaths? Photo taking tips for listing wreaths online or to remember your talents.
But also included in this package is:
1.Full Access to our Learn Deco Mesh Wreath Design Private Facebook Group.
This Facebook Group was designed specifically for wreath makers. Discussions include where deco mesh supplies are found in your area, learning methods of other deco mesh wreath styles, finding ideas and inspiration for your next deco mesh wreath design, shipping problems, vendors and more!
2. Spreadsheet helping you calculate your wreath cost for selling retail.
Download and use as a template for calculating your retail mark-up for each of your wreaths. Just click, File, Save As and rename the file each time! NOTE: Available in Excel 97 & Excel 2007
3. Fall Deco Mesh Garland
Step-by-step making a fall deco mesh garland
4. Deco Mesh Blueberry Themed Wreath!
This wreath is perfect for summer or year-round and I'll show you how to make it and where to purchase the supplies.
5. Deco Mesh Cross Wreath
Learn to make an arrangement inside of your deco mesh wreath cross, making you stand out above your competition.
6. Deco Mesh Candy Cane Wreath
A video showing you step-by-step how to make my popular candy cane mesh wreaths. It is an hour long and customers say it is my best video yet!
7. Fall Deco Mesh Wreath
An hour long video showing you step-by-step how to make a full mesh burlap fall wreath with a sign, ribbon, flex tubing, silk flowers, and bows. Customers are RAVING about this video addition.
8. Deco Mesh Christmas Elf Wreath
Learn to make an adorable Deco Mesh Christmas Elf wreath.
9. Deco Mesh Halloween Wreath
Learn to make my popular deco mesh and funky bow Halloween wreath in this video.
10. Slim Screen Door Wreath
Learn to make super slim wreaths to fit behind a screen door.
I know you can make deco mesh wreath just as well (or not better) than I do by using my instructions!  They look difficult to make but you will be surprised at how easy they are to master.  And won't your neighbors be envious seeing your gorgeous new wreaths on your door! How shocked will they be to learn YOU MADE IT!
There are no shipping fees! These ELECTRONIC files will be made available to you after purchase.
Unfortunately, these items cannot be divided and sold separately.
You will need the FREE Adobe Acrobat Reader loaded onto your computer to be able to read the ebook and materials. You can transfer the pdf files to an ereader such as Kindle or iBooks.
All of this detailed information for less than $40! Another holiday is just around the corner and deco mesh is easy to use both indoors and out!
CLICK LINK AT THE TOP TO PURCHASE
Only logged in customers who have purchased this product may leave a review.