Description
Learn to make a designer wreath for half the cost from the comfort of your home!
"Wreath Making of the Month Club"…an ONLINE group where YOU learn to make a new wreath every month without going to a class or leaving your home. It's going to be so much fun, and I can't wait for you to join me!
Preview of this month's 
training…
How many times have you searched for a special wreath but couldn't find what you like, or you needed a wreath in a specific color only to find the store didn't carry it, or when you see a designer wreath with high price tags and think, "I can make that"!  Well, that my friend is when you use the creative spirit God gave you and create it yourself and I would be honored to teach you how to make professional, designer door wreaths!
Creating with your hands is a way to relieve stress too, you know what I mean?  I'm sure you do, you must because you're a creative spirit just like me if you found my website!  It's so much fun making beautiful creations for your home, family, friends, and world.  You will love being able to create holiday and seasonal decor for your home without spending a fortune, which is a bonus!
Do you need help with …
color selection,
sign attachment,
flower placement,
where to buy supplies,
what ribbons to choose,
how to make bows,
and just want to learn how to make a professional, quality constructed wreath,
then you've come to the right place!
Over the past 10 years, I've taught thousands to how to make designer wreaths and I know I can teach you too!! Don't take my word for it, scroll down below and see the success the members are having with my training.
As part of your membership, you will get:
A new training video each month showing you how to make a beautiful wreath using different types of mediums
A supply list for the video for that month and were to buy
Access to a private Facebook Live broadcast of me making a different style of wreath and explaining how to make it
A chance to be in the "hot seat" where I critique your creations giving you one on one coaching
Access to me and a community of other creators to give you feedback, encouragement and ideas
A list of commonly used vendors (both wholesale and retail)
Tips on how to choose the best supplies for wreaths as well as my favorite tools of the trade
A new wreath making challenge each and every month
Access to videos, never seen before explaining the various wreath bases, tools of the trade, color selection and more.
You will learn how to make lots of seasonal and holiday wreaths, as well as wreaths that can be displayed year-round.  Every month, a new wreath!
After watching the training videos, I'm available to answer your questions and give you demonstrations if needed.
This is a great way to learn about a variety of wreath making techniques from someone who has been professionally making and selling wreaths for many years!
Are you a newbie? I welcome you. Ever taken a class where you just didn't get it?  I teach in a very easy manner and I promise. you will get it!
Do you already make wreaths? I welcome you too. Anytime you get around other creatives, you WILL pick up a trick or two, maybe learn about a new product or discover something you didn't already know.
Do you want to make wreaths for an income? You are welcome here and this will keep you in the loop with new techniques, trends and styles as well as, start to build a portfolio of what you can accomplish.
More videos found inside the group…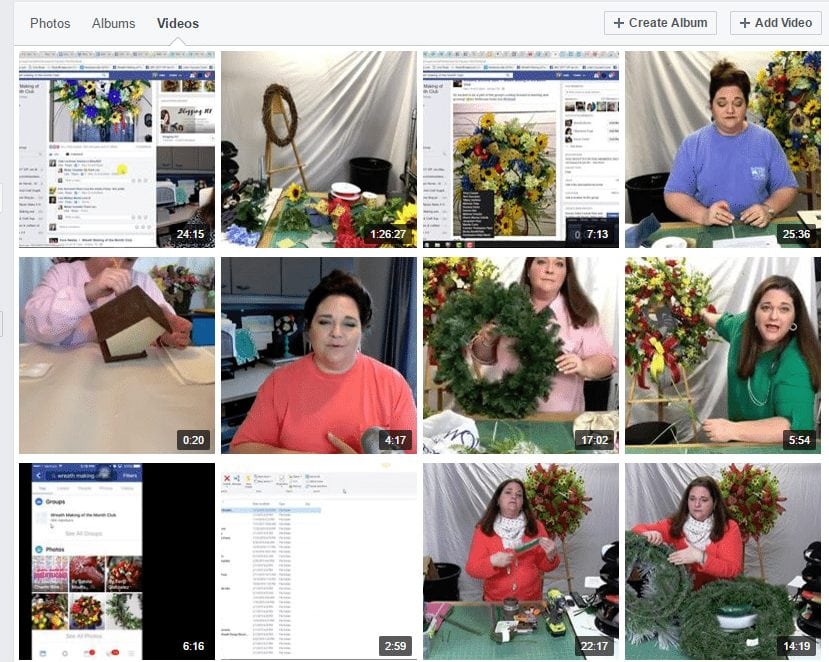 FAQ
How does this work?
After your purchase, you will receive a receipt with a download file.  In the file, there is a link directing you to my private Facebook Group.  All of the teaching is done inside the Facebook Group (you must be on Facebook to participate).  During the first week of the month, I will upload a new training video showing you how to make a specific wreath with a supply list.  During the second week of the month, I will take any questions you have after watching the training.  I will answer your questions on video.  During the third week of the month, join me on a Facebook LIVE broadcast where I show you how to make a different style of wreath (typically one I need to do for a customer or list in my Etsy shop).  The last week of the month, I want you to show off your designs to me and the group if you choose.  At the end of the month, I will give you a pdf file to download from the files section of the group that contains a link and password as well as supplies mentioned in the video so that you can then reference the training as often as needed, even if you cancel your membership.

Do I get access to prior month's videos?
No!  You only get access to the videos for the month's you pay.  Prior month's videos can be purchased a la cart after you're already in the club.
What if I need to change my payment option after I've joined?
You can always log into your account www.southerncharmwreaths.com/my-account to change your payment options, suspend or cancel your subscription at any time.  
What if I forgot to download my saved video?
Just send us an email at info[at]southerncharmwreaths[dot]com and we can resend it.

I can't wait to get to know you better inside the group!  Don't delay in joining, another season is just around the corner and your door is screaming for a new wreath!  Plus, you deserve some fun and relaxing 'you' time creating.  I mean if God made you a creative spirit, then let's create!
GRAB YOUR SPOT NOW
CLICK ADD TO CART AT THE TOP OF THIS SCREEN!
JOIN THE WREATH MAKING OF THE MONTH CLUB TODAY
Monthly payment of $27 $19

Payment Policy-By purchasing this course, you understand that this is a monthly membership.  You agree that your membership will automatically renew unless a cancellation is made by either logging into your account at www.southerncharmwreaths.com/my-account or  by contacting us here . If your cancellation is made within 3 business days of your automated billing, a refund will be issued. No refunds will be made after 3 business days of the charge date.
See what you're missing…
Previous Month's Training & Members' Wreath Creations

Sept 2017 – Halloween Wreath (with bonus mailbox topper, It's Fall Play Ball Wreath, business tips plus 1 more video TBD)
Aug 2017- Deco Mesh Scarecrow Wreath (with bonus Christmas Wreath by guest designer Terri Marshall of MilandDil Designs & stunning Lantern Swags using minimal product)
July – Southern Magnolia Wreath (with bonus Fall Pumpkin Wreath)
June – Deco Mesh Patriotic Wreath (with bonus 4th of July teardrop swag)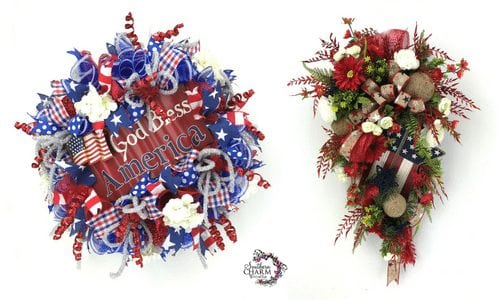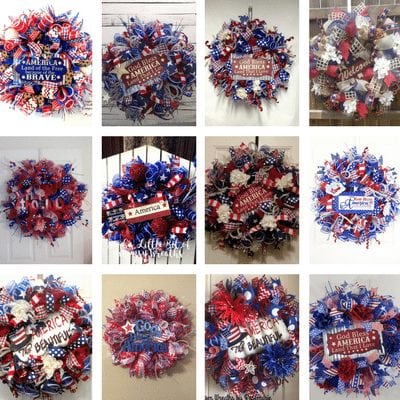 May – Sunflower Wreath (with bonus Sunflower Wreath using an oval grapevine base)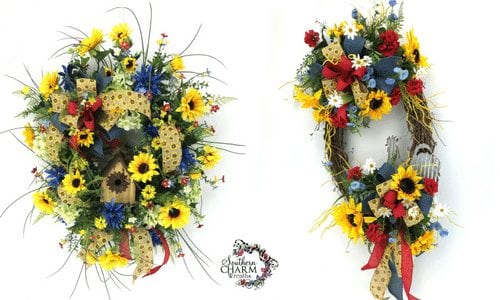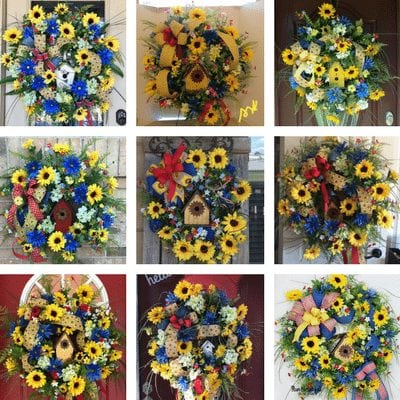 April- Rooster Wreath (with bonus Summer Wreath using a Christmas Evergreen base)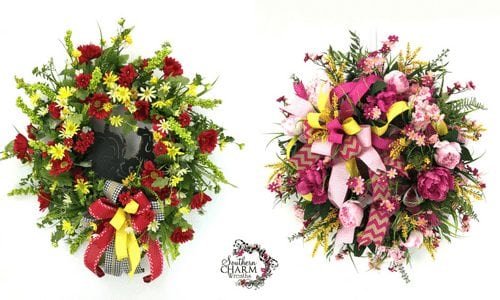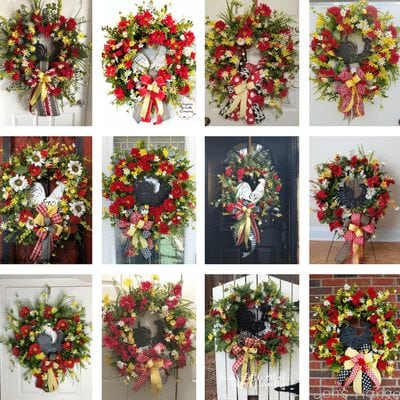 March- Easter Wreath (with bonus Felt Flower Wreath)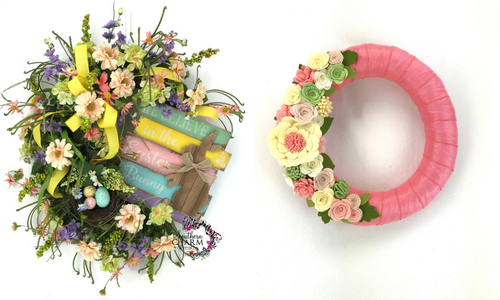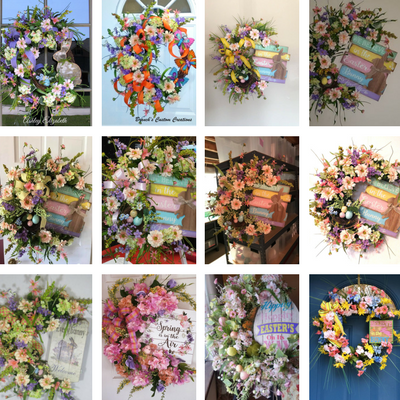 February – Valentine's Wreath (with bonus Daisy Wreath)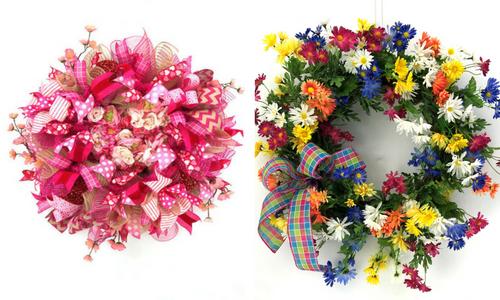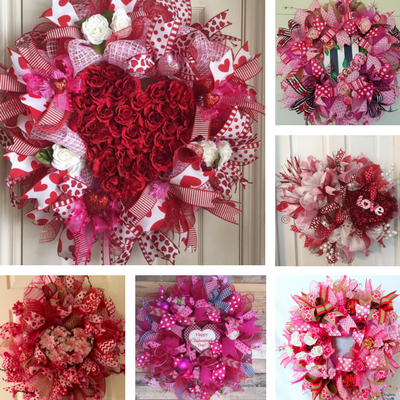 January – Frosty Winter Wreath (with bonus Cotton Boll Wreath)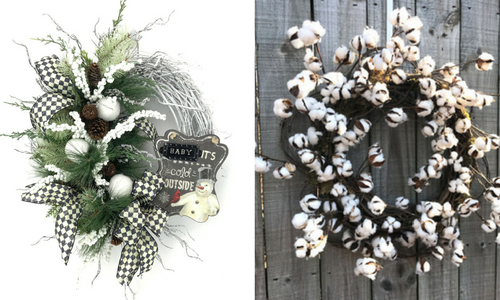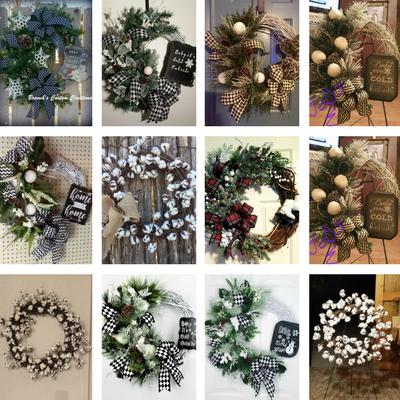 December – Williamsburg Wreath (with bonus Magnolia Leaf Wreath)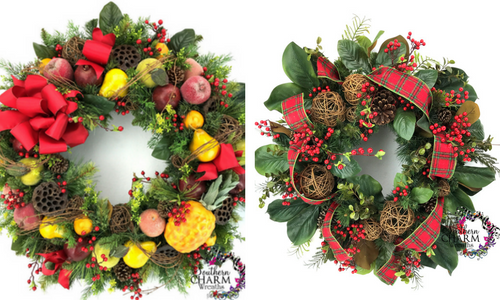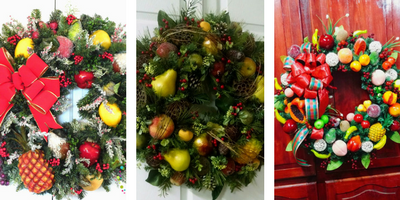 GRAB YOUR SPOT NOW BY CLICKING ADD TO CART AT THE TOP OF THIS SCREEN!