How to Quickly Make Your Etsy Shop Photos Stand Out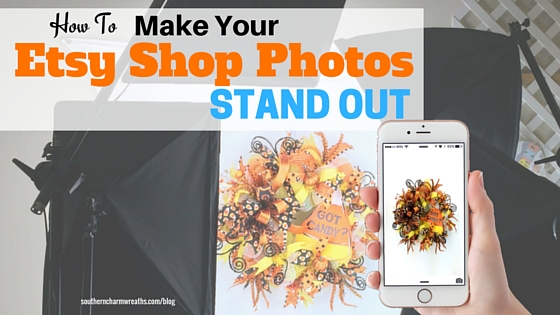 I want to give you some photo tips on how to quickly make your Etsy Shop Photos stand out.  Having stellar photos is one of the key elements to having a buyer click on your Etsy items.  This post contains some affiliate links for your convenience. Click here to read my full disclosure policy.
How to Quickly Make Your Etsy Shop Photos Stand Out
I am not a professional photographer, therefore; I do not use an expensive camera.  I purchased a nice DSLR two years ago but it has too many buttons and gadgets for me to learn.  I find that using my iPhone 5S camera for my Etsy shop photos works great!  I make sure to wipe down the camera lens before I use it, because I tend to carry it around in my back pocket, point and shoot.  Also do not use a flash unless you really know what you are doing when it comes to lighting. Me? Yea not so much experience, so therefore no flash.  Besides, using a flash on sparkly things like glitter and metallic tends to mess up the photo.
[Tweet "Lighting Tips for Taking Etsy Photos"]
The biggest factor in taking great Etsy shop photos is to have great lighting!  It is best to have indirect sunlight. So find a window in your home that has a lot of sun but make sure it's not direct sun, so you can either wait until the early morning or early afternoon hours or even hang a white sheet over your window if you think it still has too much sun.  I've seen others use white foam board to reflect the sunlight onto their product too.
However, waiting on mother nature does slow down the production process. Waiting for the sun to position perfectly in your window takes time and its easy to get distracted and forget. Wasted time, means wasted money!  Once the perfect spot is found, the season will change and the sun shifts in the sky, so another location may be needed.  Then of course rainy or overcast days will also hold up the process.
Use Great Lighting for Your Etsy Shop Photos
It didn't take me long to realize that I needed to invest in professional photography lighting. Now I'm able to take pictures as soon as I finish making my product and I'm no longer a slave to mother nature.  I love being able to take photos late at night which happens during the holiday rush or on rainy days.  The lighting is great, saves me a lot of time and keeps my production moving.  You can see from the photo below, I'm using 6 box lights surrounding my wreath (4 softbox lights and 2 boom lights) or two of these light kits by Fancierstudio on Amazon.  I have one area in my workshop (see my wreath workshop set up here) that is dedicate to photography.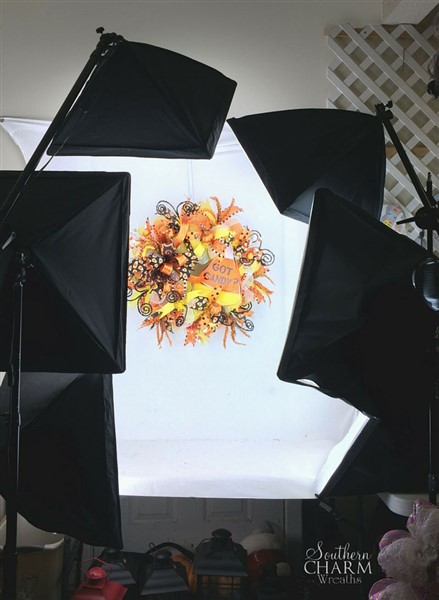 I also like that I can use the lights when making videos.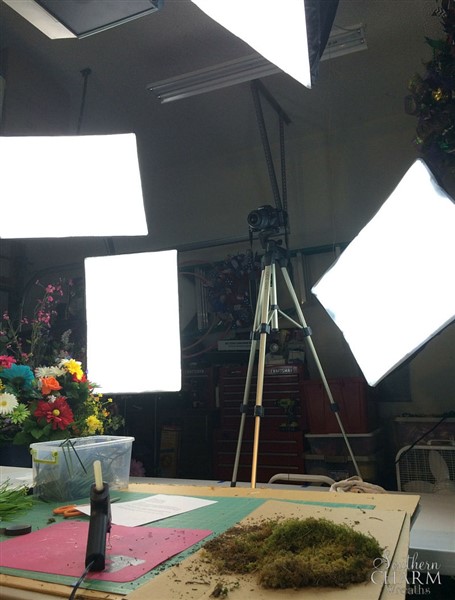 Using a Backdrop for Etsy Shop Photos
After many attempts at playing around with a background, I found a great backdrop to use to place behind my wreaths, the 5×7 Westcott 577.  I like this backdrop because it is smooth and gives a consistent look.  Plus it's made of stretchable fabric that can be washed in the washing machine.  Using this backdrop saves a lot of time editing photos.  I attach it to my wall (remember I work out of my garage and don't mind attaching hooks to my walls). If you can't attach hooks, you could purchase the backdrop plus frame kit.  Also, if your Etsy items are smaller, try using a small light box like this one.

Play around with your Etsy product photography to see which background you like best. Other background ideas you can try include:
Painted pallets – I like this idea because you can typically find them for free.  Just re-position the pallet slats to be closer together.
Paneling – Use a piece of paneling purchased from your local hardware store as a backdrop.  If you don't like the colors, you can always paint it.
Picnic Table – Turn a wooden picnic table on its side and use as a background for your Etsy shop photos.
Wooden Fence – If you have one, hang your items or display them in front of it, but remember no direct sun and avoid shadows.
A barn door – This would be a fantastic backdrop for your Etsy shop photos if you have one.
You can get creative with your backdrops but make sure your Etsy shop has a cohesive look.  You want your Etsy shop photos to balance one another when you are looking at your shop as a whole.  For more Etsy Shop Success, check out my ebook, Grow Your Etsy Sales 
[Tweet "How to Use Batch Process to Quickly Edit Etsy Shop Photos"]
Quickly Edit Etsy Shop Photos Using Batch Process
Always take lots of pictures too, way more than you will need in case some turn out blurry. It's best to get pictures of items both from a distance, staged and close up to show the details. Once pictures are made, upload them to a computer and use a program such as Corel Paintshop Pro X8  (click here for more info on Corel Paintshop Pro) to enhance them.  With the Paintshop Pro batch process, one can edit, add watermarks and resize all the photos at the same time instead of each individual picture.  This process goes even faster when there are several products to list.  In my video below you can see how I use Paintshop Pro to batch edit my Etsy shop photos.
Of course you can always use Picmonkey.com which is free. If you need instructions for editing photos in Picmonkey, follow the instructions in my video here.
I hope you found my Etsy shop photo tips useful.  Comment below and tell me what tips you have for making stellar Etsy shop photos!
Julie 🙂
If you enjoyed this, you might also like:
The New Etsy Shop Homepage – Are You Ready?
10 Proven Productivity Tips for Successful Etsy Shops
How to Beat the Competition on Etsy and Win
When to Make Seasonal and Holiday Crafts to Sell
Save
Save
Save
Save
Save
Save
Save
Save
Save
Save